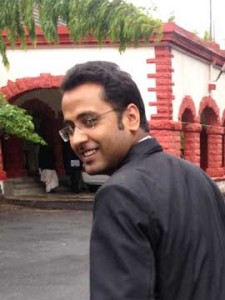 Nitendra Singh Tomar graduated from HNLU, Raipur in 2009. After preparing for sometime, he secured the 35th rank in the Madhya Pradesh Judicial Service Examination, 2012.
We have taken this opportunity to ask him about:
His experience as a law student at the Hidayatullah National Law University.
Importance of coaching for competitive exams.
Circumstances that prompted him to prepare for Judicial Exams for 3 years
Tips on clearing one of the toughest examinations in the country.
Given that most of our readers are law students and young lawyers, how will you introduce yourself to them?
Hello friends, I am Nitendra Singh Tomar, a 2009 law graduate from HNLU Raipur. Presently posted as Civil Judge Class-II/ Judicial Magistrate at Hoshangabad, Madhya Pradesh.
How did you gravitate towards law and what was your motivation behind attempting for judicial exams? Why and when did you decide to go for MP judiciary?
I had never planned to pursue law until I passed the twelfth standard. To be very honest, getting admitted into Hidayatullah National law University was just by chance. When I completed my twelfth in 2004, there was hardly any competition for entrance to NLU's as compared to that for the IIT's or PMT. Being a Bhopal resident, where NLIU is situated, I had heard a bit about NLUs. So I applied for a few NLUs and secured a seat in HNLU.
Once I got admitted there, I realized that unknowingly or knowingly I had taken a good decision. Public sector has always charmed me, as my father is also a government servant. Apart from this, the security, respect and eminence attached to the judicial service had always allured me to move forward in this direction. . Being a resident of Madhya Pradesh, M.P Judicial Services had been always a first choice for me. I did apply to other states, but fortunately I cleared MPJS before getting through any other state. During the initial years of my graduation, I wasn't very sure about my career plans, but gradually at the end of the final year of B.A.LLB, I had decided to go for the Judicial Services. After graduating in 2009, I appeared for MPJS in 2010, 2011 and finally got selected in 2012 and secured Rank 35.
How did you prepare? What did you do differently in 3rd Attempt, which enabled you to crack it?
Yes it was indeed. Well there wasn't any special strategy for the third attempt. But definitely, I devoted more time and attended to my preparation with dedication and sincerity. So I can say that I prepared with more conviction in my third attempt. Also the experience that I gained in my first two unsuccessful attempts helped me a lot.
What sort of internships did you do while in college? How have they helped you get to where you are now?
I have done internships in almost every forum, whether be it district court, high court, Supreme Court, NGO, Litigation Firms, Corporate Firms and other governmental organizations dealing with the law enforcement. It helped me a lot as I realized during my internships that the private sector is not my cup of tea. Internships at the various courts also gave me the inside picture and the realization that the courts are quite different as are portrayed in the cinema. So you can say that I took it as a challenge to see myself on the other side of the dais.
People have a tendency to ignore moots, debates and other extracurricular activities if they want to go into judiciary or civil service exams. What do you think about this?
Extracurricular activities like moots and debates helps a lot in developing one's over all personality and should not be ignored at all. If we talk about a Judge, S/he is supposed to be a good listener rather than a speaker, but being a judge is not just about sitting on the dais and delivering judgments, other administrative tasks are also attached to the post you hold. So such extracurricular activities help you a lot in every walk of life.
When did you start preparing for the exams? When should a person ideally start preparing for the judicial services exam?
There is no such set time frame to start preparations. Once you have decided to go for it, start preparing from that day itself. In my case, I started preparing by the time I passed out from the College. How many hours did you put in for your preparations every day? Is having a fixed schedule or weekly targets important, according to you? I never had any fixed timetable or schedule for the preparation. I prefer making subject or topic based targets.
Which were the easiest and the toughest part of your preparation?
Generally in most of the competitive exams, preliminary screening test is based upon objective type questions where questions are asked about the specific bare provisions and section numbers. I found that part the toughest, but I must mention that in the recent years, number of such memory based questions has decreased and now most of the questions that are asked are concept based. I found the interview part of the whole selection process to be the easiest.
How did you divide your preparation schedule among the different subjects? Did you take coaching classes?
Yes, I did take coaching classes. Coaching classes help you a lot in pointing out the important areas of the syllabus. Marking out the important portions of different subjects plays a vital role in preparation as the syllabus, especially for the judicial services, consists of 15 to 20 different subjects and reading each and every topic and remembering it isn't practically possible. So in that case one can take help of coaching classes. Apart from this, important areas can also be marked out by referring to the previous year's question papers. It is also important to mention here that the pattern for every state's judicial service examination is different and the types of the questions are also different, so before starting one must thoroughly go through at least questions of the previous 10 years to have a fair idea about the scheme of the examination and the weightage of different subjects.
What is the importance of CGPA for law students, especially for judiciary aspirants? Does it make any difference during the interview?
CGPA isn't a criterion for selection, but yes, in the interview having a good CGPA gives you an edge over other candidates. Basically your CV consisting of good grades and internships gives a good first impression to the interviewer, but at least you need to answer their questions correctly and smartly to score good marks in an interview.
Tell us about your interview? What kinds of questions were asked by the interview board?
Well the interview board consisted of three Hon'ble Justices of the Madhya Pradesh High Court. Most of the questions asked of me were related to the procedural laws and the Constitution. Apart from this, the focus was on the overall personality of the candidate and the knowledge about the practical aspects of different subjects.
Basically the purpose of the interview is not to check your knowledge as the same was thoroughly tested in the preliminary and mains exam. Interview is all about the personality check and up to an extent for testing practical skills in applying the knowledge in a given situation. The key to get good score in the interview is to not to panic and be calm and composed during the same. In my case I wasn't able to answer a question based of some substantial law so I panicked a bit, but I was provided then and there with the bare act and was asked to explain the provision, which I did correctly.
After the training period, where was your first posting? Can you tell us about your experience at your first posting?
In Madhya Pradesh, field training is also imparted in addition to training in the academy. So I got posted as a Trainee Judge at Hoshangabad District of Madhya Pradesh from day one. Here I also got a separate Trainee Board with a lesser number of files as compared to regular board. Overall experience was very good as the members of the bar and the bench were very supportive and motivating.
What advice would you give to judicial aspirants? Any message you would like to be passed on to the law students reading this?
According to me, preparation for judicial services is much easier as compared to any other kind of civil services, but one needs to be consistent while making preparations if you really want to succeed. The three tier process of selection at times becomes irritating and monotonous, so one needs to maintain mental peace and calm.
First of all, before planning to appear for the judicial services, one must visit lower courts so as to get acquainted with the working culture and the atmosphere out there. Many of the aspirants have the simulated image of the lower courts and after getting into the services the real picture horrifies them. There are lower courts at the tehsil level, also where there are more than a few problems relating to the basic infrastructure.
Getting into the services and continuing the service are entirely two different things. So before putting in the hard work for the examinations one must make up his mind with full conviction. As per my experience, the very nature of this profession is such that there will be job satisfaction to the fullest.
Being an active member of the Justice Delivery System gives a feeling of eternal pleasure that can't be expressed in words. At last I would just like to give a useful tip to the judicial aspirants that the last hour revision plays a vital role as you will fetch a few extra marks by doing this especially in the prelims. Best wishes to all.
Contributor – Ms. Deepa Chansoliya