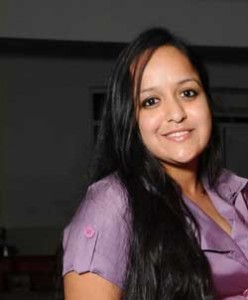 Supritha Prodaturi graduated from Rajiv Gandhi National University of Law, Patiala, batch of 2013. She then went on to pursue Bachelor of Civil Law from Oxford University. Currently, she is a Research Associate at Jindal Global Law School.
We asked her about:
Experience at Oxford
Joining JGLS as a research associate
Prospects as a student belonging to a new law school
How would you introduce yourself to our readers?
I am a law graduate from Rajiv Gandhi National University of Law, Punjab (2008-13) and post graduate from University of Oxford. I was always clear since my initial days at law school that I wanted to explore all the legal facets as a law student but not at the cost of academics which helped me eventually in getting an admission to Oxford. After five years of law school, I had in my hand not just good grades but also decent success and experience in co-curricular activities. Before making up my mind for higher studies, I did various corporate law firm internships too in order to have a fair idea of what all this world has to offer. At present, I am working as a Research Associate at Jindal Global Law School.
How did you decide to apply at Oxford?
In my first year I had come across the profiles of Oxford Alumni and was very inspired. It is then that I decided that I should aim to study there one day. I wrote to a lot of alumni asking for guidance and all had graciously replied. With the help of their guidance and my determination I started working towards my goal. I realised that academic excellence is of prime importance for my application and hence started concentrating more on it. Alongside I also worked in developing a well balanced CV.
Please take us through the application process for Oxford.
The Applications for Oxford open in the month of September. Oxford, like any other good law school, needs a good Statement of Purpose and three reference letters. The SOP is of paramount importance and has to be written with due care. Oxford also requires you to submit an article written by you in the recent past. Once you submit your application, you will hear from them by March.
Attention should be given to the scholarship applications. There are various scholarships available by the Law Faculty and also by different colleges in Oxford such as Exeter College. Moreover, there are also various external scholarships such as Felix, Commonwealth, Inlaks and Mahindra.
Please describe your year-long experience there.
The city of dreaming spires was an inspiration and will always remain to be. The academic vigour at Oxford is very different. It has a uniquely cosmopolitan academic angle which helped me foster an unparalleled international and interdisciplinary outlook in teaching and research. Oxford does not only teach the subjects but redefines the boundaries of the subjects. Being able to grow under the guidance of world's leading legal scholars and legal luminaries helped me to develop my personality as a whole. I am confident that the skills and expertise which I gained from Oxford will help in nurturing me into a skillful professional. That one year experience also provided me with a platform where my efforts were appreciated, recognized and my mistakes were corrected.
What inspired you to choose teaching as a profession?
I have always aspired to become a professor and disseminate the light of knowledge around me. One would agree that there is no end to learning and as a teacher, I would yearn and yield at the same time. I wish to make paramount contribution to the legal fraternity through my research and learning. I want to put the skills endowed upon me, by the luminaries who taught me and mentored me, to good use.
Could you please describe your job profile as Research Assistant?
My job profile includes teaching and as well contributing to the research of the institution. JGLS being an institution which promotes global and interdisciplinary outlook is a wonderful place to teach at. The institution also gives the much needed intellectual freedom, which helps to teach and research better. Teaching though very challenging has a thrill of its own. Every class is a new learning experience for you. But if you enjoy doing it, it will be more of a treat than a challenge.
What should one accomplish in order to become a Professor in one of the premier national law schools?
I personally believe that to be a good academic you need to be an all-rounder. Academic excellence would of course give you the much needed edge.
Being class topper, how did you manage to juggle academics with extracurricualr engagements?
Balancing my academics with co-curricular activities had always been my priority. Being a law student you have so many co-curricular activities and opportunities in front of you, and you should choose wisely. Small things may create the finest balances. I for example, would try converting my academic projects into journal publications, so that I would fare well in both the arenas. Moreover, I would opt for moots in alternate semesters so that my academic performance doesn't get disturbed.
What according to you should be the top-most things in the to-do list of someone aspiring to follow your footsteps?
Firstly, you need to have definite goals in life and sort out the means to achieve those goals. Secondly, hard work and persistence are very important for achieving anything in life. Thirdly, I feel you should never let the passion for the subject die in you.
Not being from an 'elite' law school a lot of people believe that it acts as a hindrance. Has that been a point in your case?
Being from one of the new law schools is not that big a hindrance. I feel I had more opportunities to prove myself in RGNUL, than I would have got if I had gone to any other law school. I have seen people from my batch doing very well for themselves in which ever field they ventured into. All you need to do is to ward off the negative attitude and work hard. Of course, being from a new law school will need an extra amount of effort from your side but at the end of the day it will all pay off. And what is the joy of getting something so easily?