Ronak Thakkar is currently an Associate at J. Sagar Associates, Mumbai. He graduated from Government Law College, Mumbai, and simultaneously earned his Company Secretary degree. His internships include Tata Motors Limited, P&C Legal and J. Sagar Associates, Mumbai. He has also completed a Diploma Course in Cyber Law from Asian School of Cyber Law, followed by the Advanced Certificate Course in Foreign Trade, International Business/Trade, Marketing and Dispute Resolution from the Indian Merchants' Chamber. In this interview he talks about:
Academics and co-curricular activities at GLC, Mumbai
Internship, recruitment and work at corporate law firms
Pursuing a C.S. degree along with LL.B studies
Our readers consist of law aspirants, law students and young lawyers. How will you introduce yourself to them?
Firstly, thank you for giving me this opportunity to share my story. This interview is going to be an experience in itself as I am usually the listener and the one who asks questions.
I rocketed to Earth as Ronak Thakkar. I'm a corporate lawyer, 23 years old, currently working in Mumbai (Bombay, for those who prefer it that way). I am passionate about law, live life with an open, accepting mindset and am always up for a high five.
Tell us a bit about your childhood and pre-college life as well as educational background. Do you have lawyers in your family?
I was blessed with a very good childhood and was fortunate to have caring and supportive parents. I was a last bencher at St. Pius X High School, an all-boys school. As you've guessed it right, the energy and the adrenaline rush were really high.
Honestly speaking, school has been one of the best phases I have lived through so far. I guess the feeling is the same for all of us. I have learnt a lot, made many friends and it has definitely been the foundation stone to the positive attitude with which I stand in front of you guys today. About my educational qualification, I am a law graduate from Government Law College, Mumbai.
I am a first generation Superlawyer. I also don't have a surname that is well-established in the fraternity.
In India there is bit of resistance towards legal education even now. What motivated you to choose law as a career?
I don't personally feel that there is any resistance towards legal education now. I think students in India today are more than happy to take up law mainly because law offers you many opportunities to do your best in your chosen interest areas. The Government is doing a lot to promote legal education and make it more accessible. In GLC there is about 50% reservation for students who belong to eligible quotas like SC/ST, sports, cultural etc. and these opportunities are being utilised.  I don't think there is any resistance.
As far my motivation to take up law and pursue law as a career is concerned, it was simple. I could relate to it more than anything else and definitely relate to it more than I could relate to K4Fe(CN)6 + H2SO4 + H2O = K2SO4 + FeSO4 + (NH4)2SO4 + CO.
According to me law helps you to find solutions in real life situations and is a very practical subject. I felt that by doing law I will be standing for a purpose/cause and will work towards achieving it. Therefore I took it up.
Curiosity is the word. Law is interesting; I felt I wanted to know more. I was sure that I will be better as a lawyer than a dentist or an engineer. It wasn't very difficult to take that decision then.
How did you get through to GLC, Mumbai?
I was a science student before I took up law. I was weak with numbers, never got my chemical equations right. I had realised that I had failed to make the right choice. I was about to waste a year because it was a bit late by the time I decided to do law and GLC was the only college I was able to apply to.
While going through the admission process, I learnt that in order to get through GLC, your HSC percentage is taken into account and you are not required to give CLAT which was motivating considering that I had not given the CLAT.
I am very happy that I got through and was a part of this excellent institution.
Which subjects did you enjoy during your qualifying degree? What about co-curricular activities?
I enjoyed Company law, Banking laws and Constitutional law. I contributed to the Magazine Committee of GLC in my first year.  I moved on to learn German and Japanese in my second year as learning new languages and networking are my hobbies.
I felt that much of the law related to people and their dealings with each other, and it was crucial to understand thought processes and society to be able to work towards solving social problems. Therefore, I took up voluntary community service at the Indian Red Cross Society, Mumbai and was a part of some of their programs.
I became a part of AIESEC, Mumbai in 2011, a branch of the world's largest youth run organization, AIESEC International which gave me an opportunity to network and facilitate student exchanges with partner countries. It was a very positive experience as AIESEC always welcomed new ideas, promoted teamwork and leadership. As an AIESEC Organizing Committee member for "Balakalakaar 2011" I worked towards empowering under-privileged children and was instrumental in giving them a platform to showcase their talents.
In my final year of law school, I was an active member of the GLC Students Council, the apex student body where I worked towards organizing events and promoting various initiatives for the welfare of college.
Tell us about the places you have interned at. Did you plan your internships throughout law school?
I did not plan my internships. As a part of my C.S. coursework, I had to do a compulsory internship for which I approached ICSI, my C.S. Institute to know how to go about the internships. Based on their guidance, I applied to companies and procured my first internship at Tata Motors Limited where I did a mix of corporate secretarial and legal work.
As I discovered that I am more inclined towards corporate and transactional legal work, I asked some of my friends to suggest good law firms where I can learn more. After doing a bit of research online, I was able to contact the H.R. departments of these firms and submit my resume for their consideration. That's how I procured my internships at P&C Legal, Mumbai and J. Sagar Associates, Mumbai.
How relevant did you find your law school education with the kind of work you were required to do at law firms?
I found it quite relevant. A law school curriculum is designed to cover everything that a law student 'must' know before he/she starts practice. Working on a transaction/matter will teach you more about the practical application of law to transactions/matters. But from an academic standpoint, I feel the education was very relevant to prepare one for the practicalities.
You also managed to pursue the Company Secretary course. Tell us how did you manage it with college?
In my first year, I saw a few students from my college applying for it. So I walked up to one of them and asked them about the course. I was told it is "core corporate law". So I went up to www.icsi.edu to find out more and was convinced to pursue it.
Initially it was more like following the rat race but as I discovered that I was more interested in corporate transactional work, I continued with the course and it was very helpful academically as it had important insights on subjects like mergers and acquisitions, securities law etc. which were not covered by my law school curriculum but were otherwise very relevant.
As regards, how I managed to do it with college, I have a secret formula which is – "Be humble, hungry and the hardest worker in the room".
Soon after graduation, you joined J. Sagar Associates as an Associate. How did your appointment take place? How was your interview? Please give our readers some tips to nail a law firm interview.
I applied to work with J. Sagar Associates after I completed my internship. My appointment was based on a review of my performance as an intern with the firm. My interview was a formal one and was focused on confirming my resume and ensuring that I knew what I was talking about from a "technical" standpoint.
The interview was also about finding out if I am the right fit for the position or culture at J. Sagar Associates.
I haven't faced many interviews, but if I were to highlight some important points for applicants to keep in mind while applying for a job, they would be:
Research about the law firm where you wish to apply.
Make an effort to really understand what the firm's expectations are of you and whether you will be in a position to meet them.
Know your career narrative well. The career narrative must be easy to remember and retell. It should meaningfully link your past successes to your near and long-term development needs and suggest the kinds of assignments that would help to achieve those objectives It must hang together with the right combination of honesty, humility, and personal flavour.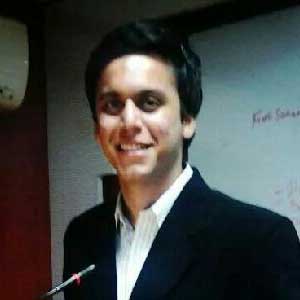 How tough were the first six months at your workplace?
They were not tough or difficult. J. Sagar Associates (JSA) has a very positive, supportive and friendly work environment. I have helpful team members and well-informed, accessible partners who guide me so that I can deliver my best. This is actually very encouraging and has motivated me to learn more and get better on the job.
Tell us about the nature of work you're entrusted with and what a typical day is like. What is the most challenging aspect of your job?
I am entrusted mainly with transactional and advisory work. My practice areas are private equity, mergers & acquisitions, banking & finance. I also work on general corporate commercial matters and am involved in drafting, negotiating and reviewing a variety of commercial and financing contracts.
In my view, the most challenging aspect of my job is time management. There are deadlines to matters and it is important to be responsive to clients. When you are on multiple active transactions it becomes a bit challenging to balance between long work hours and one's personal life.
Do your dual qualifications complement each other in terms of your work?
Yes to an extent. The qualifications have helped me to understand concepts better and gain much needed academic exposure before facing a practical transaction/situation.
There is a phenomenal obsession amongst law students with maintaining a very high CGPA. How important according to you is this in securing a job in a top tier law firm?
My personal view is that a high CGPA is definitely an important reflection of your academic performance, but it is not the only parameter on which your capabilities to be a part of the top tier law firm are adjudged.
If your CGPA dropped because you were involved in extracurricular activities due to which you weren't able to devote sufficient time to your studies in a particular semester, that doesn't mean you are not a performer. But it surely means that you are a multitasker!
You did a Diploma course in Cyber Law from Asian School of Cyber Laws. Tell us about the course structure and the utility of pursuing such Diploma courses beside studies.
The course gives you knowledge about the information technology laws of the country and how e-commerce is regulated in India. For more information on such courses please visit: asianlaws.org. The Asian School of Cyber Laws is doing a really good job. There are tutorials conducted to make you understand the subjects in detail, the study material is helpful and exams are open book.
I personally feel that the IT law practice is still in its developing stages in India. And from what I foresee, we are being increasingly driven by technology in our personal and professional lives with each passing day. It is naturally important to know how the law relating to technology is and will be regulated.
You have also pursued an Advanced Certificate course in Foreign Trade, International Business/Trade, Marketing and Dispute Resolution from Indian Merchants Chamber. What was this course all about? Do you think pursuing this kind of professional courses help?
India holds an integral part and has an important position in the global economy today. Naturally, there are going to be many cross border transactions and opportunities coming to our doorstep. As a lawyer, one will be required to work/advise on these transactions.
The Advanced Certificate course in Foreign/International Trade course gave an overview of export-import and commercial transactions, documentation and more importantly about the foreign trade policy and the Foreign Exchange Management Act. These are key regulatory areas which will be very important to take into account if you were working or advising on a cross border transaction.
These subjects were not covered in sufficient detail in my law school curriculum and therefore I felt the need do this course.  You can know more about the courses offered at the Indian Merchants Chamber website.
Where do you see yourself five years from now? Would you consider going for an LL.M. abroad?
I don't make five year plans. I have my fingers crossed and hope that I should be doing well five years down the line.
Yes, I might consider doing an LL.M if I manage to get a scholarship.
What would be your parting message to law students who want to get placed in a law firm?
I believe that 'effort motivates accomplishment' and if you work towards something you want in the right manner, you will achieve it. There is a Superlawyer in each of us. Find what you love to do, and just give your best.
Firms will be more than willing to welcome you if you are good. People at firms are sweet, trust me!
I am reachable at LinkedIn and Facebook in case anyone needs to get in touch. I take this opportunity to wish law students all the very best and I will be the happiest to know about their success stories.