Dr. Sibichen K Mathew is an Indian Revenue Service (IRS) officer of the 1992 batch. An alumnus of the Indian Institute of Management- Bangalore and the Jawaharlal Nehru University, he currently serves as Advisor to the Telecom Regulatory Authority of India (Joint Secretary Level). Apart from his role as a Senior Civil Servant, he is also a leadership trainer, blogger, author, sociologist, and a policy researcher.
He is the recipient of the UGC Research Fellowship and has been awarded gold medals from the National Police Academy and National Academy of Direct Taxes. He is the author of the books, "Making People Pay: The Economic Sociology of Taxation" and "When the Boss is Wrong". He was also the college topper of the Bachelor of Law degree from the Karnataka State Law University.
What brought you into legal studies after having extensive experience in Academics?
(Sibichen holds a Bachelors in Chemistry, Masters in Sociology from Kerala University, an M.Phil from Jawaharlal Nehru University and a Ph.D from Bharathiar University, Coimbatore.)
I believe that learning is a continuous process. It never stops if we are in search of wisdom. The more I learn, I understand that how ignorant I am. That shatters my ego.
Of all the courses I pursued, one that gave me immense satisfaction was my LLB course. Law is one discipline which instantly gives the student a feeling of empowerment. I always felt that a formal schooling in law can give us tremendous confidence in dissecting the social reality sensibly and will give the necessary courage to fight for justice. Law and justice are inextricably intertwined.
Being a topper in LL.B please give us a few actionable tips on scoring higher grades.
(Sibichen has received his LL.B degree from Karnataka State Law University in 2012 where he was a college topper and a rank holder.)
Once you enrol for an LL.B course, the first thing you need to do is to connect and approach whatever you see, read and hear with a legal perspective. Even when one reads the daily newspaper, an alert and keen law student would link the facts and incidents narrated there with the extant legal provisions and judicial positions he learnt. For example, a typical newspaper contains a number of reports about crimes happened across the world. An easy way to learn the discipline is by linking each such incident of crime with the corresponding sections of IPC, Cr PC, etc and other specific Acts. You will not forget the sections later-on.
The second tip is to cultivate a habit of quickly glancing at the important decisions of the Supreme Court, various high courts and tribunals reported in the online and offline sources at least once a week if not on a daily basis. By subscribing to various news aggregators, you can get instant access to your chosen fields in your smart phones.
Thirdly, liberally quote the case laws and the gist of the decisions while answering your questions during the examinations.
Please note that there is no alternative to bare Acts. One has to read and understand every word used in a particular section. Commentaries can be read later. And, refer the guides only for revision. Prepare your own notes after reading the bare Acts and the commentaries. Include the latest case laws in the answers you prepared. Please quote connected incidents and the judicial observations reported recently by media to illustrate in your answers.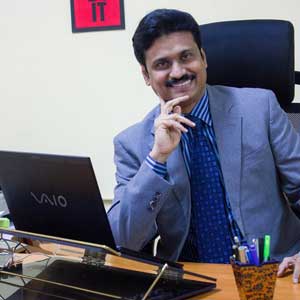 Tell us about your B-School experience and also give some highlights of your course which you pursued from IIM-B.
(Sibichen has also pursued a full-time post-graduation in Public Policy and Management (PGP-PM) from Indian Institute of Management, Bangalore (IIM-B).)
The course at IIM-B really opened up my world view beyond what I learned and did before. It was a course that inducted me deeply to various areas such as international trade, global public policy, international regulatory institutions, public finance, decision making models, business laws, business process flow and human resources management. The teaching methods and evaluation were extremely rigorous but of very high quality.
Was it a professional requirement to pursue courses in Public Policy and Taxation to enhance more in your career?
(Sibichen has pursued courses on International Public policy and Corporate Taxation & Advocacy Skills from the Syracuse and Duke Universities respectively.)
Though it was a professional requirement, I could use the opportunity to gather data on some of my pet subjects such as transnational tax evasion, money laundering and white collar crimes. I could interact with experts during my stay in the universities and there are vast resources available in the libraries of these universities. Law students should try to pursue a post graduate degree in any of the best universities abroad.
Please comment on the quality and structure of these courses. How much practical knowledge did you gain from it?
The learning happens in a very liberal academic environment. The process is not one way, from teacher to student. The students learn from each other. The teachers also learn from the insights shared by the students. The nature of evaluation is also based on the choice of the students. One can give weightage to the assignments, projects, written examinations and oral presentations as per their choice. The global exposure is essential for a law student in an increasingly globalized world where businesses and entities function without borders.
After your graduation, which are the competitive exams you have taken?
While pursuing my graduation, I started writing many competitive examinations. I qualified a few examinations for jobs offered by the state government. I qualified for the UGC-JRF in my subject and I was the only student to get the fellowship in my subject from my university that year. Though I started preparing for the Civil Services Examination after I completed my graduation, the real push came only when I got admission in JNU as I saw many students studying more than 16 hours every day for it.
What motivated you to appear for UPSC? How was it cracking the UPSC in the early 90s?
(Sibichen is an Indian Revenue Service (IRS) officer of the 1992 batch, he is now in the ranks of Commissioner of Income Tax.)
To pass the civil services, one has to be jack of all trades, but master of none. That means, one should have some idea about all subjects under the sun. One has to open his eyes and ears to whatever happening across the globe. Read whatever you get. Have your own view on the affairs and policies of the institutions and the governments. Be systematic in the preparation. Be focussed while writing the answers.
Tell us about your experience working with the Income Tax Department of Government of India, in various capacities starting from Assistant Commissioner of Income Tax, which was your first post.
Indian Revenue Service offers challenging assignments to all the officers. There are diverse jobs within the career: Assessment, Criminal Investigation, Judicial roles, Administration, Systems Management, etc. One will get exposure to all types of businesses, tax laws, economic offences, innovative techniques of investigation, transnational tax practices etc. The job gives tremendous satisfaction and there is a culture of very high level of professionalism within the department. I could succeed in busting large rackets of organized tax evasion and received recognition from the Central Board of Direct Taxes, Ministry of Finance, Government of India consecutively for five years for contributing to the department by way of best practices at work.
In the meanwhile, you have authored two books titled "Making People Pay: The Economic Sociology of Taxation" and ''When the Boss is wrong''. Please give a brief insight of these two books to our readers.
My first book, 'Making People Pay: The Economic Sociology of Taxation' is the result of about six years of research. My second book, 'When the Boss is Wrong: Making and Unmaking of the Leader within You' took about three years to write. It was difficult to get a good publisher for the first book, as it happens for any first time authors. The going was easy once the first book did extremely well in the market.
Why do you think "Making People Pay" attracted the readers so much? What kind of feedback you are getting regarding this book?
(Sibichen's book "Making People Pay: The Economic Sociology of Taxation" has been reprinted thrice and very widely circulated across the globe.)
It was not clear for me why a country with considerable tax elasticity and tax potentiality found it difficult to attract more people to its tax rolls and gain more money to the direct taxes kitty. So I started my search for the answers and I realized the need for a systematic macro analysis of the issues. I was in fact plunging myself to what many call 'research' on the subject. Is tax aversion unique to some countries? My analysis proved not. There are several historical, political and sociological factors that deter people from paying taxes globally. It is not just economic factors that determine tax compliance as it is widely thought off. Attempt in this book was to analyze those factors. It threw open certain valid questions. Why people in some countries comply better than others? Why tax evasion is not frowned upon in some countries and disgraceful in some other countries? Any theoretical analysis on the behaviour of people is incomplete without analysis of primary data. Therefore a unique attempt was also made here to understand tax evasion and tax enforcement through a study of tax evaders (or who were branded so) themselves.. The interviews and case studies with them have, without exception, cumulatively and intellectually enriched me as they helped me to understand the behavioural pattern, attitudes, perceptions and expectations of taxpayers in general.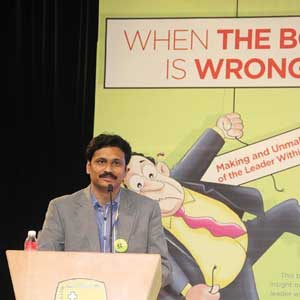 Are you planning to publish more books in future? Do you think your books will influence and attract young readers as well?
(Sibichen's books were appreciated by M.N. Venkatachaliah, Former Chief Justice of India, Mr. Cyrus P. Mistry, Chairman Tata Sons; Mr. N.R. Narayana Murthy, Chairman Infosys Ltd; Mr. Abhinav Bhaduri, Chief Learning Officer at Wipro Limited; Mr. Anand Surana, Director Micro Labs for your published books.)
I have got appreciations not only from very eminent people but also from many young persons, students and retired people for both books. In the book, 'When the Boss is Wrong', I have presented 50 different dimensions of bad leadership and their ramifications for the people and the organization. There is also an attempt to suggest certain precautions and prescriptions for persons (both in their roles as a team member and a boss) and some precepts for the organizations concerned.
I have a blog named 'Cyber Diary' and I will be focussing on writing more articles in that for popular reading. Many times, blog posts are more powerful than published books.
How did you go about so many awards in your career?
(Sibichen is the recipient of a Gold medal from the University of Kerala for topping the Post Graduate Examination, a Gold medal from the National Police Academy, a Gold Medal from the National Academy of Direct Taxes for extracurricular activities, for securing "A" Grade for the post graduate courses which he completed from Jawaharlal Nehru University and Indian Institute of Management, for recognition for his work at Central Board of Direct Taxes for five years consecutively, UGC Research Fellowship and he was also nominated for Commonwealth fellowship and ICSSR /ISEC Fellowship.)
I don't know. Maybe it's a little bit of hard work, some strategic planning and a lot of blessings.
How was your experience serving as a Deputy Commissioner of Coimbatore as well as the Deputy Director (Investigation), in the Investigations Directorate working in the Tamil Nadu cadre?
The key duties in the above roles were to investigate tax evasion, detect black money and raise tax demands and penalties. I was successful in unearthing a few complex and organized tax evasion practices.
Can you share any memorable or interesting experiences in your stint as a Senior Authorized Representative at ITAT?
(Sibichen has worked mostly on money laundering and tax evasion cases while he was serving as the Senior Authorized Representative of the Department at the Income Tax Appellate Tribunal, Bangalore and as the Additional Commissioner of Bangalore (Investigations))
More than the opportunity to defend cases for the government, I got benefitted from the unique experience as a counsel. It sharpened my skills in advocacy and acquisition of legal knowledge, and gave tremendous confidence in arguing cases against the submissions of acclaimed legal experts.
What kind of cases you are dealing with at TRAI? Give some insights on those matters.
(Currently Sibichen is working as a Regional Head and Advisor in the Telecom Regulatory Authority of India (TRAI).)
My duties include monitoring of regulatory compliance by telecom, broadcasting and cable companies. I am also in charge of conducting regular meetings with all stakeholders in the states of Maharashtra, Goa, Karnataka and Kerala. Currently, the focus is on digitization of cable TV. We also collect feedback from the public on various policies and issues. Current discussions on platform services and net neutrality are some examples of such consultations with public.
You have so many landmark achievements in your life. Now, tell us what have been your failures and successes? What were the biggest hurdles and challenges in your life till date?
If I have failed anytime the blame should go to me only. Proper utilization of time, prioritization, sincerity and devotion to work, and goal setting are the keys to success. I feel that a person can become a successful individual and an acceptable personality in society by acquiring emotional intelligence, social intelligence, communication intelligence and cultural intelligence. These are the four pillars of success. I have mentioned this in detail in my latest book, 'When the Boss is Wrong: Making and Unmaking of the Leader within You'.
If someone does not go to a top law school, would you say he still has a shot at a great career in law? What should such a person do to develop necessary skills and profile?
Please understand that the last time the name of the institution you studied your law matters is only when you get placed for the first time. From the second day of your career, your background is immaterial and irrelevant for all. They look at your: technical competence, professionalism, attitude, managerial and social skills and willingness to learn.
I am sure, a student who is not from a top national law school can get recognized and excel with the above in right proportion. If you are not from a high ranking law school, you may try to participate in national level law seminars, debates and moot courts and also write a few research papers in national or international journals. You will definitely get good placements.
What would be your advice to our readers who are budding lawyers and law students?
Never stop reading articles that can not only enhance knowledge, but also inspire you to achieve your goals. Prioritize your time.
My motto is 'Promise Less; Deliver More'. I urge you also to earn a reputation of fulfilling the promises and sticking to deadlines.
My contact details:
FB: Sibichen Mathew
Website: sibichen.in