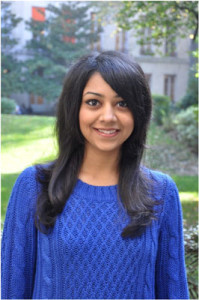 Sneha talks about the unparalleled flexibility available at GLC with regard to pursuing internships. She explains how her knowledge of the French language coupled with the ease of obtaining a French scholarship and lower living costs makes higher studies in France an attractive option. She clarifies on the application procedure and common misconceptions about the contents of an LLM degree in France.
Tell us something about yourself.
My name is Sneha and I am pursuing my Master's degree in Law from Paris Institute of Political Studies (Sciences-Po) in Paris. Previously, I studied law in Government Law College in Mumbai. Currently, I am on a gap year to gain practical work experience as an Intern in Gide Loyrette Nouel, Paris.
Though it's one of the most cliché question, but yet, why law?
Let me give you a candid answer to that question. Since school, my interest in languages motivated me to participate in essay competitions, elocutions and most importantly – debates. Math and sciences were never my strong subjects. Hence, narrowing down my career choices was easier. My love of languages and debates naturally drew my interest towards law and here I am.
What about your LLB years? What did you guys do for fun? 
I started studying in GLC in 2007, I must say I had lot of fun; I met some of my best friends there. For fun, we participated in lot of different college committees, moot courts, Model United Nations conferences, etc.  We represented GLC in Harvard Model United Nations in Boston and that trip was the most memorable!
GLC is located in sort of hub of all the law firms giving students ample opportunity to do running internship, yet a lot of people complain about irregular classes and infrastructure. What do you think are pros and cons of GLC?
GLC has consistently produced excellent legal talent in the country. No other institution can claim to have such an impressive number of outstanding lawyers. Recently, in light of the development of legal education in past few years, students require an all-round CV to get past a challenging interview process at the law firms or to be able to cope with the competition at the bar.
GLC curriculum is unique in this respect and provides for an all round development of a lawyer. Students typically intern for 4-5 years almost on a full times bases prior to graduation. This is a huge advantage for GLC students as opposed to students from other law schools in the country wherein students do limited internships during the 5-year programme. Additionally, the moots, other extra-curricular activities and the freedom that GLC provides to its students is incomparable to other institutions.
That said, one major complaint that students have at GLC is its lack of infrastructure and resources. Relatively speaking, Shortage of good faculty is another concern at GLC. At the same time, it is also remarkable to see that we have students from other colleges coming to attend Professor Pithawalla's lectures. I think GLC's rich library is also one of the impressive assets to mention, our library has the original copy of the Indian Penal Code drafted by Lord Macaulay in the year 1886 and also many rare books, which cannot be found in any other library in India. GLC's physical location is on one hand a huge advantage to its students while on the other hand there is no space to expand in the most sought after area of Churchgate, Mumbai.
What made you go for higher studies so early in your career?
Initially, my plan was to stay and gain experience for a few years, however, one of the deal breakers was to get admitted to a good law school and I managed to do it along with a scholarship. So, here I am, studying in Paris.
Paris is a dream to-go-to place for many people and you happen to be studying there. How does it feel like?
It feels amazing! I always dreamed of visiting Paris but I must say I never thought that I would end up studying here and walking by the Eiffel and the Louvre every day. Paris is undoubtedly one of the best international cities and it has so much to offer you on many different levels. On each and every corner of Paris, there is a special monument with a remarkable history attached to it. I feel privileged to be able to live in Paris and at the same time I have the advantage of visiting neighboring European countries any time I want as everything is within two hours by flight!
Why did you choose to study in Paris?
I chose Paris for my love of the language French. I started learning French at Alliance Française de Bombay when I was in the first year of GLC. French is such an elegant language and you start feeling glamorous even while learning it.  I had several opportunities to meet eminent French personalities, participate in activities related to France or their language, I remember we had a treasure hunt competition in South Bombay in which all clues given to us were in French!
So basically, I fell in love with the language first and then I decided to even take my main career along with me to France.
How did Sciences Po Paris happen? What other colleges did you apply for?
I was contemplating between doing a JD in the US or something as different as Sciences-Po Paris. In my final year, I studied to give the LSAT, by the end of the application process; I was comparing my career options between doing a JD against a Master's degree from Sciences-Po. Sciences-Po definitely sounded like an out of the box kind of an idea and at the same time, it also carries a strong reputation of famous schools alike such as Harvard or Oxford University. It has traditionally educated France's political and diplomatic elites including the current President Mr. Hollande. I was completely amused by the idea of studying at an institution that carries a strong worldwide reputation for specializing in social sciences.
Did you get any scholarship to study there?
Yes, I was given the French Government's scholarship. The French government is very welcoming of its foreign students and there are many institutional scholarships as well as one other government scholarship that gives priority to law students.
How long is the LLM course over there? How is it different from LLM in popular countries such as US and UK?
It is a crisscross two year program between LLB and LLM, it is called 'Master in Economic Law' with a specialization of your choice in second year. It enables you to study more subjects than in LLM offered in other countries and you can still pursue a specialization, which is normally offered by an LLM course. So I think it is a fantastic course and also fits the expectations of law graduates coming from India. You also have an opportunity of participating in famous moot court competitions such as Willem C. Vis and Jessup. Sciences-Po has an excellent faculty of full time professors as well as a prominent visiting faculty including professors from foreign law schools, several partners, and lawyers from international law firms and so on. At this point, I would also like to mention that all classes are offered English and based on Common law in comparison with the basics of French/Civil law. A common perception is that I am studying only civil law of France which is not too useful for common-law lawyers but I hope this clears the cloud. I personally find it extremely useful to get to know the basics of this civil law system, especially when Indian law firms are starting to have many European clients.  You can also take an year off from the school and pursue two internships over the period of ten months or apply for exchange programs to law schools including NYU, Harvard University to study one semester there and then pursue one internship of five months. Even if you decide not to take the year off, during your second year, there is Columbia law school exchange program in which, you spend a semester at Columbia and return to Paris to finish the last semester. This course also makes you eligible to pass the French bar exam which is in French (if you work hard on your French, you can take it!)
Would you tell our readers about the application procedure and other requirements?
I would suggest sending in the application on day 1 of starting date. Sciences Po doesn't have a particular early decision system like American law schools but since it is rolling application process, earlier the better. No prior knowledge of French language is expected from the applicant student, which is very comforting to those who do not speak French at all. You can start learning the language with your law classes. I had many students in my class who did not speak French at all so it is common.
Of course, knowing French language can prove useful because you live in a francophone country so for day to day life it is easier if you speak French but I also know of many people who get by without speaking any French. It really is up to the person if he/she wants to embrace a new language. I remember how thankful I was to be able to speak French when I called a French plumber and explained him the leakage problem in my apartment! If you love challenges, this course and this place are for you!
Most importantly this course isn't as expensive as the LLM in US or UK. In fact, the tuition fee of an LLM in the US or the UK is equivalent to 2 years of fees and cost of living of the course that I am pursuing. Also, being one amongst the rare 3000 (approx.) Indian students in France gives you a good chance to score a scholarship.
How would you describe your typical day?
Since I am working now, I wake up early in the morning, have a shot of espresso like a true French national to start my day and by the end of the day have dinner, sometimes with a glass of one of those special French wines and some good jazz music to overcome the exhaustion! I share my apartment with a French lady so we discuss random things happening around (oh yes, in French). I really think you have to integrate yourself in the local culture so you don't feel home sick; instead you end up making a new home for yourself.
You are interning with Gide Loyrette Nouel which is one of the leading international law firm. How is your experience there so far? How is it different from an Indian law firm? Is there any specific requirement for working in law firms over there?
My experience so far has been extremely positive, I feel absolutely incredible to have an opportunity to work with them. I speak French with most of the associates and partners and they absolutely appreciate it! The team that I work with is so diverse and you have an immense scope of learning literally every day. The clients are so international that at times, I have found myself looking up the Company laws of African countries. I also got to learn the practicality behind French corporate laws. It is an extraordinary experience for a common law lawyer. I noticed the firms here are very well organized and very particular about their filings, billing hours etc. In addition, big firms like Gide Loyrette Nouel have intense training and a welcome program for interns to help them integrate well into their working style.
There is no specific requirement as such to apply, they even give opportunities to freshers but being a student of Sciences-Po definitely helps you to compete with other law students applying from other universities such as Sorbonne.
The firm is also sending me to Beijing to work for the summer so I have a chance to gain professional experience in Asia. I am very excited to discover China!
What are your future plans?
I would love to work in an international law firm like Gide after graduation but it is not so easy since it is a very competitive market for lawyers in Paris. Hence, after the completion of my postgraduate studies, I will aim at finding an associate's position. Hopefully my current work experience will help me achieve it.
What would be your advice to law students who plan to go for higher studies or want to get into academics?
Since we all are still facing the post-recession consequences, it is extremely important to be innovative in your career options. If you pursue a Phd in law, you could also become a professor afterwards and it will be good to have some fresh, young faces into academics.
Last but not the least, what would be your message for law students?
I would say that use your time to your advantage. Manage your academic scores well and at the same time, make your portfolio colorful and convincing with a wide range of internships and work experience. Use every experience to learn about yourself and make a decision about the future based on the lessons you learn. In the end, own up to your decision. Never keep any regrets. The most important thing is to make sure you have fun no matter what you do. Last but not the least, learn a new foreign language!