Subhayu Chakraborty, graduated in Law from WBNUJS in the year 2012. Subjects like IPR, Economics, Economics and Law, Corporate Law, Taxation and Corporate Finance/Governance and Law interested him and he has penned down a few articles – one published by the prestigious International Astronautical Federation (IAF) in 2010. Subhayu went on to pursue his Master's degree in Finance, Frankfurt School of Finance & Management, Germany.
He landed his first job at Sand Hill Counsel through LinkedIn which was initially an internship turned into a PPO. According to Subhayu, "Internships should be taken as a learning ground and for building lasting connections." Currently, as an investment banking analyst he is responsible for deal origination and industry wide/company research.
In this interview, he talks to us about:
Converting internships to PPO
Importance of higher education
Masters in Finance from Frankfurt School of Finance & Management, Germany
Roles and responsibilities of an investment banking analyst
HOW WOULD YOU INTRODUCE YOURSELF TO OUR READERS? DO YOU COME FROM A FAMILY OF LAWYERS? CAN YOU TELL US ABOUT YOUR CHILDHOOD?
I am an investment banker, having had a prior experience in VC transactions. I am an avid reader, love to travel, am passionate about city photography, abstract art, F1 and I play chess. Post law, I worked a couple of years; before pursuing MoF (Master of Finance), and thereafter I joined a mid-market investment bank – 7i Advisors LLP. I now look forward to Joining Naspers in a FinTech Strategy and M&A Investments role.
My father is a taxation consultant, and that's where the first nudge came from. At high school, the choice was between computer science or law. Ultimately, at close of 12th I decided to write the law entrance exams. The choice was amongst NLSIU, NUJS and NALSAR. Once admission to NUJS was confirmed, it was convenient to drop the rest.
I come from Kolkata and spent my childhood there. I did travel considerably – something I wish I could get time, today; that apart, I owe a lot to my schooling, which afforded an all-round development.
WHAT MOTIVATED YOU TO PURSUE LAW? CAN YOU TELL OUR READERS HOW LEGAL EDUCATION HAS BEEN BENEFICIAL FOR YOU IN YOUR CAREER?
Though most people post 10th took up Science and prepared for engineering or medicals; they were never really an option, given my love of chemistry! Yes, sarcasm intended. In 2005, NUJS had its first batch of graduates. I remember discussing with my mathematics teacher and mentor, about the options a legal education would open. My dad played a big role, too. A couple more mentoring sessions later, law was a clear winner.
I believe, the biggest take-away from a legal education has been developing analytical and reasoning faculties; which does help one in roles like advisory/consulting. Having a deep knowledge of corporate law, FDI policies, and being able to structure investments/funds and being adept at soft skills like negotiation does help in Investment Banking.
CAN YOU DESCRIBE YOUR TIME AT NUJS? DID YOU PARTICIPATE IN MOOTS, DEBATES ETC. OR UNDERTAKE ANY MEMORABLE INTERNSHIPS? HOW DID THESE EXPERIENCES CONTRIBUTE TO YOUR HOLISTIC DEVELOPMENT?
Law school, without a doubt were great years. I didn't have a taste for the liberal arts curriculum; but, mid-way through law school I enjoyed most of my courses. I always enjoyed writing and penned down a few articles – one published by the prestigious International Astronautical Federation (IAF) in 2010. Studying with a cohort of talented and driven students, leaves its mark – and coming from a national law school, your extended alumni connect is the best takeaway.
I didn't have a penchant for moots. I, in fact, never considered anything remotely linked to litigation as an option.
Internships should be taken as a learning ground and for building lasting connections. You got to believe the dots would form a line at the end. Few months back – I got off the phone with the India CEO of a real estate investment concern on a possible JV with a Japanese investor. I met him while he headed another concern, with whom I had completed an internship.
WHAT WERE YOUR AREAS OF INTEREST IN LAW SCHOOL? WHAT PIQUED YOUR INTEREST IN TRANSACTIONS? HOW DID YOU CULTIVATE AND PURSUE SUCH INTERESTS?
Business and Law are two sides of the same coin. Legal acumen will stand you in good stead and so will transferable skills like negotiating and reasoning, while making business decisions. Subjects like IPR, Economics, Economics and Law, Corporate Law, Taxation and Corporate Finance/Governance and Law interested me.
Measuring value is an inexact science and markets are irrational. The value creation – be through an M&A, or PE/VC transaction; be either in the strategic sense or pure financial, wherein real worth may develop over the considerably longer term always excited me. I found myself reading the FT and HT Mint more often than law journals.
I was fortunate to be amongst the students to take part in the Allen & Overy International Finance and Corporate Law course. I took quite seriously the words of a partner, that "you could learn more about Private Equity and LBOs, if you read 'Den of Thieves' and 'Barbarians at the Gates'…" That piqued my interest and some knowledge about the US M&A/LBO boom of that period, does hold one in good stead. Thereafter, it became easier – following up on business pages, HBR and being an avid reader, reading on finance books.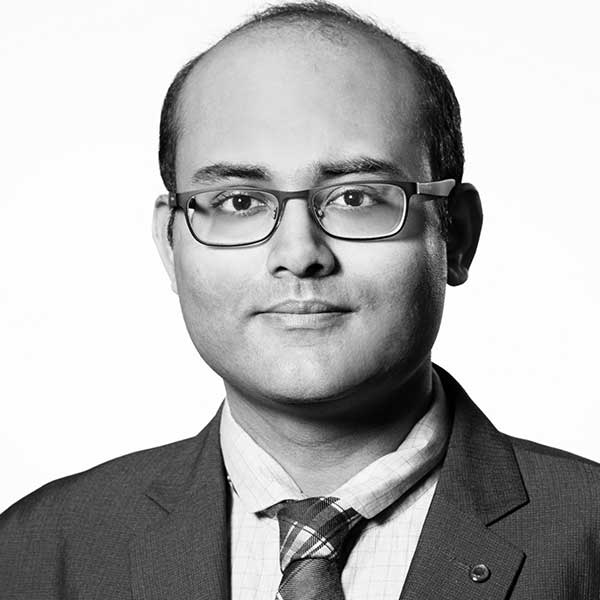 WHAT MOTIVATED YOU TO OBTAIN A MASTER'S DEGREE IN FINANCE? CAN YOU DESCRIBE YOUR EXPERIENCE STUDYING ABROAD?
I found, in my first job, as a transaction lawyer – that, I would inherently spend more time trying to get a better hang of the deal metrics, than documentation and structuring. Somewhere down the line, it struck I could be in deal origination. In India, apart from a lateral move into IB by a lawyer, which is very rare – it made sense to get a master's Degree in Finance. I had to get a pre-experience one (although the average age of the graduating class was 26), as a post experience programme demanded verifiable quantitative skills. I chose Frankfurt School of Finance & Management, in Germany over a noted Spanish school, to be in close proximation to the continental capital of Finance. Further, an increasing number of German corporates are setting up base in India. I graduated in the FS cohort of 2016, specialising in the Corporate Finance track.
Studying abroad is about a journey that ends back at home. Life at FS was a roller-coaster. I had my fair shares of ups and down. Had the good fortune of studying amongst a diverse international student body. Studies were intense, but there were also a lot of free time during weekends. Camping and trails in the German countryside; wine fests, jazz and a dynamic international music scene; are some of the finer things, I do miss. The best part, as always making friends and growing your professional network; and, you know maybe someday I am going to work on a deal alongside a classmate. FS also had a lot of initiatives. FS Buddy for instance, aimed at foreign and exchange students would organize a lot of day trips and cultural activities. They were fun, whilst getting acquainted with the German way of life. There were a lot of focus on student activities and FS Invest and FS Chess were another couple of student run endeavours. At FS we were encouraged to think out of the box, and a lot of students took part in business games and valuation Olympiads. I had the good fortune of being selected to go to Zurich to take part in the India Symposium, attend the 69th CFA Annual Conference in Frankfurt and also take part in the 49th Annual Meet of the ADB.
WHAT ARE YOUR VIEWS ON THE IMPORTANCE OF HIGHER EDUCATION? WHAT WOULD BE YOUR ADVICE TO READERS WHO ARE ON THE FENCE ABOUT PURSUING FURTHER STUDIES?
Well, when speaking about legal education – the value adds of doing a masters, is about your specialization. I am not sure of the graduate job market in London, post Brexit; but English law will continue to be the very basis of our commerce. Of course, there are many students who prefer to do an LL.M or a J.D and then come back to India.
A rule of the thumb would be to know what your core interests are and choose a university depending on its specialization. Rankings of course matter, but you must differentiate among universities to choose the best one for you.
HOW DID YOU LAND YOUR FIRST JOB? WHAT WAS THE NATURE OF YOUR WORK THERE?
Here you got a tale! Phew… I had good grades in IPR and was recommended by a noted faculty member to join as a patent attorney in a pharmaceutical concern. Before joining in, I contacted a partner at Sand Hill Counsel on LinkedIn and set up a one-month internship in Mumbai. I left for Hyderabad, post my internship at Sand Hill. When working on IPR, while that was certainly of utmost interest; I got a call back from Sand Hill Counsel and was offered a PPO. I quit my training and returned to Mumbai for another stint – before joining Sand Hill next June. I remember getting an e-mail from the concerned professor expressing disappointment at me having not been able to make a decision earlier – and, this was also the time when I had a pending submission for the Novartis Bio-camp (in Hyderabad, India) – I had to swallow some pills and take a conscientious decision of letting the Vice Chancellor office know of my decision to withdraw from the Bio-camp. Things do have a way of working out, at the end – and, I was thankful for having made that decision.
At Sand Hill Counsel, like any other law firm associate, I was responsible for research, drafting legal opinions, firm write-ups, drafting agreements, and the usual 'on-deal' responsibilities and closing formalities, with a view to managing expectations and delivering a mature product.
CAN YOU DESCRIBE THE NATURE OF WORK UNDERTAKEN BY AN INVESTMENT BANKING ANALYST FOR OUR READERS?
In IB, one should be prepared for long hours and turning around deliverables in quick time. No two days are the same. I primarily was responsible for analysing business opportunities, develop pitch books for getting mandates, develop target lists, build investment decks, build business models and conduct valuation analysis across sell-side companies. On a live transaction, one has to proactively manage the due-diligence (business, financial and legal) process; and work towards a successful closing. At closing tempers break often and there are long hours, and you do see here, a continuum from my transaction law days.
What you do need to be a good investment banker, is better than average modelling skills – having a good understanding of key financial drivers, some hands-on strategy, and being able to work independently and efficiently in a high-pressure environment. It's also very important to be a thought leader in the space of your calling.
WHAT ADVICE DO YOU HAVE FOR OUR READERS WHO ARE PRIMARILY COLLEGE STUDENTS?
Take risks and believe in your dreams.
There are no ideal jobs and don't fall into a peer trap. While some jobs may be paying well, others do come with a long call. Think of the pay-off from that long call, and if that's a role you do like – take the plunge. Most people I have known, do regret not taking chances; than failing. And, if you do fail, rise; but at the same time be sure to not attempt something, because of your ego – prepare well instead, to truly deserve!!