Vinitha Johnson graduated from National Law University, Jodhpur in 2011. She worked for two years as an Assistant Policy Analyst at CUTS International, Jaipur. Prior to that, she interned exclusively in law firms. She then decided to pursue Masters in International Law and Economics from World Trade Institute, University of Bern, Switzerland. In this interview she talks about:
Working at CUTS International as an Assistant Policy Analyst
Masters in International Law and Economics at WTI
Tips on SOP, Recommendation letters and scholarships
Most of our readers are law students and young lawyers. How will you introduce yourself to them?
I graduated from the National Law University, Jodhpur, India in 2011, after which I spent two years working at CUTS International, a non-governmental organization engaged in economic policy formulation. Prior to that, I worked, and extensively interned in law firms in commercial law, private equity and international trade.
How did you gravitate towards law? How would you describe your time at NLU, Jodhpur?
Very little aptitude for math, and a huge fetish for drama. My time at NLU, Jodhpur was very well-spent. I genuinely started enjoying research during my fourth and fifth year in NLU Jodhpur.
How is your work profile at CUTS International, Jaipur as an Assistant Policy Analyst?
My work experience in CUTS was life-changing! I was engaged in developing domestic and international economic policy, providing negotiation assistance, and being engaged in providing of capacity-building programs. I worked closely with economists, statisticians and people with different skill sets.
An economist who is well read, who can play with excel, and who can model, is a force to reckon with, and is most likely to actually propose a solution to a policy problem! They have incredibly brilliant minds, and I was constantly inspired by the people I worked with.
We worked on a  project which evaluated the impact of India's trade policy instruments on poverty alleviation – it changed the way I looked at research was one, and I made some of my best friends while working with my team mates on that project. I vividly remember being stranded (quite happily) in the Pulwama district in Kashmir, which produces the highest quality Saffron in the world after interviewing scientists who were working on preserving the brand value of Saffron from Kashmir..
I realised that producing academic journal articles are a very, very long way from actually inducing change, and I would have to change who I was as a person, and massively expand my skill-set, before I even begun scratching the surface of "making a difference".
You have numerous publications in various renowned journals. How should one go about writing papers and getting the same published?
Journals have provided me with a lot of critical feedback about conceptualising my ideas, and improving my writing skills – I know I have a long way to go! From my experience, journals value a badly-written paper with an original idea more than they value a well-written paper which regurgitates what other people have said.
Don't publish simply because it is a fad in academia. Aim to provide an input to policy-making. It is easy to come up with innovative ideas when you step out of your comfort zone and attempt interdisciplinary research.
Ideally, you should get published when you add value to a policy debate. Once you have something to say, you should find a way to say it. Try various forums – international journals, newspaper op-eds, blogs, videos, infographics and tweeting! The surest way to add value in social sciences is by collecting primary data – however, that is not always feasible. So the next thing is to identify a trend which is changing, and analytically discuss what implications this could have – should legal instruments regulating the trend be modified? Should new institutions be put in place?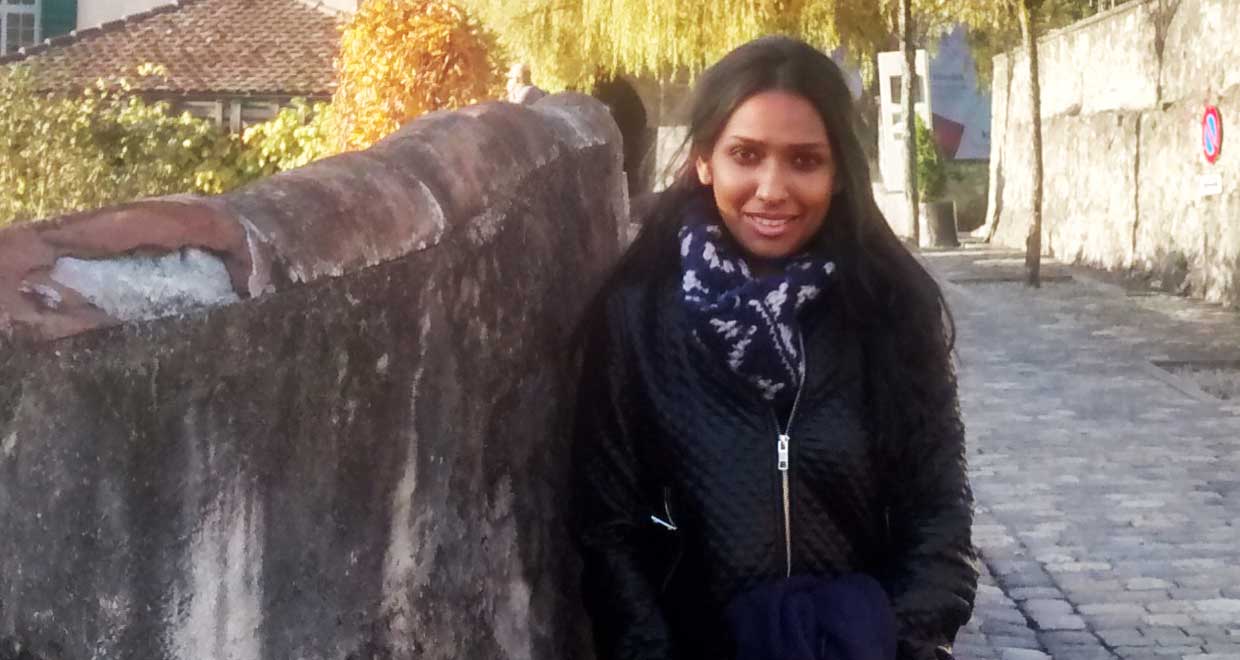 How did you prefer Masters at WTI over your job?
(After having worked at CUTS for almost two year, you joined World Trade Institute, University of Bern, Switzerland to pursue Masters in International Law and Economics.)
I wanted to study in the World Trade Institute since I was in the fourth year of college. I was advised to obtain significant work experience prior to pursuing a Master's degree. In any case, I enjoyed work at CUTS so much that I delayed applying for a Master's degree during my first year there.
How did you choose WTI over others? How did you go about choosing a university?
I had applied to universities which offered a specialisation in economic policy formulation. I was offered the Emile Boutmy Scholarship by Sciences Po, but I chose to pursue the specialisation at WTI. The WTI is excellent for building a career in trade as it combines excellent faculty and a very supportive alumni network.
How did you go about writing your SOP? Are there any key factors which one should keep in mind before writing the SOP?
Applying for a course in the US and one in the EU may require slightly different approaches – while the US might value a very emotively drafted SOP, the EU values facts which are well contextualised.
While writing the SOP, focus on coherence and adding depth to the specific points that you put forth. After identifying three traits which distinguish you from other candidates (could be moots, publications, work experience, leadership), coordinate your CV, your SOP and your letters of recommendation, so that these documents reiterate and triangulate these three main traits, in three different voices, in a cohesive narrative. Further, identify three distinctive facets about the university you are going to, and match them to how you intend to develop your three distinctive traits.
The strategy is this: the CV lists facts and achievements, the SOP describes your motivation behind those achievements, and your recommender is the voice of a senior person with more credibility than you, who validates your achievements, and further comments on your character traits.
How about recommendation letters?
I found dealing with recommendation letters to be the most challenging part of completing my application. This is my honest suggestion for anyone applying for education abroad.
Building relationships with people is integral to building your career, and it is not always the same as schmoozing. There are two types of people – powerful people, and people who like you – these two subsets may, or may not overlap.
Have SIX recommenders in place – it will save you a lot of stress around the application deadline. These should be a mixture of senior, mid-career, junior professionals and faculty members. You should be friends with some of them, especially the young professionals, because they are the people who will step in when you are crying hours before your deadline when the other recommenders disappear.
Have four/five drafts of a recommendation for yourself in your application folder. Do all the work for them. Make it as painless as possible. If you are asked to write a draft, contextualise your work experience, and let your recommender comment on your abilities.
Why did you choose International Law and Economics for research?
Frankly, early on in law school, the only professor who thought I had it in me to be exceptional, administered Trade and Investment law. So I blindly chose Trade law for research. I have not regretted it ever since.
I moved into trade policy formulation very early in my career, and it was even more exciting than trade law. You wake up in the morning knowing the problems you are working on are quite real, there are real stakeholders – farmers and artisans involved, and you are pretty damn fortunate to even sample work which has the potential to be highly impactful. I sometimes feel I would do it all my life for minimum wage if I had to (this attitude of mine definitely infuriates the stakeholders in my life)!
Please tell us a little about your academic schedules and the general experience of studying abroad.
The WTI has structured a very intensive ten-month program where you study one subject in considerable depth in one week. A subject-matter expert flies in for the week, and highlights what we should know as future practitioners.
If one studies the subject before classes commence, and then interacts with the faculty members with a slightly elevated level understanding, you really do gain a lot, because these faculty members are either negotiators, or WTO dispute settlement lawyers or economists who develop international economic policy.
Does WTI provide students with scholarships? Are there any other institutions, which provide scholarships?
Yes, the WTI does provide students with scholarships, as does SECO. If you are keen on applying to the WTI, you will be pleased to know that the University of Bern offers a Master's scholarship with a much earlier deadline in the month of November.
How is your experience so far? Tell us about the faculty and facilities. Anything memorable that is stuck in your mind?
WTI has an amazing network of alumni and faculty members, and they are genuinely committed to helping you build your career. A few weeks back, I requested the Director of my Program if she could advise me on how to start a social entrepreneurship venture. She discussed my ideas with me, and proceeded to put in touch with very important people in international organisations, who could help me develop my ideas. The WTI then assigned me a mentor, who had worked with the Indian government, and was involved in social entrepreneurship ventures. I feel very humbled, and I am very grateful.
Where do you see yourself five years from now?
So, five years from now… Living in a tree-house (with hi-speed internet connectivity, no reptiles), managing a development consultancy that is well-regarded by the researcher community and policy practitioners, coming up with innovative research products and solutions geared at enhancing export revenue for farmers and artisans. It would be ideal if the consultancy could conceptualise real solutions, tap into well-constructed networks in industry and government, and effectively organise agricultural and artisanal lobbies. It would be even better if we could call government officials (have them answer the phone and reply to emails?!), and discuss the feasibility of possible policy options with them…  Yes, that would be good.
Lastly, what would be your parting message for our readers?
Do not play safe in the first three years of your career. Start with a small law firm, or think-tank which will let you do all the work – don't worry about the money at that stage. I would highly recommend working on assignments which "you are too young" to be involved with, so you are forced to grapple with lots of new things to learn, and so the learning curve is incredibly steep.
Ideally, you should be gasping for air as you work on new, exciting assignments. Don't confuse "gasping for air" with mindless, bulky assignments which are repetitive, and which possibly drain you. It is not the same thing.
If you want to work in policy-making, learn the wonders of Excel!
If you want to start a venture of your own at some point, learn to code, or make friends with people who know how to code 🙂
Be very honest with yourself about what motivates you. Is it money, stability, status, recognition, or an opportunity to be part of something bigger than yourself? What your peers around you want may not always be what you want/need, and running with the crowd does is not the safest option.