This interview has been published by Priyanka Karwa and The SuperLawyer Team
Can you share your journey of how you ended up pursuing a career in law, particularly highlighting any key moments or influences that led you to this path?
Since a young age, I have been captivated by the notion of engaging in public service. Throughout my life, I have consistently embodied an altruistic spirit, always eager to extend a helping hand whenever the opportunity arises. This proclivity guided my career aspirations, causing them to fluctuate between the realms of medicine and civil service, ultimately culminating in my decision to pursue a career in law.
The thrust behind this choice stems from my inherent sense of compassion. Moreover, the unresolved intricacies of one or two-generational family disputes served as a potent motivational catalyst propelling me toward the legal profession. This personal connection and resonance with the challenges of familial discord have played a pivotal role in shaping my professional trajectory, a narrative that aligns with the experiences shared by many individuals, including myself, on their journey toward a chosen career.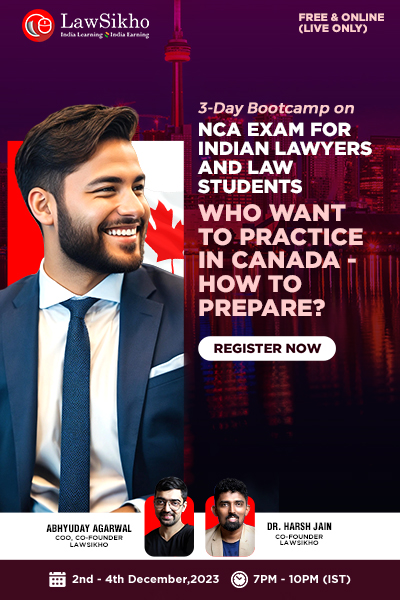 Your academic achievements are impressive, including a degree from National Law University and a Harvard University Summer Course in Intellectual Property Rights. How did these experiences shape your approach to practising law?
The rigorous curriculum at National Law University provided me with a solid foundation in legal principles and analytical thinking. It instilled in me a sense of discipline and a deep understanding of the complexities within the legal field. This educational background has been instrumental in shaping my methodical and detail-oriented approach when addressing legal matters.
Further, the Harvard University Summer Course in Intellectual Property Rights enriched my perspective by exposing me to global standards and cutting-edge developments in the field. Engaging with a diverse cohort and learning from leading experts broadened my understanding of the nuances in intellectual property law. This experience heightened my appreciation for the intersection of law and innovation, fostering a creative and forward-thinking mindset in my legal practice. Not only that, it was only after this course that I was able to identify my target market and understand the businesses that we work with.
In essence, these academic experiences have equipped me with a robust legal foundation, a meticulous approach to problem-solving, and a global perspective that I bring to my practice at Fathom Legal, enhancing my ability to navigate the complexities of the legal landscape thereby making Fathom Legal, Advocates and Corporate Consultants a full-service Entrepreneurship Law firm.

You've had significant experience in corporate law, from debt recovery to Corporate disputes including company law cases as well. Can you tell your areas of work and what were your learnings from it?
Throughout my 6-years of practice, I've navigated diverse legal landscapes, handling cases spanning from debt recovery, real estate, Insolvency and bankruptcy matters, as well as issues of Oppression and Mismanagement, Customs, and White-Collar Crimes, notably under the Prevention of Money Laundering Act before the Directorate of Revenue Intelligence.
On the corporate front, our focus extends beyond litigation. We support clients in enhancing their technological frameworks by integrating legal expertise, ensuring compliance, data security, and addressing workplace safety concerns including Prevention of Sexual Harassment (POSH) and DNI aspects. Our role involves providing comprehensive legal guidance on day-to-day organizational challenges. Pioneering the domains of Web 3.0 and Artificial Intelligence, we've assisted numerous startups with offshore incorporations and global entity restructuring via mergers and acquisitions.
Each case presents a unique learning curve, emphasizing the significance of understanding clients' pain points before meetings and maintaining composure during challenging situations. Continuous legal advancements prompt ongoing learning, offering a wealth of knowledge each day.
Your work involves supporting startups, SMEs, and SMBs. What unique legal challenges do these businesses face in India, and how do you help them overcome these challenges?
My Law firm, Fathom Legal, Advocates & Corporate Consultants is a one-of-a-kind full-service Entrepreneurship Law firm in India with its major clientele being SME's, SMB's and Mid-Cap companies. The reason to specifically focus on these industries is because, in my opinion, they form the backbone of our nation's GDP.
Our client pool is versatile. A lot of our clients are SaaS companies, aggregators, Fintech platforms, Edtech Platforms, Export houses, traders, manufacturers etc. The most common problems that they face is cancellation of projects midway, unpaid bills, quality issues to state a few.
Our team has a very different methodology of working. We believe in intersectional learning. A lawyer with an understanding of business is all that a client wants. We visit our clients' offices/factories and try to get hold of as many business nitty-gritties as possible to assist our clients in the most efficient manner. After developing a detailed understanding we review their paperwork to identify the gaps in their systems and rectify those gaps through agreements and contracts making sure a proper checks and balance system is created within each organization for its smooth functioning. Of course, it takes a couple of months to iron out all the long existing problems but we believe in providing a permanent long-term solution rather than a temporary fix.
Beyond your legal career, you also run an NGO, Paritripta Foundation, focusing on social causes and justice. Could you tell us more about the foundation's work and its impact on the community?
Paritripta Foundation holds a special place in my heart and is being nurtured as the legal advocacy arm of Fathom Legal. This not-for-profit organization spearheads various impactful projects, including 'Project Patrkarita,' dedicated to fostering free and unbiased media. Additionally, 'Project Ankush' focuses on educating young minds about various forms of harassment and equipping them with coping mechanisms. There are many more parallel projects that we wish to take up but are at a halt due to the limitation of funds.
Moreover, we're actively engaged in advanced research addressing critical societal issues. These encompass concerns like household cooking gas restrictions, the implementation of green roofs, challenges within overcrowded prisons leading to same-sex assault, as well as the exploration of PrEP and PEP drugs for HIV treatment. These issues strike at the core of our society and demand urgent attention.
Our aim is to pursue public interest litigations on these matters, striving to contribute to a brighter and secure future for our nation.
You've published several papers and books on legal topics. Is there a particular topic you're passionate about, and can you briefly discuss why it matters in today's legal landscape?
In today's legal landscape, Foreign Portfolio Investment (FPI) and Foreign Direct Investment (FDI) play crucial roles in shaping India's economic and legal framework. Their impact extends beyond the economic domain to influence legal policies, regulatory frameworks, and compliance standards.
FDI is critical for India's growth trajectory, as it aids in infrastructure development, technological advancements, and job creation whereas FPI brings in short-term capital that can be beneficial but also poses risks due to its volatile nature. Both FDI and FPI contribute to India's balance of payments, foreign exchange reserves, and overall economic stability.
FPI and FDI necessitate robust legal frameworks and regulations to govern their entry, operation, and exit from the Indian market. Legal structures such as the Foreign Exchange Management Act (FEMA), Securities and Exchange Board of India (SEBI) regulations, and various other laws are crucial in governing these investments.
Both FPI and FDI significantly influence India's legal landscape by necessitating robust legal frameworks, stringent compliance, dispute resolution mechanisms, policy advocacy, and the protection of investor rights. Legal experts like us play a vital role in facilitating, navigating, and safeguarding these investments within the country's legal framework.
You've had the opportunity to work remotely with international clients. What challenges and opportunities does remote legal work present, and how do you navigate them?
Handling international clients presents a captivating yet challenging scenario. Initially, navigating different time zones posed a hurdle, compelling me to work during unconventional hours. Communication barriers with attorneys in Belgium and Japan were another obstacle. Understanding the diverse legal landscapes across various jurisdictions was crucial; lacking that knowledge made operationalizing in specific regions a challenge. Embracing technology became imperative for seamless cross-border collaboration, and leveraging the latest tech proved instrumental in streamlining processes.
However, working with international clients was an eye-opening experience. It broadened my global perspective significantly, offering exposure to diverse practices. This exposure, in turn, elevated my performance, aligning it with international standards. Moreover, it instilled in me the importance of trusting and delegating tasks, a pivotal aspect in our industry.
One particularly demanding yet rewarding client, a law and lobbying firm in the United States, reshaped my outlook on international relations. This collaboration extended to intriguing opportunities, such as RSVP to closed sessions at The White House. As a legal journalist, having my articles published in prominent legal blogs in the United States has been an enriching outcome of this association.
Overall, this experience revolutionized my understanding of international relations' intricacies, emphasizing the significance of trust, and offering unparalleled insights into navigating complex global landscapes.
As a final question, what advice would you like to share with fresh graduates who are about to enter the legal profession, considering your journey and experiences in the field?
To the fresh graduates, I just want to say that stay curious and stay hungry for knowledge. Go aggressive on your hunger. Explore as much as possible. Catch up with the technology and stay ahead of it. For a flourishing practice make sure to meet new people and create your own network. Strengthen your logical, analytical, legal and business skills. Seek mentorship and develop soft skills. Explore diverse fields of law before you are sure to identify what you enjoy the most. Uphold ethical standards. Trust and integrity are pillars of the legal profession; don't compromise them for any reason. Also remember, In the face of challenges or rejections, perseverance is vital. Keep pushing forward; every setback is a chance to grow.
Get in touch with Ishita Sharma-