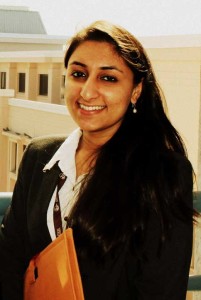 Aakanksha Kumar graduated from HNLU in 2012, as an exceptional scholar, winning 15 gold medals in various subjects. Thereafter she pursued an LL.M. from the Faculty of Law, National University of Singapore. She had joined ITM University as a Research Associate last year and she shall be joining NLU Jodhpur as an Assistant Professor in July 2014. In this interview she talks about:
Getting higher grades and winning 15 gold medals
Selecting a university for higher studies
Scholarships, Academics and research experience at NUS
Experience as a Research Associate at ITM University
A career in teaching and research
Most of our readers are law students and young lawyers. How will you introduce yourself to them?
I am your everyday nerd in love with the law, and the best possible way to spread the love for the law, I believe, is to teach it effectively. I come from a north Indian family, currently based out of Bhilai, Chhattisgarh and am a Dipsite. I finished my B.A.LL.B.(Hons.) at HNLU, Raipur in 2012 and completed my Masters in International and Comparative Laws from  the Faculty of Law, National University of Singapore in July 2013. I have been teaching full-time on a research associate position, at the School of Law, ITM University, Gurgaon since July 2013 and I shall be joining the National Law University, Jodhpur w.e.f.  July 1, 2014 as Assistant Professor (Law). My teaching specialisations include Arbitration & ADR and Comparative Competition Laws, along with research interests in IPR and World Trade Law.
How did you gravitate towards law? Why law and not engineering or medical studies?
Well, I do have the regular "influenced by the parents" story behind my choice of pursuing a career in the law. My father, though not a lawyer, completed his LLB when I was in IX standard and I used to love reading his course books. I was always interested more in the social sciences, but since our school did not have an option to move to the Humanities stream after the X standard, I did pure sciences till XII standard and then appeared for 9 different law entrance exams, and chose HNLU over NUJS and ILS Law School, Pune. Engineering or medicine were never even remote options as I was horrible at Math and Chemistry and was looking for the first chance to give those up. Little did I realize that I will find Patent laws easier and be specializing in IPR eventually, only because my school science studies helped. The other options I had considered were in fact English Literature and Journalism.
You were one of the most exceptional students at  HNLU. It's not every day that someone bags 15 gold medals! Please give us a few actionable tips on managing higher grades.
Thank you! They sure came as a welcome surprise, but I don't really dwell on that glory, though they do add considerably to the number of pages on my CV 😉
I was asked this question on another interview and my answer remains the same.Since Day 1 of law school, I knew I was studying law to be able to eventually teach it.  Hence the study method adopted by me was to cater to my ultimate goal – I would study first and then revise again by teaching my other batch-mates.
Unlike the clichéd "I study for X number of hours in a day"; my study pattern varied a lot. I honestly never studied for more than 4 hours in a day. Instead, my success mantra was – undivided attention to class-room teaching and self study of the same topics that very day after classes. Hence I was able to relax when end-term exams approached, knowing that I would manage to study and revise what was taught. I had different study methods for different subjects, given their level of difficulty, or the extent of extra study required. Regular taking down of notes during classes also helped a lot in later self study. Moreover, the aim was never about getting the highest grade. It was about being so in love with the law, that one automatically wrote an answer so thorough, that the examiner couldn't fault it.
Also, the trick on really securing higher grades is sometimes to get inside the head of the teacher, and understand what they want in an answer. I always tell my students to carefully follow the classroom discussion, as often there may be hints on how to attempt exam questions.
What was your motivation behind pursuing LL.M.? When did you finally decide that you need to do masters?
Like I mentioned earlier, I knew I was studying law to be able to teach it. And one cannot do that without a Masters degree. I come from a very strongly academically oriented family. Both sets of grandparents are or have been teachers or professors. My maternal grandfather; who continues to remain a source of inspiration, is a nuclear physicist and was also the Dean of the BHU Science Faculty. My mother is an English teacher, with  Masters in both Pharmacy and English. I thus like to believe that being academically inclined is in my genes. And completing an LLM to cater to my academic pursuits was the next logical step to take.
How did you choose NUS over others? How should one go about choosing a university?
I had applied to mostly schools in the UK [UCL, King's, Queen Mary's] and NUS. I  was always looking at NUS as my top choice, given the popularity and worth attached to their International Law LLM, as well as given considerations of costs and proximity to India. Under Prof. Simon Chesterman's (Dean, NUS Law) able guidance, the NUS International  and Comparative Laws LLM has carved for itself a special place in international legal academia. Since NUS is known to value academic excellence above all else, I was hopeful about getting in, given my CGPA and rank.
When choosing a law school, one must not just look at the overall reputation of the school, but also at the reputation of the courses offered vis-a-vis one's own interest areas. E.g. One chooses King's London, to generally pursue a Competition Law specialisation Masters, or Rotterdam (Erasmus Mundus) for the Economic Laws LLM. The next very important consideration is obviously the tuition plus living expenses, and available scholarships. Other considerations include accessibility of the city and if one plans to settle down abroad, then, future employability concerns. Another important thing to remember is that an LLM abroad, while being a wonderful opportunity to network with like minded people from all parts of the world, is also not a joy ride. It's a huge undertaking with a pretty hefty study load, and thus one must make up one's mind thoroughly before applying. Also, one must structure one's LLM CV to show experience – either in work, internships or research, in the chosen area of Masters Specialisation.
Does NUS provide students with scholarships? Are there any other institutions which provide scholarships?
Every application to the Masters Programme in NUS Law is automatically considered for scholarships, though their selection criteria is not very transparent or anywhere on paper. From the trend in the past couple of years, it is usually people [strictly applicable to Indian students] with tier 1 law firm work experience for atleast a full year, with amazing references, that get the Faculty Graduate Scholarship. So, I know of peers who had experience at Nishith Desai Associates, or at AMSS whose reference letters were written by  SC Judges or law firm managing partners, who bagged the scholarship.
So if aiming at a scholarship at NUS, do not pursue an LLM immediately after law school, and build a credible list of referees.
Most law schools and universities do have their own scholarships for the Masters programmes. There are also other more popular scholarships – the Fullbright for study in the US, The Commonwealth Scholarship etc. There are several institutions who offer financial aid and bursaries for foreign LLMs but I am not the right person to detail those as I didn't research too much when I applied. For Indian Students especially, I know of UCL offering a special Chief Justice Scholarship and LSE Offers a Marchant Foundation LLM Scholarship. And all scholarships require a very well written personal statement.
What was your topic of research for LL.M? Why did you choose that subject for research?
At NUS Law, one need not necessarily take up the Directed Research Dissertation. One can choose to do a full course for credits instead. I,  however chose to drop a full course module and did the UROP-DR [University Research Opportunities Programme – Directed Research] for 4 credit points.
My research thesis is titled – 'The Taking of Evidence in International Arbitration: A New Legal Regime' which was supervised by Prof. Gary F. Bell, who is an Associate Professor at  NUS Law and a Fellow of the Chartered Institute of Arbitrators, Singapore. I chose to complete my research project in a conflict of laws aspect of international arbitration as I was "precluded" from studying the course on International Arbitration at NUS, having completed an optional specialisation at HNLU in the same. Further, international arbitration both as a substantive field of legal study as well as its procedures, has always intrigued me, given the high level of independence and flexibility in this method of alternative resolution of disputes.
Moreover, I always wanted to teach ADR and International Arbitration eventually, and given the mindset of Indian law school faculty selection committees, an LLM thesis in the area gives me an added advantage.
Did you undergo a rigorous academic schedule? How was that different from your under-graduate course?
NUS has a very demanding curriculum, that requires you to complete a total of 40 credits in the academic year. Of these 40 credits, 24 must compulsorily be of those subjects that are on the list of your chosen specialisation, and the remaining 16 can be from other specialisations. I did 32 credits of International and Comparative Laws and 8 credits of IPR. I also did one full 8 credit course on World Trade Law that was very demanding. Unlike one hour lectures, 5 days a week in India, the NUS contact hours differ. The 4 credit courses are taught once a week for a rigorous three hour seminar that is conducted in the Socratic method of teaching- learning. This meant that if one was unprepared with the assigned readings for that day's seminar, one had to be ready to face the embarrassment. However, classes were always extremely interesting as they were more discussion based, and our professors were brilliant! Since I was anyway used to putting my nose to the grindstone even when at HNLU, the NUS curriculum didn't come to me as a "culture shock" personally. Also, when one sees the dedication of the undergrad students who generally take the same classes, one is motivated to be as good as them, if not outshine them in class.
What is unique to NUS, is the concept of "intensive courses" that are taught in the first three weeks of a semester, for 9 hours in a week [3 hours * 3 days], usually from 6:30PM to 9:30PM. These courses are taught by experts and stalwarts in the area and are specialisation papers. Masters students are to take one intensive course in each semester. A 6 – hour take home exam is then conducted in the 7th or 8th week of the semester for this course. So one basically completes a subject specific specialisation in just 2 months! Extremely demanding but also very fulfilling. I took the courses on EU Private International Law taught by Prof. Franco Ferrari from NYU and Comparative Competition Law and Economics taught by Prof. Roger van den Bergh from Rotterdam [Erasmus Mundus] – both very practical as opposed to theoretical papers and it was in a way, somewhat surreal to learn from and discuss with people who actually wrote the laws that were being studied.
You also worked under Prof. Irene Calboli as a research assistant. Please share some insight on your research topic.How was your experience working with her?
Prof. Calboli is "God" on IPR. She's the most amazing, wonderful human being I have ever encountered in my life.  She was my course teacher for the module on International Trade and Intellectual Property Laws and I secured the highest grade in the subject, which helped me bag the coveted RA spot under her. She was extremely patient with my over exuberance and always encouraged my out of the box interpretations and suggestions, and I still continue to be in touch with her and assist her in whatever manner I can.
My research work for her included completing and editing a chapter she was doing then on the Cultural and Economic Advantages of Geographical Indications and enhanced protection for them. The Chapter is now complete and is available on SSRN
I also did some work on GI protection and Sustainable Development in Asia and did a compilation of GI success and failure stories from Asia, that helped her in a paper she was planning in May last year. The same eventually materialized as her presentation at the ASLI Annual Conference in Malaysia last weekend.
NUS is well renowned for its brilliant faculty. How was your experience with the faculty?
LLM from Singapore was a blessing and the law school is a 'learner's paradise'. I learnt not just about learning, but also learnt about "teaching", which is what I had set out to do. Every single one of the professors I learnt from were brilliant and exceptional in their respective fields of expertise. Each had their own peculiar teaching methods, that were effective in their own special ways. I learnt how to handle a huge classroom from the likes of Prof. Weiler, who was the perfect person to be teaching World Trade Laws, I learnt how to be effective when teaching IPR from the likes of Prof. David Tan, who also happens to be a fashion photographer, and how being simple is the best when it comes to understanding complexities of the UN, from Prof. Chesterman. Also, unlike in India, where faculty is often, unfortunately unapproachable and passive, teachers at NUS are the most approachable, amicable and available at even odd hours to cater to your academic and research queries.
How difficult was studying abroad in terms of finding accommodation, finances and settling in?
Singapore was a cakewalk, given that my parents have friends there and I had visited the country before. Plus Singapore is extremely comfortable for Indians, given the vast Indian population and accessibility to Indian food, and is so so well planned that one cannot help but feel a little spoilt. In terms of finances, the country is a little heavy on the pocket as the standard of living is like being in any other European city, but I was very lucky to have bagged a seat in the University housing offered by the NUS LKY School of Public Policy which is a seven minute walk to the NUS Law Faculty, through the national heritage botanical gardens. So I ended up saving a lot on travel, and food as I was able to cook most of my meals myself. Singapore is a small, clean, very safe and beautiful country to be in.
How was your experience at WIPO Summer School? What was the application procedure for the same?
The WIPO Summer School again, was another experience of a lifetime. After I completed my LLM exams, I had some time to kill until Commencement so, along with research work for Prof. Calboli, I applied to the WIPO Summer School. The summer school luckily that year was happening for the first time in Singapore in association with the IPOS and the IPA. The application is to be completed online, within the deadline slots given and once selected, each student is required to complete the DL 101 General Course on IPR. Since I had already completed the DL 101 in November 2010 and had also effectively completed an LLM, I was exempt from the course. The Summer School was spread over two weeks and we had special sessions on niche areas of IP – Patent Valuation, GI Protection, Trade Mark and Merchandising, Domain Names etc taken by subject matter experts from both in the government in Singapore and from academia in both Singapore and abroad. The most fun part was the assignments especially the TM Protection – Negotiation simulation conducted by Mr. Mendes from Opteon, Australia. The student crowd was also a great mix of both lawyers and engineers and I was certainly enriched with greater knowledge upon completion and also made some great friends.
You worked as research assistant at Centre for International Trade and Economic Laws, JGLS How was your experience as a Research Assistant there?
CITEL was unfortunately a very short stint, but nonetheless I learnt a lot about how trade policies of our neighbours influence our own economic and trade policies. I was given the task of preparing the Trade Policy Monitoring Reports of China for Q3, 2012 as a research intern and I also assisted with research for a submission to the IIFT on Energy Subsidies in India. Prof. James Nedumpara is a very keen and able mentor to work under, and we sure did have NUS LLM stories to exchange too.
Glitz of a corporate job often blinds a law studentand he fails to look at different career opportunities. Were you in double minds before taking up the teaching job? Why did you prefer the teaching profession over other jobs?
At the cost of being repetitive, I did always want to end up teaching. However, I  also completed my share of regular law school internships and did intern at two tier 1 firms, in my final year for a PPO.  Also, I got a call from one, the day I sent in my NUS acceptance. I had earlier declined an IPR Litigation job offer. I would be lying if I said that I didn't try my luck again at firms, upon my return to India, but  I eventually realized, that my calling lay in teaching and it is what I am best at.  And this also came after continued encouragement from my peers in law school, who were also happy to act as my students right before exams when I did quick syllabus recaps for them.  I also took up the teaching seminar in fifth year at HNLU, and enjoyed every minute of being in a classroom.
I love my job, and take it very seriously. And nothing beats the sense of accomplishment one gets when an otherwise below average student in the beginning of a semester, ends up writing a brilliant paper in the end term exams.  And that is the best  personal validation and the major perk of being in this profession. Moreover, I have seen my own teachers – some were truly brilliant, the others, merely hiding behind the façade of having qualified the UGC NET. I wanted to be the teacher to future lawyers, that I didn't have. I still am taking baby steps, and am getting there, gradually. One gets to keep learning on the job, and I have always subscribed to the policy that one learns better while teaching.
Financial security is a major concern for law graduates who aspire to take up teaching jobs. Did you face similar concerns? What challenges did you face while working as research associateat ITM University?
Financial security was never a concern, especially at ITMU, as ITMU pays really well to an RA, and even better to a UGC NET qualified Assistant Professor, i.e. higher than the UGC Scale of pay. However, being  in a private University, the work-life balance is a little hampered and one is expected to work for a minimum of 8 hours a day on not just classes and academics but also don several other administrative roles. So we mentored moot teams, organized guest lectures, conferences, seminars, and had additional charge of the Internship Cell, given the relatively nascent stage that the law school is in. That I think is the problem with law teaching in India. The UGC expects a certain level of research and academic output for the API Scoring. On the other hand your employer expects fulfilment of multiple administrative responsibilities, and thus, being in at a faculty position in a law school becomes a 24*7 job, sometimes work hours being worse than those at law firms.
But if one learns to love and enjoy ones' job, the whole drill seems worth your troubles as the perks – both financially and otherwise [student feedback] are great.
Recently you took up a job at NLU Jodhpur as an Assistant Professor. What are your plans for the future?
I shall be joining NLUJ w.e.f. July 1, 2014. I have been given charge of teaching Constitutional Governance and ADR. I  see NLUJ as a long term plan and hope to begin my PhD by early next year, hopefully at NLUJ itself. A book chapter is also in the pipeline. It is otherwise too soon to be taking ambitious career steps and I am just looking forward to being back in an environment I believe I am more suited to – an NLU.
Lastly, what would be your message to people who want to take up a career in teaching?
Though barely a year old to teaching, I do have a few observations from watching most of my family in the profession. Please do not taking up teaching because it's the only alternative. Take it up because you want to do justice to the profession and because that's where you know your calling lies. As a teacher, one must never shy from admitting mistakes or saying one does not know something, rather than telling one's students the wrong thing. Also, one must treat the job with the sanctity it demands. The returns in the teaching profession do not lie in increased popularity with the students or in the amount of attention one gets from them outside the classroom. Strive to be that teacher who the students will miss when they leave, because of the knowledge they gained and retained from the classes and interactions, and not for the number of internships they bagged or attendances marked with a "P". The returns lie in seeing one's students do well – both inside the class and elsewhere in the world.