Aditya Bhandari graduated from the Institute of Law, Nirma University in the year 2014.  His wisely chosen internships coupled with his interest and market scenario led him to grab a job at Reliance Jio Infocomm Limited which is a part of Reliance Industries Group. He is certainly an inspiration to young corporate law aspirants as he explains in this interview that internships play a vital role in shaping one's career by exposing one to confront the challenges of practical aspects of that career and are as imperative as an Educational Institution itself. In this interview he tells us about:
His satisfactory working experience as an Assistant Manager in the Legal – Litigation team of Reliance Jio Infocomm Limited.
His strategy of choosing internships and thereby substantially enriching his practical knowledge.
How to choose a career stream and get successful regardless of the so-called NLU tag.
Please share with us about your life journey so far and graduating from the Law School of Nirma University.
I am currently working as an Assistant Manager in the Legal – Litigation team of Reliance Jio Infocomm Limited (part of Reliance Industries Group). I have graduated from Institute of Law, Nirma Univeristy (ILNU) in the year 2014. Growing up in Jodhpur (Rajasthan), I was always inclined towards the world of accountancy and since then I made my mind to study Financial Subjects and be a professional Chartered Accountant. However in my school days, I was expressive and had my own opinions about every aspect which was particularly not liked by my teachers (Though I enjoyed it). It was then when I realised that it is a quality of being assertive and argumentative which I could use in the other facets of my life. Though the act of argument leads a student into trouble when he does that with his teacher, or a child when he does that with his parents, but when the same is done by an advocate for his client, with all rigour and vehemence, it takes him to the pinnacle of the profession and that's what makes one a good and great lawyer. Thus, my journey of being an advocate started from that very moment, and my instinct of being argumentative brought me to Institute of Law, Nirma University where my skills were honed and nurtured to the optimum.
Why did you choose corporate law as your specialization course and how do you feel a confused law postulant should manoeuvre his/her area of study for a successful career thereafter?
India, the largest and the youngest economy of the world had open its gate for the MNCs in the year 1991 when Dr. Manmohan Singh, the then Finance Minister of India put forth the LPG in the House. Since then India has become a hub for MNCs and it was then the corporate law came into prominence.
During my internships, I had an opportunity to intern under the ages of Corporate Stalwarts. It was then when I realised that I wish to dip in the ocean of Corporate law as I could figure out it had immense career opportunities in the coming time. Thus the impact and the nature of work I had done during my internships helped me choosing Corporate Law as my specialization course.  As far as the second part of the question goes, in my opinion it relates back to classroom studies, internships coupled with the interest and market scenario. But one should understand that nothing comes easy in life so the choice of subject should be realistic and not driven by others. In the end, it's the student who is the George and he should be able to ascertain which avenue is going to be fruitful for his or her life in terms of intellectual and financial outcome. Something which is opted or chosen by an individual on the basis of his/her instincts and interest will, in my opinion, would not lead to any confusion.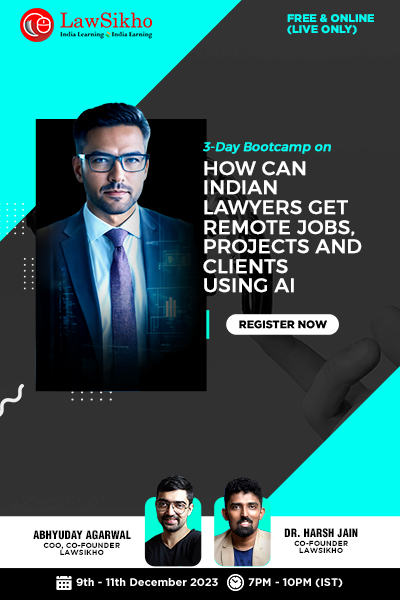 How do you think the curriculum including specially the internships proved to be an indispensible factor in enhancing your knowledge about the practical intricacies of the field of law?
The purpose and object of internships, which in my opinion is a great boon to the 5 year law students, is to acclimatise an upcoming advocate to the realities and pragmatic aspects of the profession, and to understand the difference between academics and the applicability of academics in the real world of law. It just works as pilot training process for the law students before they step into the real world of law. My internships were very fruitful in terms of exposure, amount of work and working for different areas of law. I did my internships with some reputed law firms and few corporate houses like Mulla & Mulla & Craigie Blunt & Caroe Limited, DSK Legal, Economic Law Practices and Reliance Industries Limited etc.
My internship with Reliance Industries Limited was timed perfectly when I was in seventh semester of my 5 years law course where I had an opportunity to assist the legal eagles of India, It was a surreal experience seeing your mentors arguing in front of your own eyes for your own matters with your own assistance. This triggered my focus on corporate law and working for a corporate house and that's where today I am.
I must say, CHOOSE YOUR INTERNSHIPS WISELY!
Please share with us your working experience until you decided to settle with Reliance Jio Infocomm Limited (Reliance Industries Limited Group) and how did it help in edifying your career?
It has been a year since I joined Reliance Jio Infocomm Limited. I have previously worked with Thomson Reuters (TR) where my profile as an Associate in Corporate & Compliance Department was majorly related to Contract Review, Research and Drafting of Agreements. Work at TR offered me great intellectual freedom wherein I got several opportunities to handle projects solely and interact with the top managerial officers of TR's leading clients globally (Multinational Financial Services Holding Companies International Law Firms).
During my work at TR, I was awarded as the best employee of the month which motivated me to keep up with my hard work. It helped me in enhancing my way of working in a corporate culture.
Please tell our readers about your current working experience at the Reliance Jio Infocomm Limited in Mumbai and other prospects of your career ahead.
Working with a corporate giant which is second to none in the country is itself a matter of pride and satisfaction. You are not only working with the best of the professionals in the country but also you become a part of the system and mechanism which has been adopted by the company to continue to be at the top. Even the Fortune Global has recognized RIL as No.1 Indian Company by profit, which itself gives immense satisfaction to me as I am a part of the same. Reliance Jio Infocomm Limited (RJIL) is a company which provides telecommunication services having the largest infrastructure base.
Talking about my profile here at RJIL as an Assistant Manager in Legal Department entails various responsibilities coupled with authority as well. I am taking care of Legal issues faced by the company ranging from big time arbitrations and the pettiest litigation matters. In my brief stint at RJIL, I have been fortunate enough to work with a dedicated team of intellectuals working in different fields such as Construction, Finance, Technical, and Marketing & Business Team. Being an advocate helps me to help the other teams with day to day operational issues faced by them. Also it is important to mention that since the company is in its project phase, we at the legal team work as a catalyst in the process of development of the project and bring it to the operational stage which in itself would bring a revolutionary change in the Telecom industry. The present project I am working on is a state of the art project relating to lightning fast internet services (4G) to be provided to the customers at an affordable price making the concept of Digital India a reality.
What challenges have you faced during all these years of working and how it affected your career?
Challenges are an integral part of any profession, personally for me, challenges make me strive hard. It makes me work with more proficiency. Talking about my challenges at work, the transition is initially difficult when you have to manage the different teams and have to bring them on a common platform. Every Human being is different in his own sense and dealing with them is a challenge in itself presently I am working in a manner where I have to deal with all the facets of the company be it Technical or Mechanical. One must never doubt his abilities as doubts have killed more dreams then the failure has and hence each and every challenge should be treated as a lesson and to come out winning from those challenges takes a lot of hard work and perseverance.
Someone has rightly said that the biggest room in the world is a room for improvement and challenges channels your energy to improve yourself. I have always kept faith in my abilities and this is how I tackle challenges and convert them into opportunities.
What would you like to explain to those aspirants who have been sceptical about working with a corporate entity and look at it as mere 9 to 6 desk job without any independence or additional learning?
Profession of law is much more and over and above the word 'job'. In my opinion any person who takes the profession of law merely as a job is not befitting for this profession. Further this is one such profession wherein one should inculcate the habit of leaving the watch behind and to work in the manner of 24*7.
The only role a watch plays in a lawyer's life is to show how prosperous a lawyer is and the more prosperous lawyer the more the working hours.
The main distinction between a job and a profession is that of addition and multiplication. In a job, the emoluments as well as the quantum of work keeps on adding with every passing day. Whereas in a profession, it though remains stagnant for a particular gestation period but thereafter it multiplies and then sky is the limit.
What would you like to tell to our young law aspirants when it comes to pursuing specialization in corporate law and following the career ahead in that stream?
There should be a consensus of heart and mind when it comes to choosing any particular stream. If one is zealous and ready to toil hard in whatever field he chooses, he is bound to succeed irrespective of the stream he chooses. I would not deviate from the fact that the specialisation course keeps you focused and gives you an insight of the nitty-gritties of that particular stream.
With regard to the corporate law, I would like to reiterate that there are immense possibilities, opportunities for young lawyers who are willing to work hard but not otherwise. It's not a fancy job but requires lot of intellect and zeal and a go-getter attitude. So if you think you have these traits, corporate law is for you.
Do you feel that not having the so called tag of an NLU ever proved to be a hindrance in your professional career?
A lawyer is not bound or curtailed by any tags or nomenclature. I would not completely rule out the fact that the better the tag, the better the chances for an initial opening. However the profession of advocacy is a synonym of art of convincing, with the blessings of god and my elders, I never had to face any such difficulty and rather I would state that the tag of NLS proved to be an asset to me.
In the end, what would you like to communicate to our readers?
There is no mantra for success but for continuous hard work. One must choose the correct path in a correct way. This is for my reader friends to understand that you have chosen the career which is full of opportunities and learning. All it requires is hard work and fun when you are at it.
It is very important for legal professionals or students to understand that Litigation or Corporate law are not the only options for their future career. Knowledge and dedication can take you to a level of sky high.