Advocate Maximus is a global platform for law eaglets to learn and compete at the biggest stage of Arbitration and Mediation. This legal cocktail (Arb-Med) has been spoken of as an exotic product for decades, but all the academics hasn't really led to business. With exposure to some of the leading practitioners, a stage to test skills and recognition from the world's best, we are confident #ArbMed will be the real fad.
Advocate Maximus refers to a skilled and knowledgeable lawyer, who is as good a negotiator as she or he is a mooter. This competition is named after Advocate Ratan K Singh to recognise and honour his continuous contribution to the field of ADR. The logo is an eagle soaring in all its glory. Before the big flight, every law eaglet will have to first take the leap of faith as #ResolutionaryLawyers In this interview, we talk to Jonathan Rodrigues, Nisshant Laroia and Adv. Ratan K Singh who take us through the details of Arb-Med test, 'Advocate Maximus'.
WHAT IS ADVOCATE MAXIMUS?
JONATHAN: Advocate Maximus is an Arb-Med test for law students across the globe, who fancy a career in non-conventional platforms of legal practice. It is scheduled from December 19-23, at New Delhi, the competition features Arbitration mooting sessions followed by the same competing lawyers attempting to negotiate the same dispute in a Mediation setting. The competition logo resembles a eaglet taking flight before soaring in the sky. The competition is dedicated to Advocate Ratan K Singh in recognition of his contribution and unconditional support to ADR in India.
The PACT is collaborating with some of the biggest names in the field of dispute resolution, either as partners or supporters to Advocate Maximus. Some of these include (not limited to) SIAC, JAMS, AIAC, SIMI, CEDR, MBBI, HKIAC, MIARB, SCMA, YMI, AMATI, IIAM, etc. These collaborators have defined their roles, with the partners providing cash vouchers, discounts, books and internships as incentives for those who fare well at the competition. The final rounds of the competition will be broadcast on LawSikho.com for learning purpose and the winners will be featured on SuperLawyer.
The inaugural and valedictory sessions of the competition will be held at India International Centre, New Delhi. The venues for the preliminary rounds, the social nights and the networking parties will be announced by the first week of October on the official website: www.thepact.in/advocate-maximus.
IT'S A HUGE RISK ORGANISING SOMETHING INDEPENDENT OF LAW SCHOOL / UNIVERSITY REPRESENTATION. WHAT INSPIRED YOU AND WHY DO YOU THINK ITS NECESSARY?
NISSHANT: I believe that every university should provide its students maximum exposure and opportunities for their personal learning, development and growth. Many students don't have access to opportunities due to rigid university policies, politics in law school committees and inevitable red tapism.
We have heard of instances where universities have had a moot court committee and an ADR cell but it is the moot court committee that had the jurisdiction of allocating the ADR competitions to students. To pick any Mediation or Negotiation competition, one has to go through the university intra moot court rounds. Moot court competitions and Mediation & Negotiation competitions are poles apart. The skills needed in both are completely different. Inspite of that, students who want to go for the big mediation competitions, couldn't do so due to not having strong mooting skills.
I am aware that one can't go around every country pushing for change and that we must respect structures that are in place. But I am also a strong believer that if you feel strongly about something, try and initiate the change personally and hopefully, it will inspire others to join along. It's time to skip the red tape and challenge yourself. The simple eligibility criterion for Advocate Maximus is – the participant has to be a law student and must have an exceptional mooting and negotiation profile.
WHAT IS THE DRIVING FORCE BEHIND THE COMPETITION?
JONATHAN: Created and conceptualised to highlight the role of the lawyer in the practice and promotion of out-of-court dispute resolution, Advocate Maximus aims to officially invite the lawyer community to shed their "suits" and "courts" and embrace dispute resolution. The role of the lawyer if often misunderstood and underrated in arbitration and mediation, when in reality, it's the lawyers who determine and influence the approach of disputing parties. Whether commercial, community, personal or professional, disputes can be consensually resolved even if the parties initially chose an adversarial approach.
The legal profession is experiencing huge tectonic shifts, where young lawyers are expected to be equipped with all round – adversarial and conciliatory – skills. There is no room for "I am a hardcore litigator, ADR is not my cup of tea". Aware and empowered, clients today are more demanding and impatient in getting what they want. In a profession where, until now, the client has always come second, times are changing. A revolution is on the horizon and its looking for 'Resolutionary' Lawyers.
WHAT IS THE VISION OF PACT?
NISSHANT: Before being formally registered as The PACT, the idea of creating a collective of young professionals grew out of a courtroom horror where a 70-year-old old man was fighting a battle in court over a 30ft wall for 28 years. He sat on the last bench, while his lawyer walked in to court, got an adjournment, and walked out, without even glancing at him. That day, somewhere in the hearts of the cofounders, The PACT was conceived.
The vision has remained the same – to support and encourage people from all walks of life to become effective users and ambassadors of dispute resolution; And to loop together a network of professionals in the field of consensual dispute resolution, and unite them to contribute to research, awareness and literature.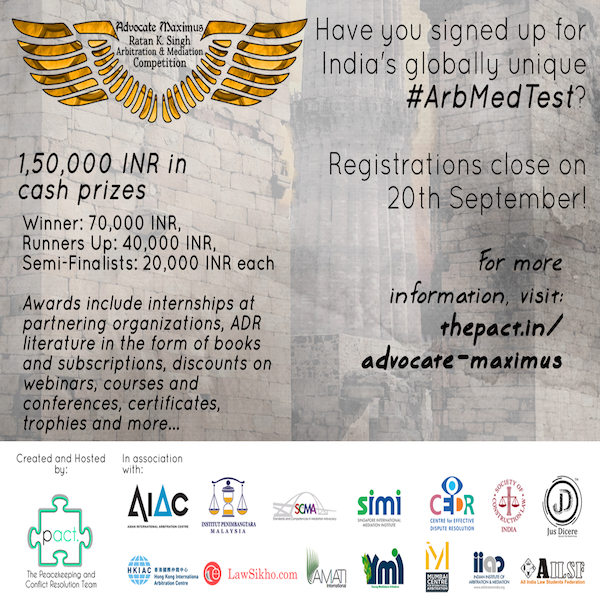 WHAT DO ABBREVIATIONS FOR ADR & CDR STAND FOR IN SIMPLE WORDS?
NISSHANT: ADR is an abbreviation often used to define a broad range of platforms and mechanisms that users may engage in to resolve disputes without going to court. We can go on about this, but for us at The PACT, ADR simply means Arbitration, as it is a process that is still adversarial, but is much more flexible and informal compared to a court room proceeding.
We have been promoting mediation, negotiation and conciliation as 'CDR' – Consensual Dispute Resolution – mechanisms, as these platforms empower disputing parties to resolve the dispute by determining for themselves the ideal settlement. CDR mechanisms put the decision-making power in the hands of the parties. They promote direct dialogue between parties and thereby encourage them to try and understand the interests of the opposite party i.e. understanding not just what they are wanting but why they are wanting what they are wanting.
WHAT IS THE IDEA OF ADR IN YOUNG LAWYERS?
Adv. RATAN K SINGH: This generation has no patience to wait for justice, neither does it want to spend on court fees nor does it want to risk the loss of reputation or status. This generation wants a quick and effective fix to its problem and it wants it done discretely. This generation is fixated on being positive and it doesn't mind giving in a little to get a little. The client is changing and the counsel needs a upgraded ammunition of knowledge and skills to deal with these trends.
Advocate Maximus is a global platform for law eaglets to learn and compete at the biggest stage of arbitration and mediation. This legal cocktail has been spoken of as an exotic product for decades, but all the academics hasn't really led to business. With exposure to some of the leading practitioners, a stage to test skills and recognition from the world's best, we are confident Are-Med will finally be a reality.
HOW CAN ONE APPLY FOR ADVOCATE MAXIMUS?
JONATHAN: All details with regards to registration for the competition are up on the website – www.thepact.in/advocate-maximus This link has all information on team structure, competition rules, awards and the google form that needs to be filled to register. Interested teams may send in their team profile (combined or individual CVs) to advocatemaximus@thepact.in
It is a team event. You can create your own team, putting together friends and peers from different law schools, based in different cities, countries, cultures. There is even an award for the most diverse team at the competition – The Dream Team Award.
For the inaugural edition this December, being a law student (LLB / LLM) is a must. We plan to evolve into more wider and diverse competition in the following editions, inviting students from the business and political science background as well.
HOW SHOULD STUDENTS PREPARE FOR ADVOCATE MAXIMUS COMPETITION?
Adv RATAN K SINGH: Participants must firstly divide team roles according to their strengths. The Legal Associate must begin preparing the arbitration memo and assist the mooters in rehearsing their arguments. For those who don't have specialised mooters and negotiators in the team, the counsels must begin practicing back-to-back arbitration and mediation sessions to get used to changing styles and approaches as counsels. Some teams may need to have different sets of coaches preparing them for the competition as they might seek advice from both arbitration and mediation lawyers. Shifting between the two diverse skill sets will be key to be declared winners at Advocate Maximus.