---
Akanksha Rajpurohit graduated from Rajiv Gandhi University of Law, Patiala (2007-2012). At present, she is a partner at "The Legist". Earlier she worked as an associate at "The Legist", at K.G. Bhagat & Co. and United Lex Corporation.
In this interview she talks to us about:
Why she chose IPR and Business Law as her specialization subjects.
Pros and cons while shifting from a hard core litigation law firm to a LPO.
Her experience at the present law firm "The Legist".
How she became the youngest partner at "The Legist".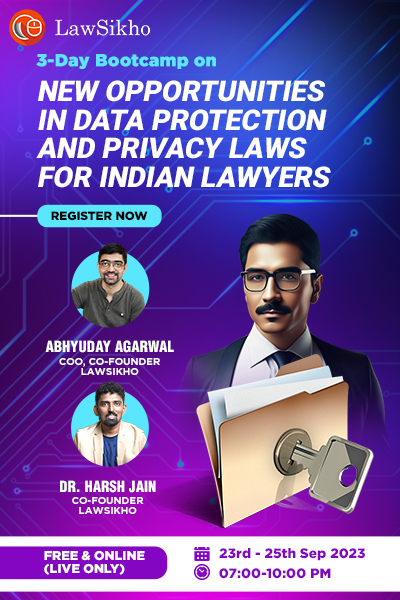 How would you like to introduce yourself to our readers?
I am a lawyer who never stops believing in herself. I have my staunch faith in one thought that there is a silver lining beneath every effort we take in life and fulfillment of our dreams are directly proportionate to those efforts. I am a mixture of ambitions and goals. I am a traveler on holidays and a go getter on weekdays. I also believe in constant change but that change must get us to a better place otherwise it is of no good.
What prompted you to think of law as a career? If not law, what other options would you have considered for your career?
I never dreamt of becoming a lawyer or having a career in law but I do remember my parents teasing me to become a lawyer because I was good at arguing. I always wanted to be a dancer or a fashion designer or to do something that people call me an artist. My parents had the fear that I wouldn't survive the struggle so they did not let me go for something very unconventional. Although I still am an amazing dancer. I never wanted to do engineering or become a doctor. I researched about National Law Schools' five years integrated course. I wanted to change my life upside down, to explore, to learn something new hence, I did not choose law, law chose me. But I made sure that I shouldn't let down my destiny and karma both.
Where did you do your internships while at law school? How important were these internships in shaping your career?
Mostly I interned with practicing advocates and law firms. I have no legal background or support so I never had any reference. I even used to feel very shy to ask someone to put in word for me anywhere. I decided to work it out on my own. My first important internship was in third year of my graduation, at K.G. Bhagat & Co., New Delhi. I learned a lot there and worked with all honesty and sincerity. I worked on various writs and TDSAT matters. I was given a pre placement offer by the firm. Further I interned with Bhasin & Bhasin, Paras Kuhad & Associates, Aggarwal Law Associates and these places actually showed me the real picture of the coming future struggle, the struggle my parents were trying to save me from. I had no option but to get through it. Internships are very important for one's career and more than that, how you exploit yourself in an internship is important. I knew if I sweat now I am going to make my future glorified. I did not want to waste my time running after big corporate law firms because I wanted to grow at a place where I put some bricks as part of the foundation and where I cannot be replaced by anyone. These internships gave me confidence, motivation and made me hungry to beat everyone including my own past achievements and win every battle. Internships also generated a networking chain, which duly helped me time to time while taking career decisions. Last but not the least, it is very important to leave a good impression at a place where one interns.
Why did you choose IPR and Business Law as your specialization subjects in the fourth year of graduation?
Honestly I chose IPR and Business Law because I understood them the most and it had the widest scope to work on. I am inquisitive about IPR. I must confess while choosing these subjects for specialization, I kept the market position in my mind. The competition was less in IPR as there were not much law firms which were dealing in this subject, they are still less as compare to the other areas of law. I also knew this subject is the future boom in our country and most importantly I liked this subject. Business law was an important addition to my profile with IPR so the combination was perfect for me. I also find Law of Human Rights interesting and I will definitely work in that area as well.
Please share your experience of being a Convener of Cultural Committee and secretary of Alumni Association at RGNUL.
The human nature is very hopeful and full of high spirits. We try to do all those things that make us unique and little ahead from others. To be part of the Cultural Committee and Alumni Association was that little step for me which made me unique and kept me little ahead from others at the same time. I always believe that every person should express what they feel and what they want to say. Being the Convener it was my duty to give people that time where they can laugh and enjoy and spend some moments not for what they will be but what they are. When I was appointed as secretary of Alumni Association at RGNUL, it actually satisfied and also motivated my needs and ability to act as a leader. It was a great experience for me because it made me a person who I am today, more confident, striving and more ambitious.
What are the pros and cons while shifting from a hard core litigation law firm to a LPO?
It was very important for me to know what exactly I wanted to do. University life was very easy but the real struggle starts when you are on your own and when the decisions that are going to change your life are to be taken by yourself. I never planned a long future or a strategy in my life. I live one day at a time. I believe in exploring until we find a place where we can grow. I joined a litigation law firm, where timings were not fixed and work is the only criteria to judge your worth. I was enjoying my work but I wanted to explore other areas as well, before I jump into some serious competition, I joined United Lex, which cleared the picture of corporate environment, working with 400 people at a time. This place taught a great deal of life that do something not because it's worth doing for others but do it because it's worth doing for yourself. While working here I realized I cannot work in a LPO and this place is not meant for me. The pros were that I was working five days a week, with good money and fixed timings, made a lot of friends but work wise, I was not satisfied. I needed more in that so I left the LPO and joined The Legist.
Please share your experience at the present law firm "The Legist".
I was fighting with my stability issues in professional life. I joined The Legist, in November, 2013 and I remembered promising to myself that even if every day is a bad day working here, no matter how bad the circumstances become, I will not leave this job before July, 2015. I stood by my decision and I feel very fortunate to be part of "The Legist" family. It gave me a place for myself to stand among very influential and renowned IPR lawyers. The Legist is not only a place where I could learn and polish the professional skills but it also made me a better person overall.
How did you become the first youngest partner at "The Legist"?
I knew I am going to achieve something like this in my life someday but I never knew it's going to be this soon. When I joined The Legist I was given full space to learn things from basics which included all the love and bashing from seniors. After spending good number of days there, liberty came in my pocket to grow, to take all the decisions of the profile I was working on. The Legist and I connected by one thread called ethical practice and that built a mutual faith between us. I never believed in just individual growth, I wanted to grow with this place, by letting it grow. I have my dreams for this place, which I never had to express by words but my actions were well enough for my team to understand that. I completed my 2 years working at The Legist and it came as a new year surprise for me in 2016 when I was offered partnership. I am prodigy of Mr. Pramod Kumar Singh, one of the founding partners of The Legist. But the proposal came from the business partner Mr. Kirat Singh and it was a lot more proud moment not only for me but for my mentor as well.
How did you contribute in the work of "The Legist Foundation: a charitable trust to spread legal awareness"?
The Legist Foundation is a thought which not only cultivates the social mind but also spreading legal awareness among public at large. The trust is built up to provide free legal aid to poor litigants who cannot fight for their rights. We also make people aware about the anti-counterfeiting and their side effects by conducting conferences, seminars, workshops etc.
Where do you see yourself five years from now?
As I said I live one day at a time so it is hard to tell where I would be or see myself five years from now but one thing I am sure of, that the work I would be doing then, will never be done by someone else as I do, and the position I would be at will be quite high.
What would be your parting message to our readers?
I admire the struggle because that makes us stronger so if you face it, you shouldn't worry but work to get through it. Struggle leads us to a place where we call our dreams a reality. So remember if someone calls you ambitious it is a better compliment than someone calling you successful because it starts with one dream and never ends.