Akshay Sewlikar is a fifth-year law student of WBNUJS, who has been recruited by Linklaters for a TC. In his five years of law school, Akshay pursued a course on Acquisition and Merger under NUJS Summer School Programme. He also participated in various moot court competition amongst which are Fiat Justitia Moot Court Competition, Frankfurt Investment Arbitration Moot Court Competition Pre-Moot, 12th Henry Dunant Moot Court Competition. He also successfully completed a tenure of internship at Linklaters LLP, London.
In this interview, we talk about –
His journey as a sojourner in WBNUJS
Pursuing the Acquisition and Mergers course and its credentials.
The strategies he acquired after mooting in various moot court competitions.
His period of internship at Linklaters LLP, London.
The procedure for application in Linklaters LLP, London.
What inclined you in the pursuit of law? Was it an event of chance or was it an effect of deliberate measures?
I had opted for science after the 10th standard but realised soon enough that it was not my cup of tea. I started looking for options. I realised that law perfectly suited my interests, and it had always been at the back of my mind as an option. I switched mathematics for psychology, although I carried on with science.
After we had moved to Mumbai in my 12th standard, I joined a CLAT coaching centre and prepared for the exam. So, all in all, choosing law was a very deliberate, thought out process for me.
Tell us about your pre-college life as well as educational background. Do you come from a legal lineage?
My pre-college life was pretty normal, although it involved a lot of moving. I did most of my schooling from various small towns and districts in Maharashtra, except my 12th that was from Mumbai. I did my 11th and 12th from junior colleges, as is the norm in Maharashtra. I am a third generation lawyer. My father is a serving judge and my grandfather also retired as a judge before him.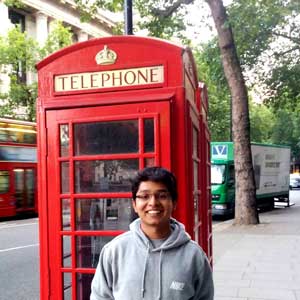 Tell us about your experience of WBNUJS. Is there any specific event you would like to share?
NUJS has been a wonderful experience. I have had the opportunity to learn from some of the best professors who are experts in their subjects. The opportunities that the college provides are also endless. I have had the chance to represent the institution in a number of national and international competitions, interact with internationally renowned experts in various fields and learn from them.
NUJS offers students a level of freedom that is unparalleled and this is what distinguishes it from other law schools. This freedom extends from the courses – a number of optional subjects and credit courses are available, to what students do in their free time. This freedom allows students to develop their interests fully and definitely helped me.
Although I cannot pinpoint any particular experience, the course on Law and Impoverishment offered by Prof. Saurabh Bhattacharjee was something that changed my approach towards the law. The way the poor and impoverished are treated in society as well as by the law is something that every law student should be taught. It is courses like this that have moulded my approach and I have NUJS to thank for it.
How was your experience of learning Mergers and Acquisitions by Prof. Umakanth Varottil under NUJS Summer School Certificate Programme (June 2013)?
Prof. Umakanth needs no introduction. Although he teaches at the National University of Singapore ("NUS"), he often takes time to come to India and teach students here. He was regularly associated with the NUJS-NUS Summer School and offered a three credit course on Mergers and Acquisitions there over a period of two weeks.
The course not only dealt with mergers and acquisitions, but covered corporate law as well. He explained highly complicated concepts and issues to students with no grounding in corporate law in an incredibly simply manner. I learned almost all the corporate law I know through this course. The course taught me almost the whole of the little corporate law that I have been able to understand throughout the five years at law school.
What do you think are the traits of a successful speaker?
(Akshay has participated in various moot court competitions including Fiat Justitia Moot Court Competition, Frankfurt Investment Arbitration Moot Court Competition Pre-Moot, 12th Henry Dunant Moot Court Competition and many others.)
The most important thing about mooting is hard work and preparation. You do not need to be a stellar orator to be a good speaker. However, you should know all the aspects of the problem at hand – the law, the facts as well as any probable arguments that might be used by the other side. All this does take up time, but the experience of delivering an argument well is very exhilarating.
On top of all of this, the oft repeated idiom, practice makes man perfect also applies to moots. Practicing with friends, teammates, seniors and even professionals helps a lot. During speaking, one has to be very polite when dealing with judges. Cultural sensibilities have to be accounted for in international moots, where each judge on your panel could be from a different country. Being prepared for and answering any questions that are thrown your way is one very important aspect that cannot be ignored. However, the most important thing is to have fun while speaking.
What are the essentials for a moot team should to do while preparing for a moot court competition?
(Akshay is also the Coach of the moot team representing WBNUJS in ELSA WTO Law Moot Court Competition 2015 and Willem C. Vis Arbitration Moot 2015.)
There are two aspects that need to be looked at during moots viz. memo writing and the speaking rounds. Teams need to prepare well for both. The memo usually counts towards the marks during most moots, with notable exceptions such as the Vis moots. A memo should be well researched, should cover all the issues and be well formatted. Taking help from seniors and others who have done the moot before you is usually quite helpful.
Once the memo has been submitted, the entire team (researcher included) has to focus on the speaking. At the cost of sounding repetitive, practice is very important. Teams must also keep in mind that like any other competition, luck plays an important role in moots. Not losing heart after a bad round or a bad competition is also an important aspect that should not be ignored by teams.
You have also authored publications of exemplary content. Can you tell our readers the protocols you follow to write such articles?
I do not have a specific process or protocol that I follow while writing articles. I find an issue that I am interested in and just write about it. However there are a few things that I am particular about. I make sure that the article is up to date on the day I send it for publication. Any new case, article etc. should be discussed, otherwise the article remains incomplete. I personally do not enjoy reading articles that use unnecessarily complicated language. So I avoid prolixity and keep it short.
Other than that, there is nothing in particular that I follow, except any guidelines that have been issued by the journal or publishers.
 In a brief, what are your views on Labour Standards in Investment Arbitration?
There is a reference to labour standards in most Bilateral Investment Treaties ("BITs"). However, this reference is mostly aspirational and does not create any binding obligations on States. However, I think that labour standards can be introduced in investment arbitration through human rights. Although this inter-disciplinary linkage has its own set of difficulties, the introduction. You can find my views on this issue here:
http://kluwerarbitrationblog.com/blog/2014/03/18/introduction-of-labour-standards-in-investment-arbitration/.
You have also interned with Linklaters, London. Tell us about your experience of working there.
Working with Linklaters was a wonderful experience. Known as vacation schemes, a large number of training contracts for most English firms are offered through these programs. During the scheme I was working with two different teams. At both these "seats" I was exposed to international deals and disputes from various parts of the world. The work was challenging and interesting and permitted me to gain an insight into the way that Linklaters functioned as a law firm.
The vacation scheme differs from most internships we do in India with respect to the kind of events that are organized for the students. Known as socials, they allow to you interact with a range of people who work at the firm, from senior partners to trainees. These socials also encouraged interaction between the vacation schemers themselves and involved activities such as drinks on the London Eye, dinners at Michelin star restaurants and learning to cook pizzas and sushi. These socials also allowed the vacation schemers to interact with each other in a more informal setting.
Overall, the Linklaters internship was a really enjoyable experience because of the atmosphere in the firm which was very cordial and genial. You could approach anyone for any doubts you had or just an informal chat without harbouring any second thoughts. Plus, the three weeks in London are an added bonus!
Can you tell our readers how you prepared for this internship?
I actually did not prepare for the internship in London as such – it was more for the interview. Getting a place on a vacation scheme is a long drawn out process which lasts around two months approximately. You have to fill a form (a lengthy one at that) which is then scrutinized by the firm. You also have to appear for an IQ test known as the Watson-Glaser test. If you qualify after this test you may be shortlisted for the interview by the firm. Linklaters holds this interview for students from all law schools together in Mumbai. The interview itself consists of four parts – a Watson Glaser test, an e-tray exercise, the HR interview and the technical interview.
It is for these interviews that you need to prepare. I did a few practice sessions of the Watson Glaser tests and try a few sample e-tray exercises.
The technical interview is based on a problem that you have to solve during the e-tray exercise. The facts deal with a proposed merger and acquisition, with issues that face the company with respect to this merger. General commercial awareness, knowledge about the firm is also tested during this interview. For this, reading the newspapers such as the Live Mint, Economic Times regularly helped me a lot. I also read up about  the firm and its history.
Do you think the professional ethics of London differ from what we experience within the nation?
The cultural difference does make a little difference when it comes to work ethics. All the people I spoke to were courteous and were always ready to talk to you about anything. Everyone is very punctual and events seemed to be planned to the second. I did not notice anyone being hauled up for mistakes in front of others – a welcome departure from Indian firms where everyone has stories about associates being yelled at in front of everyone.
Any tips and caveats on how to frame a CV?
The only tip that I would like to offer is to not plan your CV. A lot of people do a moot, try writing an article or join a committee in college just to increase CV value – with specific goals for each year. Instead of just running after a perfect CV, try and explore avenues in areas of your choice. The CV will develop automatically.
Experiencing all the activities in law school – be it writing articles, debating or mooting helps in realizing what one is passionate about. Interning with a variety of organizations also helps in figuring out where your interests lie. There are also a variety of courses offered by a number of universities both in India and abroad, which would help in cultivating these interests. Most of these courses provide scholarships to students and are wonderful opportunities to network and build contacts.
Last but not the least, what is your message for our readers?
Enjoy the five years in law school and make the most of them! To quote Dr. Seuss:
"You have brains in your head. You have feet in your shoes. You can steer yourself, any direction you choose."