Rishabh Chopra graduated in BBA.LL.B (Hons.) from National Law University, Jodhpur in 2010. Thereafter, he worked at Amarchand Mangaldas (Delhi office) for a year and then switched over to Vahura, a legal talent recruitment and management company as Senior Consultant in Private Practice & Funds. During his college days, he had participated in several national and international moots, and has been a judge at prestigious moots such as Oxford Price (South Asia), BCI moots and Willem C. Vis (East) moot in Hong Kong.
In this interview, we cover his journey as a lawyer till date, while focusing on:
His experience in law school.
Importance of moot court activities.
His work experience at Amarchand and Vahura.
Industry requirements for Vahura placements
Please introduce yourself to our readers. Where did you grow up and attend school? How did you decide to take up law?
I grew up in Ambala and finished my schooling from Army Public School, Ambala Cantt. At APS, I always kept myself engaged in various co and extra-curricular activities such as Debates, Declamations, Quizzes, Music etc and topped the commerce stream in Class XII because of my interest towards accountancy and economics. This helped me gain admission into one of the top 5 colleges in University of Delhi where I pursued B.A. (Honors in Economics) for a year before taking the law school entrance exams. Although I come from a family of lawyers, law as a career option was not very fascinating (because of this entire notion of doing something different!) until I witnessed the finals of the Raj Anand Moot in 2004. That experience helped me get in touch with Sachin Malhan (founder of LST) who in turn encouraged me to take the law school entrance exams.
You graduated from NLU Jodhpur in 2010 with a B.B.A. LL.B (Hons) in Business Law and Management. Please tell us about the Honours program and your general law school experience?
One of the key reasons for taking up a course at NLU, Jodhpur (or NLU-J, as people like to call it now J) over another premier law school was a dual degree in law and management. Given that I always had a bent of mind towards management, a degree with this combination was exactly what I was looking at. I definitely enjoyed the managements subjects like accountancy, managerial economics, human resource management and marketing to name a few. As far as my honours program is concerned, I am glad I took up the business law subjects in my penultimate and final years of study as I was able to study the fundamentals of investment laws, mergers and acquisitions, banking and finance. I will be honest- it would have been better if these subjects were taught in a more practice-oriented manner but nevertheless the course helped me understand the basics of corporate law which were quite useful when I joined Amarchand.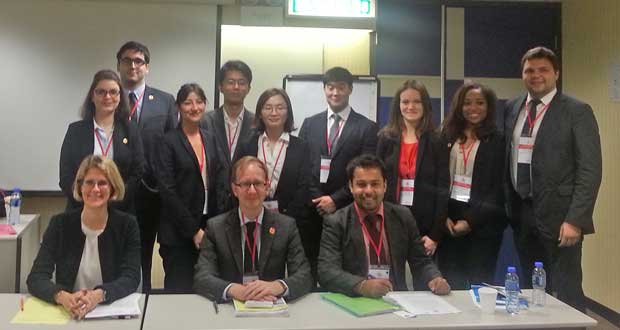 You have had considerable mooting experience in law school. Tell us about your achievements. What, according to you, are the essential skills of a good mooter?
As you may have noticed, it was the Raj Anand moot's experience as an audience member that convinced me to go to law school and thus, I took up mooting quite seriously. Mooting was extremely competitive at NLU, Jodhpur- which always meant that we all had to work hard in most of our court room exercises (intra section moots) to reach the intra university competition. In total I did 5 moots- ranging from public international to competition law, from CISG and international commercial arbitration to IPR and then international humanitarian law. I have really fond memories of all these moots not only because of the amount of knowledge I gained by participating in them but also because of the fantastic team members in each of these competitions.
Going for the Vis East moot (Hong Kong) in my second year of law school was quite an achievement back then and so was being adjudged runner's up at a competition law moot (which in turn helped me secure an internship at a prominent law firm in my 3rd year of study). Then came the Jean Pictet competition, where our team was the only Indian team to qualify for the international rounds that took place in Evian, France- this competition was definitely a very interesting one- very different from a regular moot and I would strongly recommend it to all law students (for the kind of practical experience and exposure it provides in the field of IHL).
During my final year of study, I still wanted to be connected to mooting and hence, took up a national moot in Delhi (since the top 10 international moot we were supposed to participate in got postponed for the next year)- where we were adjudged winners. Apart from one moot, I was quite fortunate to receive a citation (individual and/or team) in every competition.
As far as I am concerned, I could only moot well, if the research was thorough and I knew the loopholes from both sides of the problem. This strategy helped me in preparing for any kind of question that could have been posed during the various rounds of the competition and the same was also helpful from 'thinking on one's own feet' perspective. In addition, one of the biggest takeaways for me from mooting was team-work and organisational skills- I consider these two as the foremost essentials to be a successful mooter apart from presenting your case in a confident and persuasive manner. Using a little bit of wit in arguments and rebuttals is also not a bad idea as long as it doesn't embarrass the bench or the opposing counsel in any way whatsoever!
To be fair, mooting is still close to my heart- it's just that I have moved to the other side now. I have been a regular judge at the Oxford Price (South Asia) and BCI moots and this year also went on to judge/arbitrate at the Willem C. Vis (East) moot in Hong Kong. I personally feel whosoever has enjoyed mooting in law school, should done the hat of a moot court judge- it's just like giving back to the legal community.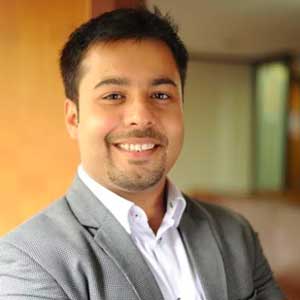 What was your work profile at Amarchand Mangaldas? What did an average day of work look like?
At the Delhi offices of Amarchand Mangaldas, I worked as an Associate in the General Corporate, M&A and Insurance team. I was quite fortunate to work in this team as I really learned a lot from my partner (Shailaja Lall) and colleagues (Deepa Mookherjee and Ashish Teni) and those learnings have helped me to a great extent so far. Just like any other corporate lawyer, I worked on various corporate transactions (M&A, JV transactions), incorporation, entry and exit strategies apart from providing clients with general corporate advisory in relation to foreign investment laws, corporate and commercial laws, stamp duty regulations and insurance laws. The reason I say I was quite fortunate to work in this team was because the team gave me tremendous scope to grow as a corporate attorney- I was client facing, was able to speak with clients with minimal supervision from the partners on corporate and insurance matters and because of this trust had a good learning curve from a practice perspective,. In short, I really enjoyed my team and the matters I worked on during my stint at Amarchand even if it meant working for really long hours (thanks to technology)!
After a year at Amarchand Delhi, you joined Vahura, a legal talent recruitment and management company as Senior Consultant in Private Practice & Funds. What does your work at Vahura mainly consist of?
As I mentioned earlier, I really enjoyed my experience at Amarchand Delhi but I really wanted to be on the business side of the law ever since I met Sachin Malhan (who used to run Law School Tutorials (LST) back then). When he moved and co-founded Rainmaker, I was really intrigued and followed the team's entire journey from MyLaw.net to Mootopia (similar to what we call Mooting Premier League now). One day, when I noticed Vahura spinning off from Rainmaker only to focus on the legal talent space in India- I knew I wanted to be a part of this journey!
At Vahura, I lead the search practice for law firms in the northern region. I typically focus on partner and pre-partner level recruitments for our law firm clients and so far have helped law firms grow organically and inorganically. I am also a key member of the law firm recruitment group that focuses on recruiting mid and senior level legal, IP and tax professionals for law firms and funds in the APAC and MEA regions. We now have various top international and regional law firms looking to recruit Indian legal talent as our clients in Dubai, Bahrain, Singapore and Hong Kong. On the research and consulting side, I closely work with top law firms and In-House legal teams on consulting reports on strategy, practice structuring, business development, remuneration structure and partnership restructuring.
What do law firms in Asia-Pacfic,Middle-East & Africa look for in potential candidates? What must an Indian law student do to get hired in these regions?
In the law few months, we have seen various foreign law firms show keen interest in the Indian legal talent again (thanks to the Modi wave internationally, probably!). On a serious note, this interest has been on the capital markets side as well as on the M&A side. Laterally, most requirements need a US/UK LL.M and a top law firm experience in the past.
As far as a training contract is concerned, a law student by the end of his/her penultimate year of study, should definitely have good (and consistent) grades apart from being involved in various law school committees/centres. Publications in journals of repute along with laurels in international and domestic moots definitely add to the credentials of an applicant as they showcase his/her good research and oratory skills. Hence, importance of a well rounded and drafted CV cannot be emphasized much. Moreover, what is also critical is the clarity of thought apart from good written communication skills- these two skills can be easily judged from the applicant's application material (generally in form of a questionnaire) and a well drafted application material therefore is a battle half won (another small tip- be consistent with your answers/responses, when you respond to the questionnaire as well as during your interview). Additionally, students should not only be aware of what is happening around the globe but also understand the implications those changes can have on the business and regulatory environment domestically as well as internationally- this awareness can help them in fetching some brownie points during group discussions and interviews. As far as internships are concerned, it is not important to have 10 or 12 internships on the CV- a few (say 5 or 6 in number) quality internships (ranging between 4 to 8 months) are more beneficial than a lot of 2 week internships.
What essential skills are required to work as a legal talent and management specialist at Vahura? Does an MBA after law help in this regard?
If someone is considering this role/profile, it becomes imperative for that person to have a consultative mindset towards approaching a situation (it probably comes naturally after having spent five years in a law school with so many negotiations/ consultations/ dialogues/ debates/ discussions with faculty, administration and peers). Also, it would be disastrous to make a move from the industry to the talent management industry by considering the profile of a recruiter as cushy- you not only have to be aware of the changes in the legal talent market and be great at mapping but also need to have that "hunter's mentality" enabling you to work 24×7- yes, I tend to clock in more hours at work (not necessarily in office) than I used to at my previous organisation. The main reason for this is that you need not be just social but also be able to cultivate, build and leverage relationships (which is easier said than done and takes considerable time especially from a trust building perspective). Another key thing to remember is that apart from having great marketing skills (to market your own organisation in front of prospective clients, to create a marketing pitch for your candidates in front of your clients, and to also promote yourself/your organisation in various social events/social media- you got to do it all!), you need to be a great listener (as a recruiter you should not just listen but "hear" your clients and candidates extremely well).
As far as an MBA degree is concerned, I don't consider it a must but it definitely assists you in honing your strategic and managerial skills. But remember, it's favourable to do an MBA only after gaining some experience in the industry- this is exactly what I did this year when I successfully completed an executive program in management from a leading Indian B-school with a specialisation in HR.
Lastly, what are your plans for the future? What advice would you give law students wishing to work in the same sector as you?
My definite aim has been to create a positive difference in the Indian legal talent management market and this was a key reason to join the young and dynamic team of Vahura after gaining some experience at Amarchand. As a team, we have been able to successfully achieve this objective in India and hence, are now also concentrating on the APAC and MEA regions. My plans are so far in sync with the vision we all share at Vahura- to make it the sought after 'Indian legal and governance talent management and consulting firm' not only in India but internationally as well. So that is exactly what I am working towards- to be the go-to source for Indian legal talent requirements- domestically as well as internationally (which is going to be challenging and exciting at the same time).
In case anyone is inclined to work in the same sector as mine, I would advise them to take it up only if they are passionate about it and that too after gaining some experience in the legal industry- this industry's experience definitely helps a lot during as well as after the transition- from being aware about the legal ecosystem in a holistic manner to understanding client's requirements in an excellent manner for leveraging the network one creates while working! My good wishes to all those who aspire to work in this field and I am happy to connect over LinkedIn for any queries that you may have towards the opportunities in this sector.