This interview has been published by Ayush Verma.
Amrutha Vittal graduated from the School of Excellence in Law, Chennai in the year 2014, and thereafter did her Masters in Corporate and Financial Services Law from the prestigious National University of Singapore in 2015. She has been associated with a couple of law firms on their transactions and advisory wing. Currently, she is a Partner at Peritum Partners, a boutique law firm founded by her friends from the School of Excellence in Law. 
What inspired you to choose law as a career?
Coming from a commerce background, my primary focus was to do something different and most of my father's friends are leading advocates in Chennai. Over the years interacting with them and trying to understand how the legal system functions in India fascinated me towards taking up a career in law. At this juncture, I must convey my heartfelt gratitude to my parents, who have and are being the backbone to every little step I take professionally.
What were your reasons for deciding to pursue a masters degree right after college, and what went into choosing the right university?
Once I decided to take up law as my profession, doing masters was always on my bucket list. When I was offered a seat at NUS immediately after my graduation, the only point of contemplation was whether to take it up immediately or revisit this post after a year or two of work experience. But considering the other factors also falling in place, I decided to give it a try for what they say – opportunity knocks the door only once. I decided to open the door and explore the opportunity.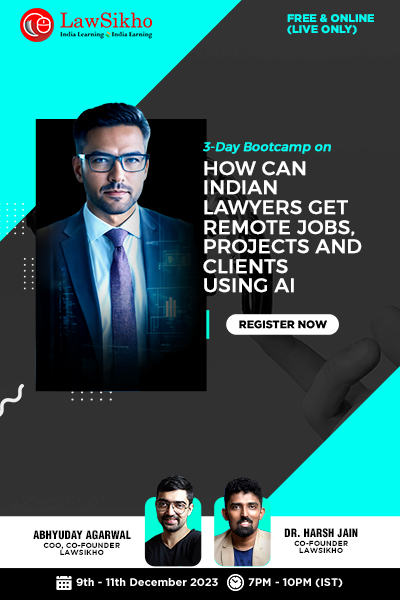 How has the experience at NUS shaped you as a professional in the legal field?
I must thank my professors at NUS for enriching my knowledge further in certain branches of law. Especially Prof. Sornarajah, Prof. Lawrence Boo, Prof. Lin Lin and Prof. Sandra Boysen and of course, the "cool" dean, Prof. Simon Chesterman. I am honoured to have been their student. NUS gives you a wholesome exposure; it's the best of both worlds. And Arbitration and Banking being my core focus, I think, NUS offered the best of knowledge.
According to you, what is the relevance of a master's degree in one's career in the legal profession? Do you believe continuous education irrespective of your position in your career is essential?
I see it as an added advantage. But the advantage needs to come in support of your professional goals. I have seen both scenarios, wherein the most successful legal professionals do not have a masters tag and also people with a master's degree who are still trying to put the pieces of the jigsaw puzzle together. What matters is the purpose and ultimate goal of doing the masters.
Education, rather, staying updated with the law, is more pertinent in the legal field. So, I am of the view that education and one's position in their career go hand-in-hand. The more you keep yourself updated with the law, the better you represent your position in your career.
We have witnessed that there is a huge section of students and professionals who believe studying in a foreign university will give them an edge over other candidates; have you noticed this bias?
Yes, I certainly have. This has been a trend back from the days when I had joined my under-graduation. I think the infrastructure and exposure available with foreign universities (not to exclude the brand value) are key-factors for students to move towards foreign universities, so also is the term of the course. But that said, legal education in India, as it stands today, does give a tough fight to the curriculum and exposure of foreign universities. But changing these preconceived notions in a student's mind might take some more time. 
You have worked in multiple law firms; if you could change something about the firm culture in India, what would it be?
Work timings perhaps. Doing smart work is always better than hard work. I think it's a variable though and it really depends on how the person associated takes it.
What prompted you to work with law firms exclusively and not venture into litigation?
I interned with a senior advocate at the Hon'ble Madras High Court for 3.5 years of my college life. While I did enjoy visiting courts and understanding the process right from filing an AOS to listing a Writ Petition et al, on self-analysis and considering I was very confident about my decision to go for a  master's, I believed Transactions would be my cup of tea. On a lighter note, I don't have to be up for a 10 am mentioning, but more flexible to do a 1 am negotiation call!
The decision of establishing your law firm – was it a calculated decision or a leap of faith?
Peritum Partners is the brainchild of my other 2 partners, Mr. Karthik Jayakumar and Ms. Durga Bhatt. I joined them shortly after Peritum was born (incorporated). But to answer this, I would say it's both a calculated decision after a trial-and-error test and a leap of faith based on our esteemed clients and the collective confidence we have as Team Peritum Partners that keeps us going!
Could you shed light on the kind of work you undertake as the Partner at Peritum Partners?
As one of the Partners, I advise start-ups on their investment requirements, right from drafting of term sheets to the drafting of transaction documents, negotiations etcetera all the way until closing. I also advise clients who want to enter into any M&A, PE, VC, Joint Ventures and my advisory services extend to opinions on the Companies Act, FEMA and SEBI Regulations.
What have been some of the most notable cases of your career?
Corporate lawyers see cases as deals. Of the many deals I have either led or worked on, the one we recently closed was one of the most exciting deals. We represented Juicy Chemistry, a completely organic store in the D2C segment in its Series A funding. This deal was more special inter alia, working during a pandemic, a very fast-paced yet efficiently done transaction and this is one of the largest investment deals in its segment. 
It is often known that women have to take a step back for their families. How would you like to address the requirement of career breaks for lawyers?
Well, that really depends on how a woman sees it plus the kind of support she receives from the family. It is a very subjective topic. I see career breaks, rather short sabbaticals, as more of a phase of self-evaluation, basically to take stock of where one's life is leading towards, both personally and professionally. It is like the tea-break one takes during long road trips. To stop, take a breather, and look at how to cover or explore the road ahead in a given time crunch before dusk sets in.
The ongoing pandemic has rocked many boats; what kept you sailing? Being a fairly new law firm, how did you keep going?
Like I said before, it's the trust of the clients and the team's constant and consistent hard work, patience, confidence and want for doing more good work that kept us going. The new normal is well put into practice by all of us at Peritum Partners.
What do you look forward to most now in terms of your career?
Working on more exciting deals and making connections, for collective growth. Making the lives of people easier by addressing their legal concerns in a simplified yet effective way has always been Team Peritum Partners' motto. We strive daily towards this motto.
What according to you is one branch of law that is gaining momentum and young lawyers can work towards making their niche?
TMT (Technology, Media and Telecom) is an interesting area that is attracting a lot of young lawyers.
Lastly, any parting advice for our readers?
"Arise, awake and stop not till the goal is reached" said Swami Vivekananda. This has been the principle that has kept me going. Especially in these times of "new-normal", being consistent and focussed are the paramount factors.