Debesh graduated in law from NLSIU, in 2008. He is an Advocate on Record before the Supreme Court of India. He is also regularly engaged to appear before various High Courts and Tribunals. He specialises in Arbitration and his thesis at the Geneva Masters in International Dispute Settlement, focused on the intersection of the Arbitration regime in India with the standards prescribed under the New York Convention.
In this interview we speak to him about:
His time at NLSIU
His passion for mooting
Studying in Geneva
How would you like to introduce yourself to our readers?
I'm a first generation lawyer, practising in New Delhi, after graduating in 2008. I'm originally from Bhubaneswar, Orissa. Although I primarily practise as an Advocate on Record before the Supreme Court of India, a significant part of my practice involves matters before various High Courts and Tribunals, both in Delhi and outside Delhi.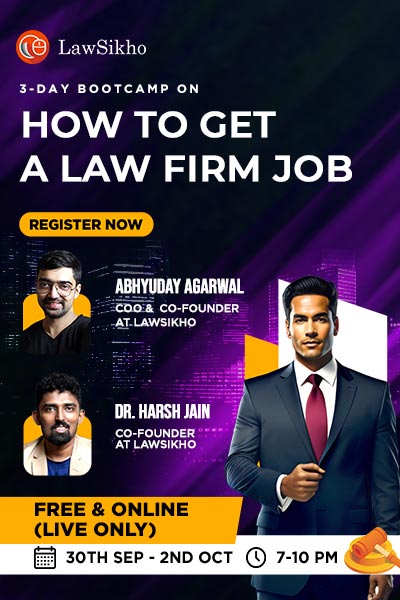 Why did you choose to pursue a degree in law?
I got done with school after 10th grade (we can opt to join Junior College in 11th grade in Orissa). I took up science and started preparing for IIT, since that is pretty much what everyone was doing and my family also wanted me to consider a career in science and engineering. A year later, I realised it was a mistake. I also did not want to take up my father's profession (Chartered Accountancy) since I had seen it from my childhood and realised that I did not have the aptitude for it. That's when I started looking around for options. One of my father's dear friends, who is a leading practitioner of International Arbitration, was kind enough to spare time over his summer vacations and gave me a bird's eye view of what he does as a profession. Deviling with him over basic concepts that vacation at Delhi piqued my interest in law, and that's how I ended up applying to NLSIU.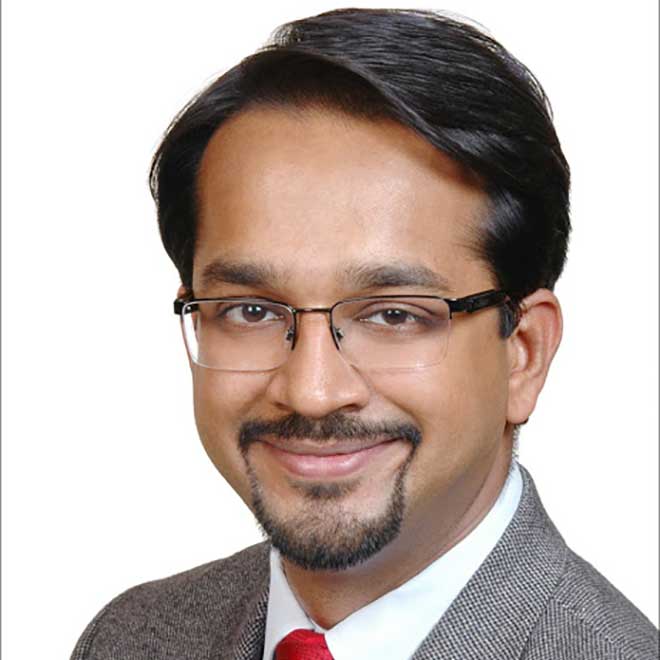 Give us a brief overview of your life at NLSIU. 
Law school was truly a life changing experience. Credit must go to the ethos and the culture of education, which is largely peer based. NLS made me think, but within the microcosm of some extraordinary individuals who were always happy to give direction to such thinking. Like every academic campus, there was politics, but it was self-contained and self-tempered and not like what you see in many academic campuses these days. One reason for that could be that the community understands what it has taken to earn the tag and in order to retain that tag, one must keep achieving academically without letting political considerations predominate. The entire culture of NLS is built around the student community. Even the alumni are extremely well connected with each other. It has been my experience, for instance, when I was mooting on an unfamiliar area of law, that I could virtually close my eyes and approach any senior or alumni who had exposure to that area. It was amazing to see the kind of effort they put in to help me out. I don't know how it works in other universities but I am happy to acknowledge that I owe a lot to NLSIU. Even now, I try and do whatever best I can, whenever someone from law school writes to me or calls me up for any help with mooting or any other activity. I am also in touch with some of the faculty, like Dr. Sairam Bhat. I try to contribute in whatever way possible towards the institution.
What are the subjects that you took particular interest in, during your law school days? 
I was not the most academically inclined when I was at law school. When I graduated, I did not even have a five point CGPA. The only lectures I thoroughly enjoyed were that of Professor U.R. Rai (Constitutional law) and Mrinal Satish (Criminal law), but that was more because of their perspectives rather than the subject itself. I actually loved mooting/advocacy, which is what drew me towards law in the first place. During the course of moot courts at law school, particularly the Vis East moot which I participated in during my fourth year, I developed an affinity towards Commercial law and International Arbitration. Although we crashed out in the Semi Finals on a razor thin margin, my partner Amarta Roy and I both received Honourable Mentions. Some of the arbitrators who heard us during the arguments fondly remembered us, as I discovered, when I went back a few years later as an Arbitrator. Two of them have remained in touch although it has been nearly ten years since we first met, and have also helped me throughout my professional career. So, compared to the subjects taught at law school, I would say mooting played a greater role in my career and the choices I made. 
What activities, both academic and non-academic that you engaged in as a law student? 
Anyone who knew me in law school would vouch for the fact that the only non-academic activity I engaged in was eating out! I would sincerely recommend it as a "necessary experience" if you are in Bangalore. It is an activity that drives me even today, although most joints at Delhi do not hold a candle to some of those old favourites at Bangalore! The only other memorable activity I remember was being a part of the Moot Court Society (with an amazing bunch of people like Mihir Naniwadekar, Preet Inder Singh and Shantanu Naravane) and co-founding the NLS International Arbitration Moot in 2008.
What drew you towards arbitration, and dispute resolution in general?
In my practice so far, I have not yet come across any two matters, which are exactly alike. That is what I enjoy about dispute resolution, there is always something new to work on everyday! I do not see myself becoming a practitioner who specialises in only one area of law because variety is the essence of my profession as a litigating lawyer. Sometimes, I think of cases as a jigsaw puzzle where all the pieces are missing and both sides invite the judges to paint the missing pieces and put the picture together from their points of view. That's when you start realising that what the most successful practitioners of this art do – they have perfected the art of balancing out when being strategically technical with the law gets results, and when you must discard technicality and dive headlong into the matter to present a perspective that would meet the sense of justice of the Court. The law just ends up filling up the vacant slots in the process. As far as your question on arbitration goes, I guess it stems from a love for civil trial. A good trial is more a battle of the wits of the lawyers rather than their respective clients and is often, a pleasure to conduct. Unfortunately, given how overworked our trial courts are, it sometimes ends up not being very professionally satisfying. Arbitration lets you have your cake professionally as a trial lawyer and eat it too!
What kind of internships did you engage in during your student years which you feel were invaluable to you in reaching your current position?
I used internships at law school to get a sense what I did not want to do, rather than what I wanted to do. I started in Orissa High Court in my first year, where I felt pretty lost and did not get any clue of what was happening. The second year I worked at a firm in Delhi that specialised in Dispute Resolution and realised that I was not cut out to work in a firm. The third year I focused on criminal trial and decided that criminal defence in trial courts was sometimes too hardcore to be my cup of tea. There was also a time in between when I got tired of the law and on a whim, dabbled in investment banking. So I ended up doing a stint at Goldman Sachs, only to realise that I loved the law a lot more than investment banking! Fourth and fifth years, I interned at the Supreme Court and also with an excellent civil trial lawyer in the High Court (who is now a judge in the Delhi High Court). That's when I realised I was right at home, and came back to Delhi after graduating.
However, the most important stint before I started practicing independently would be the one at Senior Advocate Mr. A.K. Ganguli's chamber, which was for nearly a year and a half. He truly made me slog it out and it was a steep learning curve during those eighteen odd months. An old school practitioner who doesn't use computers much, he simply remembers everything off the top of his head! Citations, statutory provisions, a petition he drafted ten years back…it is amazing how everything is right on his fingertips, always. An incredibly hard taskmaster, he would leave no opportunity unturned to fine tune any petition or written submission, before presenting it in Court, even if it meant I had to figure out how to do the last minute research and keep everything ready for the hearing in Court at the eleventh hour. I will never forget the time he made me draft 41 versions of a review petition to be filed before the High Court at Chandigarh, till it came down to six pages from the original 22 page draft I had prepared. The High Court declined to review the judgement, but the reaction of the judges in the Supreme Court when the SLP came up for hearing was nothing short of memorable. I still remember the look on the faces of the judges when the matter was called for hearing. They just smiled in unison and said "NOTICE" and "STAY" before anyone uttered a word! Working with him taught me the importance of being fair to a Court, rather than being hard-nosed on facts and law and how that, by itself sometimes gives you greater leverage than all your preparation and research. During that time, many of the Advocates and law firms which used to engage him also started giving me drafting work as well as briefs as junior counsel. I also got a few opportunities to brief several leading senior counsels. That stint in his chamber is when I truly started learning the law and realised that Courts always know the judgements we research on and cite. The difference lies in the perspective with which these leading practitioners present that point, which is what makes all the difference when the judges have to form an opinion as to which way to lean.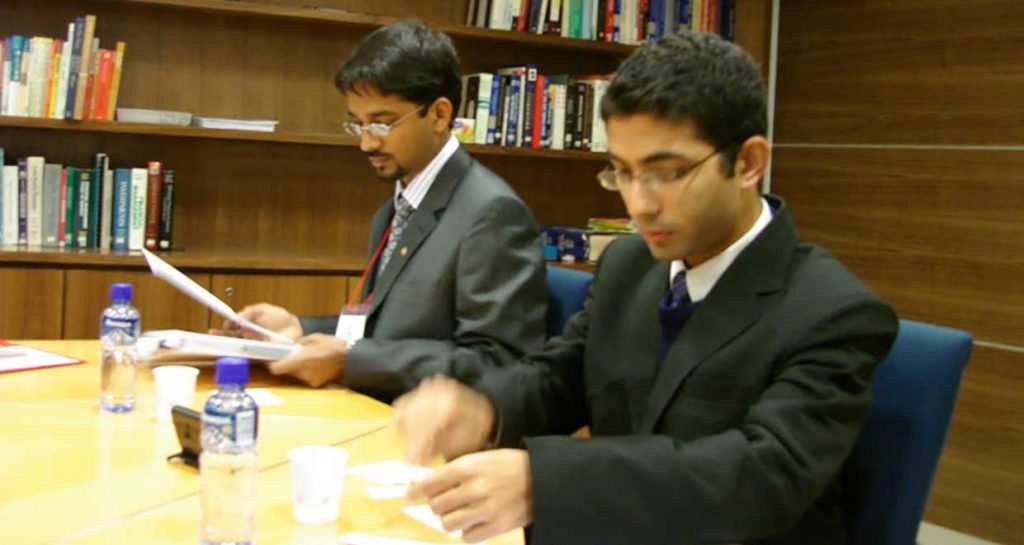 Tell us about your Geneva Masters experience and briefly describe your thesis.
Frankly I would not have been able to do the Masters if it wasn't for Amrita (my wife). After we got married, this is the very first thing she made me agree to, spoke to my professors at law school, got the letters of recommendations organised, and also persuaded Mr. Ganguli to recommend me. Having practiced for five years, I was pretty unsure whether to leave it all and head out for a year. Ultimately, Amrita and I both agreed that instead of an "academic" masters like Oxford or Cambridge, a masters like MIDS or Queen Mary was better suited for a practitioner like me who loved Arbitration. Many of my colleagues from the Vis East whom I asked for advice also concurred. Ultimately I ended up choosing MIDS because Professor Zachary Douglas, who is one of the leading practitioners and academics in the field of Investment treaty arbitration, had recently shifted there from Cambridge, and the courses he was offering like International law in Domestic Courts and State Contracts, focused on areas, which may be of utility to me during my practice in India in the long term.
Geneva had a lot of useful takeaways for me as an Indian practitioner. My thesis dissected the numerous interventions by the Supreme Court of India in commercial arbitrations seated outside India over the years, and sought to demonstrate that this was largely attributable to unexplained oddities in the Indian statutory framework when compared to the text of the UNCITRAL Model Law and the New York Convention. Keeping in mind the White Industries case, I tried to demonstrate that such interventions may implicate treaty obligations and the Supreme Court of India, by declaring in BALCO that the law laid down by it would apply only to arbitration agreement executed after 16.09.2012, may just have left the door open for more investment treaty claims against India. My analysis was significantly influenced by what was taught by Van den Berg during his course on the New York Convention and what Professor Douglas taught during his courses on Arbitration and State Contracts. I think MIDS is a good option for Indian practitioners who are looking to take a break for a year and pick up a little more depth in subjects like Arbitration, Public International Law and WTO Laws.
Which is the ideal time to do an L.L.M? Right after undergraduate studies, or after a few years of practice post undergraduate studies?
It depends on what you want from the LLM. A lot of people prefer going to Oxford or Cambridge right after law school if they are getting a full scholarship because it allows them to finish their academic pursuits before they start working/ practising. Personally, I would not prefer to pursue an LLM simply because I happened to apply and got admitted with a full scholarship, unless I was sure that it was taking me forward in life. By the time I applied for an LLM, I had practiced for nearly five years and had a broad idea of the fact that I needed more depth in the subject of Arbitration if I was going to take up more work in that area. That is how I ended up choosing MIDS. So I guess its best to do an LLM whenever you are sure of what you want to do long term.
Could you please offer a few words of motivation for those who've either never tried mooting or for those who've tried but have faced defeat, from your treasure trove of experience?
(Debesh has co-founded the NLS International Arbitration Moot Court Competition, one of the most reputed arbitration moots in India.)
Its not work going to waste. That's for sure. I spent six months working on the Vis Moot and lost in the semis, but the research I did on pathological arbitration clauses helped me settle six arbitration claims against two of my clients (although they were all prior to the Enercon judgement!). The opposite party understood during the mediation that the entire arbitration would be a non-starter and even if they got an award, it may not survive proceedings under Section 34. In my second year at law school I had spent four months on a moot on the concept of repugnancy under the Constitution of India, which we also lost. That research gave me the clarity to draft a writ petition where we got a stay order on the first day itself in high court and relying on our order, several other assesses also got relief. I guess one of the reasons the Court was inclined to grant interim relief on day one because we formulated the proposition with a lot of precision and within the four corners of what we argued, it was difficult to see how the action of the State Government was not colourable. So if you take up mooting, please do not do it to add to your CV or to get a medal. Mooting is just another way of learning skills of deconstruction, problem solving and presentation. Also, I would encourage students to never underestimate writing a memorial. A good draft is a mirror to a clear mind and what I have learnt in my experience so far is that a well drafted petition can sometimes be more decisive of a matter rather who was engaged to lead the arguments at the hearing. The same goes for memorials in moot courts. Judges in moot courts and real life do take time and read the brief before coming to the hearing. Quite often, I have seen Courts not even let Petitioners counsel open their submissions if they have understood the point pleaded and the opposing counsel is straightaway asked to explain why the relief sought for, should not be granted. You get a clear first movers advantage there. Why should you lose such an opportunity?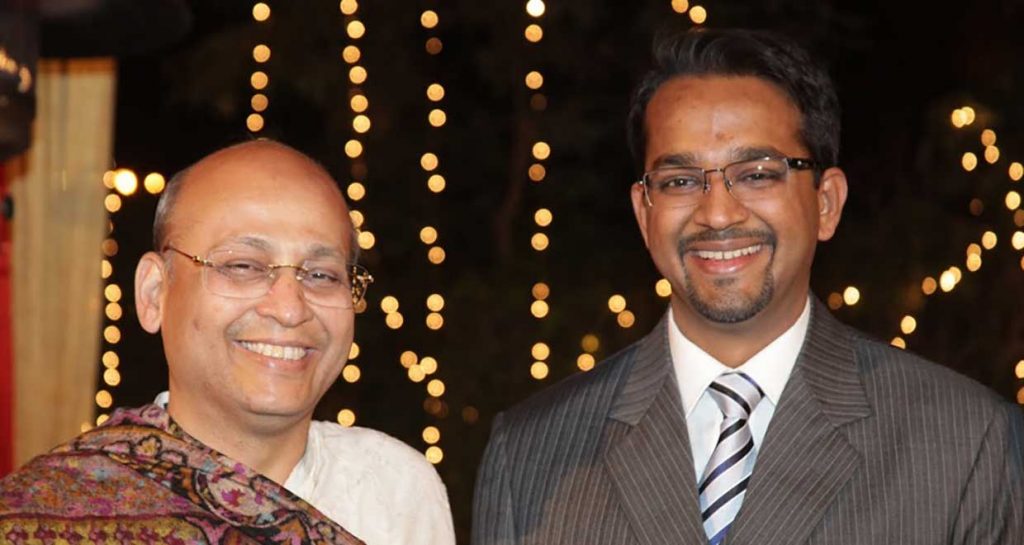 How many hours a day do you spend at work? 
We have no fixed hours in our office. If you done for the day, you can leave even in the afternoon, and if you are not done, there is a bed available should you need to do an all nighter! Sometimes, a single matter can take hours to work on, if it involves complicated issues and on other days, we manage to turn in a lot of work and head out for dinner together in the evening. The only thing I regret is that the frequency of dinners has reduced in the last two years but I intend to work on it during this year.
For instance, last year, while representing the Directorate General of Hydrocarbons before the Committee headed by Justice A.P. Shah (Retd.) in the Gas Migration disputes arising out of the Krishna Godavari Basin, I had less than two weeks till the final hearings to get up to speed on the matter after being instructed. It was one of the most challenging hearings in my life simply in terms of how factually and legally complicated the entire case was, leaving aside the fact that it was a totally new area of law for me and I had to also learn the science of Oil and Gas exploration overnight to appreciate the intricacies of the dispute. I virtually worked round the clock on that one single case for nearly a fortnight to formulate our strategy and submissions before the hearings commenced. It was truly gratifying to see all that preparation pay off when the Committee gave its report in August 2016, accepting the submissions we had made, in toto.
Our office had a similar experience while defending a real estate developer before the National Consumer Disputes Redressal Commission in a class action under Section 12(1)(c) of the Consumer Disputes Act, 1986. Two of our interns did an excellent job of digging up  case law under Order 1, Rule 8 of the CPC which was pat on the point and helped us persuade the NCDRC that there was no scope for a "joint complaint" under Section 12(1)(c). That one matter took long hours, and many of us worked for days altogether researching. But the long hours paid off in the end.
Is there any other suggestion you would like to give to our budding lawyers?
Enjoy your work. If you don't enjoy what you do, you will find it hard to give it your 100%. Also don't expect any results overnight and don't have unreal expectations. Take your time in identifying what you like. It is an incredibly human profession and a lot of it is built around one-on-one relationships and perceptions. Even judges learn to trust you only after they have heard you in a few matters, and feel that they can trust you to not mislead the court factually or legally. Enjoy the journey and don't keep thinking of the destination only.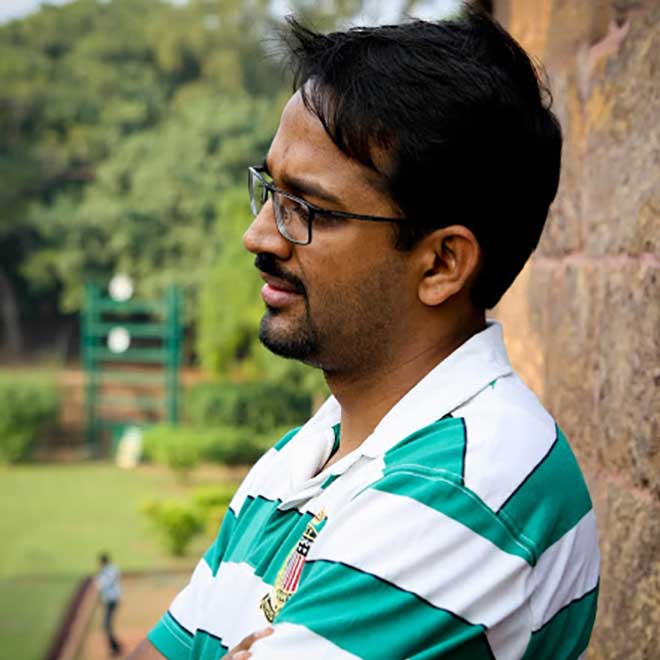 Are there any other activities you are presently doing which are related to the law?
There is a project being conducted by Centre for International Dispute Settlement, Geneva on how Bilateral Investment Treaties can be used as a tool for good governance, where I am working with Professors Zachary Douglas and Shalini Randeria. This is a long term project where we have been working comparing domestic legal systems in Mexico, Argentina, Czech Republic and India and seeing how the domestic system in each country is responding to changes in the Investment treaty regime. It is an exciting time to be doing this project since India has been dynamically changing its BIPA/BIPPA regime in the last two years and given India's emerging international clout and reputation as a destination for Foreign Direct Investment, this research will be of considerable importance for other developing economies.