Deepak Narayanan graduated in Law from Ambedkar Law College (well known in the past century as Madras Law College) in 2012. Throughout his college life he was an avid participant of extra co-curricular as he firmly believes that it plays a great role in shaping you as a professional. He went to on to pursue his LL.M. in Commercial and Corporate Law from Queen Mary University of London. Deepak regularly appears at the High Court of Madras, District Courts and several Tribunals in Chennai and his practice areas primarily include commercial, corporate, banking/finance and property Law.
He also specialises in arbitration and represents clients as Counsel before arbitral tribunals and arbitration related court matters and holds the membership to the Chartered Institute of Arbitrators, UK
In this interview, he talks to us about:
The culture at a Law college vs. non-Law college.
His experience of interning at various international arbitration centres.
The challenges faced by a legal practitioner.
How can students overcome the handicap of practical knowledge?
How would you like to introduce yourself to our readers?
I am a qualified lawyer from India and have experience in wide range of work with a particular focus on litigation and arbitration. I have a general service independent practice with a few lawyers in my team and I cater many major clients including individuals, firms and companies across India. I graduated from Ambedkar Law College, Chennai and hold an LL.M. from Queen Mary University of London.
Tell us a bit about your practice areas and the challenges a legal practitioner faces?
I regularly appear at the High Court of Madras, District Courts and several Tribunals in Chennai and my practice areas primarily include commercial, corporate, banking/finance and property law. I also specialise in arbitration and represent clients as Counsel before arbitral tribunals and arbitration related court matters. I am in the Panel of Advocates for Bank of India and appear for the Bank at Debt Recovery Tribunals on a regular basis.
My non-contentious work involves drafting and vetting of commercial contracts for individuals and companies, catering builders and promoters in their real estate work, negotiations and providing legal opinions.
Every legal practitioner faces unique and different challenges. The practice and procedure being widely diverse in different courts and tribunals, the main challenge is to quickly learn the intricacies to provide an effective solution to your client. Also allocating sufficient time in an already busy schedule to constantly update with new laws and judgements is another main challenge that I am sure any law practitioner faces.
How did your interest gravitate towards Law?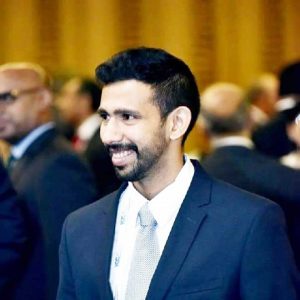 (Deepak completed his B.A. in Economics from Loyola College, Chennai before pursuing Law and is a State Level Badminton champion.)
To be honest, I was predisposed to pursue Law since childhood and was inclined to have a go at a few premier National Law Schools in India by taking up the entrance exams. But being a State Level Badminton player, I was offered an admission at Loyola College through sports quota, a premiere institution in both academics and sports. I accordingly decided to finish my undergraduate degree in Economics first.
I hail from a family of lawyers including my father and a desire to pursue Law never wavered during my three years at Loyola. An aspect of Law that has always been of interest to me is that, Law influences almost every facet of our life, and is constantly evolving to keep up with the dynamic changes to which we constantly try to adapt. In particular, I am always drawn towards Dispute Resolution mainly because it consists of constructive legal argument and an analogy of legal reasoning more often than in many other careers. I strongly believe in following one's passion and a career in Law has always been my calling.
What was life at Law college? How different was it from a non-Law college?
Life at Law school was tangentially different from my under graduation in Economics. While my Bachelors in Economics equipped me with the foundation and basics in Economics (which I think is a great specialisation to have as a commercial lawyer), Law college gave me a real insight into the Law profession. It is extremely crucial to keep yourself academically inclined and garner as many experiences as possible out of your institution, which I was able to achieve through participating in moot courts coupled with the immense support of my faculty members.
Did you partake in any extracurricular activities and how important were they in shaping you as a student?
I was an avid moot court participant and was fortunate to have an excellent team, which I think is fundamental to perform in moots. In my second year, I won the Amity National Law School Moot Court Competition in Delhi on Public International Law. I received a special accolade from the former Hon'ble Chief Justice of Madras High Court, as it was a win for my college after many years. I also captained the badminton team and victorious at sports fests held at NLSIU, Bangalore and NLIU Bhopal.
I am a strong believer that co-curricular are fundamental in shaping any student. While actual litigation is quite different from moot courts, the experiences I gained from moots have greatly benefited me in my practice.
How was your experience participating in the Willem C. Vis International Commercial Arbitration Moot Court Competition in Vienna?
(Deepak represented his college twice in the Vis Moot Court Competition.)
Vis Moot ran through almost my entire academic year and it made me feel like it was part of my academic curriculum. Long work hours and sleepless nights are part of your routine preparation schedule. With arduous oral rounds on the one hand and networking with international students on the other, the entire week at Vienna was enriching and irreplaceable.
I am also thankful to the Tamil Nadu government to have funded all our expenses on both the occasions that I participated at Vis Moot.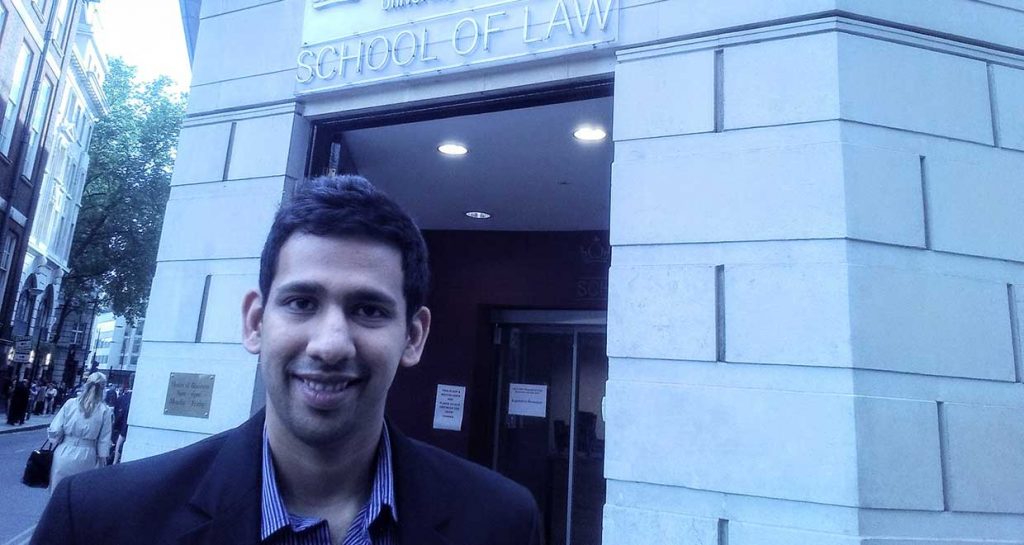 What made you go for higher studies and what procedure did you follow for selecting your college?
(Deepak completed his masters in Commercial and Corporate Law from Queen Mary, University of London.)
I pursued my higher studies mainly to specialise in some of the finer areas of Law in which I had more of an inclination than the others. Since, I was greatly interested in arbitration; I applied to universities in the UK after thoroughly researching the facilities and opportunities that the universities provided. I was accepted by these universities and was even offered scholarship at the Southampton University, UK which is famous for Maritime Arbitration Law. In the end, I chose Queen Mary as it had the world renowned School of International Arbitration and luminaries in the field as professors such as Professor Loukas Mistelis and Professor Julian Lew.
The year at Queen Mary was not 'rigid in the Indian sense. While there were fewer modules when compared to an LL.M. in India and the classes were spaced out, and the amount of self-learning that had to be done on a day to day basis made the course intense and interesting.
How was the exposure of interning at a lot of international arbitration centres?
Internship experiences that readily come to my mind are Clyde & Co LLP (London) and at Singapore International Arbitration Centre (Singapore).
After several rounds of rigorous interviews, I got selected to work in the international arbitration team of Clyde & Co, London office. Being one of the leading global law firms, I had a chance to work in some of their high stake matters including a dispute raised by Microsoft regarding breach of exclusivity clause and also a Middle East investment arbitration dispute. I got a practical insight into live the life of a solicitor at the firm and it was a treasurable experience.
SIAC on the other hand was a completely different experience. I had an opportunity to witness what happens in an institutional arbitration from other side of the table, i.e., an institution. My work mainly resembled that of a Case Counsel of the Centre and I involved extensive research on international arbitration. I was also briefly involved in making recommendations to the SIAC Rules which were being amended at that point of time
You are a member of the Chartered Institute of Arbitrators, UK. Please give us an insight into this.
Chartered Institute of Arbitrators is a world renowned organisation which recognises expertise in ADR. Having specialised in commercial arbitration at Queen Mary and through the practical experience that I already possess in the field of arbitration, I was directly inducted at the Member grade (MCIArb) instead of the usual route of passing the necessary modules. As a practitioner, the qualification immensely helps me to showcase my expertise to my clients.
Are you finding a change in your balance between work and life after starting practice at Madras High Court?
Life as a practitioner always implies more of work and less of personal life and I diligently followed this tradition during my early years of practice. But after commencing my own practice, I have managed to cope up with the work load albeit the work pressure. I still put in long hours but producing immaculate work has become the key rather than putting mundane face time at office for hours together without getting much work done. This enables me to squeeze in a few games of badminton, marathons and triathlons, which help me maintain a balance.
A lot of practice deals with procedural aspects of Law – something that is not emphasized on in Law schools. How can a student overcome this handicap?
Yes this is completely true and moreover procedural aspects of Law does not just mean learning CPC and CrPC but also having an astute knowledge of working your way through ever so complicated registry and sections of Courts and Tribunals.
Students can definitely overcome the difficulty by going an extra mile in their internships to learn the various procedural aspects. Instead of just doing research and taking down dictations, students can play more of an active role by shadowing office clerk in section and registry.
 As a concluding message, what would be your word of advice to our readers?
It is essential to pursue a career/field that you like. Whatever is your chosen line, be it litigation or non-contentious work, do you see yourself doing your job day in and day out? If yes, you are in the right field and if no, you need to explore more interesting things.
Also working extraordinary long hours is the new fashion in almost any career in Law. So make sure you do not burn out and try to have a healthy work-life balance