Deepika Raikwar graduated from NLIU, Bhopal, in 2006. She then went on to pursue her Masters in Business Management from IIM, Kozhikode with a focus on Strategy and Marketing. She has worked with companies like TATA AIG as an Assistant Manager, Max Bupa Health Insurance Company Ltd. as Manager Legal and Aviva Life Insurance Company as the Senior Manager. In December 2014 she started working for Hindustan Unilever Limited as its Northern Region Legal Manager where her practice is focused upon Consumer Protection, taxation, food and safety law.
In this interview we speak to her about:
Marrying law with management
Interning at Yahoo!
Her diverse experience
Tell us something about yourself, apart from your profession. 
I am an adventure sports enthusiast with a keen interest for understanding world cultures.  Living with a motto of making each minute count, I have couch surfed and hosted people from nearly half the world. I have an eclectic choice in music from a thumri to a psychedelic trance, and everything in between. I generally like to take life easy; only when I'm not working, of course!
What made you choose law as a career?
The smell of old books, lateral thinking, and fascination for courtroom dramas.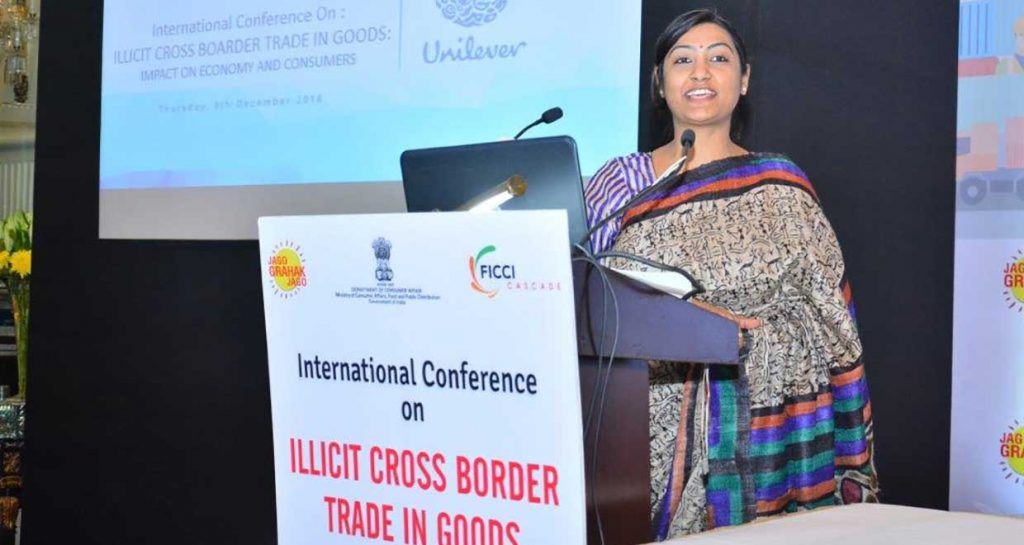 Tell us about your time at NLIU Bhopal.
Being a first generation lawyer and belonging to one of the first few batches of NLIU (and literally having no placement data/ record or assurance) it felt like subscribing to a much hyped IPO. The jitters and vulnerability were overwhelming for the first few days. The old campus was a small building in a jungle, which made me reconsider my choice many times. But soon it became a milestone in my memory to be a part of the transformation story of NLIU, Bhopal. The campus moved to the new education block while I was in my second year and the new library was also inaugurated. Voila! From a dull and boring life, the campus suddenly transformed into a much talked about hub. The new campus won us over, new batches came in, great friendships were discovered. We had a lot of fun, but the curriculum was equally challenging. 
The level of exposure and education is and has always remained very structured in NLUs. The trimester pattern gets the rigour going in the right direction. I am impressed by the level of extracurricular activities people get exposed to in law schools these days along with academics, though back then we had fewer choices and avenues. The level of competition is also much higher,which makes every graduate an adept legal professional.
How much do you recommend pursuing MBA after LL.B?
MBA+LLB is a great combination, especially if you want to excel in the corporate/ commercial/ start-up space. It always helps one switch between roles and have a larger economic and legal perspective on a global scale. Anyway, what's the point if you do not understand the other side of the story? How can one think through business when every product, business idea, or operations of a venture is riddled with legal challenges. In fact, many sectors are/ were heavily regulated. I felt a person wearing multiple hats of legal aptitude and business understanding would be able to offer effective solutions as opposed to a plain vanilla approach. Also, CAT was quite sought after and I certainly wanted to crack it. 
MBA is a great course, which certainly empowers one to think in a larger context by breaking through the stereotypical legal mind-set and is totally recommended for people who want to do different things differently. One should just be mindful of the ground reality. There are very few sectors which can offer combination profiles and cross functional exposure wherein one can use both sets of learning and skills. Typically, the trends are indicative of niche jobs being claimed by combination profiles, and this may result in very few possible change or movement options in the long term.
Tell us about being a Management Trainee for Yahoo!
It was an interesting hybrid internship for me. Yahoo! offered a project based role where I was working on a few yet to be launched products to evaluate them legally and to partner the technical team to build up the business case and later ideate on the product specifications along with their think tank. The culture was so strikingly different that in my induction session with the CEO, the gentleman in a floral shirt and shorts assured me it was acceptable to dress casually and told me it was okay to remove my jacket if I wanted to. The law firm internships were equally exciting, though intensely formal.
Tell us about your experience with TATA AIG.
TATA AIG was my campus recruiter from IIM, Kozhikode. Joining an insurance MNC as a management associate exposed me to various interesting profiles like Marketing, Business strategy, and finally gave me an opportunity to try my hand at Financial Product Manufacturing. The profile is mentally stimulating and requires a thorough understanding of the regulatory frameworks, finance and advance contract drafting skills. The insurance market leader, was surely on an aggressive plan to expand their national and international product portfolio. I was lucky enough that my first job was very demanding and stressful and I got the support and guidance of some very fine leaders.
How would you describe your experience Aviva Life Insurance Company?
Aviva Life exposed me to a large scale life insurance set up with all kinds of legal and business challenges. I also got great exposure to M&A from the strategic and legal side and totally enjoyed leading a very high potential team.
How was your experience with Max Bupa Health Insurance Company Ltd? 
I got exposure setting up the health insurance business in India while the industry was just about a start-up. It is an interesting field and requires a deep understanding of healthcare, human physiology, and medicine. The product development and drafting is a complicated process as healthcare sector in itself is changing every day. To draft and make a futuristic product which is market ready, and sustain the test of scrutiny of the regulator is a quite a task.
Tell us about your role as Regional Legal Manager, North, for Hindustan Unilever Ltd.
Unilever is a world in itself, every category has multiple brands and the scale of manufacturing and distribution is massive. There is a variety of issues to be handled from business to litigation, IPR, generic strategy. The best part about the work is the complete freedom it offers. The organization loves creativity and would never restrict any one to a particular 'role' or profile. The avenues of growth are varied. This imparts dynamism and empowers the next generation of leadership. My immediate goal is to lead a world class legal team and empower my people to grow well, both in the organization and in profession.
There exists a huge debate with regard to being an in-house counsel versus a law firm counsel. What is your opinion on such a comparison?
I think this debate's existence per se is a loss of one's focus. The right debate to have in one's mind is how to excel in whatever you choose to do. There are different skill sets which the two profiles would certainly impart. It is completely the individual's prerogative. 
How would you suggest a law student should plan his/her career if he/she wishes to join the legal department of any company?
Just be very good with whatever you study and do. The keenness to learn and the consistency to perform is the success mantra to be 'employable' in an organization. What matters most is persistence, perseverance, and the ability to think quick. This would certainly help not only to have a rewarding career, but a sorted life in general. There is no special preparation required; one should just be good with the basic subjects.
Any other parting advice to our readers?
There is nothing called preparation, it is just about changing habits to get an impact. My only share of personal experience would be read more, work hard, party harder, and stay focused.