Dr. Shashikala Gurpur graduated in law from Mangalore University in 1988, she is currently the Director of Symbiosis Law School, Pune and Dean of Faculty of Law, Symbiosis International University. Dr. Gurpur is a recipient of the Fulbright Fellowship as well as the Legal Education Innovation Award of SILF-MILAT in 2011, in addition to being the recipient of many other such prestigious accords since then.
Dr. Gurpur had been the winner of many distinctions and awards which she received throughout the length of her law studies. Today, she holds the reputation of having held office as member of the Law Commission of India and having taught at the National University of Cork, in addition to having co-authored two academic books and carried the role as constituent of Editing Boards of various foreign/ international journals.
In this interview, Dr. Shashikala Gurpur will be talking about
Choosing law and academics and a professional line
Legal education in India today in a comparative context
Community Legal engagement in SLS Pune and beyond
Contemporary professional prospects and requirements
How do you feel about receiving Lexis Nexis' 100 Legal Luminaries Of India?
Thank you, I feel that sincerity and hard work always get noticed and honoured. I dedicate this honour to my parents, mentors, my family, the team, students and management of SLS, Pune as well as the institutes and the generation of students I have been engaged with.
How would you like to introduce yourself to our readers?
The choice of law as an educational avenue is I believe a deep calling unto healing the evils of society and to serve the mission of justice. So, praise yourself if you have made that choice. However, getting into a good law school requires planned preparation right from high school itself. I had completed my high school education in vernacular medium at a municipal school; my primary school was strongly national with the undertone of largely Gandhian values. While still in my early childhood and college years, I had already gotten a taste of politics and implications of communal violence, untouchability and feudalism.  A particular sensitivity to nature and society were cultivated in me from my household and ancestry. My paternal grandfather was a herbal healer for no fee. My maternal grandfather was a village chief. My maternal grand uncle ran a tribal residential school. My father ran a one person justice mission preventing and resolving disputes and protecting the meek. Nevertheless, taking the route of law and legal education was actually thrust upon me by my family property mired in litigation.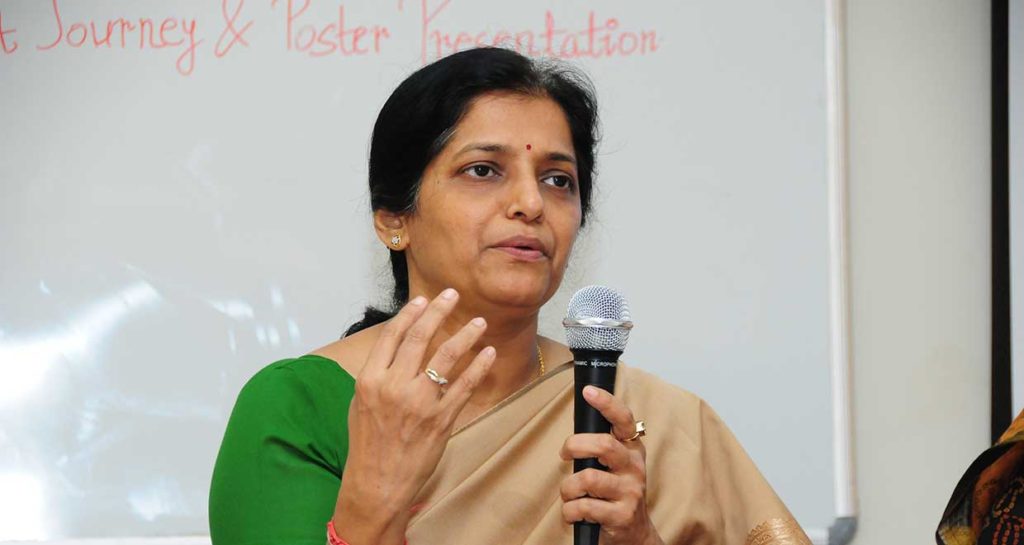 You have taken lectures and seminars at famous institutions abroad. What must be done so that our own legal education system can be at par with global standards?
At the present moment, the gap seems to be narrowing. Legal education systems in the advanced law schools of the world are profound in corporate, qualitative higher education as well as in prioritizing knowledge creation and student transformation, but the top Indian law schools are also nearly there now. In India, constant check should be maintained to see that the gap between ideal and real remains adequately compensated. Changes are on the anvil. Our different strata or tiers must be uniform. The top and the bottom in the ranking band of the west have one to three percent difference. In India, the top ten have a total of 45% difference in scores.
Your vast experience in legal education in India and abroad must have brought in new ideas for SLS Pune. How would you describe the environment that the institution fosters?
SLS Pune inculcates the values of hard work, fraternity, excellence and public service. When we received the prestigious Herbert Smith Freehills Community Engagement Award this year, for an institutional body such as our own with the overarching erroneous perception as an 'elite' law school, it felt the same as winning an Olympic medal. At SLS Pune, we always have close monitoring of quality and excellence. We believe in fostering human and national development using legal education as a tool. Our university's vision and mission and our Founder's life and philosophy stand as testimony and inspiration to that end.
Which among the following do you think is important for instilling legal knowledge – practical knowledge and/or theoretical knowledge?
A judicious mix of both with competency, courage and collaboration along with profound core ability to stand up and defend would seem to be the perfect requisites for a holistic legal personality.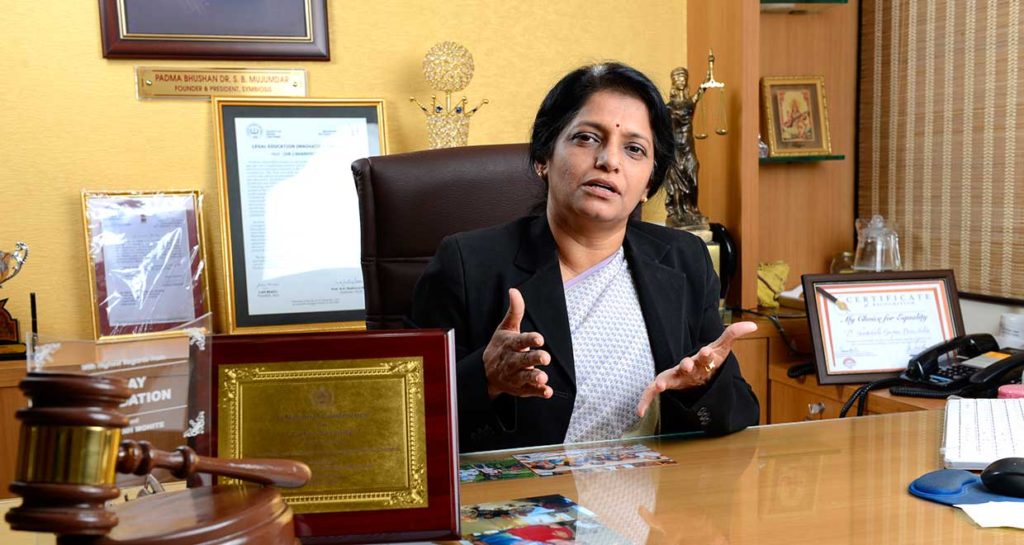 A strong alumni community being one of the most crucial factors behind an institution's success, how closely do you think SLS Pune works with the alumni and in what ways?
Every year, we arrange a meeting of our alumni at least twice. They even engage as employers, work buddies, mentors, teachers, clinical trainers, mock judges, advisors, and role models, moot and overall mentors. They consider the institute as their friend in need as well as an extended family.
What is your opinion on start-ups and new business ventures as an alternative to traditional litigation and corporate jobs?
Start-ups throw up great possibilities as well as provide better time allocation for quality work-life balance, in addition to enhancing innovation. At SLS Pune itself, we have had an Entrepreneurship Cell created just recently in the year 2014. We have at least a dozen start-ups created in the last three years and a host of alumni specialising as start-up consultants. This year, with support from the university as well as from the Symbiosis Institute for Business Management (SIBM), we are hoping to further scale up such efforts.
What message or advice do you want to pass on to those who are passionate about vocations in human rights and policy research as opposed to landing corporate jobs?
It depends very much on how you hold on to this work over the years and what skills you acquire. My advice would be that you develop a profound array of skills and abilities and that you maintain your deep passion and drive towards such aspirations.
How did you choose to pursue a career in academics over practice? How would you advise law graduates and lawyers about this comparatively less charted path?
I had made this choice by compulsion, by reason of being a first generation lawyer in a farming family and the first female graduate in generations. Women were not encouraged in education or career in my ancestral past despite being owners of land and the existence of a matrilineal culture. Another reason was that my aspiration of practicing/choosing litigation had already gotten fulfilled by the time I graduated by way of my engagement in our familial property disputes, which were settled out of court due to my informed initiative. We have a dearth of proficient teachers nowadays. Quite apparently, the law school demand has gone up in recent years, hence teaching now pays reasonably well. On the other hand, the value of teaching has always had a manifold yet discreet effect in shaping the generations of legal leaders.
What according to you are the necessary skills the lawyers of tomorrow need to possess in order to make a mark in the practice or to place a job in the current scenario?
To carve out a niche for oneself, especially in the present scene, one must be possessing competencies in several areas, predominantly in thinking out of the box, possessing problem-solving capacity, oral and written communication abilities, research skills and advocacy skills. The right internship is ultimately about aligning opportunity with one's career/professional goal and not simply accounting for association with top names in one's CV. True mentorship is what can help you to change or transform yourself.
How do you think a law student can build up his or her profile to attain scholarships or get admissions at the premier universities abroad?
Build your profile in accordance with the criteria of the respective universities/institutions of your choice. Ensure academic excellence with a minimum 3.5 CGPA. Be among the top ten to fifteen percent students. Enrich your CV, indicating profound legal engagement. Show research experience with a minimum of five standard publications. These will win you scholarships which may ultimately help reduce the cost of your LLM programme.
How do you manage your academics and work life balance? What keeps you motivated to keep working for the betterment of your institution and the legal profession?
Well, let me confess here that I was quite often thrown completely off balance! The X-factor you mention would be definitely taking one's job as a service to humanity and the nation (and in my case to my loving son and my students). In brief, it is about seeing the universal mother's manifestation in every deed and seeing dharma or balanced order as an unfinished endeavor of justice.
Please share with us an experience from your life that makes you feel that it was definitely of utmost worth in choosing law as a profession and teaching as a career?
In the early days of my career, I spent 50% of my time helping the poor to get access to justice. I introduced students to community based law reform. One especially memorable instance of our reach-out efforts was when we guided an agrarian worker woman to admit her intelligent daughter to a college; she would later scale to a much higher social status as a competent business woman. When the poor and helpless look up to you as credible source of support, when a gleam of truth touches upon you as you journey with your students in class to a higher level of learning, when the alumni of your institution write and recall such inspiring moments, and when you see your junior colleagues or students surpassing and outgrowing your achievement, those are the times when you can fully appreciate the legal profession for what it is and what it is capable of achieving today, and I have experienced all of these moments.
What message do you want to pass on to the readers (aspiring lawyers, legal professionals or anyone related to the law)?
Take your work in the form of a service to your fellow human beings and as contribution to the greater universal design. Align your life's overall purpose with what you do as a profession and always keep the spirit of dharma or duty burning in your heart.