Shisham Priyadarshini graduated in law from L.A. Shah College, Ahmedabad. She started practice in 2003 and has worked at reputed firms such as Singhi & Co, Mulla & Mulla Craigie Blunt & Caroe and Thakker & Thakker and is currently a partner at Rajani Associates. Her core areas of practice include project finance and banking.
In this Interview she talks about:
Importance of internships and scope of practice in the Corporate sector.

Advantages of working at a law firm and her experiences of the same.

Her take on the Arbitration and Conciliation Amendment Act, 2015

Her advice to students aspiring to build a career in Law.
1.

HOW WOULD YOU INTRODUCE YOURSELF, GIVEN THAT MOST OF OUR READERS ARE LAW STUDENTS, LAW ASPIRANTS OR PROFESSIONALS IN THE LEGAL ARENA?
I am a first generation lawyer working with Rajani Associates, a law firm with the focus on supporting, advising and guiding the client across various domains of legal practice. My practice areas include project, project finance and banking and finance. I like to work on varied types of assignment and currently I am keen to develop the anti-bribery and anti-corruption (ABC) practice of the firm.
I can just say that couple of years back I was one of you, reading words of wisdom of successful professionals and trying to draw motivation from them.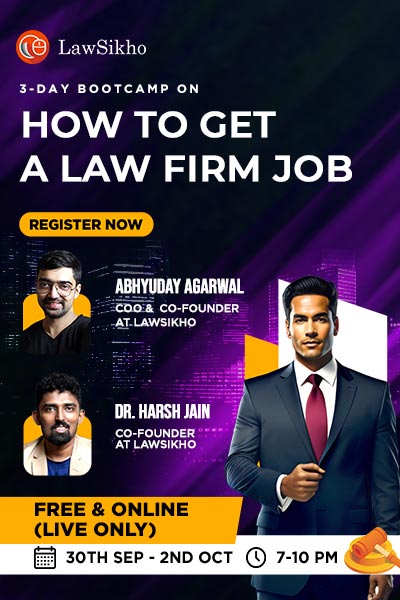 2. ENLIGHTEN OUR READERS ABOUT YOUR ROOTS.
During my early childhood I stayed in Jammu and then since my father was in Central Services, I moved from one city to another barely completing three years of education in any one school. I did my law studies from L. A. Shah College, Ahmedabad and then I came to Mumbai. Since then I have been working in Mumbai. So while my roots are spread in many cities but as a professional my career has shaped up in Mumbai.
3. HOW ARE INTERNSHIPS HELPFUL FOR A LAW STUDENT? WHAT ARE THE OTHER OPTIONS AVAILABLE FOR

SO

MEONE

INTERESTED IN CORPORATE PRACTICE?
I feel law classes though very essential are quite theoretical and teaches the principles of law. It is during internship that you get an opportunity to apply your knowledge to actual matters. Internship is the first introduction to the legal profession. It offers an opportunity to explore the areas of practice which are generally the lesser known subjects of law and also introduces the interns to various interesting facets of law. Longer internships allow you to work on projects from start to finish and provides confidence and experience.
It is also quite possible that you get an opening in the law firm where you are doing the internship.
Corporate practice is dynamic. There is plethora of options available for someone interested in corporate practice. Besides the traditional practice areas like private equity, mergers & amalgamations, banking & finance one can even consider venturing into energy laws, maritime law, bankruptcy law, ethics and compliance.
4. YOU HAVE WORKED AT SEVERAL LAW FIRMS IN THE PAST. WHAT FACTORS MADE YOU LEVITATE TOWARDS PRACTICE IN FIRMS AS COMPARED TO INDEPENDENT PRACTICE?
Independent practice has its own limitations. While working in a law firms you get the mentoring of your seniors, which I feel is essential during the early years. In a law firm you get to work on varied assignments which enriches the experience and broadens the outlook. I have observed that big corporate houses are hesitant to approach independent practitioners, certainly not because of lack of talent but since they look for a one stop shop and a panacea for all their legal challenges. It was therefore an obvious choice for me to practice in a law firm wherein there is synergy of resources.
5

. YOU HAVE BEEN WITH RAJANI ASSOCIATES FOR MORE THAN A DECADE. CAN YOU TELL US ABOUT YOUR EXPERIENCE AT THE FIRM?
Today when the attrition rate is so high I have managed to stay with Rajani Associates for over a decade. The credit for this goes to our Founding Managing Partner, Mr. Prem Rajani and to all the colleagues. They have provided a conducive environment to work and grow, from an Associate to a Partner.
At Rajani Associates, I have been given the opportunity to work on unique and unprecedented matters, outside my core area of specialization. Though these assignments are time consuming, they have given me the maximum amount of job satisfaction, especially because of the learning curve involved in the process.
I owe a great deal of my understanding of being a lawyer to Prem Rajani who with his guidance, support, patience and sense of humor has mentored my journey.
6. WHAT LED YOU TO SPECIALISE IN PROJECT AND PROJECT FINANCE? WHAT DOES IT ENTAIL?
I have always been keen on corporate and commercial law. While working with Rajani Associates, I got the opportunity to work on various project and project finance matters and over a period of time I developed a specialization in the same.
It provides opportunities to work along with project participants for the development of ports, roadways, highways and social infrastructure including healthcare projects, development of new technologies for waste and water management. It involves rendering services right from the bid stage, to structuring the transaction, forming consortia, execution of concession agreements, project equity, project debt, documenting and negotiating commercial contracts.
7. WHAT ARE THE QUALITIES REQUIRED TO BE A GOOD NEGOTIATOR? WHAT WOULD YOU DESCRIBE AS A SUCCESSFUL NEGOTIATION?
To be a good lawyer, it is essential to be a good negotiator. I believe negotiation is not about winning or losing (as is generally construed). It is about varied interests converging on a common goal point and that is the successful completion of the transaction. For this one needs to have a grasp of the matter, do an honest assessment of the situation, be respectful and mindful of the requirements of the parties involved and provide straight forward and simple solutions.
8. HOW HAS THE FACE OF CORPORATE LITIGATION CHANGED OVER THE YEARS?
India like any other country has judicial, quasi-judicial as well as other alternate dispute resolution methods. The corporate litigation practice is part of the judicial dispute resolution method which has seen tremendous growth, especially with India opening up its markets, where the Indian judicial system has had to come to terms with the reality of globalization and liberation.
With multinational companies setting up their business in India, the nature of commercial disputes have changed and today disputes are not only limited to dishonour of cheques, real estate, employment, labour disputes or consumer cases but are majorly in relation to private equity transactions, mergers & acquisitions, competition laws, commercial contracts, defaults in financial transactions (including lending and borrowing, hire purchase, finance lease) and enforcement of foreign awards.
The Government has also taken several steps to ensure that the time taken to resolve the disputes comes down and litigation matters do not drag on for years. It has amended the arbitration law, passed the commercial courts bill paving the way to constitute the commercial courts to exclusively handle the commercial cases, brought in the Insolvency and Bankruptcy Code and notified the National Company Law Tribunal (NCLT), all aimed at ensuring faster disposal of cases. Even the tax department, one of the largest litigant, has also taken initiative to reduce tax litigation.
9. WHAT IS YOUR OPINION OR TAKE ON THE ARBITRATION AND CONCILIATION AMENDMENT ACT 2015 ESPECIALLY THE RETROSPECTIVE EFFECT OF THIS AMENDMENT?
The amendment carried out in the Arbitration and Conciliation Act, 1996, by the Amendment Act, 2015 is quite positive and a huge step forward to boost the commerce of India. The intent is to reduce the intervention of the court and expedite the arbitration proceeding.
The retrospective effect of the Amendment Act has been discussed by Bombay High Court in the case of BCCI versus M/s Rendezvous Sports World and Delhi High Court in the judgment on Raffles Design International India Private Limited & Anr. versus Educomp Professional Education Ltd & Ors.
The view taken by the Courts is that the as far as the Arbitral Proceedings are concerned, the Amendment Act shall apply only if the Arbitral Proceedings have commenced on or after October 23, 2015, i.e. the date of promulgation of the Amendment Act.  The Courts have further held that the Amendment Act  shall apply to court proceedings in relation to Arbitral proceedings, such as application for appointment of Arbitrator or setting aside of the award regardless of the date of initiation of such proceeding.
In my view, the Amendment Act is applicable to "arbitration proceeding" and "in relation to arbitral proceeding". This distinction has been made with an intent to remove the defects which prevailed under the old act.It is only logical that the amendments shall not apply to the ongoing arbitration proceeding, except when the parties have mutually agreed to the same. This is to avoid any change of law in the midst of an arbitration proceeding. 
The issue of applicability of the amendments vis-à-vis arbitration proceeding and in relation to arbitral proceeding is presently pending before the Supreme Court of India.I am hopeful that the Supreme Court affirms the view taken by the Bombay High Court, Delhi High Court and the Calcutta High Court in this regard.
10. ARE THERE ANY SETBACKS IN THE INDIAN JUDICIARY? IF YES, WHAT STEPS DO YOU RECOMMEND TO ERADICATE THESE SETBACKS?
The biggest challenge faced by the Indian judiciary is the massive burden of the pending cases. It is a common man's grievance that generally it takes years for the Courts to decide a matter.There is an acute shortage of judges due to delay in appointment and inadequate remuneration. If more judges can be appointed this will drastically reduce the pendency of the cases.
Additional special courts, fast-track courts may be set up to tackle the issue of backlog of cases. Even the concept of mobile courts should be encouraged to bring justice at the doorsteps of litigants of far-flung remote and rural areas. Lok Adalats, an informal, alternative mechanism can be encouraged especially in pre-litigation matters, settling cases before they become full-blown disputes being referred to the courts.
11. WHICH IS THE LATEST NON-LAW BOOK YOU HAVE READ? TELL US ABOUT IT.
Though not a latest one, the non-law book which I am currently re-reading is 'The Monk who sold his Ferrari' by Robin Sharma. I feel this book is relevant for every professional.
12. DEFINE 'CREATIVITY'. HOW MUCH GRAVITY DO YOU EXPERIENCE TOWARDS CREATIVITY?
For me creativity is the ability to do new things, find new ways, think out of the box and provide solutions. I certainly feel creativity is very important and especially for a professional. Though an oxymoron, it is said that stress reduces creativity but it is also true that creativity reduces stress.
13. HOW DO YOU DE-STRESS WHEN NOT AT WORK?
I like to hear old Hindi songs, play with Bruno, my one and a half year old pug and cook when time permits.
14. YOUR ADVICE TO ALL THE YOUNGSTERS OUT THERE ASPIRING TO BE SOMEONE GREAT INCLUDING YOUNG BUDDING LAWYERS.
Today legal profession has been commercialized and in the bargain at times people end up compromising on ethics.
My advice all the youngsters is to be a good and ethical professional and success will follow. In your pursuit for success do not ignore your family and friends who are your support system.