Faizal Latheef graduated in Law from Mahatma Gandhi University, Kerala in 1998. He has close to twenty years of professional experience and has been practicing corporate and commercial laws in the Middle East for over a decade, with leading firms including the international law firm of Baker & McKenzie. Faizal has represented some of the largest multinational corporations on cross-border transactions and advised them on a multitude of international agreements.
He is also one of the few lawyers licensed by the DIFC (Dubai International Financial Centre) Wills & Probate Registry to register common law compliant Wills for foreign investors and expatriates in Dubai, UAE.
In this interview, we speak to him about:
His decision to shift from India to Dubai.
His role and responsibility as a Partner at Kochhar & Co.
The objectives of his personal platform where he mentors law students.
Maintaining a work life balance.
How would you introduce yourself to our readers?
I am a lawyer by passion and choice!
I began my professional journey as a Dispute Resolution Lawyer in Kochi. I relocated to Dubai over a decade back and since then, I am practicing corporate laws. Dubai changed my career graph in a magical way as I had the opportunity to work with one of the largest international law firms, a Fortune Global 500 corporation leading its operations in the Middle East and Africa and a top tier local law firm. Now, my primary focus is on foreign investments, joint ventures, mergers and acquisitions, corporate restructuring and compliance, in particular anti-corruption.
Personally, I am an ordinary guy with some crazy dreams. I do what I enjoy and am passionate about it. I am organized and determined and well aware as to where my destiny lies! I invest in people and have a large number of friends from across the world.
I do not have any one in my family connected to law and am a first generation lawyer. Witnessing my initial struggles, even others have stayed away from the legal sector. I believe everything is possible in life and hope my journey will be an inspiration to my young friends who do not come with a legal background.
What motivated you to pursue law? Describe your experience in law school.
Law has always enthused me! I was into public speaking since my young days and somehow developed a misconception that a good public speaker could be a good lawyer too.
On a serious note, law is to regulate society and promote social well-being. We all are required to comply with certain norms from early ages, be it at home or in the society. I was an organised child and enjoyed complying with such norms. From this perspective also, I thought law would be a great career choice for me.
Like most of the law students, law school days are some of the most unforgettable days in my life. Be it some of those inspiring lectures, active participation in student politics or the wonderful time with my friends! I enjoyed every moment of those days! Candidly, I don't think my law school curriculum sufficiently equipped me to build up a successful legal career. In contrast, it was what I learnt outside of the classroom that shaped my todays and lead me to this amazing journey called life!
What was your first job after law school?
It was almost two decades back! I started my professional career in Kochi, the commercial hub of Kerala. The legal industry then was dominated by individual lawyers and they all were into litigation. I practiced before the High Court and primarily focused on civil and commercial matters. I used to work for almost fourteen hours every day, without much financial returns!
On hindsight, I admit that I did not enjoy litigation much! After spending considerable amount of time outside India and having got the opportunity to understand different legal systems from across the world, I believe our legal system needs a thorough revamp. It needs to be more professional, transparent, tech savvy, appealing to the youngsters and accessible to each and every citizen of the country.
Nevertheless, those gruelling days helped me in preparing for the future in a tough way. It imparted lot of lessons to me, including the importance of hard work, patience, perseverance and above all, to stay optimistic – That my day will come!
What caused the decision to shift to Dubai? What were the challenges you faced in this transition?
I relocated to Dubai out of compulsion. A little over five years into my practice, I met with a near fatal car accident. I was bedridden for a considerable amount of time and could not speak. I lost my clientele in no time and could not come back despite my hard efforts! And I had no option but to quit litigation. Then, Dubai, with its big dreams, was a natural choice for me! If it could become one of the best cities in the world out of sheer grit and determination, I thought the city will have something in it for me too!
The legal industry in Dubai is quite charming, with many of the top-tier international law firms and large multinational corporations. However, the transition was challenging. It was an alien place to me, with no relatives or friends. The legal system, culture, lifestyle, work ethics, client expectations all were starkly different from what I had experienced in India and it took a while for me to adapt. Fortunately, after a few months, I got into one of the best local law firms. And there started an amazing journey that transformed my life!
Can you describe your role as an in- house counsel for AbbVie Biopharmaceuticals?
I joined AbbVie Biopharmaceuticals on a specific mission – to lead its spin-off from Abbott Laboratories in around 35 countries in the Middle East and Africa region. Abbott then had one of the world's largest selling drugs, which had an annual turnover of over USD fourteen billion. They decided to spin-off their business division which managed the said portfolio and wanted me to lead the transaction.
The moment I stepped into an in-house counsel's role, I realised that it's the beginning of a journey into unchartered waters! Everything I experienced in my new role – from the people I met and their thought process to the work culture – was starkly different from a law firm.
My in-house experience completely changed my perspective as a lawyer. Only then, I learnt that that the role of a lawyer is not just to enlighten the client about the legal provisions but more about analysing the risks in light of the legal provisions and guiding them to a solution, taking their business objectives into consideration.
Describe your work profile at Baker & McKenzie Habib Al Mulla? What caused you to leave the firm?
I spent most of my time in the Middle East with Baker McKenzie Habib Al Mulla. After my relocation to Dubai, my primary focus was on corporate and commercial laws and I continued to have a similar profile with the firm. However, the magnitude was completely different.
All on a sudden, the nature of clients, transactions and their value changed in a big way. I got the opportunity to lead several multi-billion dollar deals involving some of the world's largest multinational corporations. I also led the firm's initiatives in the pharma and healthcare sector. I would proudly admit that I spent some of my best years with them. These eight years challenged me to a great extent and I was forced to reinvent myself all through the period.
I spent considerably long time with the firm, and at some point, I felt like I am getting into a comfort zone. I wanted to get out of it and explore the unknown world. I was keen to find out if I would be successful in building up my own clientele. If successful, I knew nothing else would be more contenting!
How did you come to be a Partner at Kochhar & Co.? What are your responsibilities?
As I mentioned earlier, I wanted to leave Baker McKenzie and was exploring my options. Somewhere around the period, Kochhar & Co. became the only Indian law firm to have been granted license to practice local law in the UAE. I knew Rohit Kochhar, the Chairman of the firm, one of the most enterprising lawyers in India. We thought our interests complement each other and decided to join hands. Great colleagues, quality clients and an excellent office overlooking the iconic Burj Khalifa, the world's tallest tower, can only be incentives to associate with the firm!
I focus on three practice areas – corporate, compliance and DIFC Wills. I mostly work with multinational clients, several of them from India too, on a variety of matters including foreign investments, joint ventures, mergers and acquisitions, corporate restructuring and employment. I also do a lot of work on compliance, in particular on anti-corruption. I am one of the few Certified Auditors for the recent ISO 37001 Standards on Anti-Bribery Management Systems, which helps me in designing or auditing the compliance mechanisms of organisations as against an international benchmark.
I also guide foreign investors in protecting their investments in Dubai through DIFC (Dubai International Financial Centre) Wills. I am one of the few Indian lawyers licensed by the DIFC Wills & Probate Registry to draft and/or register Wills that are not governed by Sharia. Being a Muslim country, inheritance in the UAE is governed by Sharia and foreign investors were concerned about its implications. This new mechanism is a big relief to all non-Muslim investors as they can now effectively secure their investments.
Does law school prepare a student sufficiently for all the things expected from them after graduation?
I often interact with teachers and students from various law schools and I understand that many of these schools are preparing their students in an exemplary manner. They offer trainings on a multitude of areas, help them find internship opportunities, arrange expert lectures and all these will help students to get prepared for the coming years.
However, I believe it is impossible for a law school to fully equip its students for everything that comes after graduation. They can only set a platform for the students. It is for the students to decide as to what they want to achieve and how they want to reach there. They need to build relations with industry experts, find their mentors, expand their knowledge levels and take advantage of every opportunity that life throws at them!
Nevertheless, an area where I hope to see improvement is on the soft skills part, in particular for law schools from the smaller cities. Many a time, it is not the academic credentials that will help you in reaching greater heights but certain other skills including your ability to connect with people. More importantly, I hope law schools mould their students to become responsible citizens of the society.
What is your opinion on the recent proposal to allow foreign law firms to operate in India?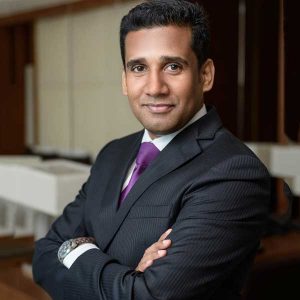 I have been in Dubai for twelve years and spent most of time with Baker McKenzie Habib Al Mulla. I had a truly enriching experience with the firm as I got an opportunity to work with some of the best lawyers in the industry, on multi-jurisdictional transactions involving billions of dollars. I could lead several complex commercial transactions for many of the Fortune Global 500 corporations, all thanks to my association with an international law firm. All these have immensely helped me in evolving myself as a lawyer and as a human being. I would not have had this wonderful journey had I not been with an international law firm!
The entry of foreign law firms will certainly shake the Indian legal industry and force us to adapt. Many of such firms' systems, processes, clientele, people, work ethics, professionalism etc. are of a different magnitude that a sizeable portion of our industry has not yet seen. This will offer great opportunities to talented law students. In general, this will initiate a healthy competition and improve the quality of legal services.
There are a few genuine concerns too, including the importance of setting up a level playing field for our law firms. Nevertheless, these are all minor issues that can be addressed effectively, if we want.
How do you maintain a work life balance?
Life in a law firm is always hectic! There are occasions where I have to spend long hours in office, in particular while working on projects involving multiple jurisdictions and tight deadlines. All these will bring in their own share of pressure too.
I want to enjoy every moment in my life and do not want these long hours or pressure to impact me. I am able to manage these to a great extent by following three simple principles – by being passionate about what I do, being organised and saying 'no' wherever required! I try to work on matters that I enjoy. I plan my day before I get out of bed. I also try to practice the art of saying 'no' so that my time is efficiently managed. Come what may, I do not skip spending quality time with my family and friends or my squash sessions! Life is all about making the right choices.
You have created a platform to mentor law students- through your website faizallatheef.com. Why did you come up with such an idea and what are its objectives?
I started my website about a year back to share legal information on the UAE, in particular Dubai. A few months later, I was invited by Microsoft to be part of their initiative to mentor law students in Dubai, in association with Middlesex University. This was a great programme wherein several industry experts participated and it benefited the students immensely. I had a chance to meet with many students who were talented but confused too on a myriad of matters, who had no clue about how to shape their future. As a first generation lawyer, I could easily relate to their confusions. This is where I thought I must utilise my platform to help the younger generation.
My objective is to make my website a platform for my young friends to connect with legal experts from across the world. This will help them in gaining great insights into the profession and apt guidance on a variety of matters including internship options, higher education and career choices. I am in the process of creating a panel of mentors with varied background, which includes private practice lawyers, in-house counsels with large multinational corporations and legal counsels from the government sector.
I also provide internship opportunities to selected students, in our Dubai office. This is an amazing opportunity for students, in particular for those from India, as they get truly international corporate practice exposure.
What advice do you have for our readers?
My simple advice to my young friends is 'enjoy life'! Life is full of possibilities and opportunities. It is up to you to explore and find them. You all are destined to achieve great things in life. So, believe in yourself. Break all the limits that you have set or others may set for yourselves. Dare to have big dreams and pursue them passionately. Life is all amazing!
And more importantly, add a humane touch to everything that you do.