This interview has been published by Ayush Verma.
How would you like to introduce yourself to our audience?
I'm a first-generation lawyer. I am currently working as the Legal Leader & Managing Counsel with Cummins India Limited at Pune and I am part of the Leadership Team of its Power Systems Business in India. I have about 12 years of work experience in Legal Operations encompassing Legal Strategy, Litigation, Business Partnering, Advisory, Compliances, Ethics, Risk Mitigation, Contract Management which includes support to Public Relations and Security. I have also worked with Thermax Limited and Mondelez International (Formerly Cadbury India Ltd.) in the past as its In-house Legal Counsel. I serve as an Honorary Committee Member/Council Member at Indo-American Chambers of Commerce and I am also a Panel Advisory Member at Confederation of Indian Industries (CII), Pune. I graduated in Commerce (B.Com) and Law (LLB) from the University of Pune. I also did my Post Graduate in Law from Pune University itself and I am a qualified Company Secretary as well.
Tell us about your journey in choosing law as a profession.
I resided in Bhopal for 18 years. Most people in my family members are doctors. Being an inquisitive person, I always used to point out some subjectivity in any discussion and question many things. Noticing a person from our neighbourhood who completed Company Secretary and became an IAS officer, I registered for the CS course. Simultaneously as I pursued B.Com from Pune University and I finished CS while pursuing B.Com (in first attempt). After finishing the Commerce and CS course, I pursued a 1.5 years legal internship with a company called Garware Technical Fibres Ltd. (Formerly known as Garware Wall-Ropes Limited – Garware Group), who specializes in manufacturing fishnets and are world's leader in textile and fishing nets. My senior at Garware (who was also then the General Counsel), advised me to do law as well and it would provide me an edge in my career. 
In the initial days of starting the internship at Garware Group, I was sent to the Bombay High Court to appear in a commercial matter. I was absolutely clueless and crucified on what was happening at initial days of training. This is where my journey in law started. During the first three hearings, we received a favourable order from Bombay High Court wherein I represented the company.  Then and there, I decided that I will pursue this path. As a result, I registered for law with the Faculty of Law, Pune University immediately after my B.Com. I even pursued LL.M from the same University which I cleared it with top ranks.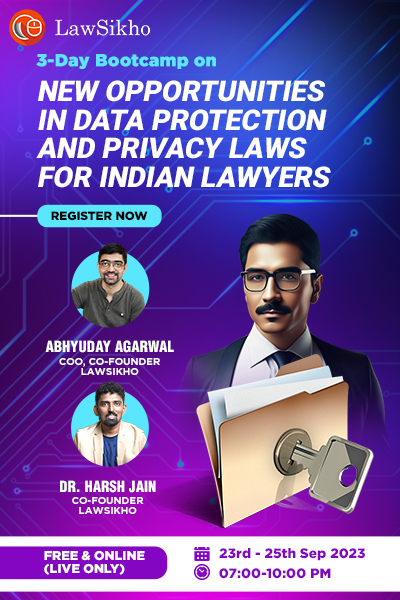 Over the time, I worked with 3 – 4 leading Corporates in Maharashtra, India in their Legal Departments and at present, I am working as the Legal Leader and Managing Counsel at Cummins India Limited which is engaged in the business of manufacturing internal combustion engines along with their parts and accessories. Cummins is a part of Fortune 500 Companies and is worth 20 Billion USD globally, headquartered in the US. I am a member of the core leadership team at Cummins Power Systems business unit that has an approx. turnover of around 60 Billion INR  Cummins is also listed on Indian Stock Exchanges (https://www.cumminsindia.com/) and is recognised as Great Places to work, many times by renowned forums and associations. Cummins is also one of the very few best companies in India who have been recognised several times for their best gender diversity quotient at the workplace. 
Did you pursue any internships during your law school life?
Since I was already enrolled as an Intern in a Corporate for about 1.5 years, I did not do any additional internship as I was working under a General Counsel who had 35 years of experience in law and was practising as an Advocate before joining Garware Group. My practical exposure in the legal background started with my engagement and briefing Senior Counsels and AORs where I assisted in drafting plaints and appeared in Courts which included my assignments as an In-house lawyer solving legal issues like drafting/negotiating contracts, drafting HR Policies, ensuring compliances and supporting the company's businesses run smoothly. My superior retired but took an extension to guide me and helped me rise up to the challenge. He acknowledged me as a great junior. 
How has Company Secretaryship advantaged your career?
Company Secretaryship has always given me an upper hand in my legal career. To walk you along one of the instances, my legal training concentrates mainly on the manufacturing sector. As I have been working as an in-house counsel, one of the Group entities appointed me as its Compliance Officer for ensuring compliances along with handling their complete legal portfolio. During the pandemic, my organisation wanted to start a new project wherein with my corporate law insights helped the management in ensuring better compliance as it required various approvals under Companies Act and as an Advisor to the Board of subsidiary/affiliate Company, my advice was well taken and acknowledged. CS along with law has always provided me an edge because in-house lawyers, one need to understand the business very well and with the knowledge of company law, it translates the knowledge into quicker decisions by management within the boundaries of law.  Although I have done less of company secretarial and more work into legal/compliance, CS has always been of huge help to me. 
After Garware, how did you switch to a core legal background?
After Garware, I immediately got an opportunity to work with Precision Automation & Robotics India Ltd. in its legal department where I handled drafting, vetting, negotiating of various contracts/agreements and closed business deals. This is a manufacturing organisation involved in providing automated solutions to manufacturing units across Globe. I then joined Thermax Ltd. (Oil & Gas Sector) and Mondelez (FMCG Sector) wherein I was involved in litigations, compliances, advisory and business advisory. 
What would your advice be to law students who are confused about the practicability of the combination of law and CS?
I would definitely advise the combination as a dual-qualified-person is always recommended and is a cost-effective option for a prospective employer. One can understand the Company's board expectations and align its thoughts to its organisation's goals and business strategy. If your aspiration is to become General Counsel of an organisation, it is advisable to concentrate more on corporate and commercial law because as  CS is more about procedural law and if one desires to be a Company Secretary then one can concentrate more on Secretarial compliances and  Company Law. As an in-house lawyer, even if you don't have CS qualification, it would not make much difference because in my personal view, pursuing CS is recommended/advisable however not mandatory at all. It is a choice. 
How did your family react to your decision of choosing law as a profession?
Initially, they had their inhibitions as the profession was not very attractive at that point in time. It was a tough adjustment for them. 
However, that didn't bother me too much. I am not someone who was afraid of making those choices. Now, whenever I visit the family, all of them feel extremely proud and they respect me as a professional. They also acknowledge that I chose what I wanted and lived up to the expectations. 
How was your law school & internship experience?
When in college, I was still completing my CS training. I was getting a fairly great stipend at Garware Group which was very good in those times which included free food, bus facilities and medical benefits. I was fortunate enough to get a good internship opportunity, This was in the year 2008 however, as in the starting I got a good opportunity there were many peers and students of my college who were intimidated by me and disliked me. I participated in moot courts and also supported in various extracurricular activities. Law school experience was great in itself. Teachers were very helpful and they provided great learning to us. 
My interview at one of the Company was also unique in itself. My future boss called me and asked me "When did you complete CS?" I replied saying that I had finished it at first attempt while in college itself. He cut the call and the HR called later to inform me I got selected as a full time Legal Management Intern/Trainee for 1.5 years. I asked him after joining as to why he cut the call. He said, "Clearing CS in the first attempt was a great deal and it would be good to train you". 
The moment my training started I was assigned with almost tasks of legal research. I got a great real time experience as if it felt like working in a full-service law firm because the Company had matters pertaining to all kinds which were Civil, Criminal, Consumer, IP, Company Law, Contracts etc in nature. Therefore, my internship was a great one as I learnt a lot all at one place. Even I showed a lot of interest being a junior and was very keen to learn, thereby getting everything to learn in detail. 
I had supported various friends/fraternity friends as well. Since I was working in the company, I would often share books/articles/legal magazines with peers since I had access to the organisation's library. I used to provide the lectures, show them how plaints are drafted and how corporations handle legal matters internally and externally without getting into details as confidentiality needs to be preserved in the legal matters. I believe one always grows as a team-player and supports their peers. I have always been open to help people and it is important to do that. Even now, we have trainees who are interning with my current company and we make it a point to train them well and pay a good stipend too. 
Please share your experience of working with Cadbury (Mondelez).
I got a call from Cadbury and they told me they were in need of an FMCG lawyer. I told them that I am not aware of the food laws however as a lawyer and qualified CS If I am provided with an opportunity, I will be able to learn in a short span and deliver the expected results which Cadbury India agreed. I got in touch with their Hiring Manager, had an interview and they gave me the job with double the salary at that time. Interestingly, the company values your attitude much more than your qualifications. It was a pleasure working with them and I learned a lot during my tenure at Cadbury (now Mondelez India) I worked on various projects and also participated in global legal projects which was a great experience. 
It is clear that you have a lot of achievements in your career. What are some of your proudest ones?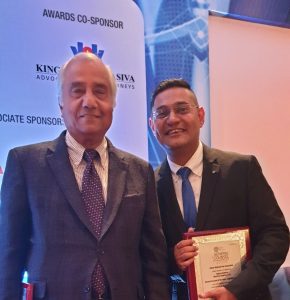 I am one of the youngest Executive Committee Members at the Indo-American Chamber of Commerce. I won the Best Legal Counsel of the Year twice from Indian National Bar Association (INBA) and once, the award was given to me by Justice B.N. Sri Krishna which was again a proud moment for me. I recently received an award titled as "Rising Star (under 40) Award from Legal Era and the award was presented by the President of the Bar Council of India. I am also an Advisory Panel Member at Confederation of Indian Industry (CII), Pune and a Chair for the Pune Chapter of the INBA. I am also the youngest leader who is a part of the Leadership Staff of the Power business at Cummins in India. These are some of my proud moments which is a result of positive wishes/encouragement from my seniors and mentors.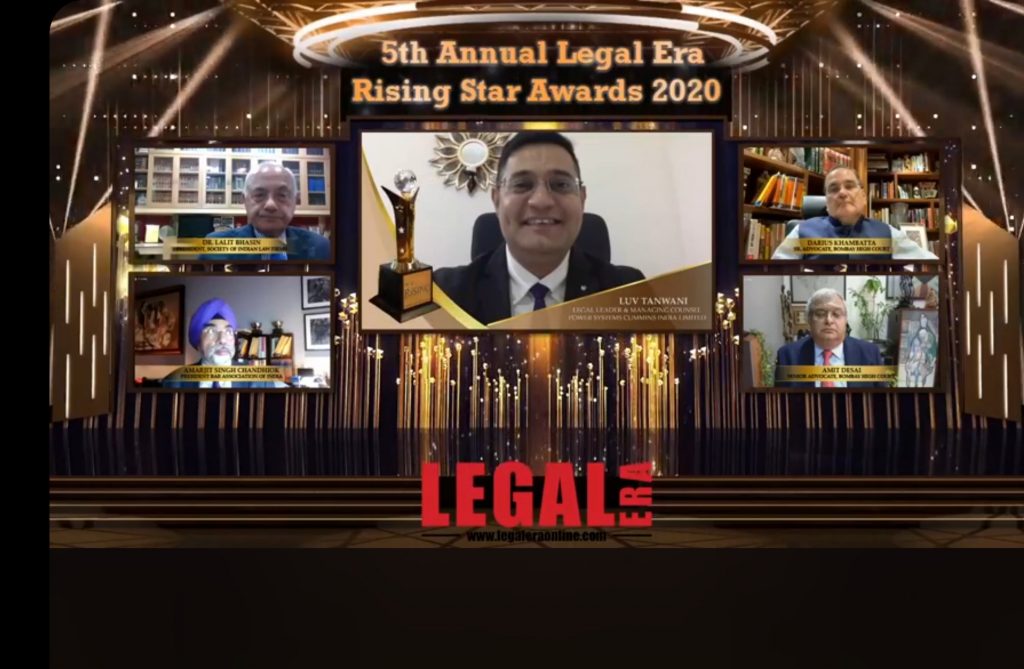 What are some of your core values?
I believe in Karma. Whenever someone reached out to me in search of employment or professional support, I have always gone out of my way to help them. Somewhere, I feel and value that doing good for others has also benefited me as a person and is a result of what I am today. I believe it is necessary that we all grow together. 
In 2009, you pursued a course in Arbitration from Chartered Institute of Arbitrators, London. Please share your experience with CIArb, London. Would you suggest the course for a beginner?
I received a scholarship from the Secretary General of Chartered Institute of Arbitrator's India Branch and had gone to the Bombay Stock Exchange to pursue this course. I am a prospective member and I can apply for membership at any point in time. 
One wanting to do this course, will have to know the basics and foundations of litigations and Arbitration. As a Chartered Arbitrator, you would be appearing for clients and the clients would expect you to possess a good experience. Arbitration is a different ball game altogether; it requires substantial experience and great understanding of the complex matters. To have a good understanding, LawSikho's courses are a great start. Once you gain a good understanding and work with an Arbitrator, pursuing a CIArb course would bring a lot of value. I was fortunate enough that in my initial training itself I could experience arbitration in a practical sense. One may not mandatory be a lawyer to become an Arbitrator as per the rules, hence, this course is recommended to anyone who wants to learn or make a career in arbitration. 
What are your hobbies?
I have many hobbies such as travelling, trying different cuisines and watching movies.  
As a Managing Counsel of Power Systems Business in a Multinational company, how is the current landscape? Also state your learnings that made you a better in-house lawyer.
As a legal leader for Power Systems Business of Cummins in India, the business requires a lot of support in terms of compliances, advisory, litigation support, crisis management etc. because the business is very large and has several factories across India. It requires expertise on employment law, ethics and support on commercial legal issues regularly. I have realised that nowadays there is a need for specializations in particular domains. Now companies have started hiring IP lawyers for their IP issues, Employment Lawyers for supporting HR's/IR related issues or Data Privacy Lawyers/Officers for supporting their cyber and data compliance needs. As a Managing Counsel at Cummins, I had an opportunity to work with specialised lawyers however the prime responsibility of ensuring and addressing all legal issues for the business lies with me. So I collaborate with other subject matter experts and provide required deliverables to the business wherein subject matter expertise is required. I am also a trained Ethics Investigator, so I support the ethics and compliance teams in their assignments and provide legal advice on matters concerning sensitive matters.  
I sincerely feel that a lawyer can only be valued in an organisation if that lawyer is able to solve problems rather than talking about it, which may or may not be related to legal problems alone. When you are a legal counsel, your capability should be to be able to build up trust and confidence in your stakeholders, and that personal confidence comes with understanding the business well. Always you should have a mind to develop yourself and learn more about your business else your stakeholders will never be able to understand your thoughts or align with your thoughts. The in-house counsel, sometimes, is the only person who knows about law in the management team, so he/she is a person who has to really translate law into something which can be understood very easily by the management team and other stakeholders. At the same time, the in-house counsel has to have an open mind to understand the business requirements, because unless you understand business needs it will not be possible for a in-house counsel to be able to offer value to the management team. The in-house counsel has to have a broader mindset which includes learning more and contributing. I always treat all my stakeholders as my internal clients and offer them my best services. This profile has provided me with a lot of learning, great experience and also have given great insights on the professional front. I feel that I am now more a strategic business partner than a lawyer. We have to support business in a true sense and as lawyers we take calculated risks which are aligned to our organisational goals/values and finally make organisation succeed in a better compliant way.
If not for law, what other career would you have pursued?
I wanted to be a traveller. I used to watch TLC, Discovery Travel channel, read Conde' Nast Traveller magazines and used to wonder how people get paid for travelling and the same used to excite me a lot. If not for law, I would have definitely pursued that path.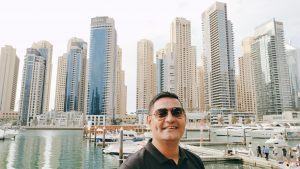 What would be your one last piece of advice to law students?
Be consistent and have the perseverance. Have a vision, hang in there, you will succeed. Keep believing in yourself.