This interview has been published by Priyanka Karwa and The SuperLawyer Team
How do you end up pursuing a career in Law?
I belong from a small town Ajmer, Rajasthan, my father is a lawyer in the same town, and I grew up watching him dress in black and white attire every day. We have a small office in the home where the clients used to come and share their cases in his office. Listening to them hiding behind the doors and watching my father helping them in every possible manner would always attract me towards this profession and here I am.
You graduated from M.S. Ramaiah College of Law, Bangalore in 2013. How does it feel being from (Non NLU) Law college – could you share your experience with us.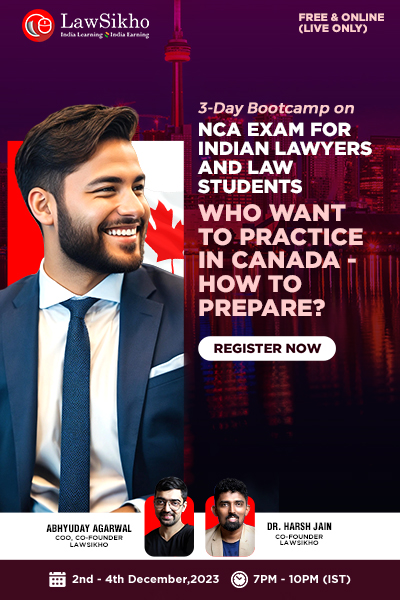 Before joining this college I did give entrance exams of various National Law Colleges in 2007 (as CLAT was introduced in 2008) but was not selected in any.
It was late mid-June when almost all the college admissions were closed and after rejections from all the national law colleges, I chose to travel alone by train from Ajmer for almost 42 hours to reach Bangalore in search of a good college.
I made a list of reputed law colleges and decided to visit each one of them to try for a seat. The first on the list I visited was M.S. Ramaiah College of Law. At the entrance of the college, a big board was fixed displaying "admissions closed". Not to lose hope I still managed to push myself and enter into the building walking towards the administrative room. I swiftly entered the room where the manager had just ended a landline call by putting the receiver down and in a low voice I said "I want admission". I was told to wait and have a seat, while the administrative persons had a meeting among themselves. After some time I was told by the manager that 80 seats of this academic year are full, however, a moment ago one candidate refused to join and now we have a single seat, are you carrying all your documents with you and the rest is history. This is the day when I learned the value of at least giving it a try and not giving up.
It is true in today's life various offices and firms judge based on the name of colleges, however, I would like to add that in my opinion being from NLU or non-NLU College does not make much difference, if you are sincere and are passionate about your work. In fact, being from Non-NLU in my case had only benefitted me for making me strong enough to face the challenges of a litigating lawyer as a career.
Not being the icing on the cake will only make you the bottom part of the cake which is hard and filling, meaning thereby stronger and in a way fruitful for your future if you want to pursue a career in litigation which is itself full of challenges. A will to learn and zest for life will never depend on what college or institute you belong to. Face the challenges and enjoy the journey.
You graduated, Coming from a small town then working under an Advocate-On-Record at the supreme Court of India to becoming Yourself an Advocate-On-Record, How was the journey?
Being a lawyer is not easy, it demands lots of hard work, dedication and devotion. Especially, when you do not belong to this city that is in itself challenging. You have to live away from home starting from scratch. It almost seems like a never-ending struggle. After my graduation, I came directly to Delhi and shared a flat with my immediate seniors at Law College who were kind enough to give me some guidance.
I worked at various law offices where I was fortunate to be given the responsibility to handle matters individually. I used to draft, type and prepare it for filing and thereafter visiting courts for filing, everything right from:-
page numbering,
attestation,
notarizing,
court fees
Photocopies etc,
waiting in the queue for submission of the case at filing counter
curing defects
getting it listed and
arguing before the court
While deciding a case in the court of law there is an abbreviated form of Latin Maxim de minimis non curat lex, "law is not concerned with small things." However, in the practice of law, it works the other way round .i.e. "the practice of law is concerned with each and every small thing". Until and unless you learn how in litigation the small and minute things work you will find it difficult to deal with major things.
While digging the ground I never stopped looking at the sky. At the Supreme Court, I used to sit inside the court watching the proceedings in and out, observing the Hon'ble Judges their reactions and how learned advocates and senior advocates argue their cases and present themselves before the Court. Making notes, and learning the process and it is only a decade into 2023, with never to stop trying attitude and as they say "When there is a Will there's a way" I cleared my Advocate-on-Record Exam.
Your work involves a mix of civil, criminal and corporate matters. If you had to choose, which type of case do you find more thrilling and why?
As recently Hon'ble Justice L. Nageswara Rao said:
"There Is No Profession Thrilling Than Legal Profession"
Well practice of the Supreme Court does require mixed knowledge of every subject, there is a CASE LAW paper in AOR Exam where one has to study all case laws around 64 judgments right from KESAVANANDA BHARATI SRIPADAGALAVARU VS. STATE OF KERALA & ANR. (Doctrine of Basic Structure Case) or LALITA KUMARI V. GOVTOF UTTAR PRADESH (Registration of First Information Report) to INDORE DEVELOPMENT Vs. MANOHAR LAL (Land Acquisition Case).
Either Civil, Criminal or Corporate matters, the recipe is the same .i.e. mastery of facts, relevant statutes, research, and application of law/judgments, only the taste changes .i.e. the result.
The thrilling part is not the subject, but the journey and the relief for which the client has engaged you and trusted you with the responsibility of seeking justice. When you give your best in the matter and present your true capabilities, knowledge, ideas, and skills of your experience, only then the whole process right from the first meeting with client up to the final argument stage the journey as a whole will thrill you and no matter what the subject is, your inner soul will always give a sign that yes you have done something worth for.
Balancing a career as an Advocate-on-Record with various high profile cases, you must have some unique strategies for managing stress. What do you do outside of work to unwind and recharge?
I am a son, a husband, a brother, and a friend. I am an old-school guy, I love being close to nature which keeps me calm and soothing and I also love to spend time with my family. Whenever I get time I travel back to my hometown and spend most of the time with family. In the morning I do give time to myself for at least 20 to 30 minutes, where I practice yoga, stretching, meditating, and gardening and relax with myself.
In my opinion, there are no unique strategies for managing stress, in reality, there are not any because the simpler you live the simpler your life will be. In these hectic times of the world, people have stopped realizing that we work to stay away from these so-called words like stress, tension and problems etc., so how come working would give you stress. I am not denying that these issues don't exist but once you are doing your work with true passion and dedication and have opted for the right profession that keeps you motivated you will automatically ignore the unwanted things in your life and would focus on improving yourself every single day.
Being an Amicus Curiae in a service matter is an interesting role. How is the experience compared to your usual courtroom battles?
Well, it is a privilege and a great honour to be appointed as amicus by the Hon'ble Supreme Court of India and I am fortunate enough to play this role in my small legal career. As the Service matter is still pending consideration before the Hon'ble Supreme Court it would not be possible for me to discuss it.
However, in comparison to usual courtroom battles, there is definitely a different sense of pride within you when the court recognizes you and shares the burden of responsibility on your shoulders. As an amicus you have to act as a "friend of the Court" and your endeavour must be to guide the court with all the facts and laws to reach every possible way of finding the right solution both for the Court and the litigant.
Your journey involves work with a diverse range of legal matters. If you were to give advice to your younger self starting in the legal profession, what would it be, considering both the professional and personal aspects of your career?
OBSERVE THE COURT:-
I still remember in my initial days I attended a chamber matter before Hon'ble Mr. Justice Amitava Roy. My matter was listed as Item No. 12 and all the matters that were listed were for the reason of not curing the defects, for that reason the matters were pending in the registry.
During Item 1 to 10, I observed that in every Item Your Lordship was asking how much time you need to cure the defects and the Advocates were asking for 6 weeks, some asked for 4 weeks or 3 weeks time, the court was strictly taking Action against the advocates for not curing the defects timely and in almost every matter your lordship were passing order "as a Last opportunity counsel is given 2 weeks to cure the defects, failing which the Special Leave Petition will stand dismissed"
In item 11 your lordship had again asked "how much time" counsel replied "4 weeks", and the Court said "2 weeks and failing which the Special Leave Petition will stand dismissed" with a comment "pull up your socks".
When item 12 was called out I walked towards the desk and was asked by Your Lordship "Yes sailing in the same Boat, how much time do you need" I replied It is my fault for not curing the defects timely and I leave it to my lords any time as would be directed I would cure the defects" and in response, an order "6 weeks' time granted to cure the defects", without any condition of dismissal.
In short, it is very important to read the mind of the court and decide in what manner you can drive the court in your favor.
BE PATIENT:-
My message to the readers is: Be patient, and be diligent as this profession does not give any overnight success stories. This profession sometimes also demands sacrifices, as I can relate with those who come from outside the city in the hope of fulfilling their dreams, "you might lose many things but believe me you will achieve everything". In the end I can only share the slogan by Great Swami Vivekananda:
उत्तिष्ठत जाग्रत प्राप्य वरान्निबोधत,क्षुरासन्न धारा निशिता दुरत्यद्दुर्गम पथ: तत् कवयो वदन्ति |
Arise! Awake! Approach the great and learn. Like the sharp edge of a razor is that path, so the wise say—hard to tread and difficult to cross.
Get in touch with Neelmani Pant –