George Pothan Poothicote graduated from Christ College, Bangalore with a B.Com degree before going on to complete his LL.B from JSS Law College, Mysore by 2010. While in law school he interned at several places including Ernst & Young and High Court of Kerala. He pursued an LL.M from King's College, London and finished his masters by 2012. Immediately after completing his LL.M he came back to India and was appointed as Legal Consultant to Legal and Treaties Division, Ministry of External Affairs, Govt. of India, New Delhi and he is currently working there.
In this interview he talks about:
Law school experience at Mysore University.
LL.M from King's College, London.
Internships, recruitment and work at Ministry of External Affairs
How would you introduce yourself? Tell us a bit about your pre law-college years. What motivated you to study law?
Born in Mysore, I spent my early childhood dividing time between Mysore and Wayanad, and thereafter left to board at Montfort School, situated in Yercaud, a hill station in Tamil Nadu. I went on to do my B.Com at Christ College, Bangalore, LL.B at JSS Law College, Mysore and LL.M at King's College, London.
Hailing from a family of lawyers, I grew up imbibing into my very system the lawyers' lingo and vernacular, and naturally felt drawn to the profession. Therefore, it was a firm and solid choice to become a lawyer myself.
How would you describe your time at Mysore University? Tell us about the academic environment and faculty at the law department of the University.
The experience was intense and extremely enriching. The student body was intellectually dynamic, with representatives from around the country and even abroad. The faculty included both full time academics and professional practitioners. They were very approachable, and inspired hope, ignited imagination and instilled a love of learning in their students.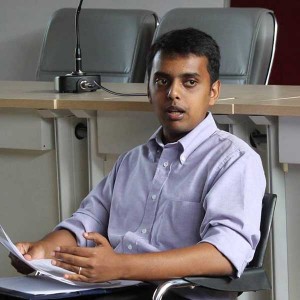 Did you take part in activities apart from your regular curriculum? What all did you do as a law student?
I participated in practical applications of what I learned, and textbooks gradually came to be of secondary importance to me. In conference settings, at moot courts and in practical classes, I had the opportunity to observe stellar lawyers and law students and noted how effective they were as participants, not only because they possessed superior knowledge, but also because they seemed to instinctively know how to handle a variety of difficult scenarios. Every evening of my final year, I visited the chambers of a senior advocate in Mysore. Also, every Saturday that year, I travelled to a village 35 kilometers from the city to provide free legal aid services and out-of-court settlements, as well as to spread legal awareness.
My participation in National and International moot court competitions ignited my passion for the field of international law and also enabled me to interact with students and faculty from around the world. I assisted in research work for the scion of the Mysore royal family in the dispute over assets of the royal family and the abolition of the Privy Purse. Later, I helped to draft an anti-ragging bill which was presented to the then Governor of Karnataka. I also represented the college in various seminars and conferences.
While being good in academics was the most important function during my days at law school, engaging in extracurricular pursuits was a close second. I did indulge in sports and had the privilege of representing my class and college teams in cricket and volleyball.
My objective during my LLB days was to do my best whilst maintaining a healthy balance and letting other things beyond my control take care of themselves.
Do you believe that excellent CGPA is absolutely necessary for success?
An excellent CGPA, or any other measure of academic record, can assist in furthering academic pursuits and optimizing the initial recruiting process. That said, the microcosm of university and the world at large are as different as chalk and cheese. In universities one learns the theoretical aspects of law, but for success in the practical applications of the work environment, top grades are not a prerequisite.
What were your areas of interest during your graduation (LL.M)? How did you go about developing expertise and knowledge in these areas?
Constitution, Criminal Law, Arbitration and International Law were some of the subjects that interested me during my LL.B days. The experience I gained through moot courts, assignments and conferences, as well as my interactions with a number of inspiring people, led me to develop a particular fascination for International Law, both private and public.
I had long been keen on pursuing an LL.M in International Law, but participated in a variety of modules before finalizing my subjects. My subjects were a combination of Public and Private International Law and International Commercial and Business Law, which may appear to be quite a broad spectrum for the course level. However, the subjects were not as disparate they seem. They included Terrorism and State Violence, World Trade Law, Use of Force, Commercial and Investment Arbitration, and Negotiation. What is especially interesting is the intimate relationship between International Law and Diplomacy. My curriculum combined both.
Please tell us about your internships during your graduation.
Internships and building work experience had been a consistent part of my academic pursuits during my years as a law student. At the end of my first year in law school, I was able to reinforce my tax related knowledge through an internship with Ernst & Young in their Global Tax Analysis service department in Bangalore. At the end of my second year of law school, I gained invaluable court experience with Honourable Justice R. Basant, a Senior Judge at the High Court of Kerala. I shadowed him closely and was privy to the procedures of the chambers of a High Court Judge, which gave me access to the judge's files, notes and discussions. I felt particularly privileged as this was a rare opportunity for a student.
During my final year, I visited the chamber of Advocate KL Sugandhi, a senior advocate in Mysore, which involved interacting with clients, learning procedures and even contributing to work on the cases.
Do you believe branding of college is something that's very relevant/ important at any stage in a law student's career?
Branding seems to have become as inevitable in the field of education as in business. That said, it should be taken with a bucket of salt. Power on the professional battlefield is determined by hard work and dedication above all.
When and how did you decide to pursue Masters? Was it a professional requirement or an endeavour out of academic interests?
From the beginning of my law education, I had entertained the idea of pursuing an LL.M degree. That said, I never viewed it as a professional requirement, as I had initially been keen on a career in litigation, for which an LL.B would suffice. Over the course of my LLB, I pondered over the subjects I would like to pursue, and shortlisted the Universities that seemed best suited to my interests.  The LL.M was a great adventure that enabled me to set sail to shores more magnificent than I had ever imagined.
You have done your LL.M. from Kings College London. Please share your experience. Any other university which offers a similar combination of modules?
It was simply amazing. I was taught and inspired by some of the best professionals in their respective fields: Professors. Martin Hunter, Salim Moollan, Samuel Wordsworth, Dr. Federico Ortino and Dr. Piet Eechout, to name a few. I still am in touch with most of them both at personal and professional levels. Whenever I felt the need for an expert opinion or guidance, these professors were most helpful. The course combined theory with practical applications. The whole system was different from what I was familiar with at the LL.B level. In addition to textbook learning, there were group discussions, debates and lots of interactive sessions, with an emphasis on research. We were encouraged to write papers and discuss them.
I still have fond memories of a workshop conducted by Prof. Martin Hunter, visits to his chambers at Essex Court Chambers and a Friday clinic he used to organise. Another unforgettable experience is the time I spent at the WTO, where I was able to interact with key people of the WTO Secretariat and Country representatives, and gain valuable insight into the incredible operations of such a hallowed institution.
There are other Universities that offer such modules, but I am not in a position to recommend them.
How will you compare the pedagogy at Mysore University with that of King's College, London?
Comparing the pedagogy at Mysore University and King's College is tricky because I attended them at two completely different levels. The LL.B is a basic degree in law, structured primarily to meet the general requirements of practitioners in the field. An LL.M is an additional qualification that involves specialization, and as such the structure of the LL.M diverges from that of the LL.B.  During my LLB, most of my professors were full time faculty, whereas during my LL.M, the majority of lecturers were practitioners in their respective fields, and their experience and expertise did make a difference.  A good teacher always brings out the best in his/her students. I consider myself lucky to have been mentored by the right kind of teachers.
Diversity was perhaps the most significant difference between the two programs. At King's College, the faculty and the University at large catered to a crowd from across the globe. The student community at Mysore University was primarily Indian.
Looking back, how significant do you think that your legal education was? When did you happen to experience the learning curve?
I believe that my education in its entirety has made me who I am today. My legal education in particular has been significant in shaping my career, and my analytical view of the world.
As I see it, the learning curve starts from the earliest stages of life. Every single day has presented learning opportunities. I think, therefore I am; I live, therefore I learn. The slope of my learning curve in the legal field took a surge towards the latter part of my LL.M program, and continued to steepen when I entered the Ministry of External Affairs, where I have interacted with some of the best legal minds in the country and around the world. The Senior Official Meetings, Ministerial Meetings and Summits of which I have been a part were incredible experiences. One particular case that gave impetus to my learning curve was a brief I received from Mr. Gourab Banerji, the then Additional Solicitor General of India, during my early days at the Ministry. It was my first significant case, and it was an exciting challenge. More recently, I have had the privilege of being involved with the Law Commission of India in its work on investment treaties, which has been quite insightful.
I look forward to the continuing intellectual stimulation of my work. Learning is an integral part of the profession, as it shifts like the sands of time.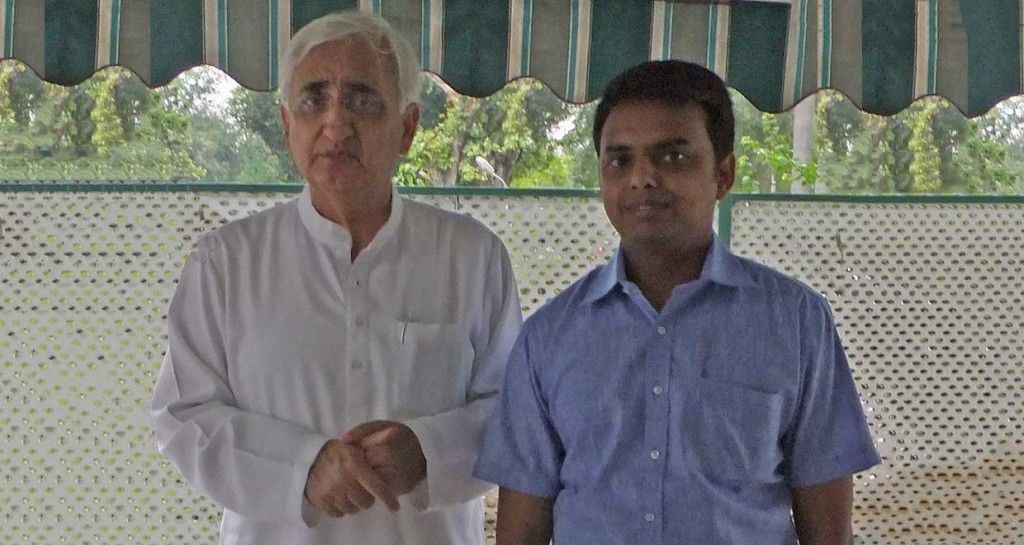 You joined Ministry of External Affairs as a Legal Consultant; what worked for you in getting appointed?
I assume that my academic pursuits and passion for the profession, in addition to the support I received from the then External Affairs Minister, Mr. Salman Khurshid, who had faith in my ability and trusted me with such great responsibility, led to my appointment.
What are the career opportunities at MEA like?
The MEA provides excellent opportunities for those interested in the international dimensions of law. We deal with treaty negotiations and international law disputes. Diplomacy is integral to the mix. That said, our work is not exclusively on an international level, as we do examine domestic law issues on occasion.
Are Legal Consultants allowed foreign postings? How does their work interact with that of the Indian Foreign Service?
Foreign postings are certainly available to those belonging to the Legal Cadre of the MEA. The Hague headquarters the International Court of Justice and the Permanent Court of Arbitration. Geneva and New York City are bases for numerous international organisations.
The responsibilities of international law and diplomacy require a great amount of interaction with foreign service officers and other government representatives.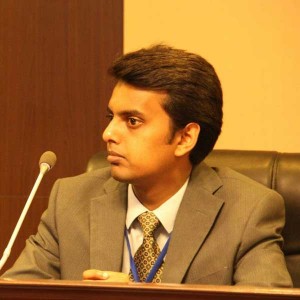 Would you say that there exists a difference in the working environment of a law firm and legal department of the govt. offices?
Most certainly, although I am not in a position to comment in depth on private law firms, as I have never worked in one. In the Government, everyone works for the Government of the day, and the work is not limited to legal issues. The tasks at hand are quite complex: they involve participating in drafting legislation, policy making, negotiating treaties and a variety of other roles. Most importantly, working for the Government means representing the Country and promoting collective rather than individual interests.
What is the procedure to apply for an internship and recruitment at MEA? What are the qualities which they look for in their prospective employees?
It starts with sending the completed form in the requisite format, along with references, to the Ministry to the Administrative Division (or any other Division that interests a prospective intern). From there, the applications are considered on merit. It is generally difficult to accommodate all applicants considering the huge volume of applications usually received. Details on applying for an internship at the MEA are enumerated on the website of the MEA.
Have you ever considered starting up on your own?
Starting my own practice has always been at the back of my mind. If I start my private chamber practice, I would focus on litigation before the Supreme Court, High Courts and Tribunals.  Considering my LL.M specialization and current work, I would be keen to pursue an active practice in investment arbitration, as well as international and domestic commercial arbitration.
I firmly believe that there is potential everywhere, and it is about looking out through the window of opportunity. Talent finds its happiness in execution. Simply follow your heart, make the right choices and be dedicated.
Please tell us about the requisite soft skills which are essential for a young lawyer to build a successful career?
Communication skills, which are essential in any profession, are particularly valuable for a young lawyer. An open line of communication with colleagues assists in efficiency and securing solid relationships. Clarity, charisma and discretion must be kept in mind when dealing with clients.
Commitment is important, given the heavy workload of young lawyers, and the established standards of excellence.
Creativity is an immense asset, as innovation and thinking outside the box aid in problem solving and negotiation.
What are your views on the future of Indian legal education? How would you suggest that a law student manages to stay ahead?
I would like our institutions to compete with the best in the world. There is no dearth of resources in India, but we have to make optimal use of them. I hope to live to see the day our institutions are ranked among the best in the world, and pray that it is not far away. We need to support academicians in their pursuit. I personally am of the view that institutions should create a platform to bring in greater interaction between practitioners and students. The greatest asset of any educational institution is the character of its teachers. We need to encourage research and avoid spoon feeding. Classrooms should be about imparting knowledge and not forcing one's views on the others. Students should be prepared to face the world outside beyond the realms of the microcosm of universities. I would suggest encouraging research and more practical classes and workshops. They are the need of the hour. The legal fraternity has to come together and support our institutions with a clear roadmap for the way ahead.
What are the three things you consider law students should do in their careers?
To me, goals should be set individually, and not based on what someone else has achieved. Be yourself, as they say. The markers of success vary, but generally, I would say that it can be achieved by staying focused, working smart and being organized. Professional mileage can be optimized with perseverance, perspiration and a stroke of luck.
What would be your parting message to young lawyers?
Here I would like to borrow from Mr. Fali Nariman, who lists the following in his autobiography "Before Memory Fades":
A lawyer's opinion should be honest and responsible,
A good lawyer should acquaint oneself with relevant law, including case law on the subject at hand,
One should be clear and precise, not confused,
One should keep oneself informed and up to date with all the reported judgments and decisions of the Supreme Court and High Courts,
A lawyer should be well prepared for his case.
A lawyer must never stop learning, for intellect demands clarity and certainty. That said, circumstances render uncertainty inevitable and fascinating. In an ever changing world, progress is proportional to the capacity to endure uncertainty.
One's name is a prized possession in this mortal world, which through our acts, deeds and achievements can be immortalized and etched in the minds of generations to come.