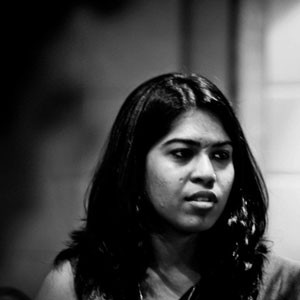 Hita Kumar is a graduate from National Law Institute University, Bhopal (Batch of 2012). Her journey through law school has been one of an ideal student. While maintaining a good CGPA, she bagged a job with AMSS in law school. She worked there for two years. Currently, she is pursuing Masters in Corporate and Financial Services Law from National University of Singapore.
In this interview Hita talks about:
Choosing NUS over Cambridge University for Masters
Writing an SOP and getting recommendation letters
Work experience at AMSS and leaving it to pursue LL.M
Most of our readers are law students and young lawyers. How will you introduce yourself to them?
I am not your stereotypical law student who loves hearing her own voice, arguing for the sake of argument and is very opinionated (no offence!), but rather more of an introvert who is not afraid to speak her mind when a situation requires me to. I've been told that I come across as very serious, sincere and nerdy, which is probably true when it comes to my work but people who are close to me know how nutty I can be. I've done my BA.LLB (Hons.) from NLIU, worked at AMSS, Bangalore and am now pursuing my Masters in Corporate and Financial Services Law at NUS. On paper I probably look like countless others, but I've probably gone through this journey with the least number of hiccups, which only goes to show that consistent hard work generally pays off.
How did you gravitate towards law? Why law and not engineering or medical studies?
From the unbiased ethics of law to the high dependence on insightful reasoning, I gravitated towards law for a number of reasons and not specifically one reason, such as wanting to be well-spoken, well read and highly regarded, wanting to be person whom you can trust to resolve issues and wanting to have the power to make right an injustice, to even know an injustice when faced with one. While I enjoyed science during 11th and 12thI never saw myself as an engineer or a doctor because it seemed too common a career choice for people who took up science. An alternative to law that I did seriously consider was a degree in Economics.
How would you describe your time at NLIU-Bhopal?
My time at NLIU was quite fulfilling and whilst it was demanding and academics were always a priority; NLIU was structured in the way that we were given a lot of freedom to venture into activities that interested us.It was up to us to take the initiative and develop our skills during our tenure as law students. I tried my hand at mooting, client counselling, negotiation, writing and organising events on campus. I particularly enjoyed my stint as part of the founding editorial team of the NLIU Law Review. Being a sports enthusiast, I often spent time playing basketball, throw ball and badminton. Representing the University for events both; co-curricular and in the sports field was something I always looked forward to. NLIU Bhopal is where I grew up. Entering law school at 18 straight out of school and leaving at 23, with lawyer's degree in hand, my time at NLIU has had the biggest impact in my life to date.
You have worked at AMSS for two years. How was the experience?
In two words, a 'roller coaster'; there were highs and lows, it was exciting and intimidating, and I left AMSS feeling like it was one hell of a good ride. I was part of the first batch for which there was a rotation policy i.e. we were with three different teams for six months each, before being allotted a specific practice area. This was a great opportunity for a fresh graduate like me, to work on different areas and different teams before finally being allocated permanently with one team. It gave me the opportunity to explore a number of areas of corporate law and get a broader perspective of the working of the Indian corporate legal system. While there was a tremendous learning of various corporate laws but also an emphasis on learning of other skills like client handling, time management, drafting and presenting. I was lucky to have a few mentors who made the transition from being a law student to a lawyer easier than it would have ordinarily been.The fact that I made some really good friends along the way made the journey better than expected!
The glitz of a corporate job may blind a law student and he may fail to look at different career opportunities. Were you in doubtful before joining NUS? Why did you prefer to pursue Masters over your job?
I think the emphasis in Indian law schools is always on recruitments and the placement season is invariably a very tough time for most students. The pressure of getting a job, if not a lucrative one, is very high. Being at NUS, I now realise there were/are far more career options and job profiles that I could've seriously considered had I known about them; which is why I feel it is extremely important to have a strong working relationship with your alumni, have a wide circle of friends and acquaintances including people beyond your law school and to never be hesitant to reach out to any of them for guidance.
Having said that, I had to do a lot of soul searching before I could finally come to the conclusion that I wanted to quit my job and study for the Masters program at NUS. There was a constant debate about whether an LLM over AMSS is the so called 'right' way to go? Would it bear fruit at the end of day? A dear senior of mine once told me time and again that it's what you make of the opportunities you choose that determines the outcome and not the choice itself.
As to why I preferred doing an LL.M over the option of continuing with my job, it would have to be the timing. For me, it was the perfect time to take a step back and reinforce my academic foundation in corporate law. After two years of experience in the profession, I now having a better insight into how the business of law is actually conducted and I could explore this further by studying the areas of law I am interested in during my LL.M.
When you decided to quit job and pursue LL.M? Was it pre-planned or it just happened during your law firm days? What was your motivation behind doing LL.M.?
Pursuing an LL.M was not part of the original plan, at least not consciously. At some point, whilst working I realised that I was not ready to be an adult just yet! On a more serious note, I decided to give myself an opportunity to explore the academics in depth before I settle down into my forte. My motivation behind doing an LL.M, and a foreign LL.M at that, was to experience a different kind of education system and culture.
How did you choose NUS over others? How did you go about choosing a university?
My choice to study at NUS was a practical one. Having said that I was quite convinced that NUS has an excellent LL.M program, especially for corporate laws and has been consistently ranked as the top university in Asia. To be completely honest, the clincher, was the funding offer I received from NUS. I was granted the Faculty Graduate Scholarship which covered my tuition expenses which made the offer of admission too good to refuse. Whilst I did have the option to take up the MCL program at Cambridge, I guess the practicality and the positives that NUS had to offer outweighed the option of taking up a huge loan for a relatively new program. While choosing a University, it is important to research the actual program you would like to join by speaking with alumni, it's not ideal just to go by the name and reputation of the University; keeping in mind always, your reasons and priorities for pursuing an LL.M.
How did you go about writing your SOP? Are there any key factors which one should keep in mind before writing the SOP?
Writing an SOP and the entire application process in general is extremely testing and can get frustrating at times. My guess is that universities intentionally make it so, to weed out half-hearted applications! I spoke to a lot of people who have been through the process themselves, all whom had varying but valuable input. I think it comes down to putting across those aspects of yourself and your credentials that you feel paint a complete picture of yourself and one that leaves an impression with the admissions committee. There's no formula to writing an SOP but a couple of things according to me would certainly make a difference would be (1) the reasons you think you standout from the rest of your peers; (2) the reasons you want to get back to academics after your first degree; and(3) correct grammar! It's also very important to get many as many people as possible to vet your SOP, the more eyes you get on your SOP, the more it will evolve.
How about recommendation letters? Who all recommended you to pursue LL.M?
Since I had only worked for two years before completing my LL.M applications, I requested my professors at NLIU to give me their recommendation. They were all very supportive of my decision and asked me for my CV to get a better idea of the particular work I did throughout law school. Of course, there is a fair bit of coordination involved if you are not in university anymore, so I would keep enough time before the deadlines to make all the arrangements and request for a few extra copies should the need arise.
Does NUS provide students with scholarships? Are there any other institutions, which provide scholarships?
NUS does give out scholarships on the basis of merit. You may opt to automatically be considered for the various scholarships as part of the application itself. There are various other institutions that give scholarships (full, partial and loan scholarships) which are well known such as given by Inlaks Foundation, Tata Foundation, Aga Khan Foundation, Narottam Sekhsaria Foundation and the Mahindra foundation, amongst others. It's important to start doing your research on scholarships at a very early stage and keep track of the requirements and deadlines.
How is your experience so far? Tell us about the faculty and facilities. Anything memorable that is stuck in your mind?
So far, my experience has been absolutely fantastic. My modules are extremely interesting and the Professors supplement them with excellent lectures and reading materials. The NUS Law faculty is very highly qualified and motivated to teach and engage students. The facilities range from an extensive library (with a large number of E-resources), to sports facilities, from well-regarded centres of research like the Centre for International Law, Centre for Asian Legal Studies and Centre for Banking and Finance Law to state-of-the-art use of IT in various internal systems like the Integrated Virtual Learning Environment, where all the materials for modules you have opted for are posted. Having been here only a couple of months now, I am still soaking it all in. What has been striking has been the frequency and quality of the seminars that are conducted on various topical legal issues by guests to the university. Though, the very first thing that hit me was that my lectures were 3 hours long. But as it turns out, if you like what you hear, 3 hours can fly by fast enough!
How's the Indian fraternity over there? Are there many Indian students?
There are enough and more Indians here that I never feel too far away from home! I think that says it all.
How difficult was studying abroad in terms of finding accommodation, finances and settling in?
Singapore is an excellent place for people who have never lived abroad. It's almost impossible to get lost, filled with Indians and generally some of the most friendly and helpful people. While the cost of living is definitely higher than India, I can't imagine it being too difficult to manage your finances if you can budget your expenses.
Where do you see yourself five years from now?
Probably doing something that I don't even know of right now, but hopefully something that is exciting. However, options that one could probably look at are working at a foreign law firm, a multi-national corporation, teaching, a legislative think tank, an arbitration institution, a legal team of an international organisation like the WTO, and many others. Taking courses that interest you, talking to people in the field and keeping an open mind will help things fall into place.
If you could re-live your 5 years in Law school, is there something you would do differently?
While I have no regrets about my time in NLIU, I'm sure there are things I could've done better like taken a few more risks with internships, kept in touch with more alumni and stressed out a little less!
Lastly, what would be your parting message for our readers?
Make the most of the opportunities that come your way, so that you don't have regrets in life!