Courtroom Falcons
In Conversation With: Ananth Kini, Advocate practicing at the Supreme Court of India, with over 17 publications to his credit and stellar Academic records.
This interview has been published by Sonali Parashar, Ojuswi Sahay, and the SuperLawyer Team
---
What motivated you to make a career in law? How would you describe your professional journey up until now?
I would say that studying law was a natural choice for me, and I find nothing that is more interesting, captivating and easier for me than law. Having studied law for the last 8-9 years of my life, I can confidently say that choosing law as my career has been the best decision of my life to date and I have never found laws to be complicated as such but just pure common sense.
If you believe in what you are doing, then you will find your work to be interesting; as it has been rightly said by Steve Jobs that '…Your work is going to fill a large part of your life, and the only way to be truly satisfied is to do what you believe is great work. And the only way to do great work is to love what you do. If you haven't found it yet, keep looking….'
As far as my professional journey is concerned, I would say that I had to work very hard to understand the nitty-gritty of the laws, court procedures, principles of legal drafting, the art of advocacy, the jurisdiction of courts/tribunals etc. One has to work hard initially to understand the laws but it gets easier with time once you know the basics.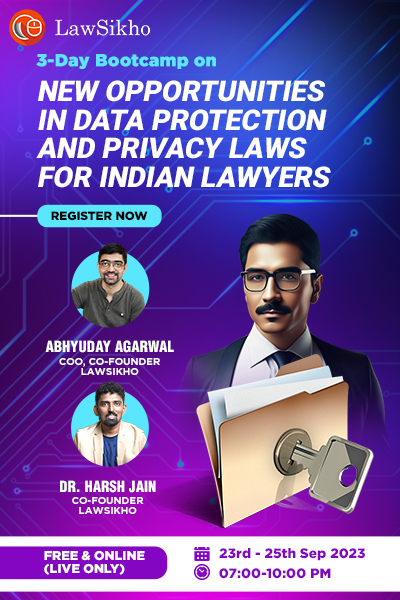 You have excelled in your academics throughout your career and also were a rank holder in your LLB and Graduation. What would you say were the factors that helped you excel in academics, especially while pursuing law?
I had more than 90% attendance in each semester of my college and rarely used to miss classes. I used to pay attention to whatever the professor was teaching and make notes. I never left anything to the last moment, a practice that I follow even today, and I used to study for all the exams well before the exam date. On the day before the exams, I only used to revise and think about how I could somehow improve my answers.
I focused more on writing as many cases as I could and on correctly writing the provisions of the laws; all this was only possible because I revised multiple times before the exams. I was confident that I had learnt it and focused on keywords while reading anything new. I used to read many different books and xerox the relevant parts to prepare my answers.
As this required a lot of effort and time, therefore I used to begin my preparation around one month before the first-semester exam and increased my hours of studying as the exams approached. Also, starting early gave me the advantage of clarifying my doubts to the concerned professor and I never left anything to luck; I always gave the exams by reading almost the entire syllabus, so that even if the question paper was difficult, I could answer them.
I always focused on writing the answers supported by case laws, sections and notes of that teacher and never missed answering any of the questions in my exams during my college days; I used to allocate a specific time frame for answering each question and then used to move on to the next question on completion of the allotted time frame.
Out of the wide spectrum of internships you did in college (Shardul Amarchand Mangaldas, NCRB, Ministry of law and Justice, Kochhar and Co etc), which one of them was the most enriching experience? What should be the three things one should keep in mind while choosing an Internship?
My internships at the Chamber of Adv. Murari Tiwari Sir and Chamber of Adv. Rajesh Yadav Sir was the most enriching for me.
Murari Tiwari Sir and Tripurari Tiwari Sir are both very polite, helpful and friendly, and they used to make sure that all the interns in their office learned something new each day; I was given case files which I had to read, and after that, Sir used to ask me as to what I understood from the case and after that guide me as to the facts of the case and laws applicable thereof. Despite Murari Tiwari Sir and Tripurari Tiwari Sir being very busy with their work, they always kept some time aside each day for their interns.
My internship at the Chamber of Adv. Rajesh Yadav Sir was also very enriching. I learned a lot under his able guidance, and Sir used to teach me about the intricacies of court procedures. I was given some case files to read, which I later used to discuss with him. Sir had an excellent command over the facts of the case, and he used to tell me about the arguments of both sides in that case. During this internship, I visited the Hon'ble Delhi High Court for the very first time. Sir had extensive knowledge of the facts and the laws pleased in the case so much so that even without opening the file, he could remember all the details of the case and even the page number where it was mentioned!
On the aspect of what one should keep in mind while choosing an internship is concerned, I would say that it would depend on the career objective of that person. If one has not decided which area they want to join, one may intern at different places to get an idea. Also, I feel that if one has figured out what one wants to join after completing their LL. B then a long-term internship at a single place is more beneficial than multiple short internships at different locations, provided one enjoys their time and is learning at that internship.
You hold expertise in various areas of practice like Civil Law, Criminal Law, Arbitration, Insolvency Law, Recovery matters etc. How would you describe your journey in the field of litigation so far? Please tell us – the good, bad and the ugly.
Litigation requires one to read a lot and spend a lot of the time thinking as to what could be the possible arguments in the case and anticipate the arguments that the opposite party might advance and how to tackle them.
The good part in litigation is the encouragement and appreciation you get from the judges, seeing your name as a counsel in judgements/order sheets, and the fact that what one might argue may become the law of the land if agreed by the judge.
The bad part would be the long hours one has to spend each day reading; there are so many documents that one has to read. Then after figuring out what the question of law is involved in the case, one has to read multiple judgments on that specific provision of law to find which cases laws support your case and which decisions are against your case and then think as to how to distinguish these decisions.
I would say the ugly part is that travelling from one court to another to the office daily can be extremely tiring.

You have 17 publications in various reputed journals. You also presented a paper on defamation at the Freedom of Speech and Expression Regional Conference organized by the Law Commission of India in 2016. Do 'ideas pick you' or do you have an extensive process of picking topics which you want to write about. Please take us through the whole process from finding an idea to publishing it in a reputed journal. How challenging is it?
Legal writing is my hobby, and I find it a way to express myself on legal issues that have evoked my curiosity. Generally, I write on contemporary legal issues and those issues which would not lose their relevance over time, such as prison reforms and electoral reforms. I had written legal articles on these two topics some 4-5 years ago, and even today, they remain a contemporary topic for discussion.
Before writing an article, it is first necessary to convince yourself as to why you want to write an article on that legal issue. For that, I used to read a little background about the same to ensure that it is indeed a good topic to write on. If I am sure that it is a good topic then I will read about it in detail. Usually, I choose those topics that are being discussed in the media/news so that the chances of their publication would also increase. I always substantiate whatever I would write through primary and secondary sources such as law commission reports, parliamentary committee reports, judges' interviews, judgements on those points, legislations etc as it has been rightly said by Edwards Deming that 'Without data, you're just another person with an opinion'.
If one wants the article to be published in a reputed journal. In that case, the article must be well researched and something that is not only a bit different from the existing literature but also, more importantly, it should make the reader ponder and think if what the author intends to say is unique, has credence and is indeed thought-provoking!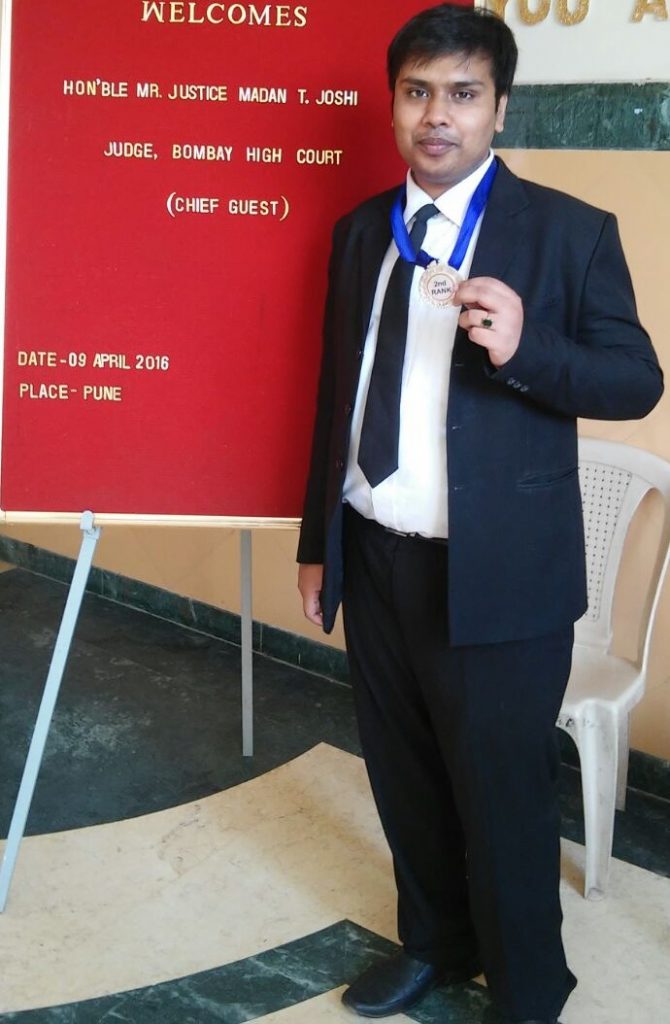 At this young age, you have achieved so much, what do you think is in store for you in the future? How are you planning to use your skills and knowledge accumulated till now?
I still have a long way to go and plenty of things that I want to achieve in my life. I always believe that life would be meaningless if we don't achieve difficult things. To achieve anything worthwhile, hard work and planning are necessary. Achievements often come at the cost of sacrifices which do pinch a lot; therefore, one should allocate his/her time accordingly and focus on things that are more important to them and in line with their professional aims. I will focus my future on achieving my ambitions and plan accordingly.
You were posted as a Young Professional (Legal) in the Ministry of Consumer Affairs, Food and Public Distribution, Government of India. Please share your experience in the job. How can one scale such an achievement?
I had a brief stint at the Central Consumer Protection Authority (CCPA), which is currently a part of the Ministry of Consumer Affairs, GOI. I enjoyed my time over there and cherish those moments. I am extremely grateful to Ms Nidhi Khare Ma'am (Chief Commissioner, CCPA), Mr Anupam Mishra Sir (Commissioner, CCPA), Rout Sir and Jayashree Narayanan Ma'am for giving me this opportunity to work at the CCPA.
CCPA is a newly established regulatory body under section 10 of the Consumer Protection Act, 2019 (CPA) and has been established to protect the rights of consumers. Regulatory bodies are different from courts/tribunals and are equally important institutions in the administration of justice. I wanted to work there so as to learn about regulatory bodies and to get exposure to how the work culture of the government is different from that of the private sector.
Finally, a word of advice for the lawyers and law graduates who are passionate about litigation & arbitration?
I don't think that right now I am at that stage in my life where I can advise lawyers or law graduates. I still have a long way to go. However, those who intend to join the field of litigation & arbitration must be ready to work hard and focus their time on learning the intricacies of the laws. In any given facts of a case, there can be various laws that could be applicable, so you must have a fair idea of the applicable substantive and procedural laws so that you can research if there has been any violation of some legal principles or judicial precedents that would help you to advance your case before the courts.
For example, if there is a contractual dispute between two parties over goods purchased through an e-commerce site, then depending upon the facts, various laws could be applicable, such as the Contract Act, 1872, Sale of Goods Act, E-commerce rules, IT Act, 2000, CPC, IPC, CRPC, Evidence Act, Commercial Court Act, 2015 etc. Therefore, a holistic understanding of all the major laws is necessary while developing expertise in a few laws that one is most comfortable with.
I am grateful to the 'SuperLawyer' for giving me this opportunity to share my experience and conclude by quoting an extract of a speech by Justice K. M. Joseph, Judge Supreme Court of India, at the convocation of the National University of Advanced Legal Studies, Kochi, which I consider to be very useful and practical advice in life, he said that '…Study the Court. When I joined the Bar, a senior counsel gave me advice which I thought was useful. He told me that the Court is like a zoo. There is the elephant, the horse, the deer and also the tiger and the lion. You cannot feed grass to the tiger as much as you would feed them to a deer..'
---