Founder
In conversation with Anirudh Suresh – Founder and Partner at Aristo Legal and featured in the list of "Top 50 Disputes lawyers in Asia" by Thomson Reuters
This interview has been published by Sonali Parashar and the SuperLawyer Team
---
How would you like to introduce yourself to our readers?
I am Anirudh Suresh, Founder of Aristo Legal, a full-service pan Indian corporate law firm. My success story as a first-generation lawyer was recently published by Brut as I was recognised among the Top 50 Disputes Lawyers in Asia (Litigation and Arbitration) by Thomson Reuters on the basis of my work, market feedback and client recommendations. My interest in law and legal enforcement goes back to my 10th grade. While I don't exactly recall the genesis of this interest, I sure till date remember and feel its intensity.
We get that being a first-generation lawyer, it is difficult to find one's footing. You started off as a Litigating Lawyer and then you moved up to become a Corporate Lawyer. Can you share what all struggles did you face while being a Litigating Lawyer and then as a Corporate Lawyer? What all skills did you learn as a Litigating Lawyer which are now assisting you in your current role?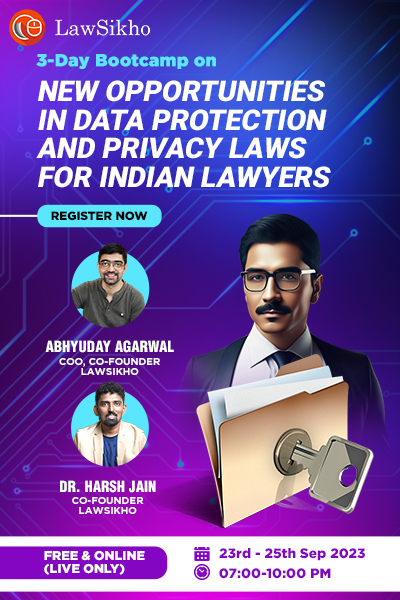 As a Litigating Lawyer for the first 5 years, I was working 8 AM to 8 PM, 365 days a year but I never complained about it as I was involved in my work deeply and enjoyed the learning experience step by step. It's a matter of interest, at the end of the day. I used to appear before all courts in Bangalore for all sorts of matters and this helped me in developing a diverse and strong foundation, eventually allowing me to head the Delhi office of Bathiya Legal successfully as we had a range of matters under the Companies Act, Insolvency and Bankruptcy Code, and Competition Act. I never felt any of these experiences to be a struggle as I enjoyed the work and liked what I was doing. In fact, it never felt like work either. So, the knowledge and court craft I had developed as a litigation lawyer enabled me to successfully implement it for the corporate litigations matters that I took. This journey has given me the confidence to handle any matter before any court.
You've accomplished so much in your career in such a short time; what skills do you think a law student should develop in order to pursue a career in Corporate Law?
Firstly, I feel like I still have a lot to achieve. I would recommend that law students read the entire commentary on a subject rather than reading only the textbook. This will mean that they would have read thousands of pages, and this reading habit will help improve their drafting skills and legal communication skills. And the hard work put by them in reading so many commentaries will bear fruits when they start practising. Further, they should meet lawyers in different practice areas and understand the practical aspects of those areas. For this, I would recommend students complete at least six months of internship under a corporate law firm or a corporate lawyer.
You have graduated with B.A.LL.B. from B.M.S. Law College, and then went on to pursue your PG Diploma and Masters from National Law School of India University and O.P. Jindal Global University. How important do you think it is for a law student to pursue Masters? Does it help one in his career trajectory?
I often see law students rushing to get a master's degree immediately after graduating from law. I would recommend that the students should start their practice in a particular area of law and get accustomed to a particular practice area as a working professional and then pursue Masters in that relevant practice area. This would make the master's degree have value as your work experience and your interest would align with it.
You have also led the Delhi Office of Bathiya Legal for about 3.5 years. What exactly were your responsibilities while you were there? How would you describe your experience of working at such a reputed law firm?
My responsibility as the head of the Delhi Office was to handle all the corporate litigation matters in Delhi, Jaipur and Chandigarh and work closely on M&A and Private Equity transactions when the buy-side or the sell-side was based in Delhi. I regularly appeared before various forums such as Supreme Court, High Court, NCLAT, NCLT, DRT, Consumer forums, etc. And this journey helped me develop myself as an advocate and realise my potential. I will forever be grateful for the platform that Bathiya Legal gave me. The amount of confidence, trust, and faith that the Partners put in me, and I hope I have reciprocated the same by ensuring positive results with the best of my efforts. I was very much impressed with the values, ethical standards and calmness to approach of the Partners which I too hope to implement. I can go on writing volumes about the positive influence this firm has had on me.
Your work as a corporate lawyer has earned you a well-deserved appreciation in the legal industry. What have been your key learnings to date? And what does it feel like to be recognized among the Top 50 Disputes Lawyers in Asia (Litigation and Arbitration) by Thomson Reuters?
I would like to reiterate that I still have a long way to go as known is a drop and unknown is an ocean. My key learnings to date would be that Client satisfaction is key and this can be achieved with extensive research and ensuring timely deliverables. And I feel that my work in the past which involved getting successful reliefs for clients in high profile precedent-setting matters has been acknowledged by this recognition bestowed upon me by Thomson Reuters, Asian Legal Business.
It is now close to a decade that you've been in the legal profession. What do you think is the difference between the law profession right now and the profession a decade back? And, what all changes would you like to see in our Indian Law Profession?
The legal profession has completely changed in the past decade. Both substantively and procedurally, one could probably call it one of the most dynamic and important decades. Many new age laws such as the Insolvency and Bankruptcy Code, Companies Act being overhauled, Data protection Law etc. have come up and they are constantly subject to change based on different interpretations given by the courts every other day or based on amendments passed by the government to keep pace with the rapidly growing economy. In terms of practice, the profession and the professionals have been highly digitalised, and it becomes vital for lawyers to be tech-savvy.
I would like to see more courts make way for hybrid hearings such as NCLT and NCLAT. The normalization of hybrid hearings would be a much welcome development towards implementation of the online dispute resolution. I would also like to see long term internships that range at least 6 months being made mandatory for law students during their final as it helps them to get a true picture of a particular practice area.
What would be your parting advice to the budding lawyers? How would you like to inspire those who are unsure about their future in the profession?
Read, read, read. One should find what motivates them to keep them going. A healthy relationship with colleagues, respect towards seniors and ensuring timely deliverables to clients should be a habit rather than a mode of precaution. Never look back and compare yourself with peers, just keep yourself occupied all the time and the work you do will automatically lead you to the path suitable to you.
Get in touch with Anirudh Suresh: