Iram Majid is a lawyer, arbitrator, and mediator. She has more than 15 years of experience  in handling wide range of criminal, matrimonial, civil, commercial, banking and finance matters cases in the court as Advocate and outside the court as Mediator. She is also on the panel lawyer for Delhi Jal Board and DSIDC in Delhi High Court. She is a also qualified mediator, enlisted on the panel of Delhi High Court Mediation Centre. She is also the Regional Director of BIMS Bangladesh International Mediation society in India.
Iram graduated from Aligarh Muslim University. She then went on to pursue her LL.M from Kurukshetra University, Kurukshetra.
In this interview we speak to her about:
Being a successful arbitrator and meditator
Skills required to become an arbitrator and a meditator
Importance of extra circular activities in law student's life
Significance of moots and their preparation
HOW WOULD YOU INTRODUCE YOURSELF TO OUR READERS? DO YOU COME FROM A FAMILY OF LAWYERS?
Every time I am to introduce myself I am thinking how to articulate and craft my self in words. Over the years I have struggled to take challenges towards achieving my goals. My strengths are my attitude that like to take challenges that I CAN do it , my way of thinking that I take both success and failure in a balanced manner.
I am a practicing lawyer, Arbitrator and Mediator. I am on the panel of Delhi Jal Board, DSIDC, Delhi high court Legal services and mediator in Delhi High Court. I am first generation lawyer. I pursued BA, LL.B degree and thereafter LLM. My father is a service middle class bread earner at Aligarh, It is said that "Behind every successful man there is a women" but I my case there are two men behind my success " my father "and my "husband" My strengths have driven me to meet unexpected challenges. I believe in myself and my hard work and I want perfection in everything.
WHAT MOTIVATED YOU TO PURSUE LAW?
I never wanted to be a lawyer if it had not been my father who had identified my strengths. I wanted to pursue economics but my father has seen some qualities in me and asked me to pursue law. I was having the fear to lose my friend circle my childhood friends and my area of interest was economics and it was very difficult to get admission in economic but I got the same. Under the influence of my father I agreed to give the entrance for BA- LL.B. I opted for economics but my father insisted that I pursue law. The father daughter resistance began with me going on a hunger strike and my father did not ask me for food. It's after 2 days I agreed to what my father asked for and took admission in law and their came the change. My clinched to help people for which law provided me the necessary background and degree to reach out to people who need help and make a positive impact on a daily basis using my analytical skills.
HOW WAS YOUR EXPERIENCE AT LAW SCHOOL? DID YOU PURSUE ANY EXTRACURRICULAR ACTIVITIES SUCH AS MOOTS, DEBATES, SPORTS ETC.? HOW DID THIS CONTRIBUTE TO YOUR HOLISTIC DEVELOPMENT? DO YOU THINK SUCH ACTIVITIES SHOULD BE MADE COMPULSORY FOR STUDENTS?
So the story   after getting the admission in law is that , from the very first week I found law classes interesting. It was 1998 when it seemed to me that I had just about everything one could wish for a comfortable house, a career to pursue and a good family. I think it was my lack of understanding of law that could not comprehend what my father saw. After that day of revelation, my father gave way to feelings of sympathy. I no longer saw law as a burden but as a struggle for my ambition. But it wasn't long before another feeling began to weigh heavily on my mind—fear. I feared that my life might be wasted too, that I would feel empty if I failed to do something meaningful. That fear and sense of urgency drove me to search for a meaning in my own life, being a merit scholarship holder and a presidential awardee. I saw that a lot of students participated in moot courts, activities such as political debates and volunteering to change society. It was something that I had already interest in and a direction was all I needed, where everyone is expected to "fit in" and conform to social norms. My participation in debate competition, symposium, self-composed poetry and on the academic side it was ADR and personal laws which were admired by the students and the faculty. My passion started to take a turn towards a direction that I had longed to be a part of. After all, to me, it seemed to be doing something meaningful. Nonetheless, I spent the first two years of college studying merely to meet people's strong expectations for me to be successful. During those two years, I managed to get good grades and took advantage of internship opportunities, but never found joy or excitement in my studies. Instead, I was often visited by the fear that I was walking the same path that my father wanted me to walk. It was only, when I came across classes titled ADR and Personal family laws, which cared for Contemporary Moral Problems and Global Justice, that I finally found direction in my search for meaning in my life. In those classes, we read and discussed fascinating topics, such as which ethical principles we might use to redistribute the wealth of the globe, or how we could stop potential genocides and ethnic cleansing. It was a surprising and strange experience to observe myself changing. When I found myself fervently arguing for one method of global distribution over the other, and voluntarily visiting a professor's office pursuing further questions, I wondered: "Where has this passion been hiding? What have I been doing all these years?" Studying law has guided me to find my own answer to the question, "What is a meaningful life?" I have realised that I am thirsty for intellectually stimulating experiences, and that I truly enjoy exploring possibilities for making positive changes in people's lives. I have also realised, more importantly, that there is lots of work to be done in the world—work that sometimes involves facing the dark side of reality, but that somebody has to step up and do. When I read articles in newspapers about horrific living conditions "women" going through legal battles, I read them from a different perspective now. Instead of simply expressing pity, I look at the situations critically and think about what it would take to solve those issues. The fact that I have a genuine understanding of the social conditions, which convinces me that I can contribute to solving these problems more than others. I want to be able to produce tangible influences through my work, witness how these influences cause progress in people's lives, and find meaning in my life through experiences. Ideas alone cannot achieve this. But with the law, it is possible. I see the law as a powerful framework through which ideas can be manifested and applied in the real world to address different problems utilising the practical power of the law. It is physically tiring, repetitive work, but am happy.
WHAT WERE YOUR AREAS OF INTEREST IN LAW SCHOOL? HOW DID YOU CULTIVATE AND PURSUE SUCH INTERESTS?
So What Else were my areas of interest in a law school and how did I cultivate and pursue them. Being good student, I was good in all the subjects and secured distinction in all the subject but my field of interest were ADR and personal laws. When I was exposed to the society and learned from people that they are upset with the judicial system and have no faith in judiciary as there is saying "justice delayed justice denied ".
Networking and informational gathering was so effective for me that I started to spend time attending the workshops and read publications.
I saw myself as a creative and non-confrontational person, doing work I loved. This is because the legal community is finally acknowledging a fact that many lawyers have known for some time—that we do not all want to be like Perry Mason. Although there are many lawyers quite satisfied with their choice of profession and I was not at all a law school student yearning to appear in court, work for a big firm, handle large or complex cases, spend the majority of working hours in offices, or even earn top money. Instead, I shelved my course and carved it as an opportunity to explore and pursue ADR and personal family laws with alternative options, both in and outside of the law. I took to further examine quality-of-life and work-style issues. I wanted to create work for myself the one that even if I did not love but took me closer to my goal or at least the work that I felt good about.
My love for the law got me into its theoretical and practical application often. I found contentment working in research and writing for legal book publishers, research services, or even for law firms.
I acquired Legal training which became very beneficial in the development of useful, transferable skills that are much in demand. Both legal education and legal work provided excellent training in analytical thinking, communication, writing, and persuasiveness—skills that I am using in many endeavours.
The previously mentioned my abilities in poetry, writing, editing, interviewing, organising information, researching, and giving attention to detail eventually moved into a full-time position as my writings started to get published for reading.
I judged moot courts in India and Hong kong as well I enjoyed confrontation and posturing necessary when judging and learnt the science of ombudsman now also popularly known as Mediation.
My values motivated me and I easily focused on fields that permitted the full use of my skills, integration of values important to me and satisfaction of my interests.
I identified several trade associations and newsletters available at most public libraries. Joined associations that were in my area of interest in order to meet people working in the prospective field. Professional publications, including those produced by bar association sections, provided insights into new practice areas or new fields. Bar section meetings and conventions created excellent opportunities to meet people who work in one of your targeted fields and provided a reality check for me.
These people were useful to me for inside information on the realities of working in that field as well as leads.
My choices were not limited by preference, imagination, and ambition due to which I started to achieve positive results in Counselling.
HOW IMPORTANT DO YOU THINK MOOTING IS IN SHAPING ONE'S FUTURE CAREER IN LAW?
Looking back at law school, It's the mind-set that has a role play Instead. It's a trial run for your future career. I Embraced it and got involved. I developed a great arsenal of skills that helped me at entering the future career.
The best piece of suggestion I can give any law student is to really get involved in law school by joining organisations like moot courts and journals, doing pro-bono work, or participating in a clinic (or all of the above), which become important skills that lawyers use every day.
Moot courts get you involved, the more important is managing your time. Imagine the time management skills you can develop if you are carrying a full course load and conducting a brief for Moot Court, and writing a note for your journal. But image how good at time management you will be by the time you graduate from law school. Then, when you start your career, and one partner is asking for a memo, another is asking you to review thousands of documents, and a third is asking you to write sections of a brief all at the same time, you will already know how to manage your time and get your work done.
The work through Moot Court, an externship, or a clinic is not like taking an extra class throughout the semester. You will not be sitting in class learning a legal theory on what lawyers do on a day-to-day basis. You will be developing first-hand legal skills like research and writing or getting up on your feet and arguing – real-life lawyer skills. And then, when you are given your first research assignment, at your first job out of law school, you will be really prepared to dive right into the assignment because you already have those skills down pat.
And then do not forget about all the people you will come in contact with by getting involved – all the other law students on the journal, your clinic manager, your externship supervisor, etc. All of those people become part of your network. Networking is about building contacts across the legal industry – a very valuable skill that you can begin developing right now with moot courts. Say "yes" to moot assignments you might not want to do. Once you start working on moot courts and you say "yes," and continue to say "yes," you will open yourself up to bigger and better opportunities. And learning to say "yes" begins in law school.
I know that all of this is something you have probably heard a million times since law school orientation, but take it from me – these skills are so valuable to have. I truly believe that a lot of my success in my career comes from the skills I learned while I was in law school. For example, in my externship, I learned great research and writing skills because part of my position involved constantly drafting motions. In Moot Court, I learned how to think on my feet, and in my pro-bono work, I learned how to address a judge. All of these skills have made me into the lawyer I am today and have helped shape my career.
HOW DID YOU LAND YOUR FIRST JOB? WHAT WAS THE NATURE OF YOUR WORK THERE? CAN YOU RECALL THE FIRST TIME YOU ARGUED A SIGNIFICANT MATTER? CAN YOU RECALL ANY MEMORABLE EXPERIENCES AS A FRESH YOUNG LAWYER IN THE LITIGATION PRACTICE?
I came from Aligarh after completing my law BA.LL.B. On the recommendation of one of my senior of law faculty, I joined the law Chambers Ms Zubeda Begum, Delhi High court. The start of my career was in the hands of a learned and dynamic counsel. I learnt a lot from her not only in legal knowledge but other social aspects as well. She was additional standing counsel for Delhi Government at that time, so being in her office I got a chance to handle variety of matters and exposed to new world. I worked very hard and started arguing matters in court. I still remember when I went in court for a Passover in very high-stake civil appeal matter before Justice Dalvir Bhandari and Justice DK Jain, I was scared to appear and asking for a Passover, the court could call upon me to argue in return. It happened so and I was called upon when I said 'My lords …"I'm a junior and I am instructed to take passover only", but court asked me to argue the matter then I thought opportunities may come anytime and I took that as an opportunity and then I read from the file and argued and got the appeal admitted. That was the day when I was very happy but I was unaware that there are many more to come.
My most unforgettable moment was when had only three years in practice and with my hard work, I got an appointment as sole Arbitrator, that day was a happiest day in my career and my happiness had no bounds. I came to know that my hard work is getting recognition. That was not the last but the beginning thereafter I started getting assignment from the courts like appointment as local commissioner and Arbitrator. I still remember that when in courts judges started calling me by my name that used to be   a proud moment for me as I'm started creating place for myself and started recognition as Iram Majid.  Every job and in this case law chambers and employer/seniors is different but typically it means any experience that is relevant. job working experience is more important for examples because a full-time job is trackable and confirmable as well as usually relevant if the job is similar or in the same field. The word "professional" comes to mind.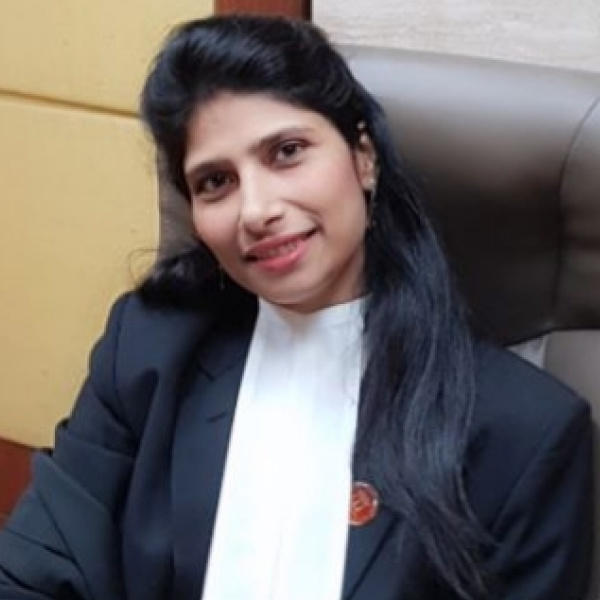 DO YOU THINK THAT METHODS OF ALTERNATE DISPUTE RESOLUTION SUCH AS ARBITRATION ARE THE FUTURE OF DISPUTE RESOLUTION IN INDIA?
Alternative Dispute Resolution (ADR) is a substitute to the conventional method of resolving disputes including civil, commercial, industrial and family etc. ADR uses neutral third party who helps the parties to communicate, discuss the differences and resolve the dispute. The Advantages of Alternative Dispute Resolution are manifold as its less time consuming ,cost effective ,informal party centred and party autonomous Its promotes co-operation, social order and reduces hostility..
As 3.3 crores cases are pending in Indian courts in that case alternative dispute resolution will be the future .Importance of ADR in India is to deal with the situation of pendency of cases in courts of India, ADR is expected to play a significant role in India with its scientifically developed techniques. ADR provides various modes of settlement including, arbitration, conciliation, mediation, negotiation and lok Adalat. ADR's roots stem from the Constitution of India. Arbitration is one of the modes of ADR. The most significant development in future will be emerging divide between procedures for resolving low value and high value. Institutional Arbitration will deal with large sized dispute. The institution will do new form of automation especially version of online dispute resolution (ODR)
It is evident that arbitration has evolved over the years as the ideal tool for resolution of disputes that saves the courts time and largely instrumental in assisting the parties to resort to quick remedial measures. Every arbitration is based on insightful application of law and its evolution is proof of its significance in the actual proceedings. Thus, arbitration has emerged as the most preferred platform for quick resolution of disputes especially in the industrial and corporate realm.
So, arbitration is not the alternative dispute resolution but according to me this should be the "Appropriate Dispute Resolution" because its party autonomous and party centred.
TELL US WHAT GOT YOU INTO TRAINING LAWYERS AND LAW STUDENTS ABOUT MEDIATION IN THE FIRST PLACE.
Some of the most successful people in the world mediate. I did my mediation training from Pepperdine university USA , I did Negotiation and Conflict Management Skill Certification from ADR ODR Dubi and IIAM kochi and with Delhi High Court Mediation Centre. I am faculty trainer in Bangladesh International Mediation society. Success has its attributes to the practice of meditation and that is why I got into training lawyers and law students about mediation. Moreover, I am not taking mediation as my part time profession what mostly lawyers do but mediation is my passion and that passion is the driven force to push me into training and this is the only way we can spread mediation awareness among the community and moreover for getting more people into mediation we need these kind of training programmes as well as orientation programmes.
Mediation practice that has a long history in India. Lord Krishna, Guru Nanak Dev ji, Kalidas, Kabir and Mahatma Gandhi the list goes on. Its now developed into a science with time. Mediation the students can use in order to excel in their lives ordinarily.
WHAT IS THE SKILL SET REQUIRED TO BECOME AN ARBITRATOR AND A MEDIATOR?
Arbitration is probably the best-known form of alternative dispute resolution, and is a formal, binding process where the dispute is resolved by the decision of a nominated third party, the arbitrator. Becoming a Chartered Arbitrator is a rigorous process, involving a number of stages. In the UK, the Chartered Institute of Arbitrators trains and accredits practitioners. Skills/knowledge needed Arbitrators need to have knowledge of the laws of contract, tort and evidence and understand and be able to use the applicable procedural law one must be able to evaluate the arguments and evidence which seemingly supports conflicting points of view .
Where disputes revolve around issues of law, lawyers often make the best arbitrators. However, where the dispute revolves around issues of fact, the parties may prefer to have an arbitrator who is skilled in the particular sector involved.
As far as mediation is concern, mediation as 'an attempt to bring about a peaceful settlement or compromise between disputants through a neutral party . A mediator is a trained, neutral third party who uses their skills to bring two sides in a dispute to a resolution, without resorting to litigation. Mediation is a science and an art. Although many mediation skills may be taught, the development of a skilled mediator requires experience in dealing with people in all conditions and under all circumstances. Although there are many intangibles in the definition of a "good" mediator, certain character traits are invaluable like facilitator, Active listener ,neutral, impartial . Since mediation is still a relatively new field, there are no statutory qualifications required to mediate at present. However, in order to gain work as a mediator, it would be necessary to have some form of accreditation from a body . Mediators are sometimes qualified solicitors or barristers but also come from a variety of backgrounds other than law such as architecture, human resources, counselling, social work, banking and accountancy. Some mediation is undertaken as voluntary work.
Parties involved in a dispute requiring expertise in a specific area (such as construction) may decide that it is preferable to have a mediator with expert knowledge of that area, rather than a mediator with a legal background.
INTERNATIONAL ARBITRATION OFTEN INVOLVES A COMPLEX INTERPLAY OF PUBLIC AND PRIVATE INTERNATIONAL LAW. CAN YOU ELABORATE ON THIS ASPECT FOR OUR READERS?
The importance is to have a positive approach to international commercial arbitration as a dispute resolution process. I find there is anxiety in the mind of the users of international arbitration where their investments are at stake. There is a need to ensure that commercial disputes would be resolved by specialists, in a neutral forum. The costs are to be kept low with efficiency in procedures and disposal. International commercial arbitration system promotes international trade and investment by reducing the risk that potential commercial disputes that are determined by opposite party's home courts. It's this complex interplay of the laws that International Arbitration can eliminate by using the arm of public and private international laws. In the national law when ever and where ever required; with the will of the parties and rules of non-national institutions and international treaties and guidelines control the process. International arbitration is a mixture of public comparative law and private international law.
The landmarks which helped in development of the modern law and the practise of international commercial arbitration are:
"The Geneva Protocol of 1923 (the 1923 Geneva Protocol)
The Geneva Convention of 1927 (the 1927 Geneva Convention).
The New York Convention of 1958 (the New York Convention).
The UNCITRAL Arbitration Rules (the UNCITRAL Rules) adopted by resolution of the General Assembly of the United Nations in December 1976.
The UNCITRAL Model Law (the Model Law) adopted by the United Nations Commission on International Trade Law in June 1985.
Revisions to the Model Law (the Revised Model Law) adopted in December 2006.
The major institutions are
International chamber of Commerce (ICC) Paris,
American Arbitration Association (AAA), New York,
London Court of International Arbitration (LCIA) London
Swiss Arbitration Association (ASA)
Kuala Lumpur Regional centre for Arbitration (KLRCA)
The steady growth of international trade across the globe will definitely require ad hoc or international arbitration to have proper training for the arbitrators and counsel who conduct it both in the public and the private domain. The counsel to the arbitration proceedings needs to be chosen who specialise in international arbitration and have sound knowledge of the subject matter of the dispute and a person who can cater to the needs of the party with some regional and local law knowledge.
YOU ARE A MEMBER OF ALL MAJOR ARBITRATION INSTITUTIONS. WHAT IS YOUR PREFERRED FORUM?
I am a member of CIArb UK, (YSIAC), ICC YAF, Dubai International Arbitration Centre, AIAC Kualalampur and so on I am doing arbitration in Delhi High Court Arbitration Centre as well .  My preferred forum for Arbitration is Institutional Arbitrations and it is so because of the growth of the economy, trade and commerce. With diverse economy, investment into the Indian market by the foreign investors is the reason for institutional arbitration.
Prestigious institutional arbitration association like the London Court of International Arbitration, The Permanent Court of Arbitration and the International Chamber of Commerce have opened Centres in India. It's a positive sign because these institutes are very well-known and prestigious and wouldn't have opened Centres in India if they did not see a potential growth in Institutional arbitration. Apart this CIArb not only gives accreditation but also trained in arbitration it is world wide renowned body.
For youngster the forums like ICC , SIAC, CIArb provides the platform to learn and help in career development . As per new bill only accreditation will be mandatory to become an Arbitrator. If you wish to choose Arbitration as a career than please try to get associated with any forum and try to get accreditation with esteemed organisation as in coming days it will be mandatory. So, this is the right time to wake up and act without any delay.
DO SOMETHING TODAY THAT YOUR FUTURE SELF THANK YOU FOR
HOW DO YOU REMAIN UPDATED WITH ALL THE NEW DEVELOPMENTS IN THE FIELD OF INTERNATIONAL ARBITRATION AND MEDIATION?
åI have identified several trade associations and newsletters of different institutions and societies. Joined associations that are in my area of interest in order to meet people working in the prospective field. Professional publications, including those produced by bar association sections s that I can get insights into new practice areas or new fields. Bar section meetings and conventions and workshops also are a creation of source and an excellent opportunity to meet people who work in one of your targeted fields and provide a reality check for me.
Additionally, by joining organisations like moot courts and journals, doing pro-bono work, and participating in a clinic authored by the respective Bar Associations and Legal Societies. I am also on the editorial board of one of the most widely circulated e magazine of ADR in India i.e IIAM e – magazine that I think also a great help to get oneself updated.
WHAT ADVICE DO YOU HAVE FOR OUR READERS WHO ARE PRIMARILY COLLEGE STUDENTS?
BE FAITHFUL TO THAT WHICH EXIST WITHIN YOURSELF. The best piece of suggestion I can give any law student is to really get involved in law school by joining organisations like moot courts and journals, doing pro-bono work, or participating in a clinic (or all of the above), which become important skills that lawyers use every day.
Work through Moot Court and develop first-hand legal skills like research and writing or getting up on your feet and arguing – real-life lawyer skills. Be really prepared to dive right into the assignment. Become part of a network as it helps building contacts across the legal industry. Say "yes" to moot assignments and learning to say "yes" begins in law school.
KNOWING YOURSELF IS THE BEGINNING OF ALL WISDOM
Apart this I want to give a piece of advice for healthy ad self-esteemed life because   most often when we people discuss success they do so in terms of careers. I encourage you to also   pay attention to a different kinds of success as well _ success in life , when we are young we do not quite see the distinction in between career success and success in life but the difference is significant and to achieve ultimate happiness one have to understand , it's not like we cannot achieve both but we have to consider them both and be the successful person in your own version. Perseverance is definitely the key to success. Every once in a while, you will fail, and most of the time, the circumstances will be beyond your control. The key to overcoming this; is this DO NOT let your failures keep you down. compose yourself, dust the dirt off, take a deep breath and get back up on life saddle and keep going. failures are part of life if you don't fail, you don't learn. If   you don't learn, you will never change. The world doesn't care how many times you fall down, as long as it's one fewer than the number of times you get back. so,
Know yourself
Understand what makes you feel great
Recognise things that get you down
Set goals to achieve what you want
Don't afraid to ask for help
Stand up for your belief & values
Help someone
Take responsibility of your action
Be confident.
So , act like there is no tomorrow because if you taking your goal for granted or then probably you will be too late