K K Sarachandra Bose is a corporate lawyer with experience in Dubai and various other jurisdictions over the last three decades. A member of the International Bar Association, he studied law from R.L. Law College Belgaum, Karnataka, and graduated in 1976. Currently he is a partner at Dal Al-Adalah Advocates & Legal Consultants at Dubai, and Bose & Bose & Nair at Cochin.
Between all his commitments of being a lawyer, he has found out time and energy to pursue a very noble mission: Eradication of caste system in India. He plans to achieve this by effecting a paradigm change in Indian law through constitutional reforms. He is the author of the book "Caste Away – India, Hinduism and Untouchability."
In this interview he tells us about:
What prompted him to spread social awareness in India for 54 days and travel across 18,500 km.
Eradication of Caste Discrimination in India.
His second Bharat Yathra, i.e. the 'Caste Eradication Bharat Yathra' which starts today.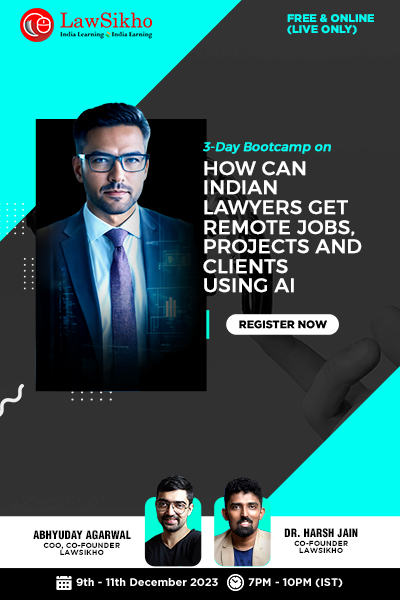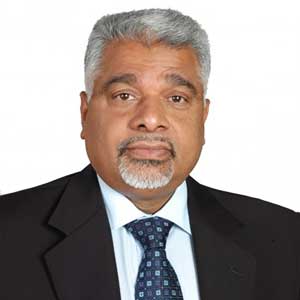 Our site is directed at law students and lawyers. How would you like to introduce yourself to our readers?
I am a corporate, commercial and contracts lawyer practicing in Dubai and other jurisdictions for the last over 36 years; a member of the International Bar Association, visiting professor in International Business Law, legal columnist in several publications, addressed over 100 law seminars as a guest speaker; Chairman of Global Dialogue Foundation, and Unity in Diversity under the auspices of the United Nations Alliance of Civilizations since its inception in 2007 till date.
Tell us about your years before law school. Were there particular childhood incidents that proved to be an inspiration for you?
My childhood was all thrilling. Being born in a very rich family and my father being a Gandhian politician gave away almost all our wealth for the welfare of the society. We lost almost all our wealth and my mother had to sell her land to pay for my college fee. My father took care of the society but not his family and children. This prompted me to first take care of me and my family and then the society. I witnessed low and high caste among human beings during my childhood in my own house when my father served food to field workers, few workers were in an enclosed place and the rest, the vast majority in the open field in pits dug and leaves inserted. I was really pained to see that my own playmates were ill-treated.
What inclined you towards legal education?
I was good in mathematics and got admission for Engineering after passing pre-degree (12 grade) but though the college fee was paid, I left Engineering and got a job and then pursued BA as an external student and then law as an internal student in R.L. Law College Belgaum, Karnataka.
What would you say were the instrumentalities of law school which helped to frame your career?
I was a studious student, though a college gunda, in the words of my college principal. When our University Vice Chancellor cancelled the Carry Over Benefit (COB) without giving any prior notice, I took the lead and got his order reversed by the State Governor, Chancellor of the University.
Our readers would be keen to know any specific incident which has driven you to become a social activist.
From my childhood, I feel the pain if another person is hurt. While in Dubai during 1977 – 1990 period, I used to visit the labour camps with journalists and highlight to the government the pathetic living conditions of the labourers.
What prompted you take up social activity and spread awareness for any grave social cause in a full time manner?
(KK Sarachandra Bose is a corporate lawyer by profession and a partner at Dal Al-Adalah Advocates & Legal Consultants at Dubai and Bose & Bose and Nair at Cochin.)
In the legal profession, I believe my clients like me so much and my opinion on corporate and contract matters are well sought by corporates of the highest order. But I always say, legal profession is for my bread and butter, my blood is social activism for the benefit of the society as a whole.
Tell us about your whole journey/social drive in your own words.
(He travelled across India for 54 days to promote the cause and covered around 18,500km along with his 30 member team and distributed books, free of charge, across the country.)
My 54 day Jathi Nirmarjana Bodhavatkarana Sandesa Bharat Yatthra – 9 June to 1 August 2014 – was really a thrilling one. I visited the entire Shri Mahabharat including the North Eastern states which people say normally nobody visits. I could see and witness the ill effects of the evil caste system in my country. While in Rajasthan, I was told, by some local people considering themselves as low castes there, not to speak about the caste system as the upper caste people may come and harm me. I increased my volume and told very loudly that this is my country and nobody will dare stop me. Some people told me that they want to make the savarna people avarna and paint the buildings in Delhi with the same brush and paste that they are forced to carry every day to clean lavatories. I enjoyed huge support not only from the so-called lower caste people, but from the upper class who hates the caste system. In Tripura, the Buddhist Sangha there promised full support to eradicate the caste system from India.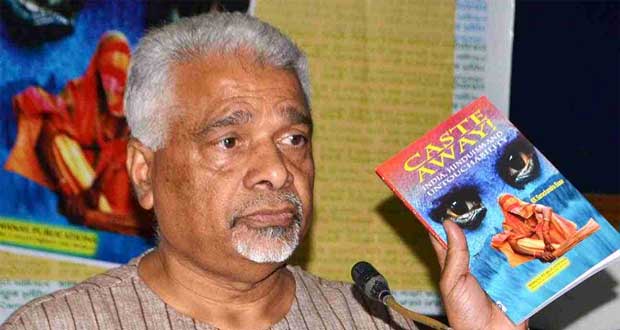 You have authored a book "Caste Away – India, Hinduism and Untouchability". What message did you intend to give to your readers through your book?
My book "Caste Away – India, Hinduism and Untouchability" is the result of my 40 years of research, studies, discussions and conviction on the subject, caste system in India. I have gone through our history beyond the Vedic period, or to say, prior to Vamana avatar. I have seen, as if I were there, that we had a great past prior to the Vedic period and that was exactly the Brahmanism – Sathyamvada, Dharmamchara, Athidhi Devobhava. This Brahmanism has been killed and murdered in our country for the past over 5000 years and I am re-introducing it and I am asking everyone to adhere to it.
How far would you say it is possible to eradicate the caste discrimination among Hindus and other religions from India?
It is very easy to eradicate the caste discrimination among Hindus and other religions from India. We should understand that there was no caste system before 5000 years, there was no caste system before 300 years. Similarly, there was no Hinduism before 5000 years and there was no Hinduism before 300 years. Caste system which is an offshoot of Hinduism, in the words of our Hon'ble Supreme Court, originated during the British India rule and not before. We had colour system in India, the black skinned Adivasi aborigine people and the fair or white skinned aggressors. When I say, aggressors, please do not get confused as they are also our brothers and sisters from the same grandparents, Manu and Satrupa or Adam and Eve as called in the Western world. The whole issue in the world is the two skin colours, black and white skins. Slavery originated in our country 5000 years ago as the fair skinned aggressors enslaved the black skinned Sri Mahabharatvasis. Slavery went out from our country and spread as an epidemic in the whole world. Once caste system is abolished in the Hinduism which is the breeding ground of slavery, then all those who left and became untouchable Dalit Buddhists, Dalit Jains, Dalit Sikhs, Dalit Christians, Dalit Muslims etc., will all become Brahmins in its sense – Brahmjnane iti Brahmana.
What type of feedback you were you receving from the people at large?
Feedback from the people at large is tremendous. No one has ever told me that either he or she wants the caste system to continue. There are several letters of support in my file.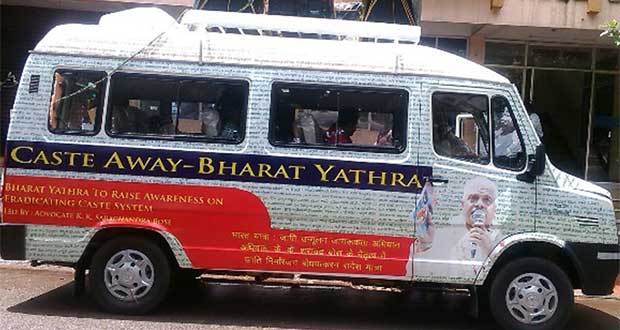 What are the main social causes in your priority list which you intend to promote through your second Bharat Yatra?
(He is all set to start his second Bharat Yathra, ie, the 'Caste Eradication Bharat Yathra' which is commencing today on 9th May 2015.)
In the Caste Eradicatin Bharat Yathra commencing on 9 May 2015, I will be conducting mass upanayanas in public in the presence of the five headed creator God Bhramadev representing the five elements of creation by priests well versed in pre-Vedic rites declaring all as Brahmins and thus remove that feeling of lowness in the minds of the people.
Do you follow the ideologies or philosophy of eminent leaders like Mahatma Gandhi or Raja Ram Mohan Roy in regard to eradicate caste system?
No, I do not follow ideologies or philosophies of any leader. I follow my heart and I have developed my own ideology. For instance, Shri. Mahatma Gandhi wanted to abolish untouchability by retaining the caste system. While Article 17 of our Constitution abolishes untouchability, several other articles in the Constitution reintroduces untouchability through the caste system. How can I follow such a tricky ideology or philosophy? That is why, I have loudly said, quoting several judgments of our Supreme Court, that our Constitution is tricky and there is fraud in our Constitution and it must be amended.
Did you get any reply from The Centre or do you think the government will take any serious steps or preventive measures regarding the eradication of caste discrimination from India?
(He also sent a notice to the Indian Government regarding the abolishment of caste system or to banish the caste system from India.)
I did not get any direct reply to my notice from the Government. But I received several indirect replies and reactions from the Government such as, Janardan Dwivedi's comments to stop caste based reservations and introduce economic based reservations and Sonia Gandhi's rebuttal thereto; Mohan Bhagavat's call to eradicate the caste system; world religious leaders calling for eradication of the Indian caste system by 2020; International Bar Association supporting me; Supreme Court lawyers supporting me; hurried Ghar Vapasi by some Hindu orgainzations in bringing the escaped people back to their earlier low caste or slave status; etc.
Do you think you will be successful in complete eradication of poverty and casteism from India?
I am a doubtless person. I will see the end of the caste system in the very near future. Government, I mean the Indian society, will have no option but to amend the Constitution and abolish the caste system.
Did you get any positive response from there supporting your cause?
(He has also organized seminars for Indians who visit Dubai and deliver lectures to help them understand the laws, rules and regulations of the country.)
I am getting support from all quarters.
Do you think every lawyer should devote some time towards any social cause and work on it?
I do think that every lawyer should devote some time towards social causes. The lawyers unlike other professionals or businessmen, have the knowledge of the law and also have interaction with the laws, law makers and the law courts. When a layman is also not exempt from the knowledge of the law as law is considered universal, a lawyer has the privilege not only to know the laws but also to counter the laws if found unsuitable.
Last but not the least, would you like to leave any message for our readers?
I wish all your readers understand the basic human values and treat another human being as a human being, not as an animal as in the caste system based on the skin colour of the people.