Khusboo Khatreja is a Bachelor in Commerce graduate from Kirorimal college, Delhi University. While in last year of her college, she was placed in Ernst and Young but due to interest in law, she decided to join Delhi University and completed her LL.B. She graduated in law in 2013.
She has been outstanding as a student and was mainly focused on academics. Being a commerce graduate, she was inclined towards corporate law and therefore pursued her internships accordingly. She also managed to pursue Company Secretary course along with law. Soon after graduation, she started working with DSK Legal, Delhi and her main practice area includes real estate and general corporate law.
In this interview, she talks about:
LL.B from CLC after B.Com from Kirorimal
First year of work at DSK Legal, Delhi
Managing deadlines and experience of a steep learning curve
Given that most of our readers belong to legal fraternity, how would you introduce yourself to them?
Hi!! I'm Khushboo Khatreja. A 25 years 'young' lawyer, who is endeavouring to perceive this dynamic legal profession. I am currently associated with Delhi office of DSK Legal as an Associate. I graduated from Faculty of Law, Delhi University in 2013 and joined DSK Legal right after completing my professional degree. It has been a great experience so far under the guidance of Mr. Niraj Kumar.
During this short tenure, I have had a chance to work on various exciting assignments and representing some big clients. DSK gives you ample opportunities to handle the assignments in a manner which backs your personal growth and development.
At this stage, I look towards learning new things, shaping my knowledge and to expand my horizon. Presently, I am handling assignments related to corporate advisory and real estate. My aim is to keep exploring at this level, and have a specialization after certain level of practice.
Having done B.Com, what motivated you to choose law as a career? Or did it just happen?
Frankly, I feel this statement is true. I was determined to pursue B.com (Hons.) but that is not the case with LL.B. Choosing law as a career option was not pre planned at all. I got a placement in Ernst and Young during the last year of my graduation. But pursuing LL.B was on my cards, and during that placement period, my cousin motivated me to explore options in legal field. I gave it a thought and tried my luck in Delhi University's LL.B entrance examination. So, the credit goes to my cousin! And I have no regrets.
As a graduate of Delhi University, have you faced any comparison with NLUs? What would you say to the future graduates of DU regarding this?
I have heard people giving statements on this 'inclination towards NLU grads'. Fortunately, I have not experienced such thing. Delhi University was, is still is and will remain the premier institution when it comes to legal studies. What matters is your knowledge and determination and everything else becomes drab should you have these standards. I owe a lot to Delhi University, be it Kirorimal College or Faculty of Law, for who I am today.
What were your areas of interest during your graduation? How did you go about developing expertise and knowledge in these areas?
Being a commerce graduate, my area of interest has always been corporate laws. To explore and have in-depth understanding of corporate laws, I pursued Company Secretary Course as well. It really was beneficial to understand corporate and allied laws theoretically as well as practically through this.  I have to accept that I was a reserved student. I had a limited approach towards my legal studies. I was much occupied during my course on account of handling my CS studies as well.
What kind of internships did you do while you were a student?
I interned at Khaitan, Sud and Partners, ASA Law Firm and Jindal Steel and Power Limited. At KSP, I worked on matters related to project finance, at ASA, I had a chance to understand corporate debt restructuring mechanism and at Jindal, it was more of drafting and understanding the complexities involved in various commercial agreements (domestic as well as international). As one can see, I have had a diversified experience in my internships. At that stage, I wanted to explore different fields and I was fortunate that I got to work with the aforementioned entities. Further, I was determined to work on corporate side for reasons explained earlier and thus, no litigation experience is on my plate.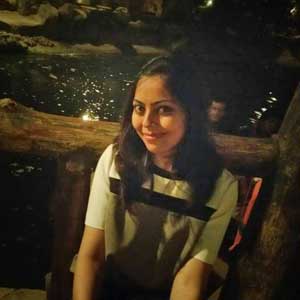 What are your thoughts on activities like mooting, debating and publications in journals? What skills do law students acquire by engaging themselves in such activities?
They play a double fold role in a law student's life. Apart from brushing your confidence and knowledge, they provide add on to your CV. One improves his/her drafting and soft skills by engaging into these activities. At a start-up level, they do play a vital role. Many firms place importance in these activities while selecting a candidate.
Did your law school education prepare you sufficiently for the many tasks you were required to execute after graduation?
Yes of course. Delhi University gives you practical exposure to a particular issue. The curriculum is totally based on precedents. It helps you to understand the real issue at your work place or internships, as the case may be. The theoretical aspect to a particular topic is limited. It's more of case based studies.
Many lawyers say that the first year after graduation is the most difficult one. What was your case?
This indeed is true. At this level you are now all alone striving for an opportunity and yes, the expectations are too high at this stage..!!.During my last semester itself, I started looking for placement. The biggest challenge was not having someone who could guide me. Being the only lawyer in my family, I had to do everything on my own and I had no contacts. With the help of friends and understanding the process, things became clear with time. I feel that in this field contacts can get you anywhere. You can expect a call for an interview at least..!!
You started your career at DSK Legal, New Delhi and currently work as an Associate there. What had contributed towards this appointment?
One of my senior told me about this opportunity and I did not let it escape.Otherwise, one can approach DSK by submitting his/her CV at our website www.dsklegal.com. Depending on the candidate's profile and DSK's requirement, DSK approaches the candidate.
What are the main practice areas of Delhi office of DSK Legal? What does your current work profile at DSK consists of? How is a typical workday like?
We have two partners in Delhi office. One handles litigation and other handles real estate and general corporate practice. My current profile consists of real estate and general corporate practice. It's a blessing to work at DSK when it comes to 'work-life' balance. I start at 9.30 setting out the deliverables of the day first. Work life is pretty comfortable here as my seniors and partner are only concerned with the quality and time line of a deliverable. How I do it, that's completely my look out.
Are there new challenges everyday or has work settled into a predictable pattern?
When you are working in a law firm, forget about anything which is predictable. There are new challenges every day which you face and which helps you to grow as a lawyer. No issue is related with each other. Every client has a different issue and their requirement as well as expectations from a lawyer is different. What I find more interesting is presentation and interpretation of law in such a manner which addresses the client's issue and requirements. It's a thinking process at all times.
Can you tell us about a few of the most challenging problems you have faced thus far?
When you enter into the job world in this profession, every day is challenging. Beginning was not easy for me as well. Everyday used to be challenging and hectic. And then there comes a transaction for which you are solely responsible and which is your 'Baptism by Fire'. After initial 3-4 months of joining DSK, I was given to handle a funding transaction on my own and that's where I felt that it's not easy to survive in this profession. That is one transaction which still is a nightmare for me.
How do you deal with mistakes or errors?
We follow basic professional code of conduct at our workplace. There is no special requirement as such, but yes, there is no compromise on what is expected from you as a professional. Nobody is perfect and mistakes are bound to happen. What matters is how you deal with it and learn from it. I follow the same path. However, mistakes on basic aspects are not acceptable.
Would you say your undergraduate B.Com degree has been helpful in your career?
It truly was. It's so easy to read financial documents and to have an idea about true position of a company while conducting due diligence for a particular transactions. In DU, we have contract law and taxation in our curriculum which provided a base to study these subjects and understand it in a more efficient manner for my law degree.
What kind of internship/recruitment application do you think stands out positively and has a much higher likelihood of being accepted?
Applications which are short yet expressive are the ones any recruiter would love to read. A good professional resume without any bragging ingredient in it acts as a deal maker. Keep applications short and simple. Take it not as a comprehensive list of your career history but as a marketing document selling you as the perfect person for the job.
Would you say that the actual learning takes place in the years of practice? What was the case in your situation?
This statement is somewhere true. For a practicing professional each assignment is a learning experience. While pursuing a law degree, a student has a limited approach i.e. understanding the legal issue. But at a practicing stage, what should be the approach towards such issue in a cost and time efficient manner is a primary focus. Same is the case with me. My approach towards an issue has changed altogether after entering into what you call a 'Real World'.
Where do you see yourself ten years down the line? Do you aspire to be like somebody from this field?
In 10 years' time, I see myself at a good position, progressing in legal field and earning new skills to the benefit of my clients. I do not aspire to be like somebody, I would like to be 'ME'.
Lastly, what would be your parting message for our readers?
Pursue your dreams and don't be afraid of failures. Failures are good experiences which help you in long run. People succeed because they failed in their life at some point of time. Keep going is the myntra!!