Khyati graduated with a B.A. LL.B from Jitendra Chauhan College of Law (Mithibai) in 2007. After graduation she joined Desai & Chinoy (Advocates & Solicitors) as an Associate. After specializing in real estate laws for almost two years, she joined Khaitan and Co. as an Associate and currently works as a Senior Associate there. In this interview she talks about:
Specializing in real estate laws
Recruitment at Khaitan and Co.
Being a Senior Associate at Khaitan and Co.
What got you into legal studies? Was it all planned or something that just happened by chance?
I love this question – Why law? I come from a family full of Chartered Accountants and Engineers and to be honest, this was the first question that everybody asked me when I informed them about my decision of choosing law as my career. The sole motivation to turn towards law was my own conviction and the hallmark of prestige towards this profession. The legal profession appeared to me as one of the most intellectually rewarding jobs on the planet!
How was your experience at Mithibai Law College, Mumbai? What activities were you involved in apart from the regular academic curriculum?
I graduated with B.A. LL.B. from Jitendra Chauhan College of Law (Mithibai). I have had a wonderful experience in Mithibai. From the very first year of my college, I was given an opportunity to represent our college in some of the prestigious moot court competitions. I was also part of a team who organized moot court competitions and seminars. Co-curricular activities help you develop an all-round personality, improve your interpersonal skills and also boost your self-confidence.
What were your major interests as a student of law?
Let me answer the latter question first. Figuring out what practice area to choose after law school is a big decision. To start with, I would say there has to be a self-assessment as to whether you want to be the expert or generalist. Choosing a practice area will depend upon a variety of factors like inventories of your interest and skills, an eye towards the law school courses you most enjoyed, long term goals, work-life balance and so on. I strongly suggest undertaking internship programs in the formative stages of your legal career as such programs are an ideal way to make you realise your interest in specific area of work.
During the early course of one's career, one may venture into areas that were not originally considered. Be alert to your changing interests, the changing law and changing markets. Be open minded and unafraid to learn something new.
The urge to swot the business and legal aspects of real estate was always within me. I was fortunate enough to work on property and alternate dispute resolution matters during my internships and in my earlier law firms.
What is your take on academics? How important do you say is a good CGPA for an illustrious career?
There seems to be an incredible fascination amongst law students for maintaining high CGPA and well, let us be honest, who wouldn't want to score good marks in an examination? The first impression is created by your academic achievements which includes CGPA. However, one should not equate scoring of high CGPA to "success". I do not wish to negate benefits of scoring of high CGPA but personally, in my view, the concept of "CGPA" is considered as an easy way to assess merit while a securing job. According to me, CGPA cannot be the best indicator of a person's ability. Let us not forget that at work and in your daily routine, all that matters is your hard work, confidence and your zeal for having in-depth knowledge about your subject. You may be the topper from a law college but that may not make you a good lawyer! Don't despair if your CGPA isn't ideal; however, do drum up your effort in practical experience and professional networking.
How was your first year after graduation? What do you think were the biggest hurdles and challenges in the early days of your career? How did you deal with them?
Law school does not prepare you to practise law. Of course, it teaches you how to "think like a lawyer," but when you get your first job as lawyer, you will find that you're completely in the dark about lot of things. It was a new world with a plethora of experience. One needs to put to use all theoretical knowledge that was learnt in a law school! Luckily for me, I undertook internship programs during my initial days. I would not say that I learnt it all during these programs but it relatively became easier for me to gain a bit of experience and showcase the same when I secured my first job as a lawyer. One more important factor which helped me was that I got to work with wonderful people. Healthy work environment plays an important role to combat any challenge.
What is your opinion when people say that all that they have learnt is in their years of practice?
I would like to say my learning during college days helps me every day in some or the other aspect. We were encouraged to do mock-trials, give presentations and so on. My professors and seniors still remain my mentors. It depends on how you make the best out of the opportunities given. Legal education helps in gaining theoretical knowledge. Yes, there is no doubt that you learn a lot when you are actually in a situation where you have to put to use "theoretical solutions" to "your practical problems of clients"! I believe everything cannot be taught in a classroom and this is a profession where there is continuous learning.
After graduation you joined M/s Desai &Chinoy (Advocates & Solicitors) as an Associate. How was your experience working there?
Desai & Chinoy was a wonderful experience for me. The best part was that this was my first job after graduation and I was fortunate enough to gain insights about property matters in my early years and worked with wonderful team.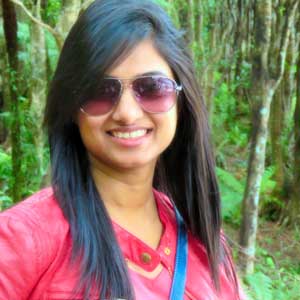 Thereafter, you joined Khaitan and Co. as an Associate and currently work as a Senior Associate there. What led to this shift?
My superiors will be in a better position to answer this question! The initial few years of your career require lot of hard work, dedication and persistence to grow. I was driven by these factors which helped me to climb the ladder. I am fortunate enough that my work has been acknowledged and appreciated by my partners and senior management. Over all, it is all about your hard work coupled with an optimistic outlook to absorb new things.
Please tell us the recruitment process at KCO. How did you appointment take place?
Recruitment process is at KCO is extremely transparent and well structured. Real Estate practice is slightly different from other practice areas. As our team has expertise in real estate sector, it was very important for the team to absorb people who will easily comprehend property laws, specifically, pertaining to Maharashtra. I had 2 rounds of interviews. I was directly interviewed by the partners and after 2 rounds of grilling sessions, I had my offer letter with me!
What kind of work and responsibilities does a Senior Associate at KCO deal with?
KCO gives an opportunity to develop ourselves as professionals as the common objective is to grow. It gives opportunity to take independent decisions.
What has been your strategy to deal with errors and mistakes? How would you suggest a young associate to deal with them?
No matter where you work, adhering to professional ethics benefits your career. Foremost is to own up to your mistakes. It is simple – you can't learn from your mistakes if you can't acknowledge you've made them! And if you don't learn from your mistakes, you're destined to repeat them. I also ensure to have good working relationship with my colleagues as it helps to maintain healthy working environment.
My advice will be to maintain a "good work ethic" and make it an important part of your professional package. Your overall reputation and particularly your references will follow you the rest of your life, particularly for your career.
What changes has being a Senior Associate brought into your life, do you ever feel that there is excess of work load on you?
Being a Senior Associate is not an easy job and of course it comes as an added responsibility! You are accountable not just to your seniors but also to your clients. You will also have your junior colleagues who will look up to you for your guidance. Your whole outlook changes and you start feeling more responsible which also includes negative consequences if any! Yes, I do come across work pressures but I have excellent colleagues at associate level to make my life easy.
Work life balance? On a lighter note, my friends always say that "work life balance" in the legal industry is oxymoron! Yes, law firms usually have long working hours but you also enjoy reasonable amount of flexibility. For me, my work starts sharp at 9 am and depending upon the work, my working hours vary from 10-11 hours each day. I try and prefer to finish work at office even if it calls for having late working hours. However, at times to meet urgent deadlines you are left with no choice but to carry work home. To be realistic, there cannot be a "perfect" work life balance but one should strive to achieve a balance between one's personal and professional life. I strongly feel that it is achievable.
Have you ever considered litigation or starting up on your own? Would you say the opportunity a firm provides for a young lawyer is worth the trade off in building a reputation?
Honestly, the amorousness for doing litigation or visiting the courtrooms everyday never got to me. I haven't considered starting up on my own as my work profile in KCO gives me immense work satisfaction. I think starting up your own is a personal choice.
I do agree that the law firms be it in small firm or a large firm provide excellent platforms for lawyers to make a mark and build reputation. However, I do not necessarily think of the trade-off between a law firm practitioner and a private practitioner. At the end of the day, reputation happens to be the most important asset for all professionals and all of us endeavour to work towards it in some or the other manner.
Given a chance to turn back the clock would you have done anything differently from what you've done?
By nature, I have always been headstrong. I have always had clarity of thoughts in decisions that I have made so far and therefore I wouldn't really want to turn back the clock. In fact there's no looking back now.
Lastly, what would be your message to a law student who is yet to decide his/her career?
It may sound cliché but find what you love and work hard to achieve it! If you wish to become a lawyer, be prepared for challenging work and lots of it. The legal profession is one of the most lucrative industries in  the job market and there are plethora of opportunities for law graduate.
To quote Mario Puzo in The Godfather – "A lawyer with his briefcase can make more money than a burglar with a gun, if he has a sharp wit and intelligence."