Somdutta Bhattacharyya graduated from West Bengal National University of Juridical Sciences, Kolkata in 2012. After graduation, he worked at AMSS for two years before joining Fox & Mandal, Kolkata. He was a part of the Litigation & Dispute Resolution Team at both places. He's currently an independent practitioner practising litigation at the Calcutta High Court. In this interview he talks about:
Law school experience at WBNUJS
Working at AMSS and Fox & Mandal
Choosing to pursue litigation over a career in corporate law
Please tell us a little bit about your childhood and your background
?
I am a through and through Kolkatan, born, brought up and working here. I spent a considerably large part of my life in residential school, at Ramakrishna Mission Vidyalaya, Narendrapur, from 5th standard right upto my plus two boards. I am not sure that spending so many years in a residential school and from such a young age has made me very self-sufficient though!
How did you gravitate towards law? Why law and not engineering or medical studies?
I did choose science as my study stream for my plus two boards, but that was because my parents initially wanted me to become a doctor. Engineering was never an option anyway, considering my fantastic mathematical skills. To be honest with you, I still have nightmares about my maths exams! I chose law pretty accidentally actually. It was more like law chose me. My uncle, who is a lawyer at the Calcutta High Court, told me at that time of the emergence of the national law schools across the country and the bright, young graduates these institutions were producing and suggested I should try taking the exams for these law schools. I only took the exam for WBNUJS, Kolkata (ours was the last batch who took individual law school exams instead of the CLAT) after preparing for about a month. The results came out about two weeks before the boards and I was very happy to find that I had gotten through. I decided that this was what I was going to pursue and make a career out of. And that is how it happened.
Tell us about your years in law school.
What made your journey with WBNUJS
exciting? 
Law school, I have no qualms in saying, were the five best years of my life. I must admit I was a bit confused at first since I did not come from a legal or even an arts background and there were a lot of subjects like Sociology, History, Economics, Political Science etc. to which I had no or very little previous exposure. But after the first semester or two went by and the strictly law oriented subjects came into the curriculum, I found out that I enjoyed most of these subjects. I enjoyed the process of understanding how and why a particular piece of legislation is framed and how it is implemented in reality. I had the fortune of being taught by some very good professors, who have shaped my life both inside and outside the classroom. There were a lot of extracurricular activities I involved myself in. Being a part of the Legal Aid Society was something I enjoyed thoroughly and it also helped me give a little something back to the society. And lastly, I must say that what made WBNUJS a really exciting place was that I found that most of my fellow students were very bright and very socially, politically and culturally aware people. No wonder I made some of my best friends there.
How did y
ou fare in your academics at
WBNUJS
? Would you say a great CGPA is a necessity to kickstart a good career in the legal profession?
Well, I must say my academic performance at WBNUJS was not among the very best but it was pretty consistent. I was never among the top 10 but I was never outside the top 20. And in a batch of about a hundred students, I guess that isn't too bad.
The second part of this question is not very easy to answer. I guess it depends on how one wants to start his or her career, I guess. If he or she wants to get into a good law firm, a decent, if not good, CGPA is required to be taken somewhat seriously as a candidate by the recruiters. But of course, an average CGPA in such cases can be complemented by really noteworthy achievements in extracurricular activities or good recommendations from internships. However, once one starts working in any field of the legal professions, one finds out that the CGPA counts for very little in terms of professional growth. But I must conclude by saying that a good CGPA can never hurt and can only help, so why not aspire for it?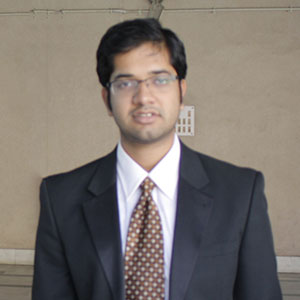 What were your areas of interest during your
graduation? How did you go about developing expertise and knowledge in these areas?
My areas of interest in law school were diverse. Some of the subjects that I enjoyed studying the most were Contracts, Constitutional Law, International Law and Alternative Dispute Resolution. If I took a real interest in a subject, I would read the more authoritative textbooks (and not just the ones students mug from right before the exams) on the same, which was helped by the fact that WBNUJS has a really good library. I would also try to keep myself abreast of the developments, from the newspapers and the Internet, of the latest developments in the areas of law that are evolving with every landmark Supreme Court judgment, like Constitutional Law or Arbitration.
After g
raduating from WBNU
JS, you had worked at AMSS for 2
years and then joined Fox and Mandal before starting litigation. Please tell us a little about your work profile at these firms and the responsibilities you have been entrusted with.
I would just like to clarify here that I had worked at AMSS for about 2 years and for F&M for about 8 months. In both firms, I was in the Litigation & Dispute Resolution Team, which means I was mostly working on the litigation side of the profession as part of solicitor firms. I was involved in quite a few interesting and high stake litigation matters, mostly at the Calcutta High Court but also sometimes at lower courts. I would have to get thoroughly prepared on the factual and legal issues in such matters so that I could brief the pleading Counsel effectively on the same and assist him ably. I even got to appear in Court once or twice and it felt really great! During my time at AMSS, I was also involved in an international (SIAC) arbitration and got to travel to Singapore and participate in the same. It remains one of the most thrilling experiences of my professional career till date, especially since I had worked very hard on the matter and been very involved in every stage of it.
When
did
you decide
to quit Fox and Mandal
and start litigation? Was it pre-planned
?
Why did you prefer
Litigation over your corporate job
?
I decided to quit F&M and start my career as an independent practitioner in or about December of last year, i.e., 2014.
It was not pre-planned. I gradually came to realize, after having spent about 3 years in litigation as a solicitor, that I would like to be on the other side of the profession, i.e., as a counsel. I realized I would like to appear and plead in a court of law. And hence I took my decision.
I would be lying if I said it was a very easy decision to make. I knew it would take me quite a bit of time to establish myself as an independent practitioner, especially coming from a family where no one is in the practice. I knew I would be giving up the financial security of a fixed sum of money, and not a very small one either, in my bank account at the end of every month. But, at the end of the day, the heart wants what it wants and I felt strongly that this is what I wanted to do, so I took the plunge anyway.
As I said earlier, after being on the solicitor side for about three years, I thought I would like to remain in litigation but I would like to draft and plead my client's case in the Court, which I would not have got enough opportunities to if I remained in a law firm. But I am immensely grateful to all my colleagues and mentors at the firms that I have worked at, and especially Mr. Debanjan Mandal, Partner at Fox and Mandal, for providing me the exposure to good, interesting and high-stake court litigation that not only increased my experience but also increased my interest in a career in litigation.
What are you main
practice areas? How has been your experience so far? Is it more comfortable be your own boss or is the pressure of work almost similar?
At this stage of my career as a counsel, after I have just started out on my own practice, I'd prefer not to be choosy and say I will accept any matter. But if I must choose, then I would have to say that my main practice area would be civil and commercial law.
It is still far too early to answer this question properly (it has only been a month and three weeks), but till now I have really enjoyed being an independent practitioner. I have been briefed in a few matters, both by solicitors as well as from personal sources, and I enjoy the challenge of understanding the problem faced by the client and trying to provide an effective solution to it. I am immensely grateful to my senior, Mr. Abhrajit Mitra, Senior Advocate, who has always provided me any guidance that I may have requested of him in this regard.
I will say that it is definitely more comfortable to be your own boss but not because there is less work pressure. If anything, the hours I have to put in now are more compared to what I did in a firm. I attend court in the morning, then come back to my residence and leave for my senior's chamber in the evening. Since my senior works till pretty late in the night, I try to stay in the chamber till he calls it a day and try to assist him in any way that he might require.
How is your experience so far?
 What is your workday like? Are there new challenges every day or did
work fall into a predictable pattern?
My experience so far has been pretty good. I enjoy the independence that comes with being in your own practice and I also relish the added dependence that my clients seem to have on me!
I get to court by 10.30 am and I am in court till 4.30 pm on a typical workday, attending whatever matters I might have in court on that particular day. Then I come back to my residence, freshen up a bit and leave for my senior's chamber, where I get to by 7.30 pm. I leave chamber when my senior is finished with his briefings/ work for the day, which on a typical day would be around midnight.
I must say there are new challenges everyday in litigation. Everyday you are arguing on a different kind of matter, every client has his or her own unique set of problems that they are facing and you must be innovative in your approach to provide an effective solution.
How necessary is it to have a mentor
to
guide
a young lawyer while still in the formative years of the profession?
Do you have one?
It is absolutely vital to have a mentor in one's formative years in the profession. He or she is the person from whom a young lawyer will learn the various facets of the profession, how to approach every legal problem differently, how to strategise a litigation, how to plead in a court of law so as to hold the attention of the Judge and the more one assimilates these lessons from one's senior, I believe the more likely he is to succeed.
Yes, my mentor/guide in the practice is my senior Mr. Abhrajit Mitra, Senior Advocate at the Calcutta High Court.
What can the law schools do to encourage more people
to
pursue
litigation? Do you think the law school curriculum requires
an
overhaul?
I must not be pretentious here because I really have very little idea as to what law schools can do to encourage more people into litigation. Most young graduates, at the law schools, are hearing about the big bucks their seniors are making at corporate jobs and law firms and get encouraged to just go with the flow. But many of them, after some time, realise they might want to choose a different path, including litigation, for some of them. It is a realization one must have oneself and I doubt law schools can do much in that regard.
I would not say that the curriculum requires an overhaul. But yes, I would suggest that students be not only constrained to the theoretical knowledge of certain subjects that they will never have to apply in their lives and teachers can provide them with more practical, real-life legal scenarios so the students can understand how to apply the law and find a solution to the same. It would hold them in good stead, no matter which facet of the profession they are involved in their careers.
How far is theoretical knowledge in law schools consistent with the practical arena?
A basic good grasp of the theoretical knowledge imparted in law schools is of course necessary in the practical arena also. But that can only help to a certain extent and one can only learn about how to excel in the profession through experience and by being involved in actual legal scenarios. In that regard, I would say the seniors, be it in law firms or in the practice are more important teachers for a young lawyer than their teachers in law school.
How difficult would you say it is to build a reputed practice
in litigation
?
I would say the main difficulties faced by a young practitioner is to get solicitors and possible clientele to know that he or she even exists, let alone being efficient and dependable! In that regard, one must have patience and execute whatever matters one is briefed on with utmost diligence and care. Sooner or later, a reputation, or at least a foundation, would start being built for the practitioner.
I would certainly say it is not very easy to build a reputed practice. It needs a lot of hard work and probably some luck as well. It is especially difficult in a place like Calcutta, where there are a lot of good, young lawyers but probably not so much good, high stakes litigation. One can only work hard and start building a reputation, as I said in the first part of this question.
It is difficult to say exactly how many years of hard work it takes to build a firm clientele. It depends a lot on each individual practitioner. From what I hear, it takes at least 3 to 4 years before one can say that the initial period of struggle has somewhat given way to calmer waters.
The Bar Council of India has recently come out with new Certificate
of Practice and Renewal Rules, 2014 that prohibit an
A
dvocate from starting to practise in the Supreme Court unless they have practiced for at least two years in a
T
rial
C
ourt and three years in a
H
igh
C
ourt in India. What is your take on this?
The Bar Council feels that one can only have a strong enough foundation in litigation practice to be practising at the Supreme Court if he or she has spent enough time at the lower courts, and I cannot say I entirely disagree. Most of the people in the practice will tell you that young lawyers get the most amount of exposure and experience in the lower courts, while in the Supreme Court they will in all likelihood be assisting an established senior lawyer. So I do not think it is a bad or unreasonable measure by the BCI.
Indian criminal law is, to a large extent, influenced by its British counterpart. Do you think if Indians would have framed our Penal Code, it would have been better?
I would not say that when the IPC was drafted, the Indians would have done a better job than the British. Lord Macaulay was an extremely knowledgeable and experienced draftsman and I doubt such an exhaustive Penal Code could have been drafted at that point of time by anyone else. But times have changed, and now the IPC, in my opinion, needs quite a few amendments. Archaic provisions like the criminalisation of homosexuality or the extremely narrow definition of obscenity need to be changed, while stricter measures to counter rape and sexual harassment of women in the current scenario need to be introduced. And that can only be done by our very Indian legislators, isn't it? No point blaming the British for something that they had drafted so long ago, when social perceptions and scenarios were completely different.
If you could
re-live your five
years in Law school, is there something you would do differently?
I would have definitely studied my Civil Procedure Code course better and with more interest. I should have known more of the basic provisions of the CPC that I need to apply everyday by the time I graduated. Apart from that, I really don't think there is anything else.
How to make a conscious career choice – corporate vs. litigation?
You have to ask yourself what you really want. Does the thought of drafting pleadings and navigating through piles of case law and legal books to present a successful argument in court for your client (I must mention it is a different feeling altogether when one does manage to get a really good order in the favour of his client) excite you? If the answer to that is yes, then you must ask yourself whether you are prepared to be patient and endure a bit of financial struggle in the early days in the sight of a greater goal, i.e., to become a successful practitioner? If the answer is still yes, then litigation is definitely for you.
Lastly, what would be your parting message for our readers?
To young people still at law schools, I would ask you to concentrate on your studies and focus on doing well. Indulge yourself in a lot of extracurriculars and also have a lot of fun, because trust me, these are some of the best years of your life and they will not come back. Also, do not give in to peer pressure or what everyone says. Look into your heart and ask yourself what you actually want to do. There are a lot of excellent career paths and options out there, and do not choose something you do not think you will like being stuck in because of extraneous reasons. I am sure you will be able to figure it all out and I wish you the very best of luck!