Leoni Mahanta is currently working as a Trademarks Attorney with Amarchand & Mangaldas & Suresh A. Shroff & Co. (AMSS), Gurgaon. She graduated with a B.A.LL.B. (Hons) degree from National Law Institute University, Bhopal in 2009. She then went on to pursue Masters in Intellectual Property Rights and Technology law from National University of Singapore and has thereafter worked with two boutique IP law firms, initially at ZeusIP and then at Lall, Lahiri & Salhotra.
In this interview she talks about:
Law school experience at NLIU and NUS
Work experience at ZeusIP and Lall, Lahiri & Salhotra
Work as Trademark Attorney with AMSS
How would you introduce yourself? Please tell us a bit about how you gravitated towards law.
Hi, I am Leoni Mahanta and I am currently working as a Trade Marks Attorney with Amarchand & Mangaldas & Suresh A.Shroff & Co. (AMSS), Gurgaon.
My maternal grandfather was a very big name in the legal fraternity of Assam. As a child, I would hear his great courtroom stories, the stature he enjoyed in the society, and that inspired me to become a lawyer so that I could carry forward his legacy.
Please tell us a little about your law school days at NLIU? How were you at academics?
The 5 years I have spent in National Law Institute University (NLIU), Bhopal, are indeed very close to my heart and the whole experience has a major impact on who I am today. Studying at a National Law School gave me the opportunity to interact with the cream crowd of the country. Being a part of the competitive environment at NLIU, I became a goal oriented person at a young age. I was an above average student with a decent CGPA and I actively took part in extra-curricular activities as a core member of Gender Justice Cell and Access to Justice Cell and was involved in UNDP funded projects. My reading was not limited to class-room notes and course materials, and I would read from books which helped me to understand the basics. The purpose was not to cram up the course material to score high grades but to understand and enjoy what I was studying.
Most importantly, one of the key highlights of my law-school years was travelling all over Madhya Pradesh and beyond, getting to know the culture and enjoying the hostel life with my friends. There was always so much to do – exams, projects, presentations, extra-curricular activities – and coping up with the trimester system taught me mechanisms to multi-task, all of which are now helping me being an associate at AMSS and still maintaining work life balance.
How important do you say is a good CGPA for an illustrious career in law?
Good CGPA is definitely very important to be noticed by a potential employer and in securing admission for higher studies at top law or business schools. However, for an illustrious legal career, the marks you have scored in law school exams have no role to play. I believe we should choose to work in the field which interests us, be sincere and honest in our attitude towards all the assignments we are involved in, be it big or small. In short, if we love our work we will naturally put all our efforts and would want to be updated with latest legal developments which in turn will reflect in the quality of our work.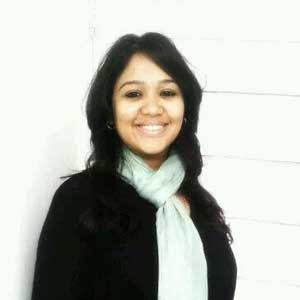 How do you think internships are beneficial to law students?
Internships give students the opportunity to experience the practical aspects of law and provide exposure to a professional environment that a law school may not otherwise be able to provide. I would advise law students to intern with Non-Governmental Organizations, National Commissions, Litigators, Corporate Law Firms and as Judicial Clerks so that they can have a fair idea of different practice areas and can gain clarity of what they would want to pursue as a career. Internships also provide great platform to refine legal skills, learn your strengths and weaknesses and to network with legal professionals who may prove to be mentors in finding jobs in the future.
After your graduation, you went to pursue Masters in Intellectual Property Rights and Technology law from National University of Singapore. How would you describe your experience as?
Yes, pursuing higher studies was always the plan! I was not mentally prepared to start working right after law school. I felt it was too soon. I wanted to go out in the world, experience different cultures, meet new people and become more independent. Though I was offered Scholarship by Kings College London, I chose National University of Singapore (NUS)because of its global approach to education and research, with a focus on Asian perspectives and expertise. Also, the University is considered to be one of the best in Asia offering diverse course modules which are taught by the professors from the top most universities of the world.
Studying in Singapore was a life changing experience. Living in a different culture, interacting with people from all over the world helped me discover myself, break down my stereotypes about many things and see the world in new ways. The LL.M. gave me the opportunity to make great friend, meet new professionals and build invaluable relationships with peers from around the world. Also, NUS organises regular professional networking gatherings which helped me to develop networking skills. I also had the opportunity to intern at Drew & Napier LLC which is one of Singapore's leading and largest law firms.  This experience taught mecross cultural skills and provided an international professional exposure.
Pursuing an LL.M. abroad may not be a good idea if you are expecting it to be a means to getting a job abroad or top law firm in India. But personally, I believe that studying and living abroad contributes to overall development of one's personality, preparing to adapt to unfamiliar environments and improve interpersonal skills as a result of interacting with people from diverse backgrounds and cultures.
After completing your LL.M, you came back to India and started your career at a boutique Intellectual Property Firm. How would you describe your experience working at boutique firms?
I worked in two boutique IP law firms, initially at ZeusIP and then at Lall, Lahiri&Salhotra.Working at these firms proved to be beneficial as from the very start of my career I got the opportunity to work directly under the supervision of the Partners, work on wide variety of matters due to less compartmentalisation of work, take more responsibilities and directly communicate with clients. Working in boutique set-ups helped me to gain more control on the practise, become responsive and develop management skills.
Currently, you work as an Associate at AMSS. What prompted you to make this choice and how is your experience so far?
Working at AMSS was a natural choice as I was looking for varied and challenging work and it is the best platform to experience the cream legal work in the country since it has diverse range of clients comprising world's top business houses.
Working at AMSS is a very fulfilling experience. The people that I work with are some of the brightest and most insightful people that I have ever met. AMSS has a very women friendly environment and the firm takes various initiatives for the well-being of the employees.
What kind of work and responsibilities does an associate at AMSS deals with? What should a student do so that he gets placed in a prestigious firm like AMSS?
Work and responsibilities of Associates at AMSS differ from team to team. Personally speaking, I believe that if one is sincere, good at work and takes initiatives then opportunities aregiven to work in wide range of matters and take more responsibilities.
The general notion is that one should be amongst the top 10% of the class for campus recruitment in AMSS. I joined AMSS as a lateral joinee and can only comment on the basis of my personal experience. I believe that a good CGPA is important but AMSS also considers if the candidate has a good grip of the work he / she is doing and the general attitude towards work. AMSS appreciates candidates with well rounded personality and good inter-personal skills. My advice to the prospective job seekers is to develop strong base in their practice area, be honest with the interviewer and develop the spirit to be nothing lesser than the best. Recruiters can read your mind 🙂
Last but not least, what's next for you?
Every day I go to office as if it's my first day at work with the determination to prove myself and be better than yesterday. I believe the doors of great opportunities will open up if I continue to be true to myself and my work.