Mohit Singh is a graduate from HNLU, Raipur, in 2013. During his time as an undergraduate, he has interned with Ravindra Shrivastava, Senior Advocate, Supreme Court Of India, Justice Manindra Shrivastava, Chhattisgarh High Court, Justice A. K. Patnaik, Supreme Court of India, and at firms such as India Vision Foundation, Haresh Jagtiani & Associates, Phoenix Legal, Scrioboard, Wadia Ghandy & Co., and Amarchand & Mangaldas & Suresh A. Shroff & Co. 
He is currently an Advocate at the Supreme Court of India, and his past experience includes working in the chambers of Advocates-on-Record, Arjun Garg and Rahul Narayan.
In this interview we speak to him about:
A very detailed guidance on how to start preparing for moots and drafting memos
His entrepreneurial bent of mind and starting ventures such as 'Lexcetera', 'Law School Tips' and '1, Law street'
His diverse internship experience
How would you like to introduce yourself to our readers?
I have graduated in BA., L.L.B. (Hons.) from Hidayatullah National Law University, New Raipur with Corporate Law and Intellectual Property Right being my Honours subjects. I had finished my schooling from Delhi Public School, Bhilai, where I was a science student. At present, I am practicing law in Delhi, working with an Advocate on Record. I am the first lawyer in my family.
Why did you decide to study law?
I was actually a science student at school and always had aspired to be a web-designer. I was busy preparing for engineering entrance exams for two years, but ended up doing law after clearing the first ever CLAT. A reason for choosing law was my love for political science since childhood. My parents had left the final decision of choosing my career on me, and I chose law.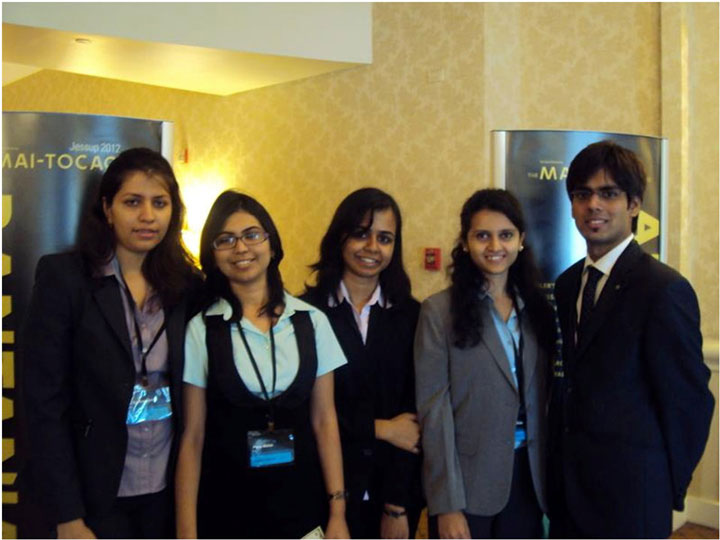 Tell us about your mooting experience.
(Mohit has been a runner up in national rounds of Jessup and even participated in international rounds.)
All my moots had been pre-planned with the exception of Jessup. After the release of Compromis (It is a compilation of agreed upon facts about the dispute that is submitted for adjudication to the International Court of Justice (ICJ), the primary judicial organ of the United Nations), my friend along with whom I was a speaker, discussed about doing Jessup and I affirmed the proposal. In the next one week we chose rest of the members of our five-member team and started the work. First challenge was to face a strong University team in the internal rounds. We succeeded there and started preparing for National Rounds. We had a little difficulty in finding research material on some legal issues for which secured resources from ISIL library. At the National Rounds in January, 2012, we finished as Runner Up. Thereupon we had to participate in the World rounds for which our visas etc had to be prepared in a short time. But thankfully we passed all the hurdles smoothly.
If I may point out the biggest challenge, it was to face Mr. Rishab Sancheti as a Judge in the quarterfinal rounds. He was probably most prepared for the moot than any other participant.
When you faced the moot problem, what are the first three things you did?
The first thing to do would be to go through the problem at least three-four times. I would then chalk out the issues (if not already given) and then do a general research and jot down the possible arguments which can be used to support the contentions in each issue. The issues and works are generally divided amongst the team members, however I always feel that if time permits, each member should work a little on each issue because everyone has a different perspective of looking at legal issues and it might help the team with additional points on the already dealt issues.
Describe the entire process of memo writing for beginners.
The mode of research and drafting vary considerably from person to person. Personally, I do some research and if I find some content which is worth being incorporated in the memorandum, I write these down and then continue with the research. Once I am done with some good research and have enough data to begin, I  start giving shape to the memorandum. This is followed by re-phrasing and re-shaping of the content. Dividing contentions into
sub-contentions makes it easier to research and drafting and also helps the speakers to deal with issues in a better and clearer manner. But again, everyone can have a different approach.
The research should not end with the end of the drafting. One should keep reading, as for a moot, one should be ready for the worse. Some judges won't even let you finish a quarter of your contention and use rest of your time to just grill you with their questions. One thing we specifically did for Jessup was to keep handy, the answers for a lot of basic questions. To cite an example, compilation of definitions of legal principles and the cases where International Court of Justice had relied on or had observed them. This really helped. This can be done by the researchers of the team after memorandums have been submitted and while speakers are preparing for the oral rounds. I have always gone to moots with compilations of documents and case laws (Compendium). Some judges like them while some completely have an aversion to them.
It's very necessary to have a good team. Lack of understanding and co-ordination may bring in lots of issues. For Jessup, I am really grateful to the team members who were really very supportive.
What is the importance of mooting?
There can be two very different answers. Yes and No. Mooting is quite different from lawyering. One may often come across people saying that one gains nothing from mooting. However, I feel that the best research works that I have done in my college life were for drafting my memorandums. Mooting definitely sharpens one's research skills. So, I would say that mooting does contribute a lot. Mooting helps to build confidence and the skills of putting forth your arguments, being selective  and convincing others on those issues.
How did you balance mooting with other important stuff like college assignments?
Compromis/Moot Problem was out in mid-September and we had our University internal rounds in first week of November, a couple of days before our
end-semester were to begin. Internal rounds were a little challenging, but probably that compelled us to work harder which finally paid in the national rounds. One can manage mooting with studies. One can often use the moot research work for writing articles and getting them published (though I always planned so, I personally remained too lazy to do this). But there are times when deadlines clash, but then few days of less sleep can help. Our deadline for submission in Jessup was first week of January and I and my teammates were interning during entire December. We were running out of time and I was forced not to sleep for continuous 40 hours before personally handing over the memorandums at Amity University where moot was going to be hosted. But then as there are lots of things to do in a Law School, one needs to be selective.
According to you, what should law students expect from mooting as an activity?
As I said, mooting definitely helps to sharpen one's research skills. But it's not a case that without mooting one cannot get that. My college juniors often ask if the law firms where I had interned value moots or not. I personally feel and have seen that it depends on the person evaluating one's curriculum vitae. But if a person is planning for LL.M from abroad, moots especially the ones like Jessup, Oxford moots and Stetson carry a lot of weight. Moreover, one gets to visit universities across India and also abroad.
If I have never mooted in my life, but I want to – how should I get started?
Pick up any moot, preferably a national moot; make your team and just start and first year is not too early to do it. You may fail, but it's not something that doesn't happen to even the best of them. Research on your own and never put the blame on your teammates that they are not working.  Rather take it for granted that you are going to face this situation. Divide the issues amongst team members. Do not mind being a researcher initially or even later. But if you are confident that you can speak better than the rest, stand up for being a speaker.
What was it like to attend an international student event? You must have met many international law students. Any interesting stories to share?
In my personal opinion, international rounds of Jessup is probably one of the best things that can happen to a law student. The event takes place at Capitol Hilton which is at a walking distance from the White House. One gets to meet the best teams selected from over 600 teams from over 90 countries (as of 2013). The parties, especially the National-go-Ball, where teams come in their traditional dresses, are just awesome! Meeting people from across the world at the same place is very exciting. We also interviewed the winning teams of the World Rounds for Lexcetera. We are still in touch with the friends we made there.
Judging is very different there as compared to India. To cite one  example, they are generally not involved in just grilling you unlike few who just love doing so.
We also met one of our college senior, who was doing his LL.M at Harvard. He was invited as a Judge.
According to you what are the qualities that make a good lawyer?
As I am very new at the Bar, I probably would not be very suitable to answer this question. But however in my opinion, the most basic quality is to maintain a rationale and logical reasoning for everything you think and do. This helps not just a lawyer but also a lay man. Choose the best argument and give it your best.
What were your areas of interest during your graduation?
My Honours subjects in the University were Corporate Law and Intellectual Property Rights. Cyber Law was my favourite optional subject. As I was into web designing and also otherwise, I was always interested in computers, I  developed a liking for Information Technology. I took Corporate Law from the market need point of view and I took Intellectual Property Right as I liked the subject. Love for political science has also kept me close to Constitutional Law.
International Law led me to do International Moots. I have worked a lot on this subject and like it a lot.
What are "Lexcetera" and "1, Law Street"? How did you get the idea in the first place?
Things began with 'Lexcetera'. When I started to moot, there was no database of moots or even a calendar or a list which would tell me that which moots I should participate in and which suited my academic calendar. I and a friend of mine, Hansa Sinha (who was also my co-speaker at Jessup) decided to compile information in this regard. Later on 'Legally India' launched its 'Mooting Premier League' where I voluntarily worked for their wiki database – 'Legallypedia'. Subsequently in August 2011, I and Hansa, with help of three other juniors launched Lexcetera which had a sort of exhaustive repository of the details of the Indian Moots and of International Moots, where Indians teams are eligible to participate. We maintained it for two good years and are deeply grateful to law students for their response to the website. But after we entered our last phase of law school, priorities changed and it became quite difficult to save ample time for it.
How did Law School Tips start?
Facebook has been playing a very important part in lives of most of us. Law school was something which connected law students to the law school life at Facebook. The founding of page was very random. 'Lexcetera' had already started in 2010. A year and half later, I was watching the Republic Day Parade on TV when randomly it struck me that the whole essence of celebrating this day was that we got our Constitution on that day. So this day is technically a landmark day for lawyers. I do not know what led me to think more on this on very different angles but, one thing led to another. I needed something to vent it all out. So, I gathered few ideas and at the midnight of 31st January 2012, and I launched the page.
The posts were a series of things which happen in law school. From mooting to love and from teachers to end semesters, there were posts which students could relate themselves with. The Tips are less now and posts these days are not specific to law students but generally to those involved in law.
How did you go about finding good content for the page?
For 'Lexcetera', along with co-founder Hansa Sinha, we had four other college juniors to whom I shall always be grateful. Law School Tips, I manage on my own.
I feel finding content is sometimes very easy and at times very difficult. The page has got weekly reach as high as five lakhs to as low as six thousand. Sometimes I love things which interest even lay men a lot and sometimes doesn't even interest to lawyers. I try to be active on social medias and regularly keep a tab on other legal websites. I try to keep original ideas as being different it what attracts a larger crowd.
How did Lexcetera become so popular on Facebook?
After its launch at midnight of 31st January, 2012, with the help of night owls like me, page was followed by around 100 people by 7 AM. By night it had over thousand followers and within a week follower mark crossed 3000. Slowly it had crossed twenty thousand followers mark. I did not promote it through Facebook ads or kinds but thanks to the kind followers, when they like or share the contents, it shows up on their profile and the page gets promoted. I really had no idea that the page would get so popular and also, thank you for calling it 'popular'.
What are your future plans with 1, Law Street and Law School Tips?
As of now I have to earn my bread and butter, I get less time, but I plan to involve my college juniors and work again for this. As I have plans to re-launch 'Lexcetera' together with 'Law School Tips' as '1, Law Street'. I also plan to do something which lawyers are generally interested into. Let's see, how it happens. Fingers crossed!
'Law School Tips' has definitely not been very active as before, but I hope in future, it engages with legal people to get an even larger share of their love.
What are you currently doing? Why did you choose this career?
I am currently working with an Advocate-on-Record at Supreme Court, who has been kind enough to teach basic nuances of drafting and litigation. He even lets me argue some matters. I was about to work in Corporate Sector but, thankfully I chose litigation as my career path and I plan to continue in this field.
How important do you think is to have a mentor to guide you in the formative years of a practice at the SC?
It is very necessary to have a good mentor in the initial years of practice because the concepts of law studied at law school give you only an insight of the vast field of law and then again the actual practice of courts is quite a different world in itself. While being in litigation, other than learning the nuances of law, one also needs to know and understand the process of filing and essentials of drafting. Several times at an appellate level, we come across cases where due to minor mistakes made in the fillings at lower level, a case may be lost even though it may be strong on merits. Therefore to have a good mentor who teaches the details and intricacies of the entire process is very necessary.
How is it like to start one's litigation practice at Supreme Court?
Being in law school, it appears very fancy to hear about working at Supreme Court though practically speaking it is not the case. Many people do not recommend starting up the practice directly at Supreme Court. I would always recommend a person joining litigation to start at a place where he or she can get to work at a variety of forums. Narrowing one's work at Supreme Court, one shall miss learning the process of drafting and filing process at lowers courts which shall cause a little trouble when one tries to get independent. Starting practice directly at Supreme Court is not wrong but knowledge of the litigation process at lower forums is very necessary.
How difficult would you say it is to set up a practice at the apex court?
Normally when a lawyer start getting independent, he may not choose to fix the forum where he may decide to continue the law practice. After five to six years of getting a law degree, one becomes eligible for appearing in an Advocate-on-Record examination. Being an AoR is necessary for filing a vakalatnama on behalf of a client but this does not mean that a non-AoR one cannot argue a matter before the Supreme Court. An AoR may do the filing but any other person who is legally authorised by him can argue it. On this note, this judgment is worth referring to Re Rameshwar Prasad Goyal AoR.
It is a dream of every litigating lawyer to start his own practice. However it is difficult to give a straight answer to the question asked as it may depend on various factors, a family background in law, years of practice in law, forum of practice being few of them. Chambers and firms where one has worked and the level of contacts one has built also matter because building contacts are helpful in bringing clients to you. There are firms which put a restriction on their lawyers to entertain individual clients. Hence, more the time is spent at such firms, the more time it would take for that person to establish his own practice. Even if one has good experience and has good knowledge and understanding of law, yet it would not be possible for him to start his own practice if he is not able to draw clients to himself.
Setting up one's own practice is of course difficult, and it takes time and efforts, but there is no other option. I am perhaps a too junior member of bar to answer this.
Where do you see yourself five years down the line?
I would be very happy if I myself had an answer to this question. Till last year, I had no plans of joining litigation but now that I am into it, I do not plan to leave it. A foreign LL.M. has always been on my bucket list but now that I am into litigation, I am having second thoughts about it, though I am still not crossing it off from there. To be frank I am not certain of the answer though a possible happy situation five years down the line would be that either I have already started my own practice or perhaps be close to it.
What message would you like to share with our readers?
For the law students, I will say that law school life is often a roller-coaster but stay focussed and work hard. Try not to miss any part of the law school life. Friends you make there, generally remain with you throughout your profession and hence life. Most of the law schools in India have some or the other short-comings but a lot can be managed without depending on them for that. But definitely do not MISS the fun part of law school!
And as I am involved in litigation, I would say that if you are interested in litigation but do not plan to practice just for the fear of initial hiccups, please do not let the money and family factor let you decide what you have to do for rest of your life. There are initial money issues but slowly you can fair better than others.
Keep communicating with others as this profession is all about that.