Neeraj Arora started working in the Delhi police as a sub-inspector in order to support his family, while studying B.Com. Thereafter he did his LL.B from Delhi University.
After graduating and continuing work in the police force, he developed an interest in cyber crimes and law and took up a variety of certificate courses and diplomas in India and abroad to further his knowledge in the area. Eventually, he started up his own law firm, Hazen Legal Associates which specialises mainly in cyber law and offences.
Presently, he is a designated Expert Investigator and he has investigated a large number of cases relating to E-mail related crimes, Web-Server/System/Wireless Network Hacking, BPO Data theft, Online Auctions Website Frauds, Obscenity, E-mails/SMS Spoofing, Phishing Frauds etc. for the Delhi Police. He serves as a guest faculty member and a guest lecturer of ISACA, NICFS, Indian Law Institute, Directorate of Enforcement, Indian Institute of Corporate Affairs and many other prominent institutions. He is also an Arbitrator for NSE, ICADR and MCX in online trading matters.
In this interview we asked Neeraj to share:
His initial decisive moments during graduation
Being a part of the Delhi police and his work in the Cyber Crimes Cell
Doing a number of extra diplomas and certificate courses in Cyber Law and Digital Forensics
Being a Consultant for the World Bank
Being appointed as an Arbitrator of the National Stock Exchange
His experience of starting up his own law firm, Hazen Legal Associates
Please introduce yourself to our readers and tell us a bit about your college life days. Did you have lawyers in your family?
After doing my 12th, I started working and took my first job as an Accounts Assistant because my family circumstances required me to earn for my family. I joined B.Com (H) at the School of Correspondence Studies, Delhi University, while continuing my job. I also took up part-time writing work, filing of Income Tax/Sales Tax returns and tuitions to support my family. I am a first generation lawyer in my family.
You are a Commerce (B.Com) Graduate and a Cost Accountant by qualification. What prompted you to make the transition to law?
After completing B.Com, I joined ICWA as I intended to join the accountancy profession. Meanwhile, due to my financial troubles, [sociallocker]I joined the Delhi police as a Sub-Inspector. I also continued with ICWA and completed my final in 1996.
You have pursued PG Diplomas in Arbitration and Drafting long after graduating in LL.B. What prompted you to take up these diplomas?
I did my LL.B. from Delhi University in 2001 and pursued a PG Diploma in Arbitration & PG Diploma Drafting of Legislation, Treaties, International Agreement & Contracts from 2008 to 2010. I pursued the extra diplomas because the topic fascinated me as it upgrades existing skills and enables one to reach new heights in life as well as the legal profession. After resigning from the Delhi police in 2008, I decided to explore my career in Arbitration which is an upcoming and rewarding career. In 2008, I was appointed as an Arbitrator with the MCX Exchange and to augment my skill in the field of International Arbitration, I joined and completed these two part-time courses, PG Diploma in Arbitration, Drafting of Legislation, Treaties, International Agreement & Contracts.
You have been practicing cyber law for almost eight years now. How did you become interested in cyber law?
In 2005, I was transferred to the Cyber Crime Cell of Economic Offences Wing (EOW) of Delhi police and at the time I didn't have much knowledge of computers. I treated the posting as a punishment, but took it up as a challenge as I foresaw huge potential in the area. I did a number of trainings on cyber offences from various police academies: CBI, CDTS and also did a Certificate Course in Computer Forensic from IP University, Cyber Crime Investigator Course from Asian School of Cyber Law, PG Diploma in Cyber Law from Indian Law Institute (ILI), Delhi, PG Diploma in Cyber Security from Asian School of Cyber Law and MBA (Information Technology) from Manipal University. Consequently, that is also how I became one of the prominent Investigators of the Cyber Crime Cell of the Delhi police.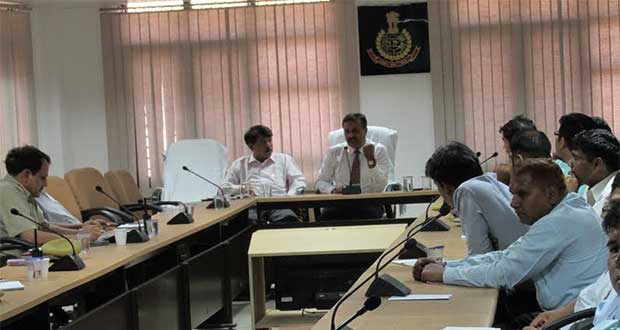 You are associated with Delhi Police as a Cyber Lawyer & an Expert Cyber Crime Investigator. Please share few interesting experiences of your investigation with our readers and tell us more about these issues.
On being equipped with knowledge on Information Technology, I got opportunities to investigate a large number of cases relating to E-mail related crimes, Web-Server/System/Wireless Network Hacking, BPO Data theft, Online Auctions Website Frauds, Obscenity, E-mails/SMS Spoofing, Phishing Frauds etc.
In all the cases, I prepared the mirror images on the spot, collected relevant digital evidence, arrested a number of hackers, filed the charge-sheets in the court, etc. The investigation of cyber offences was quite challenging as there were no precedents, standard operating procedure and no one to guide us. I have collected the requisite information from the internet, various books and journals on digital forensics and by 2008, I was awarded the status of an expert cyber crime Investigator.
You are a Certified Forensic Computer Expert and an empanelled member of IACIS for more than two years now. What is your job as an expert at IACIS? What kind of issues do you deal with?
The IACIS (International Association of Computer Investigative Specialists) is the top most organization in the world which specializes in the field of computer forensics. The Certification, "Certified Forensic Computer Examiner" (CFCE) is one of the top most certification which is also recognized by the Forensic Specialities Board of U.S.
In order to augment my skill and also to gain an in-depth knowledge, I joined the Certification and attended two weeks Hands on Training in Orlando, U.S. and after that I worked hard for another year and passed the six exams which involves analysis of mirror images to find out the Window, Internet and other Artifacts of the Crime.
The Course was a big challenge as this is the only Certification which requires extracting the evidence without using Forensic Software. The only Software which can be used is Hex Editor and for doing one need to have good knowledge of FAT File System, NTFS etc. as the Data/Artifacts has to be extracted manually by finding the location of data from FAT/MFT Table.
You have vast experience as an Investigating Officer of CBI, Cyber Crime cell and Economic Offences Wing of Delhi Police and you are also associated with Justice K. Venkataswami Commissioner of Enquiry (Tehelka) for more than a decade. Please share your experience.
I joined the CBI as Inspector on Deputation and got the opportunity to investigate the huge and technically complex cases of Economic Offences going into hundreds of crores of rupees. My skill and knowledge in the field of Finance, being a Cost Accountant, enable me to investigate these cases and to book the fraudsters. As an Investigating Officer with Justice K. Venkataswami Commissioner of Enquiry (Tehelka), I got the opportunity to investigate the huge scam and I received an award for outstanding investigation in the said assignment.
You have trained many professionals at Police Organisations, Indian Law Institute, CBI and also at IACIS. Please tell us about your training programme.
The arena of cyber forensics comprises of three domains namely Computer Forensic, Network Forensic & Mobile Forensic. These domains are inter-connected and integrated in such a manner that the knowledge of three domains is required to handle the Digital Evidence. I have been continuously sharing my knowledge of these domains by way of training. The training I provide is an integration of Bit & Byte, Debit & Credit with investigation and procedural and substantive laws.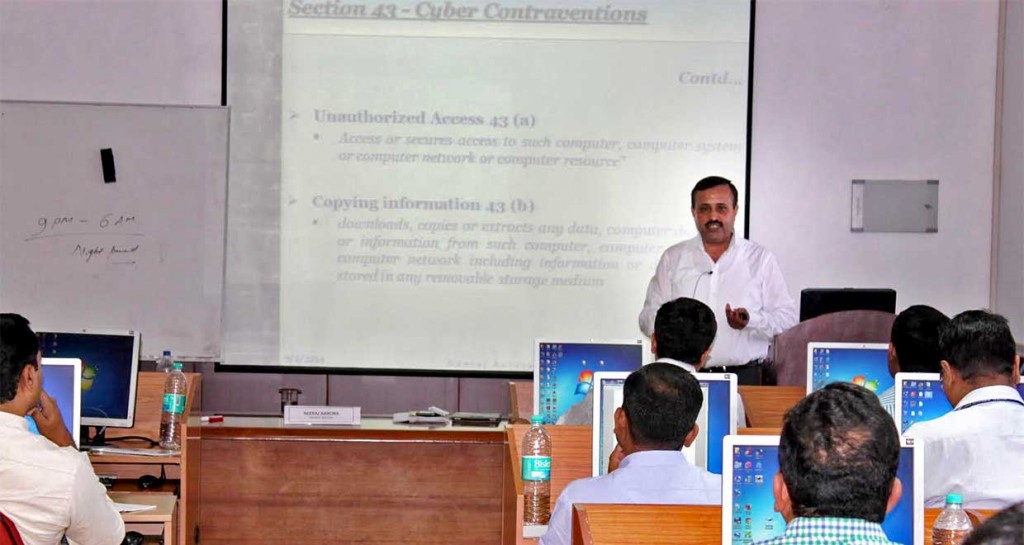 You have also delivered a couple of lectures on cyber law. How do you prepare yourself before any presentation or delivering any lecture? Please give some tips to our readers.
My competence in integrating computer forensics with digital evidence, e-commerce, procedural/substantive laws gives me a unique edge in delivering training in the field of Cyber Crime/Cyber Law/Computer Forensic/Financial Forensic when it is connected to the ground realities of investigation, analysis and presentation in a court of law. I am able to provide a solution to the various gaps in the investigation, collection, analysis, presentation & cross-examination on the digital evidence and integrate it with the applicable principles of digital investigation, digital evidence, cyber laws and other procedural/substantive law.
From your profile it can be seen that you have strong exposure, knowledge and specialization in Arbitration law. How did you gravitate towards this discipline?
Arbitration is one of the upcoming fields which require skills of legal procedure, proceedings, appreciation of evidence and discovery. The academic domain, knowledge and experience plays a major role in acquiring these skills and since the entire world is moving to ADR for dispute resolution, this is the most growing field with opportunities increasing exponentially.
As an Arbitrator and Mediator for NSE, ICADR and MCX what kind of disputes do you deal with? What is the normal time period of disposal of an arbitral proceeding?
As an Arbitrator on various exchanges, I am adjudicating the disputes relating to the Online Share/Commodity Transactions between the Members of Exchanges (Brokers) and their clients.
As a member of IGRC on various exchanges, I conduct conciliatory proceedings to resolve disputes relating to the online share/commodity transactions between the Members of Exchanges (Brokers) and their clients. This mechanism provides an opportunity to the litigant to resolve their dispute with the help of Conciliator/Mediator.
The normal time period of disposal of such dispute is 3-6 months. The disputes are resolved by conducting the proceedings as per the bye-laws and exchanges and the procedure prescribed in Arbitration & Conciliation Act, 1996.
You were also appointed as a Consultant of World Bank for four years. How did you get associated with the World Bank?
I was appointed as a Consultant to the World Bank for analysing the contractual issues relating to the projects of World Bank.
You have started your own firm – Hazen Legal Associates. What were the primary challenges you faced?
I have started my own firm as the various skills in the field of law, finance & cyber offences gave me an edge. I got a lot of work in the field of criminal laws, cyber offences and consultancy relating to cyber offences. The only challenge was to bring together so many technical and legal aspects, which I did with the help of my colleagues and associates.
What are the practice areas at Hazen Legal Associates? Do your firm emphasize more on cyber law than other areas of law?
The main practice area is confined to criminal trials in the field of economic, cyber & anti-corruption cases. Due to heavy demand in the field of cyber law, we are now specializing in consultancy and compliance with cyber law as required by ISO 27001, storage/maintenance of digital evidence, handling cases relating to cyber crimes, cross- examination on digital evidence, handling of cyber security, etc.
What is the application procedure for interns at HLA? What do you look for in a prospective applicant?
We keep 3-4 interns at all times. The application procedure requires the applicant to send the detailed profile at on cyber.nk@gmail.com, we shall then follow it up by an interview. The skills required are knowledge of computer and research in the legal field. The networking and programming knowledge adds to the priority for the applicant.
In spite of having so many involvements in various organizations apart from managing your own law firm, is it easy to have a work-life balance?
It's always a challenge but with the support of good colleagues and associates, one can maintain a work life balance.
How should one go about starting his/her own cyber law practice in India? Please name a few institutes to study cyber law in India. How important are procedural laws in this discipline?
A good knowledge of computers is a must. A Diploma in Computer Networking is required to understand the Cyber Offences and any further qualification in the field of Computer, Network or Mobile would add to the success of individual in this arena. There are various Institutes which provide courses like Indian Law Institute, NALSAR, IGNOU etc.
Procedural laws have a very important aspect in Cyber Law, one should have knowledge of Criminal Procedure Code/Civil Procedure Code/Evidence Act. Without a good knowledge of these procedural laws, success in the field of cyber law cannot be achieved because the implementation would be only through these procedural laws.
The other important aspect is that the Cyber Law caters to only 20% of the Cyber crimes whereas 80% of all Cyber crimes get covered under the IPC and other Laws.
What would be your advice for aspiring cyber lawyers?
The aspiring cyber lawyer should develop their skill in the field of procedural laws and Internet Technology at the same time. Later, these practitioners may not get the time/opportunity to develop skills and therefore, I recommend that aspiring legal practitioners should acquire maximum technical skills parallel with their L.L.B which would give them an edge later on.
In the Europe, U.S., etc. most of the cyber lawyers have a background in technology like B.Tech etc. Now, integrated Course of B.Tech + L.L.B. (5 Years) have been introduced in various Universities/Colleges and pursing these courses would ensure the success in the field of cyber law. It can be said that candidates with such qualifications will dominate the cyber world in the near future.[/sociallocker]