Aditya Chopra is a graduate from Institute of Law, Nirma University (Batch of 2012). He has a noteworthy academic, mooting and debating record. His diligence and mettle at work was recognized when he received a job offer from Sahara India, Mumbai in last year of law school. He currently works as an in-house counsel there.
In this interview he talks about:
Academics, internships, debates and moots
His journey from an intern to getting job offer from Sahara India
Work as in-house counsel at Sahara India
How would you like to introduce yourself to our readers?
Hello, my friends!
They say a lawyer needs to be a jack of all trades. I believe in it but with slight improvement. In this competitive world, where law profession is no more a family business, a budding lawyer needs to be a jack of all trades – at least in the initial five – ten years, one needs to have a multiplicity of experience to become a master of one. Post my graduation from Nirma University, I started my career with ASA Legal and thereafter, I worked with Advocate Ravi Prakash (Partner, DSK Legal, Delhi). I am currently working as the Legal Consultant to Mr. Seemanto Roy, promoter of the esteemed Sahara India Pariwar. I do not believe in a stereotypical way of 'lawyering'. I look at a problem from a multi-dimensional angle and like to explore and test all the possibilities and alternatives for my client.
Did you have lawyers in your family? Does a legal background help in the long run? Did any of your family members motivate you to pursue a legal career? Why did you decide to study law?
I am the first one to break the ice in the lineage. With zero motivation from anyone in my family, it was my sole decision to go ahead in this line. Although my father did law but later on he decided to join a public sector bank. But I never ever felt hesitant or under-confident about it, as lawyering is all about confidence whether you are appearing in the Court or dealing with the clients during transactions.
Certainly, a legal background helps. I do not deny it, be it for securing an internship to sometimes getting a job or later on for hooking the clients. But again, the merits of a lawyer or his approach towards a matter or the ability to deliver to the client – these traits always remain individual-specific and cannot be attained through heritage. So, there could be advantages to certain degrees (may be 10-20%), but in the end, in the longer run, everyone's fate in the profession would be tested on his/her capacity to retain the knowledge (memory), maintain the immense pressure (patience) and the readiness to work (determination).
Though I never dreamt of becoming a lawyer from childhood, but while growing up, I always used to testify everything on the touchstone of rationality and logical sense. And that's how when I got to know that there is an extensive five-year integrated course to offer by law schools over the traditional 3 years post-graduation (this realisation was only 10 days before the last date of filling out the forms of the colleges, some even got missed), I grabbed the opportunity.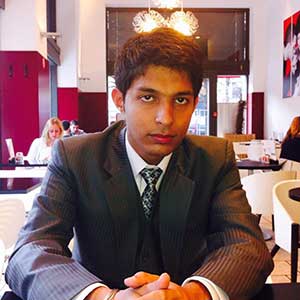 Tell us about your time at Nirma University. What all activities did you participate in?
Spending five years in law school just after coming out from high school obviously shapes one's identity and has indeed influenced my personality as well. It was like a leap of faith for me to join Nirma and it prepared me not only for the multi-faceted profession of law but also gave me one the most enjoyable and memorable years of my life.
Everything at Nirma was a challenge in itself, as we were the pilot batch and therefore, we were always the subjects of the experiments conducted by the Institute on a trial and error basis. Life at Nirma was all about discipline with the most stringent rules of attendance. We were regularly assessed like any other good law school, not only on the basis of mid-sems and end-semester examinations, but in between, we also used to be bombarded with projects, term assignments, quizzes, research papers and moot courts etc. with strictest deadlines. This not only sharpened my research skills, but I also got trained to find right information at the right place in the limited time and helped enhancing my multi-tasking skills.
I always liked to play a participatory role in all the activities taking place at the college by organizing moot competitions or conferences or lectures etc. I was lucky to represent my University in moot court competitions on national and international levels like 8th Surana and Surana International Law Moot Court Competition, 6th Leiden Air Law International Moot Court Competition and Willem C. Viz International Commercial Arbitration, Vienna etc apart from participating in various debate competitions.
How has been your experience serving different committees while at Law School?
I used to be really active in all the activities taking place at the Institute by being the part of the different committees in all the semesters like Moot Court Committee, Debating Committee, Organizing Committee, Cultural Committee etc.
That's the advantage of being part of the very first batch of the Institute, though we lacked experience in terms of strong alumni, but we hardly cared. We never had to follow any settled irrational norms of the college. We were constantly exploring, always on our toes, growing as an Institute. From collecting funds to managing huge sponsorships from the market for organizing a moot court competition to orienting juniors with mooting skills – to organize cultural events, I took interest in all. And I give a huge credit to our Director Mrs. Purvi Pokhariyal and her team to push us to every corner possible. They all mentored and supported us well during our initial times and then gave us the freedom to question and be the part of the norms set by the college.
I think it's really significant to work or be a part of at least some of the student committees, as it really teaches how to work in a team with the people coming from different backgrounds with different thought-processes to reach an amicable solution and if not much, it really teaches you to be tolerant to the people you may not like otherwise.
How do you recall your internships? Did you learn many skills while interning?
It was part of our course curriculum to intern after every semester for a month. My internship experience includes working with AMSS, AZB, Trilegal and Phoenix Legal, law clerkship with the erstwhile Supreme Court Judge – Hon'ble Mr. Justice Surinder Singh Nijjar. Since ours was the first batch, it was really difficult to secure internships as the big law firms would not recognise us due to lack of our alumni. Therefore, initially I had secured internships only through personal references and gradually I understood the pattern of the firms to accept applications for internships. One should prepare a strategy for early and well drafted applications to the appropriate firms and at the same needs to be really patient enough to accept a rejection from almost any kind of firm – big or small.
These internships were extremely instrumental in shaping my legal career when I look back now. It provides an opportunity for students to get practical exposure of work, the application of different laws which are freshly taught in the law schools. Plus the best part is you get to interact with interns from different law schools which help in growing your network in the longer run.
You have participated in various moot court competitions. How do you look at this exercise?
This is one of the most delightful experiences which Nirma gifted me through mooting – I was lucky enough to travel across the country and overseas to taste its fruits.
As, I mentioned earlier also, Nirma was extremely strict in terms of attendance. We could never bunk. I swear, I can count on my fingers the times, I got lucky.  There was literally no way anyone could excuse the classes – except mooting and debating. And when I realised this, I was game for it.
From the very first year, we were given the opportunity to represent our Institute on the national level, but that opportunity was provided only after tough screening at the college level through an intra-college mooting panel or debating panel. Either being the member of the first team to represent the College at the 7th NLSIU Parliamentary Debate in my first year and a part of the first team to go international and participate in the Willem C. Viz International Commercial Arbitration at Vienna, Austria in my final year, it was a constant ride of learning. Due to lack of seniors' guidance, especially in the first two years, sometimes we got confronted of our short-comings only at the venue of the competition. But I never got disappointed by that, instead learnt from the best teams, went back to college, polished myself and managed bringing laurels to the college.
I think it is always good to participate in Moot Courts. Moot Courts are the closest experience that you can get to – appearing in a court involving a hypothetical case involving a moot question of law – you read books on different subjects, research, frame arguments, prepare memorials and appear before a hypothetical Court (where judges are always keen to take your case and officially rag you). It helps you at the student level itself to learn to identify the questions of law from the questions of fact, it hones up your research skills and finally organizing a legal argument issue by issue in the time bound manner. Mooting brings out the best in you to put across an argument, justify it with an intensive research with the combination of court-mannerism and court crafting.
I would not say that it has helped me getting a job instantly. But mooting is in itself a cherishing experience and it certainly adds to one's resume as a prospective employer would always go for a well-rounded person over a simple aggregation of the marks scored in all the semesters.
You are currently working at Sahara India. How did you go about getting recruited there? Please tell us about the recruitment process at Sahara India.
My recruitment at Sahara was an example of Talent poaching. My last office was working with Sahara's team in a particular litigation, where I got the opportunity to interact and work personally with one of the promoters of the company. Unlike the usual selection of Sahara which starts from sourcing and interview, I was just offered the joining letter with the specified date and I embraced it. I feel privileged for the same.
How important according to you is CGPA in building a career in the legal industry?
CGPA cannot be the final determination to one's legal education. But, when a law student applies for a job, the first thing would be the curriculum vitae (CV) and the attention of the interviewer would obviously go to the CGPA first. Undoubtedly, the first impression is created by your academic achievements which rightly includes CGPA, though I agree, cannot be the ultimate indicator as I never found myself convinced to run in the chase of 9 and 10 pointers.
I would recommend a more balanced approach to the law school life, inclusive of all the flavours and opportunities a law school can offer. It's worthwhile to focus on extra-curricular activities like mooting, debating, writing articles etc. – it all acts as building blocks in the formative years of the profession.
Many people believe that working as an in-house counsel affords more work-life balance and is less demanding. Would you agree?
Most of the large companies, rather than outsourcing all its legal work to law firms, have lawyers on its board to represent the company's legal interest who are known as "in-house" counsels.
There is a popular belief that working with companies is less demanding. I think it all depends more on the company's legal approach. As per my experience, working with a company calls for a greater responsibility and work-life balance does not happen so easily. Unlike with the law firms, the approach towards a given task is taken with far greater concern rather than just being 'another clients' work'. Any advice tendered should be well founded within the contours of law while keeping in mind the welfare of the company as well.
If you could re-live your 5 years in Law school, is there something you would do differently?
I have done it all and had good fun and no regrets.
Lastly, what would be your parting message for our readers?
There isn't a sure shot way to success in the legal profession. Everyone has his/her own unique story of success. Believe in yourself – something will surely come to you. No point in comparison and ultimately losing your heart. All you need is patience and hard work.