Neha Chaubey graduated from Nagpur University in 2012. She has been admitted to practice law in India and New York.  She has over six years of experience in corporate law, personal injury law, deductible recovery for AIG, and document review. She has experience in both transactional and litigation aspect of law.  She has conducted numerous depositions, and attended conferences for personal injury cases in various courts in New York.  She has worked as an Associate Attorney in law firms in India and United States. She is currently pursing opportunities in Compliance.
In this interview we speak to her about:
Practising in India and New York
Pursuing an LL.M
Her diverse experience
Give us a brief overview of your life in law school in India.
I completed my LL.B., a five years integrated course, from Nagpur University in 2008.  I paid excessive importance to academics and was the first merit in the Nagpur University. I was awarded highest number of gold medals in my class, for proficiency in various subjects.
Late Prof. Mahabal, of the Nagpur University, had a very big impact on me in my LL.B. I religiously participated in his group discussions on various diverse topics every weekend.  I participated in numerous paper presentations, debates, turn-coat competitions, Model Parliaments, and moot-court competitions in my LL.B.    
According to me, participation in each and every activity offered by the law school should be given utmost importance.  These activities prepare students for life after law school.  
Is an L.L.M absolutely necessary for a career in law?
LL.M is not mandatory for having a successful legal career.  LL.B. should definitely be sufficient. However, if a person wants to pursue law in the United States, the first option is to pursue JD, which is equivalent to LL.B. and the second option is to pursue LL.M.  Both the options have their advantages and disadvantages.  
When a person completes J.D. from Unites States, it opens far more avenues for one's career as opposed to LL.M. However, J.D. takes longer to complete than LL.M. and is much more expensive.
When I was in the final year of my law school I started thinking about the next step.  I narrowed down my options to three categories, namely- to appear for CAT in order to pursue MBA; to prepare for TOEFL in order to pursue LL.M abroad;  or to prepare for JMFC (Junior Magistrate First Class).  As my elder sister has studied abroad for her M.S. in Chemical Engineering, I decided to follow her footsteps and pursue LL.M.  I chose Widener University, located in Delaware, U.S., to pursue my LL.M. in Corporate Law and Finance because Delaware is the most corporate friendly state in the United States.  A very high majority of companies, irrespective of their location, are incorporated in Delaware, because of its corporate friendly nature.
During my LL.M. studies I had to complete a total of 24 credits. These 24 credits could be completed by taking some core courses (mandatory courses) and some electives (optional courses).  Each subject comprises a number of credits.  When a subject is extremely pivotal, it comprises of more credits, like Business Organization has four credits, whereas a relatively easy subject like Colloquim comprises only two credits.  These 24 credits can be completed in one year.  However, I chose to complete them in two years in order to get some extra time to pursue some internships before graduation.  I completed good amount of credits in my first year so that I had very few credits remaining in my second year.  This helped me to focus on finding internships.  In the second year, I decided to do judicial externship with a District Court Judge for which I received three credits.  I thought that receiving credits for a judicial externship would be better than taking an elective course because it would give me some invaluable first hand experience in the workings of a court.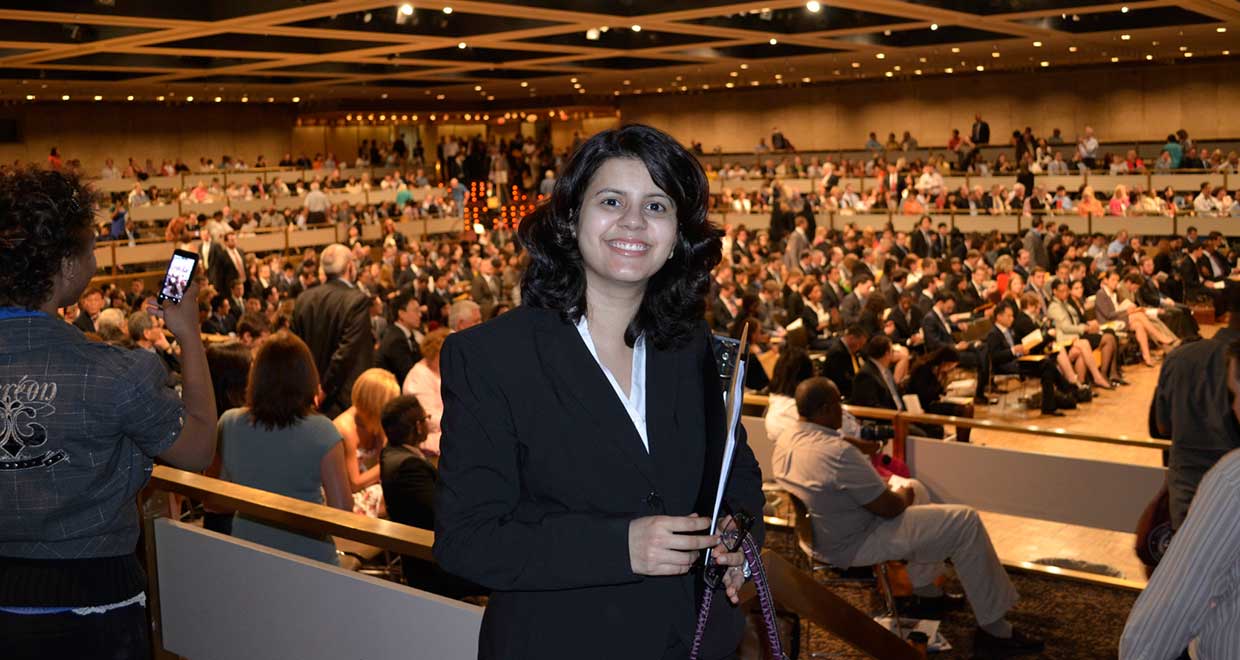 What kind of internships did you engage in during your student years which you feel were invaluable to your experience as an attorney?
Being the first person to pursue law from my family, I did things by trial and error method.  I did not pursue any internship during my LL.B. If I could go back in time, I would definitely pay attention to securing internships early in my career.  I understood the importance of internships by the time I started my LL.M.  I interned at the Department of Justice and did Judicial Externship with a District Court Judge in Delaware.  I also interned with an Honorable Judge from Superior Court in Delaware.
Which is the ideal time to do an L.L.M; right after undergraduate studies, or after a few years of practice post undergraduate studies?
There are advantages and disadvantages of pursuing Masters right after LL.B and after acquiring some legal experience.  I did LL.M. right after LL.B.  This helped me in completing my studies in one stretch and I was done with my studies at a specific age.  Thereafter, I could focus my energy on other aspects of my life.  However, if given a chance, I would gain some experience before pursuing LL.M.  The main advantages of this second approach is that many law schools prefer students with some legal experience.  Moreover, good legal experience can come in handy when a student has less than perfect GPA.  Also, a person can decide their specialization for pursuing LL.M with more certainty after acquiring some years of legal experience.  
How important are grades, in your opinion? 
Grades are very important not only for securing admission in Masters but also in job search.  Many job descriptions specifically mention that students above a specific GPA would only be considered.  Moreover, some jobs require students to submit their resume, writing sample and law school transcript in order to apply for the job.  Therefore, it is important to pay attention to GPA from first year onward.  
What is your message to our readers?
I have been a law student and I can totally relate to the confusion and endless career related questions students may have.  When I was on the cross-roads and was contemplating whether I should pursue LL.M or not, I met a handful of seniors who had pursued masters from abroad.  Students can feel free to contact me on Linkedin for career related questions and I will try to answer them to the best of my ability.