Nidhishree Venugopal graduated from the University Law College, Bengaluru in the year 2005 and has been practicing as an Advocate before the Trial Courts, High Court of Karnataka and various other forums within and outside the State, ever since. She is a gold medalist and rank holder of the batch of 2005 across Bangalore University. Additionally, she has a post graduate diploma in Intellectual Property laws from the National Law School of India University, Bengaluru and a post graduate diploma in Media Laws from the National Academy of Legal Studies and Research, Hyderabad.
She has an independent law practice that focuses mainly on civil, constitutional and commercial cases. These include matters relating to constitutional law, civil law, company law, arbitration, intellectual property, contracts & tenders, employment law, succession, etc. She is on the panel of the Karnataka State Legal Services Authority, High Court of Karnataka and a visiting faculty at COMMITS Institute of Journalism & Mass Communication teaching post graduate students Constitution and Media Law.
In this interview she talks to us about: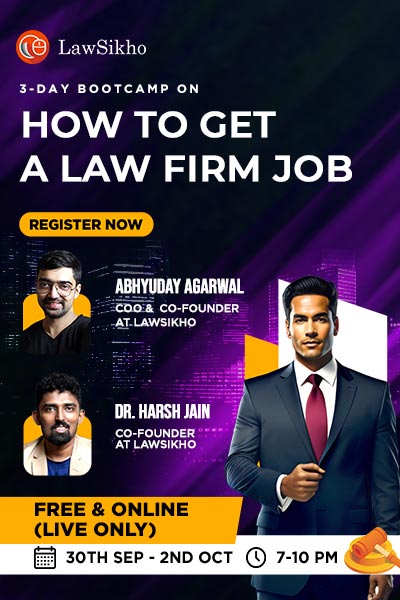 What should a law student do to shape up his profile for litigation?
Necessity of a mentor or guide to handhold a young lawyer.
Her experience when she appeared in the court for the first time.
Difficulties faced in the early days of practice.
What prompted you to think of law as a career?
As I finished school, I gravitated towards writing and journalism. I contributed regularly to the youth pages of the Indian Express and the Times of India. I was a reporter for a couple of years at a local fortnightly magazine called 'Nagar Life'. I applied and got accepted to the Communicative English graduate program in Mount Carmel College. Just a three year 'B.A.' did not seem like a strong enough degree to hold its own and I settled on law as a 'safe' option, with a 5 year 'B.A.L., LL.B', which sounded more robust to me, at that time. I also thought I could do a masters in journalism and switch streams, at a later point, if need be. So, law happened as a safety measure!
How were your years in college? Did your study prepare you in any way for real life practice in courts?
My batch was the last batch of ULC that had its campus in the heart of Gandhinagar, Bengaluru. Attendance was not too stringent and I made the most of it. I worked part-time with my drama teacher from school, going to various schools in the city, teaching them drama techniques. I was part of a student organization AIESEC, which is an international student exchange programme run exclusively by students. I mooted right from the first year to my final year. I did only two internships in college and both lasted a year. I interned with Poovayya & Co. in my fourth year and with Mr. Aditya Sondhi, Advocate (as he was then), in my final year. These internships were quasi-jobs, travelling beyond research and Court visits. I guess, it helped that I stayed on beyond a month (as is the regular tenure of an internship), making it easier for both to entrust me with more than piece-meal work.
The syllabus that one studies does not exactly prepare one for practice in Courts. This was the case then, I suspect it is the case even now. We had practical subjects such as client counseling, moot court and court visit in our fourth and final year, which was not sufficient exposure, in my opinion. But then, Court is a different beast. No amount of theory/ academic inputs can prepare one for actual practice. Every day is different.
How did you decide to pursue litigation? Were you considering any other opportunities?
In college, I briefly thought of getting into corporate law. Both my internships were litigation internships. A month before my final year exams, I decided to stop interning, to study. On the last day of my internship, I asked Mr. Sondhi if he would consider offering me a position in his chambers. He said yes, my decision to litigate was made. Whether this decision was something I would stick by, was not clear to me, at that point.
I told myself that I would give litigation a year and move to the corporate side if it did not agree with me. The first two years of litigation were overwhelming and exhausting. The long hours and the pressures of Court took a while to adapt to. It was not easy drawing a modest salary, when one's corporate peers were earning 5 times that. The fact that your actions could determine the outcome of cases was also daunting.
As I settled into the rhythm of litigation, practice was fun. The work varied from day to day and the excitement was unfailing. I enjoyed interacting with clients, meeting people from different strata of society and the thrill of appearing in Courts. My favourite analogy for litigation is a medical doctor's practice- a patient comes to you with a problem, you diagnose the illness, you treat the illness, you cannot always guarantee that the same treatment would work for all patients- it works for some and it doesn't for others, and you accordingly alter the course of treatment- the goal is to treat your patient successfully, within accepted professional parameters.
It has been a little over 11 years and litigation still holds my interest.
What should a law student do in your opinion to shape up his profile for litigation?
Choose litigation internships. Moot. Read extensively. Having said that, I know of good practicing Counsel who have not interned or mooted during their student days but who are stellar at their work now. It is like learning to swim, the baby pool / floaters will only get you so far. You can only swim when you are in the deep end. Litigation internships may tailor your aptitude for the real thing.
How important do you think mooting and academic writing are for a law student aspiring to become an advocate?
Mooting may give a student a glimpse into Court, in that it involves preparing memorials, formulating points of law, formulating arguments and finally 'presenting' this before 'judges'. Academic writing may equip the student with research and analysis skills, in examining a point of law thoroughly.
However, in Courts it is very rare that the Advocate gets an uninterrupted period of time to present her case and questions posed by the Bench may not be part of one's brief and are not in sequence. Also, unlike in a moot, in practice, the interest of your client will weigh heavily on your strategy and approach. Further, pleadings in a case are to be concise and to the point, with verbosity being its death knell. It is important to recognize the difference in actual practice. As an aside, if your peers and seniors at the Bar and Bench label your submissions as 'Moot-court' style of submissions, it would be a left-handed compliment, which you would quickly want to lose!
Many students aspire to practice at the Supreme Court and High Courts. Should a student first practice at the trial court to learn the nuances, or is it fine to start at a High Court itself?
I earned my stripes in the Trial Courts, right from drafting of pleadings to the conduct of full-fledged trials to final arguments. This has helped me tremendously now in my own practice. No matter where one starts her practice, it would be extremely useful to know how original trial jurisdiction works.
How necessary is it to have a mentor or guide to handhold a young lawyer while still in the formative years of the profession? Did you have one?
Since I joined Mr. Sondhi's chambers when he had just started out independently, I had the accidental opportunity of being involved in building a practice, file by file. A lot of my values and beliefs have been shaped in the time I worked with him and he continues to be my mentor and friend, to this day. The profession is fulfilling and honourable, but at times, can prove to be treacherous. So it is important to have the right moral compass instilled to navigate it. There have also been several senior members of the Bar and colleagues who have in some way or the other helped me in my initial years and continue to guide me. You will find mentors and friends in the unlikeliest of unlikely places. I have found that members of the Bar are ready to help, if you approach them. One just has to break the ice.
Describe your experience when you appeared in the court for the first time?
I was given a service matter in the High Court, where all I had to submit was that my client was a formal party and no relief could be granted against my client. The case was called out. I entered appearance for my client. The Counsel for the Petitioner argued. The Counsel for the contesting Respondent argued. The Judge proceeded to allow the petition, granting reliefs against my client as well. I remained standing, and mute. Much to my horror, a month later, the Petitioner filed a contempt petition against both my client and the contesting Respondent and I had to face the ignominy of cowering behind my Senior, while he extricated the client from the pickle I had put it in.
What were the difficulties you faced in the early days of your practice?
Practice is challenging. Independent practice, moreso. An independent practitioner is a Counsel, an entrepreneur, an office manager, an HR executive, an accountant all rolled into one. I don't think these challenges go away. With time, you just learn to adapt to these challenges, better and better. On my first day of independent practice, the Judge asked me to bring my 'senior' for arguments, when I stood up to argue a case. It is a different matter that even when I was attached to my Senior's chambers, he was confident enough to entrust the conduct of the entire case to me! Just a few days ago, a client who came to meet me for the first time candidly said, 'I expected you to be a lot older.' I have had a few experiences where prospective clients have been hesitant to entrust their matters to me, as I am a woman. However, these instances have been few and far between and I have been fortunate enough to have clients who have looked at my abilities, rather than my age or gender. It is not that the profession is stacked against women or young lawyers, but it is that there has been a status quo-ist state of affairs, for decades now. More women are coming in. More young lawyers are striking out on their own. Slowly, things are changing. We are learning to adapt.
What would be your parting advice to our readers?
While I understand that litigation is not the only career option for a law graduate these days, I also find it saddening that an increasing number of students are opting out of practice, a tad too hastily. Litigation is hard, yes. But if our medical students said studying medicine takes too long, practicing medicine is hard and the pay is too meager, we would have no doctors. Litigate and engage with the judicial system.