Rahul Kothari is an alumnus of Symbiosis Law School, Pune. Having completed his BBA.LL.B from Symbiosis in the year 2009, he is currently running an independent practice on dispute resolution, contract drafting and negotiation, real estate transactions, general corporate and compliance issues. Prior to and subsequent to his graduation, he worked with Hariani & Co. for four years and then at AZB & Partners for three years, thereby gaining an immense experience in dispute resolution, contract drafting, negotiation, real estate transactions, general corporate and compliance matters. Rahul is also presently a visiting faculty at Symbiosis Law School in Pune and at Symbiosis School for Economics in Pune.
In this interview Rahul talks about –
His law school experience
His suggestion on how to make a career in a particular field of law
His take on mooting writing research papers
His experience of independent practice
Scope of ADR and the recent amendments in Arbitration and Conciliation Act, 1996
His opinion on balancing between personal interest and financial security
HOW WOULD YOU LIKE TO INTRODUCE YOURSELF TO OUR READERS?
Thank you for this opportunity. I am humbled. I don't think that at this stage I would 'qualify' as a SuperLawyer – but hopefully I will get there someday. And, as for the introduction, I will let the readers be the best judge of who I am once they have read this interview.
WHAT ARE THE FACTORS THAT MOTIVATED YOU TO CHOOSE LAW OVER OTHER PROFESSIONS?
The most clichéd response to that question would be that I had a passion for the subject and the profession. However, that is only partially true – I had in fact practically closed other doors to most other professions. I did not enjoy nor had much acumen for maths or science, but at the same time did not want to be the average B.Com graduate. Hence, that pretty much left me with only one option – law! The most crucial factor, however, was my curiosity for the subject. I first got introduced to law while I was in my 8th standard of school. It was when I first learnt of basic fundamental rights, etc. in my civics lessons. That got me interested in the subject – and the rest as they say is history!
HOW WILL YOU DESCRIBE YOUR LAW SCHOOL EXPERIENCE?
I would describe my law school experience as some of the best years of my life.  As far as I know, other than medicine, the five-year law course is probably one of the longest academic courses, which could get a bit hectic at times, especially around exam time. I must admit that there were some law subjects that I did not enjoy much – just because of a sheer lack of interest. However, most subjects were enjoyable. I also believe that two other factors made my time at law school extremely memorable – my friends and the law school itself i.e. Symbiosis Law School, Pune. Both these factors in a way compliment and supplement each other. Traditionally, most Symbiosis institutes have students from various parts of the country, and Symbiosis Law School was no different – which made the experience enriching and diverse.
HOW SHOULD ONE CHOOSE A PARTICULAR FIELD OF LAW TO PURSUE AND MAKE A CAREER IN?
That's a very good question. I'm not sure whether there is a universally applicable or accurate answer to this question – but here's my take.
Imagine your time in law school (including the internships) as a buffet meal. Try a bit of everything. You may like some things, and some things you may not – but you will only know that once each item in the buffet is tasted; the experience being also necessarily personal and not dependent on someone else's tastes. I feel that ideally, one should not choose his/her interest in a particular field of law during their time in law school – it should be done within about 2-3 years of graduating from law school. In fact, there are many areas of law that one is not even exposed to while in law school, which require in-depth specialization. One such example applicable to me was maritime law – this was not taught to us in law school at all. The massive advantage that the students have is full service law firms that take in interns as well as fresh graduates. If a student does get an opportunity, my sincere advice is to not miss out on it. These law firms tend to give an excellent exposure to interns and fresh graduates into various fields of law. Sometimes, just listening to a colleague/ senior talk about a matter can give a whole new perspective on a subject.
WHAT'S YOUR TAKE ON THE POPULAR STAND TAKEN ON LAW STUDENTS THAT WITHOUT MOOTS OR PUBLICATIONS YOU CAN NEVER LAND A DECENT JOB?
This is not true – but it is very important to understand the context behind this often misunderstood issue. The skill set that one tends to develop while taking part in moot courts is invaluable, namely, research, oral argument, drafting, confidence, analytical thinking and clarity of thought. These are some of the most basic and essential skills needed to make a good lawyer. Similar is the case with authoring research papers, with the missing skill of oral arguments. Hence, in my opinion, a student's abilities tend to sharpen with the skills developed through participation in moot courts and authoring research papers. These skills also tend to help one get through an interview process better. However, it is pertinent to point out here that in no way does this mean that without participating in moot courts or authoring research papers, one's career gets hampered. Students need to realize that the 'real world' requires many more skills, which many a times are not even taught in law school. In fact, I know of many lawyers who have not taken part in any moot courts or authored a single research paper, and yet, are doing exceedingly well in their respective careers.
To conclude on this point, in my opinion, moot courts and authoring research papers may give one a better start during the first 6 months to a year as a fresh graduate with a new job, but lack of this does not hamper career prospects.
POST-GRADUATION, YOU WORKED IN LAW FIRMS FOR SIX YEARS AFTER WHICH YOU STARTED AN INDEPENDENT PRACTICE. WAS INDEPENDENT PRACTICE ALWAYS ON YOUR MIND SINCE YOU STARTED LAW OR WAS IT THE PRODUCT OF A RECENT SHIFT OF THOUGHT?
It was always on my mind. It was just a matter of 'when' not 'if'. As a person, I enjoy my freedom, and like to do things my way. A significant aspect that I have learnt over the years is to maintain one's individuality – and not follow the crowd. This trait does not usually yield short term and immediate returns but, in the long term, it will surely help. Most people I know tend to join a law firm and stick around to hopefully make partner someday. Being with an established law firm was never a part of my long-term plan – but establishing my own law firm was always part of the agenda.
HOW MUCH HAS THE KNOWLEDGE AND EXPERIENCE OF WORKING AT TOP COMMERCIAL LAW FIRMS HELPED YOU IN YOUR CURRENT SEPARATE PRACTICE?
Immensely! The knowledge and experience gained at both Hariani & Co. as well as AZB & Partners is priceless and invaluable. In addition to the regular legal work, with both firms, I tried to work on non-legal matters too. With Hariani & Co., I was the Editor of their Newsletter and also wrote a few articles. With AZB, I additionally did a little PR, attended conferences and handled some office administration too. Neither of the tasks was thrust upon me, but since my eventual plan was always to start my own law firm, these additional tasks added value to the legal knowledge that I was gaining in any case. However, a common mistake by students is to assume that a large law firm always tends to give better experience – this is not necessarily true. There are a multitude of factors which determine how fruitful, satisfying or enriching your experience with a law firm is – and the size of the law firm is a relevant but not necessarily that important a factor.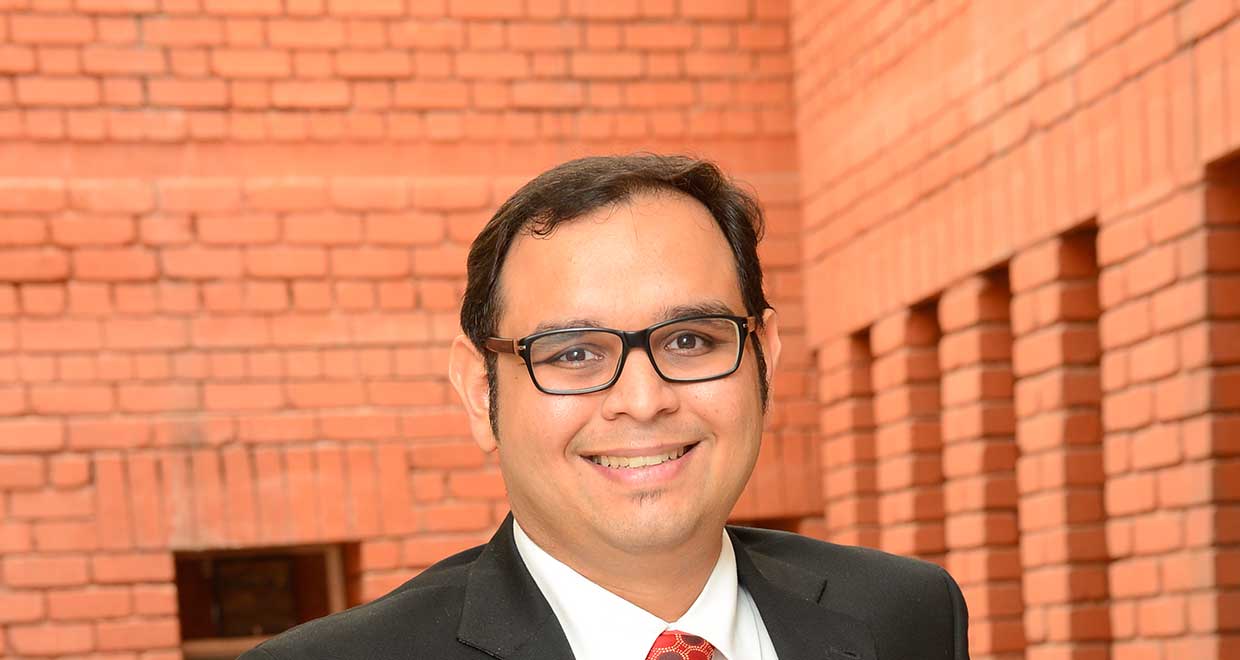 YOU ADVICE CLIENTS ON CIVIL AND COMMERCIAL ALTERNATIVE DISPUTE RESOLUTION (ADR). CAN YOU THROW LIGHT ON ADR AND ITS SCOPE WITHIN THE NATIONAL CONTEXT FOR OUR YOUNG READERS?
Well, this is a little tricky. Alternate Dispute Resolution is a fairly vast subject. I feel that any attempt to answer your queries will likely result in students or young lawyers having more questions than answers, but I will give it a shot. Simply put, Alternate Dispute Resolution is basically any form of dispute resolution that is attempted to be achieved outside the traditional Court/Judicial system, usually without much of it entering the public domain. The main and most popular forms of ADR are Arbitration, Conciliation and Mediation. The Arbitration and Conciliation Act, 1996 (as amended and updated) is presently the primary statute governing ADR in India. Mediation and conciliation in the Indian context are quite similar. While some may disagree, I feel that, in the Indian context, mediation and conciliation are not very effective or efficient means of ADR, and are not likely to gain much popularity in the near future. Arbitration, I find, is a fairly effective and efficient means of ADR, especially in view of the recent amendments (which I have discussed below). The main drawbacks of most forms of ADR are lack of awareness and knowledge on the subject by parties as well as genuine willingness of parties to participate in actual ADR. Also, in relative terms, traditional litigation in India is not very expensive, and hence, does not tend to be a deterrent to a party to not approach the Courts and instead go for ADR. Although, I am hopeful that all forms of ADR become a genuine alternative for litigants, I find that other than Arbitration, there is not much scope for other forms of ADR, especially in the present and near future, and considering the current Indian context.
WHAT DO YOU THINK ABOUT THE RECENT AMENDMENTS BROUGHT TO THE ARBITRATION AND CONCILIATION ACT, 1996? HOW BENEFICIAL IS IT IN ESTABLISHING INDIA AS AN INTERNATIONAL ARBITRATION DESTINATION?
I think it may be too soon to give a view on the recent amendments. I feel that the amendments are well intended, but whether they can be practically achieved or not is the real question. One example is that of the timeline prescribed for completion of proceedings being 12 months with a 6-month extension. While this is an optimistic change, it may not work in the Indian context or for that matter for complicated disputes involving large sums of money. I think that the recent amendments need to be taken in the right spirit, and needs the cooperation of parties, lawyers as well as the arbitrators. If implemented correctly and in the right spirit, these amendments could bring a significant change to the Arbitration scenario in India. As for establishing India as an international arbitration destination, I feel that this is a bit of a misnomer. Most international arbitration destinations, such as Paris, London and New York are in fact cities that have developed into internal arbitration destinations. Hence, ideally, we should focus on important cities and ensure that the infrastructure, the administration as well as the Courts of that city/State support arbitration. Also, I personally feel that none of our cities may truly become 'international' arbitration destinations until we allow foreign lawyers to appear in Indian seated arbitrations. This I feel will completely change the game with respect to arbitration in our country.
MANY STUDENTS TAKE UP CORPORATE JOBS, DESPITE HAVING INTERESTS IN OTHER LEGAL STREAMS, POST GRADUATION BECAUSE OF THE FINANCIAL REWARDS THAT IT OFFERS OR THE PERCEPTION THEREOF. HOW YOU THINK ONE CAN BALANCE PERSONAL INTERESTS AND FINANCIAL SECURITY?
That's a very difficult a question to answer. I was just speaking about this to a Senior Advocate who I have briefed in one of my matters. He told me that for the first 10 years of entering the profession (he has been practicing for over 30 years now), he did not earn any money at all. His senior just paid him a few monthly out of pocket expenses! However, he gained in terms of knowledge, immensely from his senior, and that was invaluable. I cannot imagine the current crop of lawyers going through a similar period in today's day and age. I guess one way to balance this is that for the first few years you may join a law firm. Most of them (in large cities) pay even freshers quite well. Stick around with the firm for a few years, ensure a good amount of savings and capital, and then follow your dream in whichever other field of law that you enjoy. This could possibly have an added advantage that you get exposure for a few years in a law firm, which could possibly open up many more avenues for young lawyers.
RAPID FIRE QUESTIONS –
Happiest Day as a law student and law professor –
As a law student – when I graduated law and received my sanad (license to practice).
As a law teacher – whenever I bump into my students after they have graduated and they thank me for teaching them. I enjoy the fact that I have, in however small a way, contributed to the law student as well as the legal profession in general.
Worst Day as a law student and law professor
Not really had a 'worst day' as such either as a student or as a teacher. I take the ups and downs in my stride.
As a professional: My first appearance at the Bombay High Court which happened to be with a Sr. Advocate. The matter got adjourned. But I have framed a certified copy of the adjournment order recording my first appearance.
As a teacher: When a teacher that taught me in law school sat through one of my lectures along with students of the class, and on completion of my lecture complimented my teaching. I can also proudly say that my teacher later (briefly) became my student!
MANY LAW STUDENTS PUT THEMSELVES INTO A SHELL WHILE CHOOSING A FIELD OF LAW. THEY ARE NOT OPEN OR READY TO EXPLORE NEWER AND UNIQUE OPPORTUNITIES. WHAT SUGGESTION WOULD YOU GIVE TO SUCH STUDENTS?
As I said above, for the first few years, consider you are at a buffet. Try a bit of everything. To quote from Forrest Gump, "Life is like a box of chocolates. You never know what you're going to get."
IS THERE ANY PARTING PIECE OF ADVICE YOU WOULD LIKE TO PASS ON TO THE READERS, ESPECIALLY THE STUDENTS?
Don't accept mediocrity. I don't believe in the 'chalta-hai' attitude. To borrow from the tagline/slogan of Mercedes – "The best or nothing" – this is the motto I tend to follow.