Nikhil K. Singal graduated from ILS, Pune in 2010. Soon after Graduation he started working at LakshmiKumaran and Sridharan as an Associate and then went on to pursue Masters in Corporate Law from the University of Cambridge, U.K. He is also a Company Secretary holding a Licentiate membership of the Institute of Company Secretaries of India. After returning back to India, he joined LKS as a Senior Associate and was promoted to Principal Associate in May, 2014.
In this interview he talks about:
Law School experience at University of Cambridge
Interest and expertise in taxation law
Growing from an Associate to Principal Associate at LKS
How would you like to introduce yourself to our readers who are mainly law students and lawyers?
Hi! I'm Nikhil Singal and I'm currently associated with the Delhi office of Lakshmikumaran&Sridharan (LKS) as a Principal Associate. I graduated from ILS Law College in 2010 and joined LKS right after college. It has been a good journey so far, and I hope it remains the same in the future!
Over the years, I've had the opportunity to work in different teams, handle some very exciting assignments, represent some of the biggest clients, as well as feel good about my personal growth and development. Currently, I'm handling work related to corporate advisory and commercial litigation, along with handling some important tax matters. For a brief period from 2012-2013, I went to pursue my Masters in Corporate Law (MCL) from the University of Cambridge, after which I came back and joined LKS again.
As a lawyer, my approach has always been to expand my horizon and learn new things. I don't like to restrict myself to one area of law or one domain. Of course, I understand that it is physically impossible to do everything, or to master everything, and I'm not aiming for that. Instead, I aim to diversify as much as possible and only after a few more years of practice, I will start specializing in a particular field. For me, change is necessary. It gives me a challenge to keep going and to keep exploring. Fortunately, LKS has been very supportive in this approach. As I mentioned, over the years, I've worked in different laterals of the firm and in different areas of law. So whether it be work relating to service tax, income tax, contract drafting, transactional work or dispute resolution in any forum in this country, I can very happily do it!
When and how did you decide to study law? Which universities did you consider for your legal studies? How did you settle for ILS, Pune?
I actually didn't decide to study law. As a kid, I was always interested in doing something related to science. I spent three years in Tanzania where my father was posted as a diplomat. I studied in an international school there and loved their teaching approach. I loved all the science subjects. When I came back to India, I found it difficult to cram non-application based science subjects from voluminous books. That is not what I wanted. So I pursued commerce and thought I'll end up doing Economics from a good college in Delhi. When I finished schooling in 2005, I had an option of going to Hansraj or Venkateshwara College in Delhi. At that time, my father also insisted that I fill up the forms for ILS and Symbiosis, Pune. So I did!
Ultimately, I had all four options in my pocket and had to make a choice. After much counselling at home, I decided to go ahead with ILS. My parents persuaded me that law is a great field, and with my analytical approach, I would be happier being a lawyer. So honestly, the credit goes to my parents! Nevertheless, I haven't regretted the choices I've made. ILS is a great college, has a great legacy, and personally I believe it was the right choice for me. I enjoy being a lawyer, and I owe a lot to ILS for who I am today.
Do you think being from a non-NLU has ever proved to be a hindrance for you? Many non-NLU students complain that they feel being discriminated against during career opportunities. What has been your experience?
Not really. I think what matters the most is what and whom you let influence you, no matter which college it is. ILS has the best of reputation, the best of faculty, and a very good mix of academic and non-academic focus. I admit that everything is not positive, but that is the same in every college or university. In ILS, I met some of the brightest individuals, some of the most dynamic, some radical, some conservative. All of them are doing very well right now, and not all of them have chosen to remain a lawyer. Personally, I believe if you can prove your worth, you eliminate, or substantially reduce your chances of discrimination. This is how my experience has been. I've met many Partners from firms in India as well as from London and New York, and all of them know and appreciate ILS as an institution.
After graduating from ILS, you joined LakshmiKumaran and Sridharan as an Associate. How did the appointment take place? What comprised your work at LKS?
I did two internships at LKS. The first internship was in the international trade division and the next one was in the service tax division where I focussed on GST. Both my internships were very fruitful. They liked my work and by the end of the second internship, I was offered a pre-placement offer. The placements in college had yet not started, so I was one of the first ones in my batch to get a job! I took the offer knowing very well that the work will be mostly tax oriented, of which I had very little knowledge (though it was interesting indeed).
Initially, I was assigned to the tax litigation team and focussed on Service Tax and VAT matters. I did this for about a year. It was a good learning experience as the service tax law is still nascent and evolving. I dealt with some very challenging cases, and as any lawyer, there was a lot of grinding! But there was a lot of focus on knowledge enhancement and understanding the working of the law, rather than just doing something mechanically.
In my second year of work, an option was given to the Associates to opt for shifting in other practices of the firm. I was the only one who opted for a change and I opted for Direct Tax where I spent another year. This was a great opportunity and a great learning experience. I was also doing some service tax work alongside. By doing this, I got the opportunity to understand Indian tax scenario holistically and in totality. This also helped me to understand why and how many commercial decisions are made in businesses around the world. On many matters, I worked directly with Mr. V. Lakshmikumaran and other Senior Partners and all of this ultimately paved my way to get to Cambridge to do my Masters!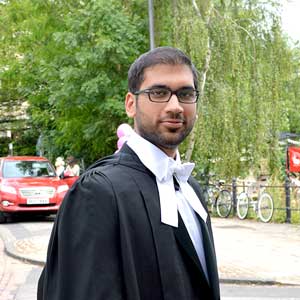 Thereafter you went on to pursue Masters in Corporate law from University of Cambridge. Was it a professional requirement to grow expertise in your career? How would you describe your experience as?
As I mentioned, my tax experience helped me to understand the working of businesses and the reasoning behind various commercial decisions being taken. I was very interested in understanding the rationale behind these business decisions as well as understanding the legal factors which affect the functioning of these businesses. I thought the best way to do this is to study further, and apply that knowledge in my working. I discussed this with Mr. Lakshmikumaran and though this was not a professional requirement, he encouraged me to apply and study further. I thought the time was right and with some professional experience, I went ahead to apply in select Universities in UK and US.
Cambridge offered me the perfect course and the perfect platform for what I wanted. Ever since I was in ILS, I had it in my mind that I wanted to study in Cambridge for at least a year, and this became a reality! My year at Cambridge was one of the best years I've had. Every day was a learning experience, and I met some of the most intelligent and fun loving people from around the world. I don't think I need to say anything about the quality of education and the faculty etc, as the reputation of Cambridge speaks for itself.
The course was rigorous, VERY rigorous! The good thing about the course was its practicality. Many of the modules were taught by Barristers and Partners of law firms in London. We worked on live deals and cases. Not only was there a lot of personal development from Cambridge, but this course also greatly helped my transition to being a commercial lawyer, along with having a strong tax background.
Thereafter you joined LKS as a Senior Associate and currently work as a Principal Associate there. What does it take to be appointed as a Senior Associate at LKS at that stage? How did your promotion happen?
I had actually never given my resignation in LKS before going to Cambridge. My one year at Cambridge was considered as part of my job profile and was counted towards my work experience. LKS was very considerate in doing this. I met Mr. Lakshmikumaran and the HR upon my return and started working in the corporate advisory and commercial litigation division of the firm. Along with this, as I also do now, I also handled some important tax matters. This profile complemented my experience as a tax lawyer, as well as my academic qualification as a corporate lawyer.
Therefore, to answer your question more specifically, my promotions were based on my past experience, my academic qualifications, as well as of course the fact that my work was appreciated by my Partner in charge as well as the senior management. The same criterion applies to all Associates in LKS. At times the promotions are "fast-tracked" depending on the performance of the individual, but that is ultimately the decision of the management. In all this, what is most required and appreciated is the hard work coupled with a positive outlook to learn!
How do you say one can gain expertise in tax law? What does it take to be a good tax lawyer? Is the work significantly different from other transactional lawyers?
Tax laws are vast and the jurisprudence relating to these laws is very extensive. Within the ambit of tax laws, you can specialize in Direct or Indirect Tax. Even within these categories, you can specialize in corporate taxation, international taxation, service tax, VAT so on and so forth. What is more interesting is that even within these specializations, you can super-specialize in one area. All these specializations and super-specializations are rewarding. In tax laws, it is generally understood and accepted that expertise can be gained by specialization in a particular area over a period of time. This is because each area has its own extensive background and jurisprudence. I've also seen and experienced that once you are able to deal with one area of tax laws confidently, dealing with other tax laws and areas becomes much easier. And once you are comfortable in dealing with different tax laws, dealing with non-tax laws becomes much easier. This has been my experience.
Of course the nature of work done by a transactional lawyer and a tax lawyer is different, but that difference comes mainly at the level of the law and the procedure involved. I know many transactional lawyers who super-specialize in one area within a broad area, whether it be one leg of financing, or a specific type of private equity transaction. The same rules apply in both these contexts.
How much of your work does involve litigation, if at all?
Around 60 percent of my work is litigation, a lot of which is commercial litigation and as I mentioned, I am still handling certain important high value tax matters. The good thing here is that I get to do all kinds of litigation, in all forums, and at all levels. The other 40 percent is corporate advisory work.
Tell us a bit about work culture at LKS and the life of a Principal Associate. What is your current work profile like? Please tell us about the responsibilities you are entrusted with.
LKS has a good work culture, people are friendly and there is a lot of encouragement to junior Associates by seniors. One thing I appreciate the most in LKS is the ease of access and the open-door policy. Anyone can approach any person of the senior management, including Mr. Lakshmikumaran and Mr. Sridharan. Resources are ample, and people are always willing to help out. This is a big plus point of the firm.
As I also mentioned above, I am currently dealing with corporate advisory and commercial litigation, along with handling some important tax matters. Many of these matters are dealt directly with Mr. Lakshmikumaran, and many a times with the guidance of Mr. Sridharan. Since LKS is now a full service law firm, the work varies a lot. I've handled matters ranging from tax to environment to electricity to competition. The clients I deal with are diverse, ranging from the world's biggest social networking site to the biggest spiritual society, and LKS allows you to be the point of contact and deal with them directly relating to the matter. There is of course a lot of responsibility on the shoulder of a Principal Associate. Along with mentoring the juniors and ensuring the quality of work, you become responsible for any negative consequences also (though this is all a part of the profession!). There are times when tough decisions are required to be made, and even though LKS allows this freedom to a Principal Associate, the decisions may not always be correct. All of this is nevertheless looked at in positive light by the firm, and is part and parcel of growth process in the firm.
You must have guided several interns. How would you say that an intern can generate a positive feedback in the limited time they have?
The most important thing is dedication. You are right about the fact that there is very limited time which the interns have, but many-a-times the interns spend this time doing non-productive work. I've mentored interns who were not at all interested in working, no matter how simple the task or proposition was. On the other hand, there have been some interns who have gone a step further and taken the responsibility of the work. Ultimately, if the intern is able to demonstrate that he/she is a team player, willing to accept an assignment, and complete the assignment with diligence and good legal research, the fact that the intern has limited time does not matter.
What has been your strategy to deal with errors and mistakes? How would you suggest a young associate to deal with them?
One should always accept and own up to errors and mistakes. Making mistakes is part of the professional learning and without making mistakes you cannot grow in this profession. Nobody is born a good lawyer. But one must always learn from their mistakes, try and reduce the consequences (damage control is necessary!), and try and ensure that the same mistake does not happen again. Sometimes, mistakes in this profession can cost you and the client a lot, and therefore, one has to be extremely careful. This is one of the stress factors of the profession. Nevertheless, all this should be taken in a positive light and part of the growth process.
People often complain about the highly skewed work-life balance at the top law firms. What is your workday like? How do you maintain your work-life balance?
Regular work days are always varied, from answering to various clients at the same time to running between different Courts. Work is the only constant, and workhas considerably increased as I've progressed in the profession. I've definitely learnt to deal with it in a quicker and more efficient manner, and this has helped me to take time out for myself and my family. LKS as a firm also has a good culture of promoting a work life balance and spending time with your family. Of course there are many days when I don't get to know when the sun rises and when it sets, but this is more than normal in a profession which demands precision and quick turnaround. I have to do some form of physical exercise at least once a day, without which my day is not complete. This keeps me more active at work also. I am also very spiritual and like to read books in this area. Apart from this, I love travelling and watching movies. I spend whatever time I get with my family and try and catch up with friends as often as possible, whom I prefer to be non-lawyers (makes conversations more interesting!).
I've heard quite a few bad stories about different law firms in India, but I honestly think that even there a decent work-life balance can be maintained. Some firms look down at their Associates if they leave on time. This is quite discouraging! Work, if done efficiently and with focus, can be completed in half the time which one normally takes (the Germans are expert at this!). I think this can easily be emulated and unnecessary time wasted in office should be spent on personal development and on something more social and productive!
What would be your message to our young readers who want to pursue a career in tax laws?
Pursuing a career in tax laws may sometimes seems intimidating and sometimes boring. This is the impression which I have got from a lot of undergrads. This is actually not the case. On the contrary, it is a very interesting area of law and can be very rewarding once you cross the initial hurdle of understanding how the law works.
There is a lot of procedure involved and the substantive questions of law are inextricably linked to the procedural part of tax laws. One should always consider this as a positive challenge. Also, as I mentioned above, once you become comfortable with practicing in tax laws, understanding the working of other laws becomes easier. Many of the best counsels in India started off their practice in tax laws and many of them still invariably take up important tax matters.
Once you start off with your practice as a tax lawyer, there is always a scope for expansion. Even transactional lawyers cannot proceed without understanding the tax position from tax lawyers, and I've seen many deals being changed on this count. Tax lawyers are also highly sought after internationally.
All in all, being a tax lawyer is a highly rewarding, and I highly recommend pursuing a career in tax laws!