Sonal More graduated from GLC, Mumbai and thereafter had worked as an in-house counsel at places like Spykar Jeans, Pangea3 and currently at Firmenich (a global leader in perfumes).
Even as a Global Legal Counsel at Firmenich currently, she has taken time out to pursue the MBL programme from NLSIU, Bangalore. In this interview we ask her about:
Importance of learning a foreign language
Work at an MNC like Firmenich
Pursuing the Masters in Business Laws from NLSIU
Please tell us about yourself. What were your reasons for taking up law?
I belong to a closely-knit Maharashtrian family in Mumbai. Born, brought up and educated in our financial capital, Mumbai. I have always been passionate about art; the freedom to use colours with no boundaries mesmerized me, contradictory to a lawyer's profession where rules are the key to our survival. Raised by two teachers, reading was inculcated in us right from childhood. My interest in law began when my father gifted me my first novel, Sidney Sheldon's Rage of Angels, which was based on an American Criminal Defense Attorney. That was my first step towards law. With time, I started reading articles on prominent Indian lawyers and our legal system. I met one of the criminal defense attorneys for guidance and decided I had to find my way in the legal fraternity somehow; so I commenced my law course with Government Law College, Mumbai. Coming from a non legal background, it was difficult to understand which avenue to take, and after 2 years of initial trial and error in my internships I finally found my passion in contracts.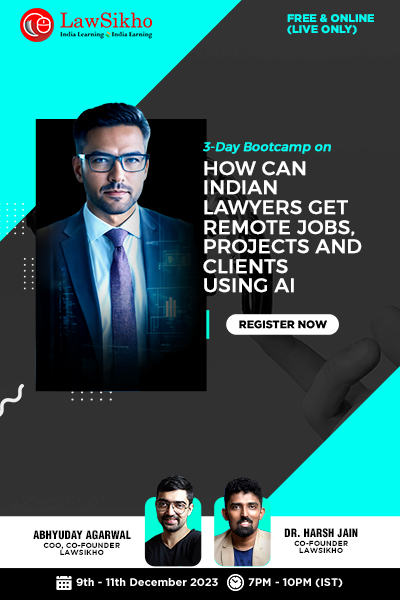 You have an LL.M and a Postgraduate Diploma as well in Intellectual Property Law. Please tell us how you decided to pursue the diploma also.
I was introduced to Intellectual Property Law, when I was struggling to decide which area of law I should be focusing on. Being new to the topic, I enrolled myself with National Law School, Bangalore for my Postgraduate Diploma to get more insight into Intellectual Property which helped me simultaneously to prepare for my final year law exams where IPR was my specialization. I pursued LL.M after completing the Post Graduate Diploma; I felt LL.M would give me in depth understanding in comparison to a diploma.
You also completed a Diploma in Cyber Laws from the Asian School of Cyber Law in Pune. Please comment on the quality and structure of the course. How much practical knowledge did you gain from it?
The course is designed for beginners and to get basic knowledge as to what comprises of Cyber Laws. It is automatically presumed that Cyber Law essentially means Information Technology Act and nothing more than that. This course helps to understand that Cyber Law is much more. The structure of the course is very concise and appropriate for basic level understanding. The course helped me immensely while drafting, negotiating and understanding IT concepts in software license agreements. For someone who is working on software license agreements, this course is highly recommended.
You are currently pursuing Masters in Business Laws (MBL) from NLSIU, Bangalore. It is said to be one of the toughest postgraduate law courses in India with a very low pass percentage. What would you say about the quality of the course material?
I couldn't agree more that it is indeed the toughest postgraduate law course, at least amongst the ones I have appeared for. My preparation is mainly based on the NLS course material, for any recent updates to the regulations NLS provides additional notes. I would still recommend research on internet for additional information on updates. The material provided by NLS is very elaborate and easy to understand.
After completing your studies, you started working at Emmay HR Services Pvt. Ltd. as a Legal Assistant. What is the state of HR Departments in big and small companies?
Emmay HR which is now Randstad India, is a recruitment company so impetus on HR policies was a given. The role required me to understand the different categories of employments, namely permanent, temporary, staffing and contractual. After being a part of various setups and sectors, I realized that there are pros and cons in big and small setups. In my view the HR departments in smaller companies are more connected to the employees and have better visibility on the employee concerns. Bigger companies have robust systems in place which makes daily activities / functions smoother for sure, but at some occasions lack the personal touch till an issue is brought at the forefront. That being said, the most compliant, organized and connected HR teams in my experience are found in a factory setup. Given the number of regulations and statutory requirements, a factory needs to follow, in terms of labourers/ workers; the HR team manages the HR function and to a certain extent statutory function for the organization.
You then went on to work at Pangea3. How did you secure your appointment? What is an average day of a Senior Specialist like?
Honestly, like any other law graduate I was not really sure of joining or even interviewing with an LPO at the time. LPO had just stepped in the legal industry at that time and we had no idea how and what the company looks into. A recruiter had reached me several times to consider Pangea3 (which was then not associated with Thomson Reuters) and after having multiple conversations, I finally decided to give it a try and that proved to be a right decision.
In my role as a Senior Specialist, I functioned more as an extended team member of in house counsel teams for different companies. I was a part of the Corporate Team and more specifically the Contract Drafting Team. Amongst several projects I worked on as a Contract Drafting Attorney, I also worked on some Contract Abstraction projects. Simply put, Contract Abstraction is creating a summary or a snap shot of the executed contract, for the company to refer to. These summaries help the company to keep track of expired contracts and the provisions that were agreed on before; thus giving an insight into the contract without having to read the whole document. An average day as a Senior Specialist would comprise of contract drafting, reviewing and negotiating agreements, depending on the clients we cater to and if on a contract abstraction project, we would have specific targets of reviewing particular number of contracts; pretty much similar to the day of a non litigation lawyer.
After a year and a half, you switched to Hindustan Unilever Pvt. Ltd. How can one make his presence felt in a large company like HUL? What was your work profile like?
Unilever is a brand that everyone would like to be a part of, and when I got the opportunity I could not resist it. My profile was more of Indian litigation and contracts, where I had to co-ordinate with Advocates and counsels for the court cases and prepare documents. I wanted to try something different than my previous roles, so I had decided to move from a completely non litigation profile to a litigation profile, however after a few months in the system and attending court proceedings I realized it was not my interest so I had decided to return to non litigation. In any company for that matter, be it large or small, it is difficult to make your presence felt. In larger companies, the opportunities to shine are less frequent as you may have to wait a long time to be recognized if you missed one chance but then again if you show your skill you will succeed. I always keep in mind a message one of my seniors had told me "If you are not at the table, you are on the menu".
Currently, you work at Firmenich Aromatics India Pvt. Ltd. as a Legal Counsel (Global). Please describe your job profile for us.
My role is primarily focused on drafting, reviewing and negotiating global agreements for all divisions in the organization, ranging from software license agreements, sale agreements, purchase agreements, et al across the globe. As an In House Counsel, I also look into company policies, their compliance, preparing training programs for the teams across all functions and partnering with the business teams to ensure adherence to policies and legal requirements. On an average day, I could be negotiating contracts with companies based anywhere in the world or discussing legal provisions with the commercial teams.
You also hold an Advanced Diploma in Spanish from Instituto Hispania, Mumbai. Does the knowledge of an extra language give you an edge over your peers?
Being born and brought up in Mumbai, it becomes a part of your characteristic to know at least three languages, which served as a foundation to learn languages quickly. I had chosen Spanish as I felt everyone at the time was focusing on French and I wanted to do something different.
Knowing an extra language definitely gives you an edge; it opens up different avenues for you as an individual, and exposes you to a different culture. For instance, if one completes all levels of a foreign language, he/she could be an Indian lawyer who can work on a Spanish Contract without the assistance of a translator.
Although I had to limit myself to three levels due to time constraints, basic proficiency in Spanish helped me immensely when I worked with Latin American clients and peers; and proved to be a training ground for me to deal with foreign accents. I do not think there is any specific foreign language that I would recommend for a law student, however if a student wants to work with European companies, French would be an ideal choice. Learning an additional language will always help you as a lawyer or even otherwise.
You have only worked in the in-house legal department of companies. Why did you never try for a law firm job or a career in litigation?
In my earlier days of law school, I had tried working for a litigation lawyer and after a month I realized that my interest did not lie there. So I tried interning with a law firm, which functioned as an extended arm of the in house counsel team as it focused on few clients at the time. That structure intrigued me. As a lawyer in a law firm, I was more focused on the letter of the law with no or limited access to the business or the commercial side of the company and I wanted to understand the business more closely, so I chose to work as an in house counsel.
It is believed that the work of an in-house counsel is restricted compared to that of a law firm lawyer but the latter has less (or no) work-life balance. Do you think this is true?
It's a common misconception; in no way is the work of an In House Counsel restricted. I feel quite the contrary, as an In House Counsel you are forced to think out of the box and consider real business scenarios. You can no longer sit on the sideline and merely state the law, now you are a part of the decision making process and have a say in commercial provisions. As an In House Counsel, we have to wear two hats, one of a lawyer and the other of a commercial person. It is our responsibility to understand the business and ensure that the company complies with the legal requirements and also meets its commercial targets. An In House Counsel in the true sense is a business partner; attuning oneself to understand the business needs to meet targets is a task which requires business acumen and applying your legal knowledge as a lawyer, which does require us at times to burn the midnight oil and sacrifice holidays. That said, I think work-life balance is a personal choice, whether you are a part of a law firm, a company or working with a litigation lawyer, if we really want to do something we either do it or make excuses. My personal guide to maintain work life balance is Mr Narayan Murthy's (co-founder of Infosys) letter to his employees on the subject.
What must a law student keep in mind when wishing to pursue a career in corporate law? Is a degree like CS or MBL important for this field?
While pursuing corporate law, a law student needs to keep an open mind. It is not essential that one can pursue a career in corporate law only in companies, one could gain in depth knowledge also by being a part of a LPO. So I would not restrict one's aspirations to any specific sector of companies. An additional degree is always helpful, depending on the individual's interests and future goals. If working as a corporate lawyer or understanding corporate law is the goal then MBL is the course for you, however if the intent is to ensure compliance, statutory related work, one should consider CS.
Lastly, what message would you leave for our budding lawyers?
From what I have learnt in the last eight plus years in the fraternity, I would suggest interning in different setups, litigation, law firms, companies, LPOs, et al. Today lawyers are more than just litigation lawyers, and subject matter experts. We are moving towards the new age, where lawyers are entrepreneurs and business oriented. Choose the area you like without any presumptions and prejudice. If you are passionate about what you do, you will create a niche for yourself.