Nilima Bhadbhade graduated from ILS Law College, Pune in 1982. She started her career as a legal practitioner in Pune District Court and later moved to academia. In this interview we trace her story from being a B. Com student to taking up law and finally moving to academia. She shares her experience as a lawyer, a writer and a teacher.
In this interview we speak to her about:
Her interest in academia
Her stint in Pune District for twelve years
Her role as a member of the expert committee appointed to examine the Specific Relief Act
Being a prolific writer and authoring several law books
WHAT PROMPTED YOU TO STUDY LAW AFTER COMPLETING B.COM FROM PUNE UNIVERSITY?
I studied commercial laws, company law and taxation laws at the B. Com course. I liked these subjects, and grasped them better than other subjects.
Both my grandfathers were lawyers, one practiced general laws in the Osmanabad district and the other practiced criminal law in Pune, and conducted sessions trials throughout Maharashtra. Although I did not have the opportunity to watch them in their practice, this background influenced my decision.
I was just 18 when I completed B. Com and decided to join law. Career guidance was not in vogue then. Perhaps the decision to join law was prompted by a gut feeling, it was an impulse. But, I had full support of my parents.
HOW WOULD YOU DESCRIBE YOUR EXPERIENCE IN DISTRICT COURT PRACTICE? WHAT FACTORS INFLUENCED YOUR DECISION TO LEAVE PRACTICE AND TAKE UP TEACHING LAW STUDENTS?
(She practiced in the Pune District Court for twelve years.)
I joined the chambers of Advocate V N Mysore. He worked from his chambers, mainly in the field of drafting, conveyancing and consultancy, and visited courts on rare occasions. He impressed upon me the need to observe and learn the nitty-gritty of litigation, and return to him later. That, he said, would give a better understanding of drafting and conveyancing work. I then joined the chambers of Advocate M P Bendre. In the new chambers, I learnt the elementary as well as fine points of advocacy.
Civil trials are very specialised. Civil trials do not sound attractive. They lack the drama that one associates with criminal trials. Doing civil trials is not easy. One needs to master the fine aspects of the provisions of substantive law (often many laws) involved, and mould the facts of the case into that law, and design the case (pleadings, evidence etc) with a sound backing of the law of procedure (CPC, Limitation, Evidence, Registration, Stamp, Court fees etc.).
One needs to be patient and steady. One needs to learn the fine aspects of pleadings. My senior always told us that cases can be won simply by presenting pleadings effectively, be it the plaint or the written statement. Learning pleadings requires the guidance of a guru. Examination of witnesses and cross examination was also very challenging. I enjoyed trial more than appellate practice.
I taught law even while I practised. Teaching complemented practice. One understands a statute or law best when one studies it for the purposes of teaching. Making a provision simple enough for a class requires a deep understanding of that provision and the entire law, and the background in which the law operates.
Later, I applied for a full time post, sailed through the interview at ILS Law College, and had to decide when I received the selection letter. That was a time when full time teachers could practise if they wished. I did not intend to leave practice. I continued practice for a while, but finally discontinued it as I got more involved in designing and organising co-curricular activities in ILS Law College.
Much later, the Bar Council required full-time teachers to give up their licence to practice.
YOU HAD AN EXCELLENT ACADEMIC RECORD IN LAW COLLEGE. PLEASE TELL US ABOUT THE MANNER IN WHICH YOU APPROACHED ACADEMICS WHILE IN COLLEGE.
I attended classes sincerely. I took notes from the lectures, and from books. I participated in all activities: moot courts, debates, magazine. The library provided opportunities to study and research. The amount received as prizes for topping the University each year went into buying good books on subjects I liked. I had the entire Mulla collection while I was a student.
Good performance cannot happen without a desire to do one's best in whatever one does.
WHAT IN YOUR OPINION SHOULD A LAW STUDENT KEEP IN MIND WHILE CHOOSING A PARTICULAR DOMAIN OF LAW TO PURSUE A CAREER IN THE SAME?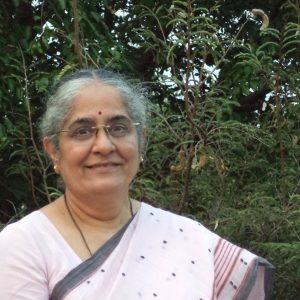 The current generation of students are fortunate to have so many career options, in terms of nature of work, and opportunities.
I suggest: Follow your dream. Understand it well first.
A little introspection can help understand one's own strength. Am I good at research? Do I write well and effectively? Am I articulate in my expression? Do I have the ability to garner ideas and assemble them? Do I have a head for figures, and for accounts? Am I good at thinking in the abstract? Do I like to solve problems and find solutions?
All these are different abilities. As a teacher, I found that students have different abilities. I encouraged them to locate their own abilities, and strengthen them first. Then locate those abilities that need strengthening, and work towards developing them. Locating one's ability will help in the career decision.
The other aspect is locating one's goal, in terms of a career and in life generally. It is a good idea to explore and observe persons working in different careers, whether through internships, or just visiting courts. Vacations are useful for this exercise.
Through the various activities I coordinated at ILS, I attempted to persuade students to join litigation, particularly at trial level. Such litigator is automatically also a consultant. That is the most challenging practice for a law professional. You are your own master.
Being a judge is an excellent career option. Every year we organised a judgment-writing competition in our College. About 80 to 100 students of the last two years of each course participated. They all loved the experience. They experienced how difficult it is to judge. Judges who visited the competition always told the participants, that being a judge is a great intellectual exercise, and that those who seek intellectual challenges must aspire to become judges.
I am happy that many of my students (ILS alumni) pursue litigation all over India, and a good number of them are judges.
 WHAT WERE YOUR AREAS OF INTEREST DURING YOUR GRADUATION AND HOW DID YOU GO ABOUT DEVELOPING EXPERTISE IN THEM?
While in College, I liked family law most. I researched it extensively. I also wrote articles. My interest in contract and property law developed much later.
How does one become an expert in a law. No one does. One only keeps developing and honing one's expertise. One must love the subject. One must take keen interest in theoretical perspectives. History of that law gives important insights. One must know principles of interpretation of statutes. One must take keen interest in the contemporary issues in the subject area, or affecting the subject area of one's interest. One must keep abreast of latest case-law, and developments of that law in other countries. A lawyer is always a student.
HOW HAS YOUR EXPERIENCE BEEN AS A LAW PROFESSOR? WHAT ADVICE WOULD YOU LIKE TO GIVE TO YOUNG LAWYERS LOOKING TO MAKE A CAREER IN FIELD OF TEACHING?
My best years have been in academics. It is good to be among the current generation of young persons. They are naturally tech-savvy. In that respect, they have guided me in using technology effectively. Sometimes I learnt from them, and very often they prompted me to learn. They knew about blogging, social networking before I did. Their questions in my IP Laws class compelled me to make friends with the internet.
A career in teaching will be very satisfying. Each of your student recognizes you. You are bound to run into them in all parts of the world. They remember what you taught them. It is satisfying to receive an email from a student that he applied some principle based on what I taught him, or to get a call from another to tell me how she has preserved the notes she made in my class and uses them for reference.
One enjoys the freedom of thought and expression as a teacher, more than any other person in the field of law.  One can participate in contemporary debates, express views freely in publications, and of course, on the internet medium, can critique the law and the legal system, and judgments of courts, and contribute effectively in development of law. When a teacher does this with a team of students, she shapes the next generation.
WHAT WAS YOUR ROLE AS A MEMBER OF THE EXPERT COMMITTEE APPOINTED TO EXAMINE THE SPECIFIC RELIEF ACT?
(She was a member of the Expert Committee set on examining the Specific Relief Act, 1963)
I was appointed as a member of the committee appointed by the Ministry of Law to examine and make recommendations for amending the Specific Relief Act 1963, primarily to enable specific performance as a general remedy. The Committee submitted its report. The Government has moved a Bill based on the recommendations of the Committee. It has been passed by the Lok Sabha. It is hoped that the government will publish the report.
My PhD thesis advocated that specific performance should not be an exceptional remedy, but should be available to anyone who seeks it. This was eventually published as a book titled : Specific Performance of Contracts: The Tests of Inadequacy and Effective Enforcement". I am happy that my views were noticed, and I could participate in the process where these became part of legislative policy.
HOW CHALLENGING IS THE TASK OF AUTHORING A BOOK? WHAT WAS YOUR APPROACH WHEN YOU STARTED WRITING AND HAS IT CHANGED OVER THE YEARS?
(She has revised Mulla's Indian Contract and Specific Relief Act and Halsbury's Laws of India-Contracts and authored several books.)
In the two books: Mulla's book on Contract and Specific Relief, and Halsbury's Laws of India (Contracts), I was a revising editor. It was an honour and privilege to be invited to revise them. I had to maintain the existing organisation and style of the two works. My task was to incorporate the latest developments into the works.
While revising Halsbury's Laws of India (Contracts), I took special effort to state principles laid down by Indian courts, and was pleasantly surprised to locate, revisit and state the tremendous contribution of Indian judgments on the subject.
Authoring one's own book is another task. The book on Specific Performance is different. It deals with contract remedies, and suggests that specific performance (and injunctions in matters relating to contracts) should not be exceptional remedy but available on the asking. It discusses the justification and limitations in adopting this policy. In its appendix, the book gives summary of some judgments relevant for the discussion. I developed my own style while stating these summaries.
The task of writing a book is challenging. The contents and style depends on its audience.  When I plan to write a text book, and I will use plain language and many examples, mostly drawn from case-law. I will have to choose the most appropriate and relevant case-law that enunciates the principle under discussion. The challenge lies in the magnitude of research and collection of resource material, from India and other countries, and more in selection and expression appropriate to the readers for whom the book is written.
YOU HAVE ALSO AUTHORED NUMEROUS LEGAL ARTICLES. WHAT ENCOURAGES YOU TO KEEP WRITING? WHAT ADVICE WOULD YOU GIVE TO LAW STUDENTS TO IMPROVE THEIR LEGAL WRITING SKILLS?
My articles are my expression. There are times when a sudden idea comes to the mind. This has happened to me often while talking in class. An 'A-HA' moment that brings to mind  a thought worthy of further exploration, eg, a gap in the law. A question or discussion in the class opens a theme that can be explored. That urges: "I want to find out and say something about it". A theme for an article is born. I have a list of such questions or themes, and hope to finish stating about them in the coming days.
The internet is a wonderful medium. People from all parts of the world are able to read what I write, and also participate in a discussion. I was pleasantly surprised to receive an email from a former Justice of the Supreme Court, and another from a former Prime Minister of Bangladesh, stating that they read particular articles and liked them. My article about Stamp duty on Powers-of-Attorney Authorising Sale of Immovable Property that is confined to an amendment to the stamp law in Maharashtra has been viewed 12800 times. Another article about specific performance of development of contract has been downloaded 660 times. This is encouraging.
Writing requires skills of language, thought and expression. Organising and writing an article consumes some time. The author must understand and digest the subject. He must put together thoughts and organise the content. It is important to avoid the temptation to copy-paste. An effective article must go through multiple drafts before the author makes it final. This applies equally to any well established and experienced author. An author will also be required to reorganise or rewrite some aspects in response to reviewers' comments.
My suggestion: Select a theme, decide that you want to write, and start. And be patient.
WHAT CHANGES DO YOU THINK ARE THE ESSENTIAL IN CURRENT THE LEGAL EDUCATION SYSTEM OF INDIA?
Legal education can be separated for two categories of professionals. Those who wish to become Advocates, i.e., practice the profession of law in courts, or before Tribunals or other authorities, and those who do not wish to so practice. The latter could be, for example, persons in employment, or working as consultants, or other professionals, who wish to specialise in a particular law with which they are engaged. The latter course can also be made available in the online or external mode.
 AS A CONCLUDING MESSAGE WHAT WOULD BE YOUR ADVICE TO THE CURRENT LAW STUDENTS?
Be creative. Be original. Be healthy. Be wise. Be happy.