Priyeta Chowhury graduated from M.S Ramaiah College of Law (Bangalore University) in 2012. Thereafter she worked as a Legal Administrative Associate at Dell International Services (Chennai) and at Balaji Telefilms Ltd. as Senior Executive-Legal. Currently, she works as Senior Executive-Legal at Lanco Infratech.
In this interview, she talks about:
Law school experience
Work experience at Dell and Balaji
Appointment at Lanco Infratech
Most of our readers are law students and young lawyers. How will you introduce yourself to them?
Though I would prefer the day when I don't need an introduction. But today I would like to introduce myself as a budding lawyer in the field of law or to be precise as an In-House counsel.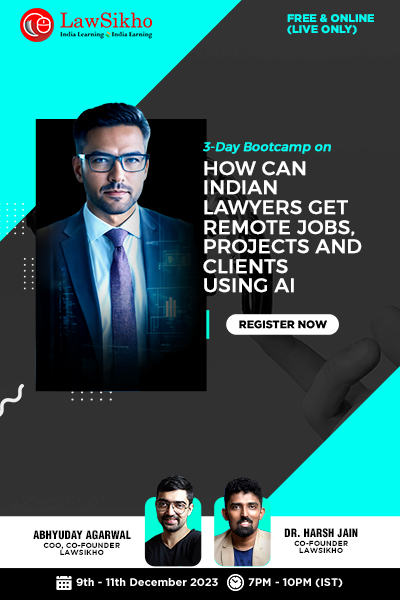 My journey started in Kolkata, where my entire schooling and childhood was spent, After my completion of 12th in Commerce, and in-between all the hustle of Career decisions and determining which stream to go for, I somehow landed with the choice of studding law, Then the regular pre-law tuition classes for cracking any of the National Law schools entrance also came along. I was somehow unable to crack any of them though.
So my last hope remained M.S Ramaiah College of Law were admissions were given on the basis of 12th Board Marks. And I somehow secured a place to be a part of the cult I belong today.
And after my amazingly interesting 5 years of college I got opportunity to be a part of the world famous brand names in a very short span of time.
How did you gravitate towards law? Why law and not engineering or medical studies?
I call it a fate, being a daughter of an Engineer and also with a family history of government servants and moreover with a personal choice towards dramatics and art. I somehow landed with Law profession. It was my dad who suggested me the same and like my "parent's obedient daughter" I thought it to be a good option among all the significant white collar jobs that were prevailing in the market.
A reason to work for and the sheer power and the glittery gravity of the profession attracted me, though hardly there were people to guide me on this front as I have no family history of lawyers.
First year of law school can be much challenging at times. What has been your experience?
Agreed; but with a little personal twist, The first two years of law school decides about all the journey of next three years. My journey took off with the feeling of freedom and the power of the profession.
Ramaiah was fun, sort of a celluloid movie that lasted for 5 years, friends, rivals, college regulations, teachers and seniors and all the law college legacy and rules.
But among all these I found the lawyer Priyeta, the choice to pursue In-house opportunities; the choices of right internships and finally the choice of right job, which gave me the first step towards my dream carrier.
How would you describe your time at M.S Ramaiah College of Law (Bangalore University)? What are the co-curricular activities you took part in?
As earlier mentioned Ramaiah was like a celluloid movie which lasted for 5 years, I enjoyed my college life thoroughly, I was part of the Cultural Committee and also the sports club of my college, Being the "Miss Fresher" of my batch and part of Cultural committee member I took part in few of the inter college dance fests along with some inter college sports meets.
What kind of internships did you do while you were a student? Any remarkable experiences during your internships that shaped your career choices later?
I started my internship in 2nd year of my college with a law firm in Kolkata, the work was good, primarily research work and drafting, along with the opportunities to visit courts. The next few internships were with High Court advocates in the fields of Arbitration and Civil to understand the different facets and integrities of the Court culture, And then final internship with the corporate in-house team, that is Wipro Bangalore. The versatility of my internship gave me an insight as to which field of law I would like to pursue in future. As everyone I was also confused in the beginning of the law school as to which stream of law I shall chose,the major tiff was in between litigation practice and corporate practice. And then Law firms or In-House.
But after my final internship with Wipro Bangalore I decided as to which side of the table I would prefer. Wipro also presented me with an opportunity to witness projects on Merger and Acquisition which fired my interest towards In-House practice.
What do you have to say about mooting at law school and legal writing for journals? Are these helpful even after the student graduates?
Personally I have no clue, how much mooting and legal writing helps us professionally. As I have never had much of keen interest on the same. In my entire law school I have attended only two moots out which one was compulsory. A lot of my friends showed a generous interest towards the moots but I somehow never got attracted towards it. On the contrary I focused on seminars and Discussions. It helped me to shape up my mind and also gave an insight about social legal issues and the thought process of our legal luminaries.
Did you find that your law school education had prepared you sufficiently for the many tasks you were required to execute during your internships and later at your job?
To be frank and honest law school knowledge and practical work exposure has hell and haven difference ,but yes I cannot completely deny the fact that knowledge of the law subjects are one of the essential keys to our profession. Thus I feel bookish knowledge along with the exposure's during internships shapes ones future in our fraternity.
After graduation, you joined Dell as Legal Administrative Associate. How did you secure your appointment? How would you describe your experience working there? What kind of challenges did you faced during this job?
DELL INTERNATINNAL SERVICES (Chennai) was a dream come true for me, without any backing of National law school, clearing 8 rounds of interview in a span of 3 months was a challenge. Though I faced the challenge quite well, a little rigorous study over the company and its policies along with general legal knowledge, I cloud secure my position in the organisation. As a fresher the companies look into your drive to learn about the company and its business and your go-getter attitude to handle difficult corporate situations individually.
Thereafter, you left Dell and had joined Balaji Telefilms Ltd. as Senior Executive Legal. What prompted this switchover? How did the appointment take place?
After my span in Dell Chennai, I switched to Balaji Telefilms Limited Bombay. The professional networking sites helped me a lot. Coming from an IT company, which shaped my basics; Media was all together was and different industry, a different work culture. But as I had a very keen interest to have a flavour of the Media industry and was also getting an escape from Chennai, thus I made the choice. Though my choice couldn't hold my interest that well. Alsocoping up with the demands of the fastest and expensive city of India for too long seemed difficult to me.
Would you say that the work environment at Balaji Telefilms was significantly different from Dell?
I completely agree with the difference of work culture in an U.S MNC and an Indian Company, that too especially a small production house. There's a lot of difference in the transaction value and the policies of the companies. MNC's are more of policy driven organisation whereas Small Indian companies are Individual driven.
Currently, you are working as Senior Executive Legal at Lanco. What prompted you to make this choice and what made this shift possible? How has been your experience at Lanco so far?
After Bombay, the next destination was Delhi, "Lawyers Paradise". The city welcomed me along with my friends and a position in Lanco Infratech Limited. Again professional networking sites along with my knowledge and positive attitude towards exploring a new industry secured me the position in the infrastructure company.
And my journey in Lanco has been remarkable; Amazing Seniors with a positive attitude of imparting the industry specific knowledge helped me to grow professionally. The company has given me exposure towards Litigations, Project Finance, Asset sale transactions and most importantly CDR process. CDR is a lifetime opportunity for an In-House Counsel to experience and along with the guidance of my seniors I handle the same.
How different is the working environment of these three companies? How would you describe your experience?
In my short span of career I have worked in three different Industries, brand name and cities, The work culture of all the three are quite different from each other as Dell being an U.S based MNC, Balaji Telefilms was an Indian production house and Lanco being an Indian MNC.
But with all the experience till now I prefer to work for a policy driven organisation, where work culture is friendly and more sophisticated, and a lot of importance to the Ideas and innovations are given, thinking on one's own feet is encouraged. And in the end the organisational culture inspires one to loyalty towards the organisation.
What does your current work profile at Lanco consists of? How is a typical workday like?
Being an In-house counsel for an infrastructure Company, my work profile has diverse work schedule. It includes Litigations, Transactions related to sale of Assets, Restructuring of Finances and finally CDR.
My usual day at work start at 9 in the morning with a cup of tea, then loads of mails and lots of work for the entire day and at times the day prolongs till midnight as per the demands of the transaction. But working in the organisation is fun and the exposure that I gain with each transaction is remarkable.
Does Lanco take interns? What is the process for same?
We do take interns. The most important qualities that we look for in an intern is that he/she should be a leader, problem-solver, self-motivated and disciplined. A good knowledge of law is something that can be acquired over a period of time.
An intern/College Committee shall get in touch with our Legal team or our HR team and send us an email along with a cover letter specifying the duration of the internship for the candidate that is being sought for. We encourage the applications at least 3-4 months in advance.
Many people believe that working as an in-house counsel affords more work-life balance and is less demanding. What is your take on this?
I personally feel that there is hardly much of difference in the work culture, yes though I have fix office hours. I do have late sittings, though may be its transaction specific but I do the same work as my external counsel would do. And to guide any external counsel I shall be well versed with the transaction first. And finally as I am the first point of contact for any Legal issues in my organisation I shall always be well aware about all the legal happening in my organisation.
Lastly, what would be your message for all the law students reading this?
The last few lines I would like to tell to my fellow friends who are yet to enter the fraternity, is please enjoy your college life which in our college days we used to call "Honeymoon Period", but just maintain a balance with your internships and Studies as only fun would not fetch us what we have spent five years for.
There is a lot of opportunities in the market for the right person with right attitude towards work. Learning is a continuous process and in our profession specifically learning never stops. So whatever it takes learn from all the rights and wrongs you do in your life.