Robert B. Ahdieh is a Dean of Texas A&M University School of Law. He served as law clerk to Judge James R. Browning of the US Court of Appeals for the Ninth Circuit before his selection for Honor's Program in the Civil Division of the US Department of Justice.  His work has also appeared in the Boston University Law Review, Michigan Law Review, Minnesota Law Review, NYU Law Review, and Southern California Law Review, among other journals.
He has also served as a visiting professor at Columbia and Georgetown law schools, as well as at Princeton University. He has also visited at the Institute for Advanced Study, at the University of British Columbia, the University of Warsaw, and Singapore Management University, among other overseas institutions.
In this interview he talked to us about:
About the Law School At Texas A&M University and what makes it stand out
Opportunities for Foreign Lawyers to practice in the State
He also talks about Cross Border and Global Practice for Indian Lawyers
What led to your decision to study law?
I had always planned to study math.  I loved the structured logic and systematic reasoning involved in solving math problems.  But when I got to university, I realized that the relatively more isolated workstyle of a mathematician wasn't so appealing to me.  And so, pretty quickly, I flipped over to a focus on law. Although I don't think I realized it at the time, I've come to recognize that shift as a fairly rational one.  Law is grounded in the same kind of structured logic and systematic reasoning as math.  Different rules, of course. But same analytical structure. And so I think it all worked out.
What drew you to teach law rather than practice it as an attorney?
I actually practiced for several years before starting my teaching career.  And I loved every minute of it. While some leave law practice for academia because they don't like practicing, not me.  I loved analyzing the facts and law of a case, putting my oral and written arguments together, and being in the courtroom.  Given the opportunity in both college and law school to teach, and my experience writing an academic book starting in college and continuing into law school, though, I also knew that I would love being a professor.  And ultimately, I decided I could have more of a positive impact on the world by teaching the next generation of lawyers and leaders, and by publishing lasting scholarly work, than through the work I would do as a litigator.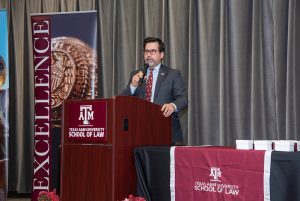 What would you define as 3 biggest successes in your career so far?
I hope the three biggest successes of my life will be my three children.  So far so good, on that front. But in terms of "career" successes, I suppose I might start with the publication of my book on the constitutional transition from the Soviet Union to Russia while I was still in law school.  It was a huge undertaking, but one that I am hopeful will remain a valuable contribution to our understanding of that tumultuous time. Since entering academia, I think I have been a good teacher to a broad range of students – facilitating their success as members of the bar, and as humans.  And I also think my published work as a professor has contributed to two important strands of scholarly thinking – one that has changed the way we think about how governments interact across jurisdictional lines, and one that has helped to shift our ideas about when regulatory interventions might be needed, and what form it might take.  Finally, as dean of Texas A&M Law School, I hope I am contributing to building the next top law school in the United States.
You have observed many law students become lawyers over the years. What according to you are the early signs that helps you to tell which of your students are going to do exceptionally well?
More than anything, I would cite a good work ethic.  Law rewards diligence and perseverance. The more a law student gives of their time and energy, the more they will get.  I think organization would be the next thing. So much of success in law school is a function of keeping up and keeping things together.  Finally, I would note the ability to receive and utilize feedback. Law is a learning process – even when you're in practice – and so the ability to listen and learn is invaluable.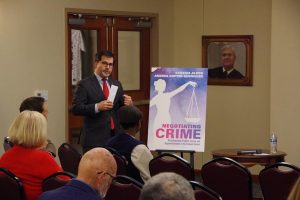 What is special about the law school at Texas A&M University? What would you say makes it stand out?
To begin, I would cite the forward momentum that has defined Texas A&M Law School in recent years.  We have risen more in the U.S. News rankings than any other law school in the United States over the last several years.  The quality of our incoming students has increased more than that of any other law school during that time.  And the increase in our reputation among judges and lawyers is likewise number one in the United States. We expect the coming years to bring more of the same.  Beyond our momentum, I would also note Texas A&M Law School's existing and emerging areas of distinctive strength: our top 10 ranking in Intellectual Property and top 15 ranking in Arbitration, Mediation, and Negotiation; our very strong program in Energy and Environmental Law; and our emerging programs in Health Law & Policy and in Cybersecurity and Privacy, among others.  Finally, I would note our location.  Texas is the fastest growing state in the United States.  And would be the 10th largest economy in the world, if it were its own country.  New businesses – from Toyota to Infosys, Wipro, and Mahindra – move their headquarters here every year.  Every major law firm is opening an office here in Texas. As to India, meanwhile, 20% of U.S. Foreign Direct Investment into India comes from Texas.  10% of U.S. bilateral trade between India and the U.S. involves Texas. All of that creates great opportunity for growth, for learning, and for professional development for law students.
The State of Texas has allowed foreign lawyers to practice in the state. What is the process to be eligible to practice in Texas for a foreign lawyer?
A graduate of an LLM program in the United States is actually eligible to sit for the bar exam in a number of jurisdictions, including Texas.  Thus, a student who attends Texas A&M Law School is potentially eligible not only for the Texas bar, but for others as well. As to Texas, any student interested in sitting for the bar exam should review the requirements of the State Bar of Texas.  In terms of the LLM course of study, for example, students are required to take certain courses during their LLM studies – including professional responsibility, legal writing, and others – to sit for the bar exam.
Who should do an international LLM and why?
My view of the value of an international LLM degree starts with how globalized the practice of law is becoming.  Thus, in addition to one's home country law degree, an international LLM serves the function of enhancing one's credibility both in the country in which the LLM is earned, and in the world generally.  It also gives one a meaningful foundation in the law of the jurisdiction in which one earns one's LLM – and if that is an important jurisdiction in terms of trade, commerce, immigration, etc., that can be very useful.  Finally, an international LLM is a ready vehicle to create a network of lawyer colleagues from around the world, which can serve one in incredibly good stead over the course of one's career. So, who should do it? I would say anyone with interests related to business, trade, energy, international arbitration, intellectual property, tax, cybersecurity, and the like should careful consider whether there is an affordable opportunity to earn an international LLM.  Likewise, those who look to work in any area of law with cross-border dimensions. And finally, those who have an interest in better understanding the world generally, and particularly the global nature of legal practice today.
What does an applicant requires to demonstrate in order to get into a prestigious institution like Texas A&M University School of Law? Any particular trait you are looking for in applicants?
We are looking for students who will come to Texas A&M, add to and benefit from the community, and utilize what they learn here to positively impact the world.  What demonstrates the likelihood of a student fitting that bill? Obviously, we consider the past course of study of a student, and how they have done in their classes.  We look at language skill, to ensure that a student who comes to us will succeed. We are also always interested in work experience, given the skills that usually come with such experience.  Finally, we are excited to add interesting students to our community – however, that might be manifested, from interest in a given sport to artistic talent, or otherwise.
What are the 3 biggest challenges that you have faced in your career? How did you overcome them?
That's a great question.  I actually consider myself fairly blessed, and so I'm not sure I have really faced "big" challenges to speak of.  I suppose one might be the fact that I wasn't born into a family of lawyers, or a family with significant resources.  My parents were relatively newly arrived immigrants from Iran, who were in the middle of their graduate studies, and who were consequently not in a position to connect my sister and me with the networks that too often shape the professional path – and success – of young people in the world today.  They did, however, instill in me a strong expectation of excellence. And a drive to do what was necessary to achieve it. So I consider that to have been a good trade-off, in the grand scheme of things! I suppose I might also note occasional experiences I've had over the years, with colleagues who have taken a very personal approach to disagreements that others might handle in a more professional fashion.  In sustaining a community, needless to say, that approach can be terribly destructive. I hope I have learned from those experiences the importance of not responding to such behavior in kind. Rather, I have tried to respond as I would regardless, in hopes that I might at least keep the cancer of such behavior from metastasizing. And perhaps even help to reduce its frequency and tenor. Finally – although I consider it more of an opportunity than a challenge – my career has taken me to various communities over time, from Princeton to Israel, from Moscow to Texas, and from San Francisco to Vienna (among other places), all of which required me to understand and engage cultures that were quite new to me.  That has not always been easy, but I have found it incredibly rewarding. Hence more opportunity than challenge!
In the era of burgeoning artificial intelligence and digital transformation, what skills do you think lawyers should look to develop?
I know it's a bit crazy, but I think everyone these days should learn a bit of coding.  It's too late for me, as I'm too old. But anyone still in school – or even not too far out of school – would likely benefit from at least some ability to do some basic coding.  I think lawyers should also take the time to understand the technologies around them. And develop the skills to utilize them most effectively. Those lawyers who understand and can manage/apply the technologies to good ends will be the ones who are most valued.  Finally, at the other end of the spectrum, I think the development of specialized knowledge and skills – for example, in intellectual property – will be important to establishing and securing one's value as a legal professional, even in the face of rising technological solutions.
Any message for Indian lawyers who want to develop a cross border or global practice?
As I noted earlier, I think developing a network of international colleagues can be invaluable.  And likewise, the credibility of having meaningful exposure to a foreign jurisdiction. All of which can come from an international LLM, but might also be accomplished in other ways.  Finally, don't neglect your LinkedIn profile, but also other means to make a name for yourself out in the world. Tweet thoughtful insights into topical legal questions. Write a blog on some interesting area of the law.  And the like. It takes time, but it can have tremendous payoffs.