Saurabh Kumar is a graduate of the 2004 batch of Amity Law School, GGSIPU. Right after graduation he joined Scriboards and thereafter he took to independent practice at Trial Courts. Later in 2007, he had the opportunity to work for Senior Advocate, H. S. Phoolka as a Senior Associate, and he worked there till 2009.
In 2009, he started up his own litigation practice with a team of four lawyers mainly practising in Economic Offences and IP matters. In 2013, he secured himself admission in IIM Calcutta for an MBA and on graduation from there he was appointed as a Senior Manager of the Legal Team at Marvel Realtors in 2014 He has since then been given additional responsibility of all Marketing activities, heading a team of 10 and is also responsible for sales performance audit as part of the CEO's office..
He is currently a professional with a dual profile, one of that of an MBA and another of a lawyer, with a keen interest in technology, and in-depth understanding of various business and legal processes.
In this interview you will get to read what he has to say about: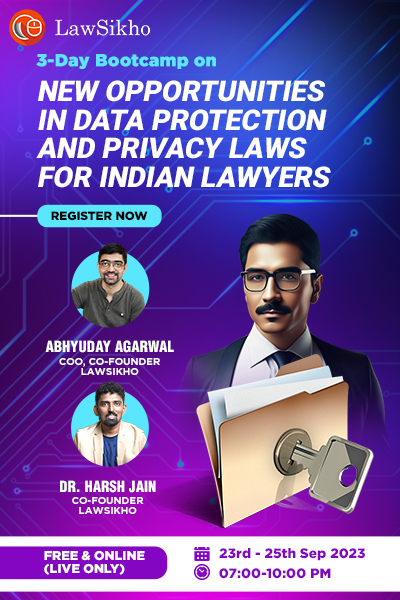 Choosing law as a career option
Litigation experience at High Court and Supreme court
Pursuing an MBA from IIM Calcutta
Important skills of a Lawyer
What impressed upon you the idea to study law? How was your law school experience?
I had a pretty circuitous route to law school. I had joined the National Defence Academy right after my school. After about 2 years, I had to leave the course on medical grounds probably making me one of country's youngest pensioners at the age of 19!
My father then encouraged me to prepare for law school. At that time, Amity was starting their first five year law program in Delhi. I did well at the entrance exam and secured admission. At that time, my parents were a bit reluctant to send me to another city to read law. So studying law as a day scholar was the option for me. I really enjoyed my tenure at the law school. I had the privilege to be the first ever representative of the law school at National level moots. I absolutely loved moot courts. If I can single out one memory/ one method of learning law, it would be moot courts. Apart from Moots, I was also into quizzing and I won a few competitions there at the law school and later even at IIM Calcutta.
A lot of law students promise to take up pro-bono work and do some socially relevant work. Have these ideas ever crossed your mind?
I think at one level it is fashionable to say that as a lawyer, one is doing pro-bono work. But just because there are no financials involved between a lawyer and client, the level of legal effort involved does not reduce. I had the privilege to work with Mr. H.S. Phoolka senior advocate, who does a lot of social work with his heart and soul. To be honest, that was one of the points that attracted me to him and his practice and a chance to be part of it. I was also part of the Delhi High Court legal aid committee. I did some matters there. It was a mixed bag. While some clients were indeed grateful, some others were probably the most demanding clients I have ever dealt with. At present, I assist some smart entrepreneurs, but mostly those who are at present operating out of the incubation centre set up at IIM Calcutta and at IIT Madras. It is more out of friendship though. One must, as much as one can, do some pro-bono work. But how much would depend on one's personal bandwidth.
Soon after graduation you joined Preconcept, (Now called Scriboard) as an Associate. How did your appointment take place?
I had interned a large part of my college days with Lex Orbis. Prof. Balachandran was kind enough to introduce me to Manoj Pillai (Partner, Lex Orbis). I absolutely loved the place. Whatever little I know about IPR, are from my learnings there. It made me extremely confident of what I can achieve as a lawyer (maybe overconfident J ).
Rodney was starting off own his own. At that time, I felt, it would be a good idea to join a start-up. We did not really have structured placements at that time at Amity, Delhi. It was more as to who knows who. Rodney was a visiting faculty at law school. That is how I knew him.
Generally the first year after graduation is the most defining time of a fresh law graduate. What would you suggest a fresh law graduate should do to hold spirit and utilise the opportunities available?
One word: Learn. While law school gives you the depth. Practicing law gives you a totally different approach to law. Suddenly you see law affecting real people, real situations and you, as a young lawyer are in the middle of it. Personally, it took time for me to grasp this difference. (between court room law and class room law). If I could go back in time, I would perhaps try to reduce the awe I had of the interaction between law and real life and focus more on the learnings.
Another thing: while at law school, we majorly study substantive law. In the real world, practice has a lot to do with people management and legal procedures. It takes time to learn both.
After working at Preconcept for a year you left it to start practice at Trial Courts of Delhi and started working with Mr. Prashant Mendiratta. How did that go?
I was always keen on trial court practice. At that time Prashant Mendiratta, from the first batch NLS, Bangalore was looking for a junior. I had worked earlier with Prashant as an intern (from Prof M.K. Balachandran's reference, a former professor of NLS Bangalore and now the director of Amity Law School) Since I was keen on trial court practice, it was a no-brainer to start work with Prashant.
What did you gather from your experience at the trial courts?
Trial court practice opens up your mind to the real aspects of law. What are pleadings and why are the way they are , the value of evidence, the way documents/events are proved, What and the whys of proof, dealing with varied personnel, be it the court staff, police, opposing counsels and of course the Judge. The way the various applications are filed and arguments conducted. In short, how a court actually functions. I learned a lot, about law and procedures working with Prashant.
Later you had the opportunity to work with Sr. Advocate H.S. Phoolka. How did the appointment take place? How did your stint at trial court prove to be helpful here?
I got in touch with Mr. Phoolka through his nephew who was undergoing a Pilot training course with my father. Since I was keen on learning High Court practice and procedure, I was looking to work with a senior advocate in the High Court and Supreme Court. I met Mr. Phoolka, introduced myself, shared my resume and that's it. After a few weeks, if I remember correctly, Mr. Phoolka's immediate junior was going independent and that is when he called me to join his chamber. That's where I learned most of High court and Supreme Court practice and procedure.
Thereafter you prepared for and joined IIM Calcutta. How difficult would you say it was?
Actually, I had my eyes on Indian School of Business and not the IIMs. I felt that I would not even be selected for the IIMs. IIMs being too Maths oriented. Nonetheless, I applied.
To be honest, it is not a difficult paper to crack. All you need is practice and consistency. And a clarity as to why MBA when the faculty grills you in the interview. I had thought of working at a big law firm.  And I felt that the management education would be an added advantage for my candidature.
(Saurabh has since been made part of the CEO's office. He is now looking after legal, Sales performance audit and has been given the overall charge of the Marketing division at Marvel Realtors.)
What are the tips and strategies you which you would like to share with other law students which you followed and developed in order to achieve success in the exam?
The most important question / clarity that one must have is why. Once that clarity comes in, motivation follows and rest all becomes secondary.
Strategies for cracking the exam?
Well, hard work. And better get used to that. Because the quality that is there inside such campuses is quite intimidating. If you are not the kind of person, who does not like to put an all-nighter on the law subject you hate most, or have a mortal fear of deadlines, chances are, you will not be able to do justice to yourself with relatively alien management subjects.
So for you, why did you feel MBA is a good option for a lawyer and why now?
Well, for me personally, I had reached a point where I felt that working in chamber has its own benefits, it would be better to work in a firm with multiple lawyer setup. Approaching firms without any value add would not make me stand out from the multiple applications that firms receive on a daily basis
One option was to study Masters from US/UK, but the reason I preferred management education was that primarily I could showcase myself as a candidate who brings on the table, knowledge and skill set that would be a different point of view on the table. At the end of the day, even firms need management. Secondly, I believe that as a lawyer grows in profession, while he keeps getting better and better at his technical legal skills, managing the legal practice become important. Ergo, a management education.
How was your experience of IIM-C? Please comment on the faculty and facilities.
Our very first class was taken by Prof Sougoto Ray, perhaps one of the finest strategy teachers in India, today. It was an absolute privilege to be taught by some of the finest academics in the country, if not the world. If I would have to zero in on the finest learnings in my life, I would perhaps rate the education at IIM and the Army discipline at N.D.A. at the very top of the list.
Needless to say, the faculty is absolutely top class. They expect you to challenge the theories in class and corner them. One professor – Prof. Rohit Varman, taught us consumer behaviour. He is perhaps the most theoretically immaculate professors out there. On the very first day he said, "Look, I don't have all the answers". The guy had all the answers! He even has a fan club on Facebook!
Another professor, Prashant Mishra, who taught us Marketing and some electives, would summarise the entire Indian economy from the days when Bajaj Scooters were available only in US dollars to the present day E-tail economy succinctly in 15 minutes flat.
The finance professors. One word: wow! People speak languages. Those guys spoke numbers!
You go to the famed IIM Calcutta library, pick up a book on economics, chances are, if its' an Indian author, he is a professor who would be teaching you the subject tomorrow. Rule of the class: "Ask me a question on economics, I cannot answer." "You can read the book, ask me something on economics not covered in the book."
Professor Balram Avitathur, who was one of the faculty who taught us operations, actually gave us articles from Economist to read and understand SCM (supply chain management) So what's so the big deal? Major portion of the end term paper was based on those articles! Not on textbooks. Not on some journals. Not on case studies. But on articles in a news weekly! I would never look as Zara as only a fashion store now! I could go on and on regarding the professors and the subjects. Every single one of them be it in People Management to Finance to Marketing to Statistics, were masters of their own field. Not to mention the brilliance of the class I was part of. To be part of a select gathering that consists of the finest brains from fields as varied as Automobiles to Chemicals to IT to Construction and know that they are in as much awe of you as you are of them. It is an absolutely wonderful feeling. Not to mention friends for life. In fact, in our first class itself, the professor stated- learnings aside, the friendship and the bond that people make here at IIM, – you would keep that for life.
When did you realise the importance of an MBA in your professional profile? How do you think an MBA can prove to be useful in a lawyer's career?
I honestly feel that one can learn business practicing. The world's biggest businessmen are not MBA from Tier 1 institutes, rather they have learned on the job.
In my opinion, business education teaches, amongst other things two major elements. One: how to learn from others experiences so that you don't make mistakes and learn from others. And two: how to remove personal biases, via proper usage of statistics, data tools, and subject specific knowledge.
The main motivation for me to do an MBA was to in addition to the reasons stated above, was to showcase my academic rigour and to use the network built at the Business school and the alumni network professionally.
In retrospect how do you think an MBA from one of the most reputed B-schools has strengthened your career opportunities?
The quality of young lawyers graduating from the top law schools is and will only go up from here. My batch was the first of the five year law school graduates (in Delhi) and the quality is for all to see. But what happens a decade of legal practice down the line. We will have some fantastic and quality lawyers, arguably the best in the world. But these very same immensely skilled professionals would have to learn managing the "business of law". Some will excel, others will prefer to stick to their technical expertise, which is all good, but as one progresses up in career, management becomes imperative. For any recruiter looking at my profile, management education would only make my candidature stand out. At mid-level at least, People & business management and business development starts to become all important. In my opinion, therefore, the rigours of an MBA education from IIM, will only add to the legal skills I have developed.
How did your appointment as a Senior Manager of the Legal Team at Marvel Realtors take place?
This position at Marvel was via the campus placements at IIM.
Your current work profile is quite different from that of the profile of a trial advocate. How did you decide to adapt into this requirement of completely new set of skills?
It is not actually in terms of the technicalities. Yes, I don't prepare evidences or go to court on a daily basis. In trial courts, to be honest there were far too many independent variables, acting totally independent of each other (sometimes, unpredictably so). In my present profile, apart from handling legal, I also look after Sales audit, and am responsible for almost all marketing initiatives as part of the CEO's office here at Marvel.
At the end of the day, there is a team, a competent team that does more of the jobs well and successfully. It becomes more of a team handling role than out and out sales and marketing or legal. The end goal is that the team achieves its targets and performs competently. Be it in Legal, Sales or Marketing. A large part of the role also involves co-ordinating activities with vendors.
Does your current work profile include any scope of litigation? Do you plan to return to mainstream litigation in the long term?
There is litigation at the present role. There is also a lot of drafting, conveyancing and real estate due diligence that is involved. I do plan to work in legal field, albeit with a focus on managing legal practice.
In between all these commitments, you have managed to teach as a visiting Faculty of Law in Amity University. What has your experience in teaching been like? Do you look forward to such opportunity in future?
I love teaching. But in all honesty, teaching requires full time commitment. In law, no question is wrong or out of scope of any discussion. It is refreshing to interact with budding lawyers and some of them can challenge you on what is law. I do look forward to such opportunities where I can balance teaching and my professional life.
You have made several decisive career moves in the last ten years. What all should one consider while making such decisions? What are the primary goals which you want to achieve?
Decisive? The only decisive career move that I felt I had to make was to do this MBA from IIM Calcutta. What was my goal? – To be a kind of a lawyer who brings added value to any discussions & argument and the follow-up action, than what only a lawyer would bring/do. It is but obvious that as one grows professionally, management become extremely important. My goal was to be of value both in law as well as in management.
What would be your message to our readers who are law students and lawyers?
I think law is one of the most versatile professions out there. However, it's also a profession where it is relatively easy to fall behind unless one puts in an effort to be updated with the latest regulations and judgments. Perseverance pays. Keep learning!