Sheela Yadav was born and brought up in a conservative atmosphere, one that is not very encouraging for girls to study, but that did not stop her from pursuing her dream of studying law. Encouraged by her father, she completed her graduation in sociology and enrolled herself for the three-year LL.B course in SNDT University. Upon graduating, she started working at the chambers of Preeti Shah, and completed an LL.M alongside her work. After developing an interest in IP laws, she switched to Sun Pharma where she currently works as Legal Officer.
In this interview, she talks about:
The initial experiences of her life which made her want to study law
Her work in litigation and experience working under Advocate Preeti Shah
Her current work profile at Sun Pharma
Why did you decide to study law? What inspired you to do so? How did you get through to SNDT Law School?
I belong to a place in North India where girls are not allowed to study much but my family gave me a chance to study. One day, the panchayat of my village gave a wrong decision in a dispute regarding division of property. The dispute was between my father and my uncle, and I wanted to say something but wasn't allowed to, being a girl. There were many other instances like this, which inspired me to study law in order to know the rights I and other girls hold. My father motivated me to join SNDT Law School.
What were your areas of interest during your graduation? How did you go about developing expertise and knowledge in these areas?
During my graduation my area of interest was sociology. Being a sociology student, I had to participate in various surveys where I came to know that there are a lots of people who don't enjoy benefits of public policies, mainly due to lack of knowledge and awareness about the same. This, again, gave me a push to study a law.
As a law student which activities did you participate in?
During law school, I participated in various conferences, seminars, essay competitions and workshops which enhanced my knowledge and deepened my interest in law. I have also participated and presented a research paper in the "World Peace Congress 2008" a UNESCO chair program, on the role of youth in promoting the "Culture of Peace in the World" held at World Peace Centre (Alandi), Maeer' MIT Pune. I was also awarded for participation in Alternative Dispute Resolution project by Indian Law Institue in 2008. In 2010, I secured First Rank in LL.B. examinations in the University.
What kind of internships did you do while you were a student?
I have done various internships during my law school. However, the internships at Haresh Jagtiani & Associates and Divya Shah & Associates are very close to my heart. These were the internships where I majorly worked with the litigation team of the firms. These firms allowed me to understand the roots of litigation and law.
Do you feel that there is a perception of difference among NLU and non-NLU students?
Yes, when you are a student from an NLU, everyone treats you like you know everything. While applying for internships, college name plays a vital role. This name gives better and easy exposure to top law firms. It's because of the kind of education and facilities there. However, in traditional universities, we have to do everything ourselves. They are preferred even when a student from a traditional university is more talented because at the first glance the employers notice the name of the college.
After graduating from SNDT Law School, you started working at the Chambers of Preeti Shah as a Junior Associate. What kind of responsibilities you were entrusted with?
I wanted to get experience in litigation and court procedure. I heard about her and therefore directly approached her. She appointed me in spite of the fact that I did not have any references. I have learned a lot from her. She has given me lots of opportunities to appear in court and argue matters. She is the best teacher, in a way, because she taught me the basics of post-graduation experience, guided me and supported me in my highs and lows.
You left the Chambers of Preeti Shah and had joined Agnihotri & Jha Associates. What led to this shift? How was your experience working there?
During my work period with Preeti Shah I found my area of interest in IPR laws and therefore shifted to Agnihotri & Jha Associates. There, I handled IP matters including application of registration for Trademark, Copyright & Design along with other litigation matters. However, this place taught me that everything that glitters is not gold.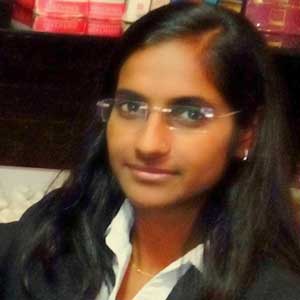 How did you eke out time for the LL.M from Mumbai University while still working at Chambers of Preeti Shah? Please share your experience with our readers.
As I already said, Preeti Ma'am is one of the best people I have ever met. She supported me at every stage of my career and guided me throughout. I always wanted to do a Master's and therefore asked her regarding the same. She allowed me, supported me and encouraged me to do so. After finishing my work, she used to ask me to go and attend my lectures. She has been an angel in my life.
Currently, you work as a Law Officer at Sun Pharma. How did the switch from Agnihotri and Jha take place?
To get better exposure, I wanted to switch and join a new company. As far as I think, FMCG & pharma companies are one of the best places to gain experience in IP laws. I am keen user and follower of LinkedIn and one day, I came to know that there's a vacancy in Sun Pharma. I wanted to switch and therefore applied through LinkedIn. After various procedures, I was recruited.
What does your current work profile at Sun Pharma consists of?
My work profile in Sun Pharma is majorly Trademark searches including drafting Applications, Oppositions, attending Show Cause hearings, Special drives, and other follow ups in the registry including Online filings.
What has been your strategy to deal with errors and mistakes? How would you suggest a young associate to deal with them?
The first step to deal with your errors and mistakes is to accept them and the fact that you have committed those mistakes. The next time you deal with the same or similar matter, approach it with a clear understanding of the concept and also with the mistakes committed earlier. It will increase your chances of winning.
Tell us about a case that you are particularly proud of.
Being an employee of Sun Pharma I can cannot disclose information about matters which are still going on. To crack a difficult case, always think from the other side and only then can one understand what difficulties are faced and how to tackle them. To prepare for a difficult case, deep study of the matter including the applicable laws and study of relevant provisions, remedies, penalties as well case laws is required. For example- if you are preparing for trademark infringement case : criteria for analysing trademark infringement required to be known viz. is likelihood of confusion about the origin of the defendant's goods or service and the plaintiff should first show that it has developed a protectable trademark right in a trademark. The plaintiff must then show that the defendant is using a confusingly similar mark in such a way that it creates a likelihood of confusion, mistake and/or deception with the consuming public. The confusion created can be that the defendant's products are the same as that of the plaintiff, or that the defendant is somehow associated, affiliated, connected, approved, authorized or sponsored by plaintiff.
What are the key qualities one should possess for becoming an IP and FMCG lawyer? What is the earning potential?
FMCG law is a new and emerging area which give lots of opportunities to learn new things every day. Deep understanding of the consumers and areas covered under the FMGC laws are the only essential and key qualities which one should possess for becoming an FMCG lawyer. Earning potential depends of the person's hard work and knowledge.
Many lawyers would say that the actual learning takes place in the years of practice. What was the case in your situation?
Yes definitely that was true in my case as well. Practical life is totally different from theoretical and college life and day to day practice and challenge expands your knowledge and improves the skills to tackle the situation better.
Lastly, what would be your parting message for our readers?
Believe in yourself, and never give up. There is no substitute for hard work and keep patience.