Avijit Sharma graduated with a degree in Anthropology from Hans Raj College, Delhi, later he graduated in law from CLC, Delhi University in 2009. While in college, he earned several awards at moot court competitions including the award for the Best Speaker at the 27th National Bar Council of India Moot Court Competition. He was also the Convenor of the Moot Society at Delhi University. He began his legal career as Assistant Manager-Legal Affairs at Internet and Mobile Association of India. He is currently an Associate at Saikrishna & Associates. In this interview he talks about:
Balancing academics and mooting
Working at IAMAI and Saikrishna & Associates
Specializing in IPR Laws
You have a Bachelor's degree in Science (Anthropology) from Hans Raj College, DU. Could share with us any specific incident which motivated you to pursue law as a career?
Law was always a career option for me. Law could be studied as a five year program after XII Boards, or a three year program after a graduate degree. Graduate degrees in English, Business Administration, Economics and commerce are considered useful for a career in law. However, after going through the syllabus for B.Sc. Anthropology I felt that it should provide an ideal foundation for a career in law – in no other discipline is one simultaneously exposed to the study of biological, sociological, cultural, economic and political growth of human beings and societies, as well as immediately useful subjects – such as human anatomy and forensic science. For me law was a logical progression from Anthropology.
How was your experience at CLC, DU?
I had a wonderful time at CLC, DU. The crowd was good. The faculty is great. The intellectual environment is stimulating. I focused on constitutional law, intellectual property and environmental law. I found criminal law fascinating and law of evidence absorbing, but tried not to neglect any major branch. I cannot presume to be able to advise anyone, but would suggest that one should try to explore every major branch of law.
What is your take on academics?
Academics are very important. A consistently good CGPA is a reflection of one's attitude and habits of regularity, inner discipline and capacity for organized work. I believe that these qualities are equally essential for a good career in the legal profession. In addition, a good CGPA makes your CV impressive in the eyes of Law Firms and prospective employers.
What skills did you get to hone as the Student Convener of your Moot committee?
Being the student convener of the Moot Court Society was a cherished moment. The Moot Court Society was all about close looping with the senior and junior batch-mates and learning to present arguments at moot court fixtures. I am greatly in debt to Prof. Alka Chawla for recognising my time management skills, and entrusting me with various important decisions to manage the Moot Court Society.
You have participated and won various moot court competitions. What is your advice to budding mooters?
Yes, I have won various moot competitions and also won a scholarship and the Best Speaker award in the 27thNational Bar Council of India Moot Court Competition and in a few others.
One has to be better prepared for the 'competition'. It requires thinking through both sides of the 'problem', being conscious of the strengths and weaknesses of both sides of the case and an anticipation of the possible queries of the judges. In short, one should be prepared enough to be able to argue from any side of the case at a moment's notice. My advice to a budding mooter would be – never to be aggressive at any moment, but to be assertive at all times. It is important to carefully listen to the arguments of the opposite side and the questions asked by the Judge.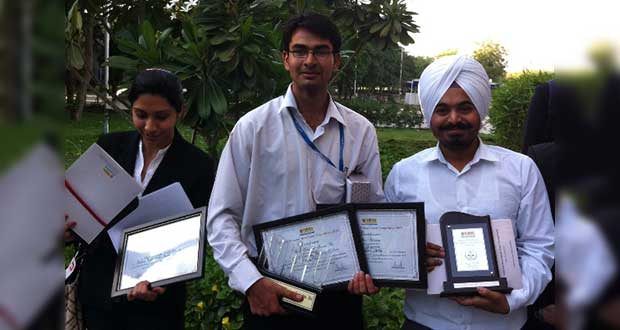 How does one make a winning memo? According to you, what is the difference between a great and an average memo?
My answer would be the same as in response to the previous question. Plus, a winning memo should be crisp and brief, without missing out on anything essential. A great memo would reflect the fullness of legal research, and a keen focus on the essential issues. An average memo would be comparatively lacking in these properties.
How important do you think are co-curricular activities in shaping the legal career of a law student?
Mooting, debating and publication in journals are the best intellectual pleasures for a law student and very effective preparation for a life in law. I'd say that it's the time best spent.
What are the tips and strategies you would like to share with our readers who are currently law students?
Academics are very important, since they reflect one's inner discipline and attitude towards work, and it would be foolish to sacrifice them for the sake of anything, including a good performance in a moot court competition. It is to be understood that the theory of law itself has resulted into various codified laws and landmark judgements. The great Nani Palkhiwala attained a tall stature at the bar on the foundation of a strong academic background. In short, one has to excel at both, which requires good time management – an advice which is easy to give but hard to follow. Nevertheless, a good CGPA can never hurt.
How was your first year after graduation?
The first year after graduation was a tad difficult, since I could not find congenial work at the very outset. It was important to have a proper start by finding a suitable opening with a law firm of repute.
You started your legal career as an Assistant Manager – Legal Affairs at Internet and Mobile Association of India. How did your appointment take place? What was the nature of your work there?
I applied for a position at Internet and Mobile Association of India ("IAMAI"), and was fortunate to have been offered the said position. I believe that it was due to the combined effect of my academic and extra-curricular record. As the Assistant Manager, Legal Affairs, in addition to the other things, the most interesting part of my duties was to watch and document the developments taking place in the cyber world – in India as well as globally, be they legislative, judicial, social, political or commercial.
The tipping point came when I as a co-petitioner along with IAMAI decided to move the Supreme Court of India in a writ proceeding, challenging various provisions of The Information Technology Act, 2000 and the Rules framed thereunder. The Writ has recently been decided by the Supreme Court (reported as Shreya Singhal vs. Union of India) and is considered as a milestone in Internet Jurisprudence.
Currently you work as an Associate at Saikrishna & Associates. Please tell us the recruitment process at Saikrishna. Tell us about your induction into the firm.
S&A is always open to the induction of fresh associates. They look for young professionals having the ability to work smart as well as hard, in keeping with its professional requirements. I assume that in addition to a creditable performance at the graduate and law school level, the firm also gives weightage to the extracurricular as well as professional exposure and confidence in a prospective associate. I came in touch with Mr. Saikrishna Rajagopal and Mr. J. Sai Deepak in relation to my law related responsibilities at IAMAI. S&A and IAMAI were collaborating over several matters of mutual interests, including the above-mentioned writ petition. I must have left a good impression upon them and they were gracious enough to offer me the position of an associate in the firm.
What kind of work and responsibilities does an associate at Saikrishna deal with?
The Associates in the litigation department deal with subject matters pertaining to IP enforcement, regulatory litigation, competition law litigation, pharmaceutical advisory and litigation, entertainment, media and software anti-piracy campaigns. The gamut of work includes preparing briefs, drafting pleadings, researching relevant case laws, client meetings, court appearances. The firm provides ample work related opportunities, professional exposure and a conducive environment to enable its members to fully utilize their potential to the maximum, thereby enabling them to shape their standing and professional career.
How did you build up your expertise in IPR?
The study of law is a never ending process. A lawyer remains a student forever and only the finest and sharpest of minds can claim to be an expert in any given department of law. In all humility, I would say that I have been barely able to scratch the surface of IPR Jurisprudence. The primary essential of an IPR lawyer or for that matter a lawyer in any other field of law is his thirst for knowledge and an open but critical mind.
What kind of internship applications do you think stand out positively?
Interns are meticulously and rigorously coached at the Firm which offers to them invaluable insight into the professional lives of the lawyers conducting cases and appearing before the various courts and tribunals. The interns are given a range of responsibilities which includes research upon various propositions, preparing case notes and attending mediation sessions. The firm has an internal department which evaluates the applications keeping in mind various objective standards. I understand that interns having a working knowledge of the substantive and procedural laws usually do well with the firm.
Given a chance to turn back the clock would you have done anything differently from what you've done?
The study and of law and its practice has so far been an exciting journey. It has taught me ways of life. Given a chance, I would want to revisit my graduation days to attend and discuss study lectures of Prof. Kamla Sankaran on constitutional law and jurisprudence.
Lastly, what would be your message to a law student who is yet to decide his/her career?
The study of law is more than chalk and talk, so it is important to meet people, patiently listen to their ideas and to socialise. As an advice to law students, I would first stress upon the importance of academics and theory and thereafter making career decisions after evaluating the stream of opportunities which may come their way.