Tell us about the 3 most important experiences at the Government Law College that helped you as a student or shaped your career as a lawyer.
To begin with, it's an absolute no-brainer that the Government Law College has an illustrious history dating back to the 1800's when it came to be established as Asia's first law school. The institution prepares its students in a holistic manner in ways which one might not even initially find apparent. For instance, when I was the Treasurer of the Sports Committee in my 3rd and 4th year, I learnt to deal with the inherent bureaucracy and red-tape that comes part-and-parcel with a Government-run institution. I learnt how to adroitly deal with the various authorities involved from requisitioning sports equipment and team jerseys to getting the funds sanctioned for sending the college teams to various sports law fests all over the country. This responsibility at that stage in my life and the active support of my professors taught me how to hustle and be a go-getter instead of idling it out. 
Second, the brilliant part-time faculty like Professor Pithawalla for Company Law and Senior Cousel Mr. T.N. Subraminan for Civil Procedure Code made attending early morning class a truly worthwhile experience. 
Third, the lively on-campus committees were like a breath of fresh air given the limited space and resource constraints. The Placement Committee, the GLC Model United Nations and the Sports Committee (a committee with which I was personally involved) were amongst the most active and one could learn a lot and network at the same time as the responsibilities involved were significant and the college has an excellent alumni network and legacy connections that are more than willing to help if leveraged effectively.
How is the career exposure at GLC Mumbai? Does it have a student-friendly environment? What are the pros and cons?
I would like to quote an illustrious senior's words when he once famously remarked something to the effect that "GLC is like a buffet spread, you can have a bit of it, all of it or nothing at all." In other words, the college offers to its students the best of everything whether it is academics, mooting, sports or seminars. However, the onus rests completely on the students to actively make use of these opportunities. The institution does not chaperon them and that can be both a good and bad thing depending on the level of one's participation by the time graduation comes around. 
You have participated in several moots. Does mooting help in one's legal career?
To be very honest, now that I am a full-time litigator, mooting does not help one become a good counsel per se. In hindsight, mooting certainly helps a fresher get acquainted with how to prepare and present a case brief, the atmosphere of an actual court room and if one is afraid of public speaking, mooting is an absolute must to overcome the equivalent of stage fright for lawyers. But that apart, as one delves deeper into the sphere of litigation, one realises that mooting and actually arguing a case in court are poles apart. Litigation takes years to master and mooting is at best a soft introduction to it.
What are the 3 things that you liked the most about Duke University? What course did you choose and why?
I loved the fact that Duke is one of the elite law schools in the US with a very small intake per LL.M batch. In fact, my batch had at that point in time, the highest ever intake in the history of the school's LL.M program and that also stood at a mere 100 candidates. Duke is known to be characteristically selective and extends formal offers to a select group of candidates out of which it finally admits only about 75-80 candidates each intake. This way, everyone from the Dean of the LL.M program to the professors and the administrative personnel knows you by your first name. This warm and friendly atmosphere at Duke made the offer hard to resist.
The professors at Duke are top notch and are world-renowned in their respective fields. To be taught by stalwarts such as the likes of Professor Diane Dimond, Professor John Holton, Professor Francis McGovern, Professor Steven Schwarcz, Professor Neil Vidmar, Professor Ralf Michaels and Professor Bruce Elvin was both enlightening and humbling at the same time. An experience that I can never forget.
The law school has an "open door" policy where there were really no formalities if one wished to meet a professor to clear any doubts no matter how small or trivial they might seem. This was a far cry from some other law schools that graduate several hundreds of LL.M students each year and one couldn't be faulted for thinking they're just another product rolling off the conveyor belt. So yes, as far as I was concerned, Duke was definitely a top priority school for a variety of reasons. The professors do their very best to take time out and sit with the student at length. Also, the classrooms resemble less of a football stadium unlike in schools with huge intakes and are more intimately designed with small batch sizes. All of the above coupled with the fact that Duke is counted as one amongst the nation's top law schools made it a no-brainer for me eventually.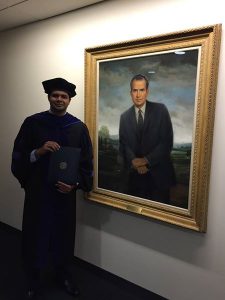 As to the courses I opted for at Duke, I'd like to deal with this question broadly from a country-wise perspective and then specifically narrowing it down to Duke. What tilted the scales decisively towards studying in the US for me was the teaching methods employed that basically involved Socratic-style discussions with professors during class rather than it being the traditional one-sided whiteboard-marker approach adopted in India. Further, the American system is traditionally more assignments based wherein your final grade is computed based on the outcome of weekly/monthly assignments turned in together with an end semester exam. Another compelling factor worth noting is the fact that courses in the US are highly customisable. In the US, one can actually build their own course by selecting courses completely unrelated to each other, so long as they total to a certain number of credit hours within the rules set down by the University. For instance, I did have batch mates who chose to take a course at the neighbouring Nicholas School of Environment or the Fuqua School of Business which counts Tim Cook, the current CEO of Apple as one amongst its illustrious alumni. One can therefore reasonably infer that the education system in America focuses primarily on breadth whilst those of the UK and India focus mainly on depth, in that, in these systems, one is encouraged to specialise rather than diversify whilst in the US, once could ideally tailor the program to better suit their individual needs. I had a batchmate in my arbitration class who was primarily studying in a science-based course but also opted for this one class at the law school.
Coming to myself, I opted for subjects such as Alternative Dispute Resolution, Structuring & Regulating Financial Transactions, Business Associations, Arbitration (American domestic), International Arbitration, Negotiation, the Business & Economics of Law Firms and Legal Research & Writing in the American Legal System amongst others. I found these classes to be very well structured and geared primarily towards contemporary practicing lawyers. For instance, my final assessment in the Arbitration class involved submitting a memorandum of law and oral arguments wherein my course professor presided as an arbitrator. The oral arguments were video recorded and my professor later had a one-on-one with all of us explaining to us exactly where we went wrong and where we could improve whilst our arguments played on the projector screen.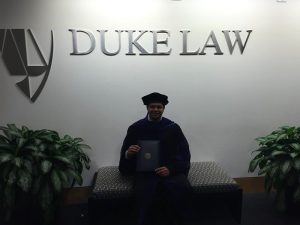 How is the campus life at Duke? Can you share some good photographs?
For someone hailing from Mumbai, the campus life at Duke sure caught me off-guard in the initial month that I landed in Durham. Unlike a large bustling metropolis like Mumbai or New York City, life in the quiet deep south in North Carolina is poles apart. One could easily whiz past Durham in nanoseconds whilst travelling on the interstate highway. Being a graduate program student, I opted for housing in one amongst the numerous gated community residences located just outside of campus. These come fully equipped with all the amenities one could desire like a gym, swimming pool and electronic secure access to the housing complex, all at a very reasonable price. In that sense, the campus is in a lush green surrounding with the law school having its own dedicated building fully equipped with a state-of-the-art library, study and meeting rooms, cafeteria and lounge room.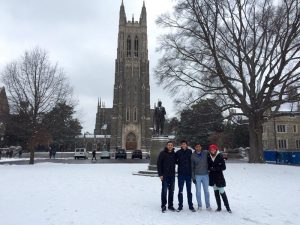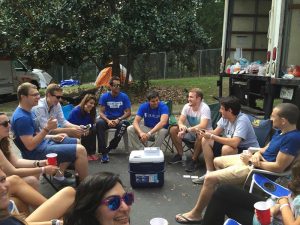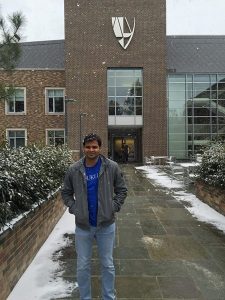 How has your degree from Duke helped in your career? According to you what kind of people will benefit from a course at Duke?
The value of an LL.M from a prestigious school such as Duke simply cannot be overstated. Apart from the tangible benefit of having a solid qualification, I feel the intangible benefits are innumerable but some of them deserve a mention. It's not every time in life that one gets the opportunity to learn from such illustrious professors. Besides our set classes, we also had eminent speakers from policy-making institutions, think-tanks, the American judiciary and attorneys address us almost weekly, on a range of subjects. Coming to the latter half of your question, I'd say a Duke Law degree is ideal for a candidate seeking a program that has a selective intake, prefers small class sizes, is willing to absorb all that the school throws at him/her since the program is well-tailored in a compressed but pacey format given the time constraints and most importantly, works hard in his/her 5 year undergraduate program to earn the credentials to be able to secure an offer of admission, since top law schools in the US tend to be closely scrutinise candidates prior to extending an offer. The best part about the program is the flexibility of the program to pursue interests at the opposite end of the spectrum. Duke Law also offers specialised certificate courses in addition to the vast array of subjects on offer. So whether it's corporate law, litigation, IP or arbitration, refugee law, human rights and so much more the school has it all covered.
In fact, I must make here a special mention of a course that I had opted for known as "The Business & Economics of Law Firms". This course basically taught on the practical aspects of US law firms such as the concept of billable hours that associates adhere to there, the categories of partnership structures in large law firms, their business model and profitability methods and the manner in which they used social media and conventional methods to publicise their firm and solicit work, something very different from India where the Bar Council of India rules prohibit the solicitation of clients in any manner. I thoroughly enjoyed pursuing this unique course.
What are the most exciting and upcoming areas in IP law? What kind of matters do you often handle?
In the last 3 or 4 years only, media and entertainment law has grown exponentially to the extent that both law firms and media/production houses are investing huge sums of money into their verticals and are on the look-out for lawyers possessing specialised skills in the field. This comes as no surprise at all considering the advent of OTT streaming services and India's largely archaic legislation not being in sync with the fast-changing landscape. Take for instance the loopholes in the Cinematograph Act or the at-times conflicting decisions of the various High Courts when it comes to trademark and copyright matters.
My work in this field covers both transactional as well as litigation aspects. Vetting contracts entered into by media houses with social media companies, giving opinions with minimal turn-around time with regard to soon-to-be-launched ad campaigns, attending to matters at the Trade Marks Registry, filing/defending against Commercial IP Suits along with Interim Applications before the Hon'ble Bombay High Court for injunction in cases of copyright infringement, drafting and reviewing celebrity endorsement agreements and drafting non-disclosure agreements are some of the things I've dealt within this area of the law. Another important aspect in transactional IP is to have a good idea about the stamp duty payable and the applicable legislation state wise, since stamping goes hand-in-hand with the documentation.
How was your experience working at Mulla & Mulla & Craigie Blunt & Caroe Advocates, Solicitors and Notaries? Tell us about the work environment and the kind of skills you learned while working here.
The exposure at this firm set the foundation for me to handle matters independently at a later stage in my career. The work here also involves my first and only brush with maritime law. I learnt the procedures involved in getting an arrested vessel released, the concepts of laytime/laycan, wharfage and demurrage besides of course litigation and arbitration. I can't thank the-then senior partner that I was under enough for giving me the opportunity to work under him as a wet-behind-the-ears youngster. It was here that I learnt the basics of client-facing interaction, conveyancing and everything in between, from drafting complex deeds to seemingly not-so-complex recording letters to clients. The work environment at the firm is very conducive to learning the black letter law for a complete fresher. I credit most of this to the then senior partner who very graciously agreed to accept me under his wing. That set the stage for better things to come, amongst them my admission to the LL.M program at a highly selective law school of the caliber of Duke.
How is the practice of IP law different from practising other more common areas of law practice such as civil or criminal litigation?
The practice of IP involves is not as simple as it might seem to most. When dealing with IP (litigation) especially, one invariably has to end up reading on a lot of other ancillary material as part of case management and preparation. A lot of this may or may not have to do with areas of the law only. For instance, in a recent matter that I handled defending a large and reputed media agency from another agency alleging copyright infringement, I had to actually understand the entire creative/ideating process involved right from receiving the client brief, developing a creative deck, making a formal "pitch" to the client as to how the agency envisions the campaign ought to run, receiving the client's approval for execution and finally, choosing an executing production house who in turn commission prominent directors, calling for "treatment notes" from them. I particularly enjoy such matters since they involve impugned ad campaigns that one already sees on air on television, in theatres and on YouTube. As part of the IP (transactional) practice, the work usually involves giving written opinions in matters before the Advertising Standards Council of India (ASCI). The key here is to advise the client in the minimum possible turn-around time since generally, these hearings are neither adversarial nor adjudicatory in nature and therefore, attorneys are not ordinarily  permitted to represent a client and so, the opinion be drafted in a manner that the client can effectively use it whilst representing himself or herself before such bodies.