Shikhar Thukral graduated from Government Law College, Mumbai in 2013. Upon graduation, he joined Bharat Petroleum Corporation Limited, Mumbai as a legal officer, and has stayed in that position since. In 2015, he completed a Professional LL.M programme from the Boalt Hall School of Law, University of California. He has interned in leading law firms such as Crawford Bayley & Co., and Luthra and Luthra Law Offices while pursuing his LLB degree.
In this interview he discusses:
Law as a tool of social change and his motivation for pursuing it
The reason why knowing corporate laws is important even from a social perspective
His experience with pursuing a Professional LL.M
His publication on Section 377 of the IPC.
Tell us a little about why you decided to pursue Law. Has this always been your career plan?
I come from a family of doctors, which would make one presume that the medical profession was my natural calling. However, of my own volition I decided to 'don a black coat', as I always believed in law as an agent of social change. I would like to share a story from my school days which I believe is a precursor to my decision of choosing the legal profession. During my 12th standard I was actively taking part in heading the student body and making representations to our Principal for our needs. We came across an instance were some of the school faculty were offering private tuitions to the students. The students who were availing those tuitions had secured good marks in their pre-board terms and other students, though meritorious, were deprived of marks. I personally brought this to the notice of the school management with a detailed written representation, and finally a decision was taken that such tuitions should be stopped. I chose to study law in the hopes that I will be able to represent the community at large for more such social reforms.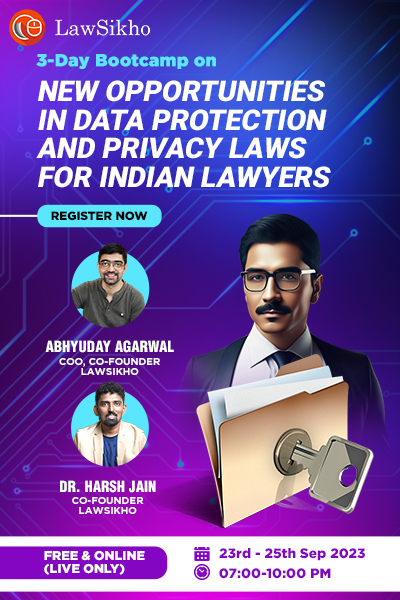 You have worked with several top tier firms. How do you think your experience with them has shaped your approach to the profession?
Working with law firms gave me a firsthand knowledge of how to deal with clients in a professional manner. I still leverage that experience in my current role dealing with in-house clients. Moreover, in a law firm environment you cater to different industries whereas working for a company restricts you to a single domain. The law firm paradigm helped me understand that the legal profession is very competitive. However, there is scope for everyone to reach up to a certain level. Beyond that, earning a good reputation chiefly depends on your networking skills with clients.
Have you always been interested in Contract Law and Corporate Law? How did you choose your specialisations?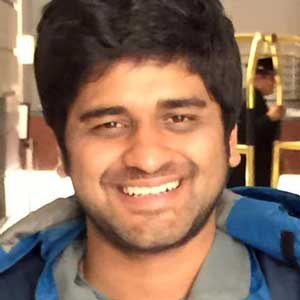 As I have stated earlier, that my ultimate ambition to pursue law was to necessitate advocacy for social change. However over the years I have learnt that it is also important to know the other side of the story. We often keep hearing that "big oil", "big tobacco", and "big bank" companies control the economy of the country. A reform, however laudable its social objectives are, cannot disjoint itself from economic objectives. To accomplish such objectives, it was vital for me to engage my faculties in corporate and commercial laws too. Also, I must candidly admit that as an immigrant in Mumbai, my survival from a fiscal point of view had to be taken care of and the pursuit of noble objectives of socio-economic reforms were not rewarding financially. Hence, my decision to engage in studies of Commercial and Corporate law are attributed to both these reasons. Nevertheless, I have not deterred from my initial ambition. I intend to do more social studies and ultimately work towards achieving social reforms. What I am doing currently is only a stepping stone to what I intend to accomplish later
You presented a paper on Section 377 of the Indian Penal Code. What is your stance on the issue as it currently stands?
Now, a great deal depends on the outcome of the curative petitions which are currently pending before the Supreme Court of India on this issue. I have always maintained the stand that a person's orientation is a basic liberty which should be protected by the contours of fundamental rights in our Constitution. It is quite heartening to see that conservationist groups are also now supporting this position. I was disappointed by the outcome of the efforts undertaken by Shri Shashi Tharoor when his proposal to strike down the provision failed in the Union Legislature. However a new CJI has given us hopes that the LGBT community can survive in the society without any fear of persecution. I must add here that there are some pragmatic limitations on every liberty. I believe in decriminalization but that should not lead to glorification. "Your right to swing your arms ends just where the other man's nose begins."
You have worked extensively with Public Sector Undertakings as an in-house-counsel. Can you tell us about your experience with that? What do you think young lawyers aspiring for the same should always keep in mind?
It is indeed a very good environment to work and the work load is fairly manageable. Your innovativeness in providing legal solutions, especially in supply chain/product companies would be greatly rewarded.  There is tremendous opportunity to learn and you will also be exposed to important and high stake matters from the very start of your career. I remember giving advice on a 100 Million USD transaction in the first three months of my work. You will also be subjected to soft skill trainings on a regular basis to develop your personality. As an in-house counsel for a Public Sector Undertaking, one must keep in mind that you are discharging a public duty and it is enjoined upon you to be fair and impartial in all your dealings. You will undoubtedly be bound to support the Corporation's stand, but counsels must be firm in their advice to deter certain practices. It is indeed quite a tough call to make and sometimes your advice will be superseded. I would advice my brethren intending to join a PSU to be accommodating and tolerant in such scenarios. Your passion and devil's advocacy may be put to test.
As a lawyer, it is very important to be able to negotiate with clients. How do you build the rapport required for that?
I have always felt that a personal connection with the client aides towards that end. Before meetings, I usually research on the participants and I try to engage in informal conversations on their likes and dislikes by relating them with myself. Try to exhibit a personal interest in your clients as it helps in building trust. I must also modestly admit that I have a very good sense of humour and that comes in handy while building connections. Even if someone is sitting across the table in the capacity of an opposite party, there is no harm in making an enquiry into their character, business and whereabouts. You never know they may be your client tomorrow
Tell us a little about your time as a Law Student. How did you prioritise your time?
I must state that I have been a good student, though I spent most of my time as a vagabond in Mumbai. The hostel life caught up to me and I thoroughly enjoyed the same for the first two years. After my pre-law (B.L.S) years, I engaged myself in internships as at that time I thought that in this profession, experience counts more that education. However I never stopped studying and devoted my nights studying the subjects. I also engaged myself as a remedial lecturer in the Government Law College, teaching the pre-law subject Logic to students. I prioritised my time to ensure that my days are devoted towards internships and nights for studies. The weekends were always devoted to leisure.
After pursuing your B.L.S. and then LL.B from Government Law College, Mumbai, you went on to obtain a professional LL.M. from Boalt Hall School of Law, University of California, Berkeley. Tell us a little about the application process, and how you got in.
The application process was indeed a harrowing experience as a lot of things had to be arranged over a short period of time. Apart from the application form, you needed a Statement of Purpose, Reference Letters (academic and professional), transcripts, college degrees etc. At the same time I was also working in my current role and so was overwhelmed initially. However when my Corporation supported me to pursue this, I left no stone unturned to ensure that I got through. I was chiefly selected on my academic performance and my SOP for which I was also awarded a tuition fees scholarship. I would recommend that readers aspiring to join the University do their research on the programme as this is a programme split over two summers and is meant for working professionals. The readers may please refer to llbguide.com to know more about the programme and make an informed decision. The application process is clearly explained on lsac.com and the applications can be made from there.
In your opinion, how exactly did an LL.M. from abroad benefit you? What was your thought process in deciding to go abroad?
Doing an LL.M. from any foreign University completely changes your perception of studies as compared to India. Speaking from my experience at Berkeley, I must say that the manner of education abroad is far superior. An LL.M. from a foreign University indeed helped me in my current role as I am regularly applying the knowledge gained therewith to my current work-profile. Moreover, it increases your marketability in India and abroad as a candidate for jobs, though not initially but after achieving 3-5 years PQE. Also, the connections that you make there will benefit you and your organization greatly. Today I can safely say that I am in touch with a lawyer in every major city in the world and my Corporation is also availing their facilities. I chiefly intended to go abroad to experience a full-fledged University style of learning. As I mentioned earlier, I did not attend much of my college in Mumbai as I was busy in internships. Coupled with the scholarship, it was a win-win situation and I was able to gain a firsthand experience of learning in one of the most prestigious law colleges in the world.
For other aspiring students with their sights set on foreign universities, what do you think is essential for them to keep in mind?
Foreign Universities are meant to impart learning and should not be viewed as an investment to secure better job prospects. There are many benefits you can gain from foreign Universities. One should experience learning in such an environment to assess where they stand as compared to the world. I understand it is a time consuming and costly endeavour, however for students who really wish to understand law from an international perspective must pursue such opportunities. One must also keep in mind that the experience itself will change how you think about the legal profession.
The progression of your career seems to be a constant upward slope. How did you plan it? Did you have a set plan from day one?
You are very kind to have made such an observation. I must admit that I never planned how all pieces will fall into place, but yes I had a broad plan in mind from day one. Like I said earlier, my ultimate ambition is fixed and I am working in a phased manner to achieve that objective till date. It involves both learning and working simultaneously. I am still in the nascent stages of my career and I hope that I continue on the path of achieving my dream. What is important to set your eyes on an objective and pursue the same diligently.
What do you think are the key elements to focus on with regards to planning one's career?
The elements will keep on changing with passage of time. First and foremost comes your education which will give you merit to enter into your career. Selecting the right educational path will determine where you land up ultimately. The second is your working. One must decide whether they wish to work for someone or work for oneself. In practical terms for our profession the same translates to working for a law firm/company or working as a practicing advocate. Self-assessment is very important to decide on the two aspects and making the correct choice. In working, the most important element especially for the legal profession is sincerity. In this profession a lot comes from experience and one can only accomplish the same through sincerity.
What message would you like to give our young readers?
Experience everything that life has to offer you. The good, the bad and the ugly. Keep an open mind always.
I would also like to express my sincerest thanks to Super Lawyer for considering me for this interview and I wish them and their readers immense success in all their ventures. It is really encouraging to see profiles of so many people from our profession and learn from the same. Keep up the good work.