Shivendra Singh is is a graduate from NLIU, Bhopal, batch of 2008. Shivendra has extensive experience in handling Mergers & Acquisitions, Joint Ventures, infrastructure projects and Private Equity deals. He has also been part of several real estate transactions, due diligences, including due diligence on portfolio of assets of banking companies, financing arrangements with banks, and investment in multi-brand retail trading sector. During his professional career, Shivendra has practiced a wide range of laws, such as law of property, companies law, laws pertaining to foreign exchange in India, securities regulations, Sick Industrial Companies Act, trust laws, laws governing education sector, and employment and labour laws. He has regularly contributed several articles to leading law journals and magazines.
In this interview we speak to him about:
His time at NLIU, the curriculum and his extracurricular interests.
His decision to move from an established firm like AMSS to a startup, Sarthak Advocate & Solicitors.
His experience practising corporate law
How would you introduce yourself to our readers in one sentence?
A professional who likes to keep it simple and deliver high quality.
What attracted you to Law? Is anyone in your family from the legal fraternity?
During my 12th standard days I stumbled upon a book shelf that belonged to my great grandfather in our ancestral home in Eastern UP. It had a few old law journals. The old collection of books had remained unused as there were no lawyers to come from our family for the following two generations. As a humanities student, I was very excited to discover such an extensive book collection. That was the first time that the thought of being a lawyer crossed my mind.
Few months later, I came to know about a distant cousin who was in NLSIU, Bangalore and just got placed in Amarchand Mangaldas, Delhi. I can say this event led me and my family to seriously consider law as a viable career option and I ended up applying for few universities.
Tell us about life at National Law Institute, Bhopal. What was the academic atmosphere like?
NLIU, Bhopal is a very vibrant campus, where we had space for students who excel not only in academics but also in other extracurricular activities, like moot court competitions, model United Nations competitions and have publications to their name. We even had students who loved to read beyond the prescribed curriculum; they read the likes of Karl Marx, Kafka and other noted philosophers.  .
I think our university gave everyone a chance to explore themselves in their first three years and then gun after their goal in their last two years. This is why our alumni have made their mark not only in the field of law, but also as social activists, diplomats, bureaucrats and entrepreneurs.
You have taken part in three moot court competitions, performing well each time. How important is participation in moots?
I personally consider that moot court competitions teach one how to apply law to a practical scenario. After all, this is what a lawyer does for rest of his life. Participation in such competitions enhanced my research skills, drafting skills, presentation and most importantly, the art of articulation.
One should definitely experiment with different subjects in moot courts during college. It takes you out of your comfort zone. Then you don't hesitate venturing into any kind of law because you believe in your core skills as a lawyer. I participated in various moot courts dealing with issues relating to public international law, minority educational rights, cyber law and space law.
What subjects interested you the most while in law school? Which kinds of internships did you complete while at law college?
As I mentioned above, I didn't have any favourite subject consciously but you can say I had an inclination towards public international law owing to my interest in contemporary European history and international relations as an arts student.
You joined Amarchand & Mangaldas & Suresh A. Shroff & Co., Delhi, soon after graduating in 2008. How did you procure employment there? What was your experience there like?
I was selected for a four week long internship through the university placement programme. My internship was extended for two more weeks at my request. Few months later, a few other people who had interned there, and I, got a call for an interview. I was selected at that interview.
Working at AMSS was a wonderful experience. You suddenly find yourself making a small contribution to a headline deal. It was my first job so it will always remain special. An organization that turned a law student into a beginner lawyer, teaching him the nuances of professional life.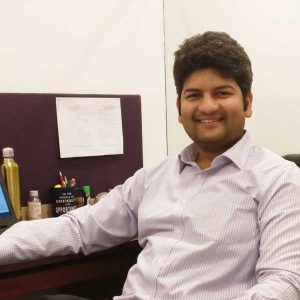 Soon after, you left AMSS to join Sarthak Advocate & Solicitors. What made you shift, especially since AMSS is a leading corporate law firm?
That was the time of start-ups in law firms. You had success stories coming from every corner. It was an exciting move, where we hunted for our own office and own furniture. It was a fulfilling experience and a risk which a young and carefree lawyer took at that time.
During the four years you worked there, you moved into the Senior Associate position, and you have continued to hold the position in your present job at Dutt Menon Dunmorrsett. What goes into becoming a Senior Advocate Associate?
Your responsibility increases manifold when you move up to the position of a senior associate. You are in the driver's seat of a transaction and the partner would rely on you completely. I have always tried to take as many legal calls as I could with my experience. Number of hours don't necessarily increase but the timing of those hours does change. You are working or taking calls anytime and anyplace like on the road, in the gym, in the restaurant etc.
What are your practice areas at Dutt Menon Dunmorrsett? Which kinds of transactions do you like dealing with the most?
I have always been a general corporate and M&A lawyer. At DMD Advocates, we have a great mix of corporate transactional practice and general corporate advisory. In the last few years, India has seen so many start-ups, a few succeeded and a few failed. At DMD, I got a chance to work with these budding entrepreneurs, almost like a legal incubator, till they reach the angel and institutional rounds. It's very satisfying to see their journey from a mere business plan on paper to a stage of operational expansion.
Simultaneously, away from the M&A arena, our other clients who seek day to day advisory on a whole range of laws, such as the Companies Act, FEMA, Aviation Laws and SEBI laws keep us close to the challenges faced by a corporation in its day to day life.
What are the building blocks for a great practice in M&A? Do you have any advice for young lawyers aspiring to make a mark in this area?
As is true for any other practice area, providing legal solutions is at the core of M&A practice. Clients appreciate a straight and unqualified view. As an M&A lawyer, you have to completely give yourself to the transaction which goes on for months. You are the anchor for the documentation process and you will be the go-to guy for your client throughout the process. You will have to chase the client for sorting out the commercials between the two parties and keep things moving.
For young lawyers, my advice is to understand your client's business and commercials as much as possible. We are business lawyers. We are involved with clients in their day to day life and not only when their dispute reaches court. Therefore, understanding their business challenges is key to solving their problem.
According to you, which are the arenas of law showing most promise for the near future, and which students should consider taking up law as a career choice?
India is growing every day and lawyers have a big role to play in this growth story. Corporate law, IPR and Alternate Dispute Resolution will remain at the core of the legal advisory in the times to come. From a start-up to a big corporation, everyone is realizing the value of a commercial lawyer, something which was historically handled by a chartered accountant or a litigation lawyer.
There is great potential for a corporate lawyer in tier two cities, which are still untouched by corporate law practice. In this age of e-mail, teleconference and video calling, corporate lawyers can disrupt and penetrate cities like Ahmadabad, Kanpur, Indore, Vizag, Kochi, Manesar, etc.
Which reference authorities do you rely on for your work in the corporate area, as well as for competition law?
As far as advising the clients on their regulatory matters is concerned, including corporate laws and competition laws it is advisable to rely on the latest printed bare acts and regulations available on the official websites of the regulators. But beyond a point when it comes to more complicated issues, one can refer to a comprehensive commentary and case law research as well.
For FEMA related issues one can consult updated regulations (Taxmann publications) and Consolidated FDI circular. For competition law advisory, a lawyer can also consult the advocacy booklets published on CCI's website.
You were asked to express your views on The Registration (Amendment) Bill, 2013 by the Parliament's Standing Committee on Rural Development. What was your experience like?
It was a very enriching experience where I got to share my views with an esteemed panel comprising Rajya Sabha members such as Prof. Saifuddin Soz and Mani Shankar Aiyer. As a real estate practitioner, we apprised them of some practical difficulties faced by people given the archaic nature of the century old legislation. There was a parity of thought on both sides of the table with few common objectives such as ease of registration procedure, prevention of fraudulent transactions, computerization of records and compulsory registration of certain documents.
How would you suggest students may hone their research skills? What is the secret behind a good quality research paper?
Perspective, I guess. A quality research paper should reflect clarity of thought backed by comprehensive research. It should give little more than what is already available in the public domain. That little contribution can be in the form of additional facts and information which one has gathered through empirical exercise or in the form of a viewpoint different from what already exists and is well documented.
What is the one piece of advice you would like to give young law students?
For the first few years, discover yourself and your inclinations. Experiment as much as possible. You have nothing to lose. Once you know what you want, go all of for it. Most importantly, have lots of fun and make full use of your campus life. Those days will never come back.